Are you tired of users struggling to remember their usernames and passwords to log in to your WordPress website? Do you want to make the process smoother for them?
Then, social login plugins might be just the solution you need! But with so many options available, how do you choose the best one for your website?
In this article, we will present you with the six best social logins WordPress plugins, both free and pro, to help you make an informed decision. Social login options not only improve user experience but also can increase the number of registered users on your website.
According to research, social login is preferred by users as it saves time, reduces the need to remember numerous passwords, and can prevent them from abandoning your website.
So without further ado, let's dive into the top six best social logins WordPress plugins that are currently in the market.
Best Social Login Plugins for WordPress
If you're looking for an easy way to allow your visitors to log in to your WordPress website, then you may want to consider installing one of the many social login plugins available.
In this section, we'll be highlighting the best social login plugins for WordPress. Check out our recommendations and find the perfect plugin for your website today!
a Professional, Easy to Use and Free WordPress Plugin
Nextend Social Login and Register is a well-known and widely used WordPress plugin that enables users to log in to websites using their Facebook, Google, or Twitter accounts.
This plugin comes fully integrated with the WordPress login screen and offers visitors the convenience of logging into your website using the three most popular social networks. Also, users can add or delete social media accounts from their account page, making it easier for them to access your website in the future.
This plugin's customization features allow you to design your login page to match your website's branding and style. This way, your website can have a consistent look and feel throughout. Users can also upload their social media profile photos as profile pictures on your website, helping to build a friendly online community.
One of the standout benefits of the plugin is its ability to be tailored to the needs of your website. There are multiple login layouts available, and this plugin is compatible with the WooCommerce store plugin, meaning that eCommerce websites can benefit greatly from its use.
The login widgets and shortcodes provided also make it possible to easily and quickly integrate social logins into your site through the use of the widgets.
Finally, it's important to note that Nextend Social Login and Register is compliant with GDPR regulations, giving users peace of mind that their data is being handled appropriately.
Key Features:
Offers social login functionality to visitors
Allows users to add or delete social media accounts
Customizable login page to match your website's branding and style
Compatibility with WooCommerce
Login widgets and shortcodes are available
Multiple login layouts to choose from.
a Social Login & Register for WordPress
With Social Login, your website visitors are able to sign on, register, and leave comments by using a variety of social networking services through which they can log in to your website.
The plugin is highly versatile and ideal for use alongside the WooCommerce BuddyPress WordPress membership plugin, as it seamlessly integrates BuddyPress social login into an eCommerce or social networking website.
Aside from being regularly updated, this plugin makes use of the latest APIs in order to analyze visitor behavior in real-time, and it can also be connected to each visitor's WordPress account to perform the analysis.
Additionally, Social Login offers complete integration with customer registration and login processes and supports popular social media websites like Facebook, Twitter, YouTube channel, Google, LinkedIn, PayPal, and LiveJournal.
Key Features:
BuddyPress avatar integration with social network avatar
Compatible with other plugins
Eliminates spam and bot registrations
Choice of twenty different icon themes or the option to upload your own icons.
a Social Login WordPress Plugin
AccessPress Social Login Lite is a free plugin that offers upgradeable services for WordPress users. This plugin enables your visitors to register and log in using their social media accounts, making it easier and more convenient.
You can customize social login buttons using four beautiful templates to complement the design of your website. Moreover, the plugin offers shortcode snippets to place the social login element anywhere on your webpage.
The plugin supports three social media platforms – Facebook, Twitter, and Google, making it easy to capture accurate information about a user's social profile. You can upgrade to the premium version to benefit from the support of 12 other social networks, compatible with WooCommerce and BuddyPress.
Because it's easy to use, there's no hassle. Shortcodes let you show social logins in posts and pages, social login buttons can be arranged however you want, one-click registration and login, a widget that lets you see your social network login information, and you can turn it off.
Key Features:
Arrangement of

social login buttons

in any order

One-click registration and login
Shortcodes to display social login information
Widget display for social network login information
Disabling social login entirely.
Enables Social Login for Seamless Checkout and Account Creation
WooCommerce Social Login is a powerful plugin for eCommerce stores that allows customers to check out as guests or log in using their favorite social network. The plugin supports a variety of platforms such as Facebook, Twitter, Google, Amazon, Yahoo, LinkedIn, PayPal, Disqus, and VK.
This plugin aims to make the checkout process faster and smoother, especially for repeat customers. Creating an account or logging in with social media can be a hassle, but this plugin addresses this issue.
One of the coolest things about it is that you can link accounts on the 'Order Received' page. Customers can then log in using their email addresses, their social networks, or any of these methods without having to create new ones. With this feature, repeat customers will find it easier to check out faster in the future.
Additionally, it simplifies and streamlines access to accounts and checkout, which leads to a better user experience. Using social login reduces the risk of data breaches and improves trust. Customers' login credentials are securely sent to the website, so they're more likely to trust the website.
You can use your subscribers' social information to promote specific websites, products, or affiliates with this plugin because it connects your store's customer accounts with social media platforms. It's an excellent tool to use if you want to grow your social media presence.
Key Features:
Improves security and increases trust
Connect customer accounts with social platforms
Supports a variety of social networks.
Link accounts on the 'Order Received' page
Simplify and streamline account access and checkout
Social Share, Social Login and Social Comments Plugin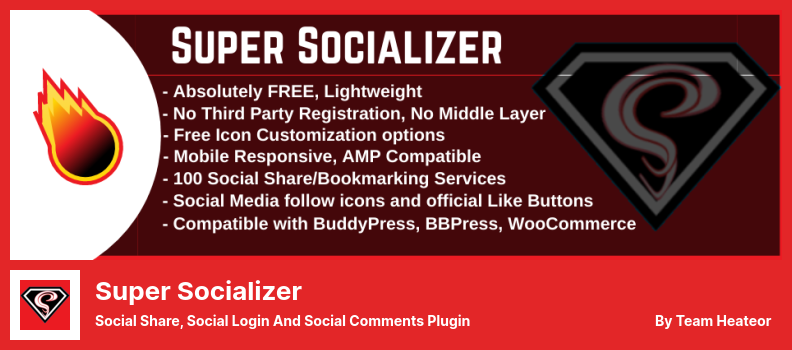 Super Socializer is a WordPress plugin that allows users to integrate their social media accounts directly into their websites' comment sections and enable social sharing capabilities as part of their social login process.
With the plugin, website owners can customize many elements of the login page, such as enabling like and embed buttons and integrating with bbPress, BuddyPress, and WooCommerce.
The plugin supports about 100 social networks to participate in social sharing buttons. It also provides support for share counts, icons for social media followers, options for specifying the sharing icon's shape, and several free options for customizing icons.
Moreover, the plugin saves visitors' profile information in the WordPress blogs' database, enabling website owners to communicate with them as necessary.
Super Socializer boasts many features, making it ideal for users who want to make the most out of social media integration. However, the plugin's price may not match its features, making it unsuitable for users only looking for comments plugins.
Key Features:
Integrates with BuddyPress, bbPress, and WooCommerce
Customizes many elements of the login page
Provides support for share counts and icons for social media followers
Offers options for specifying the sharing icon's shape
Comes with several free options for customizing icons
Enables like and embed buttons on the login page.
Design Fancy Login Form with Social Login Support
In the WordPress Login Widget by Elementor page builder, you can resize, redesign, or create an entirely new login form that is customized to fit your website's style or create an interactive user experience that reflects your brand.
It's easy to use by dragging and dropping the Login Form widget onto your site. The plugin provides a range of sign-in buttons such as Facebook and Google, allowing users to quickly sign in.
There are also plugin registration links that allow users to register, and the forget password option makes it unnecessary for users to look for external resources in order to reset their password.
This widget is compatible with the WordPress login page as a default, and the user can customize it completely. It's easy to control every aspect of the design process and add custom links to redirect the user after logging in or logging out. Finally, the fields order can be adjusted.
Key Features:
Compatible with WordPress Login Page
Fully customizable design
Complete control over the design process
Additional custom links can be added
Fields order can be adjusted.
Frequently Asked Questions
What are social login WordPress plugins?
Social login WordPress plugins are tools that allow users to sign up or log in to a website using their social media accounts credentials, such as Facebook, Twitter, or Google.
Why should I use social login WordPress plugins?
Social login WordPress plugins offer several advantages, such as improving user experience, reducing sign-up friction, increasing conversion rates, and minimizing fake accounts and spam registrations.
How do I choose the right social login plugin for my website?
When choosing a social login plugin for your website, consider factors such as the platforms it supports, the level of customization available, and whether it integrates with your existing website infrastructure.
Additionally, be mindful of any potential security risks and ensure the plugin is compatible with your website theme and other plugins.
Conclusion
In conclusion, we have discussed the six best social logins WordPress plugins that will take your website to the next level. These plugins are designed to make user login more straightforward, increasing user engagement and ultimately improving your website's performance.
For more related tutorials on WordPress, be sure to check out the BetterStudio blog. We regularly publish new content to help WordPress website owners maximize their website's potential.
Additionally, for the latest updates on our tutorials and news, be sure to follow us on Facebook and Twitter. We are consistently sharing valuable information that can help take your website to the next level.
Thank you for taking the time to read this article, and we encourage you to ask questions or share your experiences in the comment section below. Let's work together to create the best WordPress website possible!