For some, the 21st century is considered as the century of technology and podcasts are becoming trendier than ever. Most people prefer listening to a podcast rather than reading a digital or hard copy of an article.
If your website is created by WordPress, with the help of WordPress podcast plugins, you can reach out to more people and offer them what they are looking for. In our previous article, we introduced the best podcast WordPress themes. However, in this article, we would like to introduce the 20 best WordPress podcast plugins for 2021.
The first WordPress podcast plugin on our list is Blubrry PowerPress Podcasting. This plugin has over 60,000 active installations and it's considered one of the best plugins in this genre. This plugin comes with simple and advanced modes, you can choose either that suits you best. PowerPress is also a powerful WordPress video player.
The PowerPress plugin is compatible with Apple, Google, Stitcher, etc. podcasts. These podcasts are also compatible with Spotify. Plus, you can add browser-based players to this plugin as well.
As part of this plugin, you will find an HTML5 media player for playing YouTube videos, as well as other elements that will allow you to embed videos within your website.
In addition, you can use the shortcodes and widgets that this plugin comes with to add a social share to your responsive website.
By following SEO rules in your podcasts, you can achieve a higher ranking in Google and other search engines. Besides, podcasts from other feeds like Squarespace, LibSyn, SoundCloud, etc. can be added to your website with this WordPress podcast plugin.
The second best WordPress podcast on our list is Podlove Podcast Publisher and it supports Vorbis, MP3, MP4 AAC, and Opus audio formats as well as WebM, MP4 H.264, and Theora video formats.
This plugin also comes with a complete analytics engine that gives you various information. This tool analyzes the podcast client, download source, episode asset, day of the week, etc. to you.
Users can simply click on subscribe and follow your podcasts and there is no need to explain the RSS feed as it is pretty clear. Besides, you can personalize your podcast however you wish and publish it to listeners.
Seriously Simple Podcasting is one of the simplest yet powerful WordPress podcast plugins with over 20,000 active installations. This plugin supports both video and audio podcasts. The configuration is very simple and it allows you to share podcasts without even leaving the WordPress Dashboard.
Seriously Simple Podcasting allows you to customize the player and change the cover image of it. You can even play multiple podcasts from a website by creating your own RSS feed.
By installing Seriously Simple Stats, you can learn crucial information about the listeners of your podcasts. Much like other best WordPress podcast plugins, no programming is required and everything can be done via shortcodes and widgets.
There are more add-ons developed for this plugin that you can install on your website and add even more features to the plugin itself.
Buzzsprout Podcasting is one of the best WordPress podcast plugins to publish online podcasts. This plugin is completely compatible with iTunes and you can easily listen to podcasts on your Apple devices. Much like the plugins we've introduced above, Buzzsprout also has the ability to analyze the data of your listeners and present them to you.
Installing this plugin in WordPress is very simple. However, it works with your WordPress.org account. The plugin has a dedicated hosting server that allows your listeners to stream, upload and even download your podcasts rather quickly.
Also, podcasts are optimized and the analytic data generated by the plugin can help you to reach out to more audiences by publishing the podcast they are more interested in. The analytic tool that comes with the plugin gives you complete data of how many times a podcast has been listened to, downloaded, etc.
Most importantly, Buzzsproud allows you to migrate your podcasts from your server to their servers.
Libsyn Publisher Hub allows you to publish part of your podcasts to Libsyn Show directly from WordPress. Another feature of this plugin is that it can create new categories, tags, etc. optimized for Apple podcasts and the podcasts can even be scheduled to post in WordPress.
Files can get directly uploaded to Libsyn and you can even use your FTP account to access them from any device. Besides, this plugin is fully compatible with the Gutenberg editor.
One important factor that's worth mentioning is that your files remain on Libsyn servers and the RSS feed will be created by Libsyn. As a result, your server won't get crowded with podcasts files.

The next plugin we would like to introduce is SimplePodcastPress. This is a premium plugin that comes with three different packages. The packages start at $67 that only allows the user to one website. However, it is more than enough for a podcast website that has just started. In addition, it automatically updates your playlist and publishes it to WordPress.
The professional package of this plugin costs $97 and it accepts up to 3 websites. The last and most expensive package is $147 and supports up to 10 websites.
All of these packages come with a free 1-year update and premium support.
First, you need to download and install this plugin. Then add your iTunes URL to register. In the next step, for different categories of podcasts, new pages will be created and by adding a suitable player, whenever you add a new podcast it will be added to the list automatically.
Smart Podcast Player is an advanced WordPress audio player plugin. The most important feature of the Smart Podcast Player plugin is the fact that it can create a killer email list of your users. This premium plugin can be purchased for $12 a month or $98 a year.
Smart Podcast Player comes with two packages, the best value and most flexible. Both of these versions have the ability to display unlimited sections and can be customized. In addition, users can also share your podcasts in popular social media platforms or they can directly download it from the website.
Another cool feature of Smart Podcast Player is the fact that it allows you to control the speed of the played podcast. Which may be important for those who want to control the audio player.
The next WordPress podcast plugin on our list is iTunes Podcast Review Manager you can check iTunes for international reviews of a podcast. By default, iTunes check reviews of a podcast every 4 hours and publishes them.
Reviews may be published with delay for some countries and they may appear in the next podcast search in iTunes. In addition, this plugin can filter podcasts based on their countries and display them based on ranking and number of comments.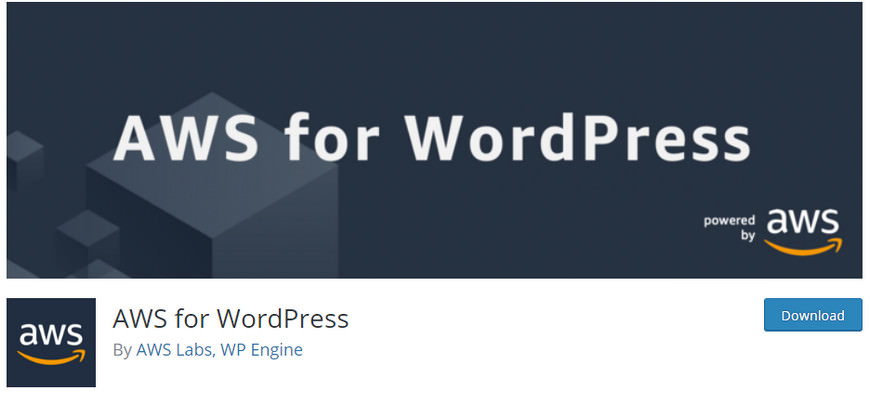 AWS for WordPress was designed and integrated with Amazon Alexa. That can read your posts and turn them into podcasts. In addition, it has the ability to translate your audio files into different languages. Also, you can share your files via the CloudFront CDN. Using CDN can improve the performance of your website.
Alexa enables users to listen to the articles rather than read them. This plugin is completely free and it can be downloaded either from the WordPress Dashboard or the official WordPress website.
By default, this plugin stores the audio files on your server. However, you can store them on Amazon S3 or CloudFront servers.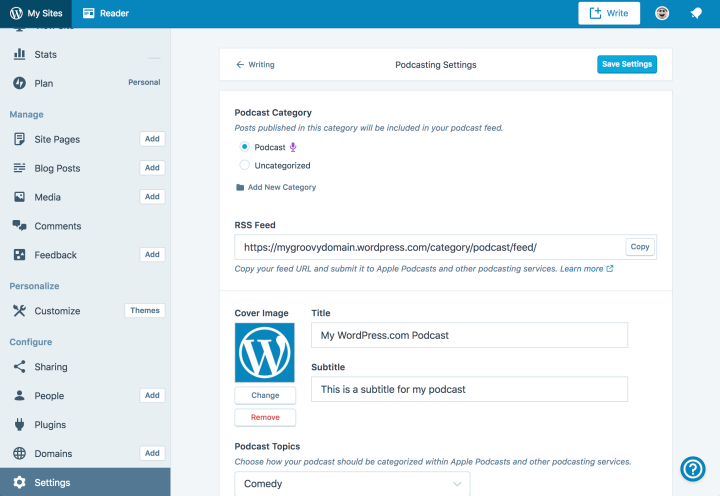 By default, the premium version of WordPress.com supports podcasts. These podcasts can be shared with Apple iTunes, Google Play, and other popular feeds.
Supported audio formats are .ogg, m4a, MP3 or .wav Apple iTunes won't support .ogg and .wav files and Spotify file only supports MP3 files.
To publish video podcasts, you have to upload them on VideoPress and connect it to your WordPress website.
The next best WordPress podcast plugin on our list is the Compact WordPress Audio Player. This plugin allows you to use shortcodes, publish, and play MP3 files on your websites. The audio player that comes with the plugin fully supports major browsers like Firefox, Chrome, IE, Safari, etc.
The audio player supports MP3 and Ogg files and converted files with this plugin is compatible with smartphones.
If you are planning on selling audio files on WordPress, with this plugin you can publish a preview version then allow the users to download the full version once they have paid.
In addition, Compact WP Audio Player comes with autoplay and begins playing podcasts as soon as the page is loaded.
By using the Spreaker Shortcode plugin, you can add the player of Spreaker to your WordPress website. The shortcode to do so is:
resource="episode_id=X"
resource="show_id=X"
resource="show_key=X"
resource="user_id=X"
You can also customize the width, height, theme, color, and cover of the playlist and personalize it for your website. Besides, you have the option to enable or disable comments and likes for each post in the settings.
We mentioned the Seriously Simple Podcasting plugin above and Seriously Simple Stats is an addon of this plugin. With this add-on, you can gather useful statistics of users who have interacted with your podcast.
It counts the number of listens on every episode and you can see a quick overview of the most recent stats at a glance. In addition, Seriously Simple Stats can tell you exactly which episodes are the most popular and it prevents false stats by detecting bots and crawlers.
Another great WordPress podcast plugin is Podcast Player. This plugin fully supports video and audio files. Besides, it's compatible with iOS 11+ and allows you to have both audio and video podcasts on your WordPress website.
The player can be rotated both horizontally and vertically.
If you are using Blubrry PowerPress, using Featured Podcast Widget can add a lot of features to your website. This addon allows you to highlight parts of your podcast that you think are important.
PowerPress is one of the best WordPress podcast plugins currently available. In addition, it can sort podcasts based on the latest uploaded file.
As Heard On is not an audio player, and in order to play your podcasts, you will have to download and install the players we mentioned above.
This plugin gives you the option to display one or more random albums in your sidebar. This plugin supports modification in structure and style.
By using the Podcast Importer you can easily import third-party podcasts to your WordPress website. Podcasts can be added to a new post or an already published post.
This plugin is completely compatible with other WordPress podcast plugins like Seriously Simple Podcasting and PowerPress.
Podcast Importer can automatically import podcasts to your website and allows you to set schedules and import podcasts from different podcasts from separate sources at the same time.
This plugin supports automatic embed of audio player from Transistor, Podbean, Simplecast, Anchor, and Whooshkaa.
By using the Podcast Subscribe Buttons and the shortcodes it comes with, you can add more than 40 customized subscribe buttons to WordPress.
These buttons can be used to display links of your podcasts across various external platforms. These links can get connected to your RSS feed and allows podcasts to open in third-party applications. In addition, with this plugin, you can share podcasts to Google Podcasts, Apple Podcasts, Spotify and even SoundCloud.
To use this plugin, simply download, install and activate it and from the left-hand side, menu click on Create a new Subscribe Button and configure it however you wish.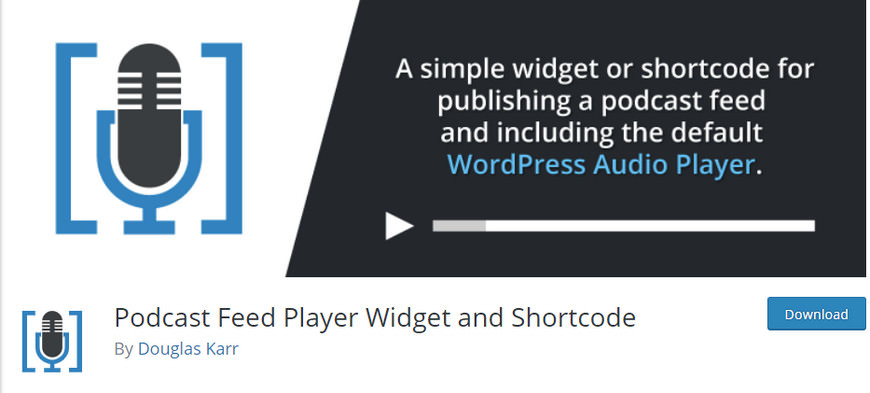 This plugin uses widgets and shortcodes to display iTunes images for episodes and embed them to WordPress' internal audio player. By using the shortcode below, you can add a podcast to your website with a specific tag, audio file, and image.
[podcastfeed feedurl="" quantity="" imgsize="" imgclass="" itunes="" google="" soundcloud="" icons=""]Here are our latest podcasts.[/podcastfeed]
feed URL is the URL of your podcast
Quantity is the number of podcasts you would like to display on your website
Imgsize is the size of the image you would like to display, if the value is 0 then it means, there's no image
Imgclass is the class and position of the image
Itunes it's your iTunes URL
Google It's your Google Play URL
Soundcloud it's your SoundCloud URL
Icons the value of icons can be set to true to display and false to show nothing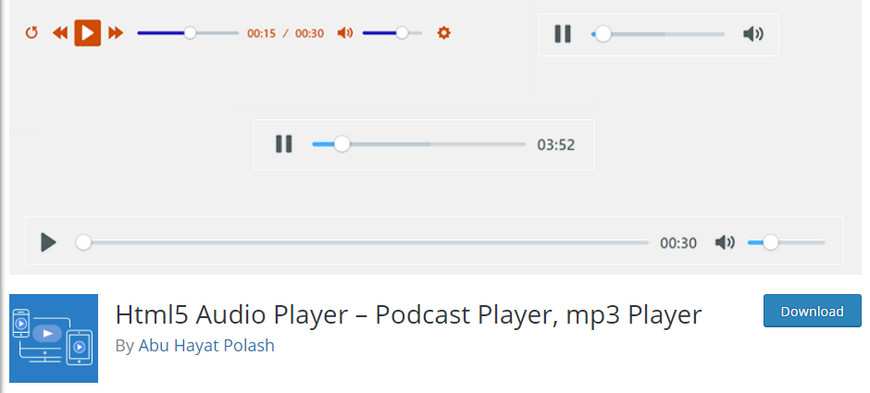 Html5 Audio Player is one of the best WordPress podcast plugins for MP3 files. This plugin isn't limited to playing MP3 files, it also can play .ogg audio and .wav files on WordPress.
This plugin is fully customizable and has a very easy interface. This audio player is compatible with most devices and can be added to any pages or posts of your website.
This plugin is available in both free and premium versions. The premium version allows you to change colors, remove ads, add volume, rewind, forward and mute button to the player.