Trying to find the best WordPress Zapier plugin?
In this article, we will discuss the best WordPress plugins for Zapier. The design of these plugins will attract your customers. In addition, these plugins support all the top WordPress themes.
We produced the following WordPress plugins merely for Zapier. Nonetheless, this plugin can also be used for Zapier Integration, WordPress Zapier Webhook, and WooCommerce Zapier Integration.
Our recommendations for the best Zapier WordPress plugins in 2022 are as follows:
a Powerful Automation Platform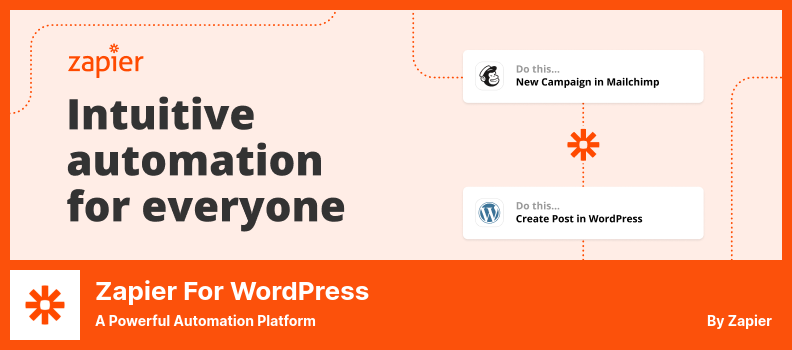 With the Zapier for WordPress plugin, WordPress can automatically connect to the other applications you use most, so you can set up automated workflows at your fingertips.
In addition to being an automation platform, Zapier is a popular platform for connecting popular applications like Instagram, Facebook, and Pinterest.
This plugin also allows you to produce drafts based on RSS feeds or Mailchimp newsletters and receive e-mail notifications whenever new comments are received.
No coding knowledge is required to utilize this plugin, allowing you to share your latest WordPress posts on Facebook and Instagram.
The ability to receive notifications when a new comment is made on your post is available through Slack or Microsoft Teams.
💵 Zapier for WordPress's Premium plugin costs $19/month and the Lite version is free.
Key Features:
It is possible to receive notifications through Slack or Microsoft Teams
Automated WordPress posts can be created based on your newsletters, and RSS feeds
Your latest WordPress posts can be shared on your social media accounts
You can add new WordPress users to your e-mail marketing campaigns
Random Reviews:
You should be able to connect once you save your permalinks as 'Post name' in WordPress.

When adding the site to Zapier, it throws a 404 error without any other information, such as response data or headers, making it extremely difficult to diagnose.
An All-in-one Zapier Integration Plugin

Using the WooCommerce Zapier Extension plugin, you can provide customer information and other information to the Zapier service.
Zapier integrates with several cloud-based services, such as MailChimp and Google Drive. The plugin can create product types, including simple and variable products.
This WooCommerce Zapier integration plugin is most effective when used automatically to share data with third parties, including Facebook, Twitter, e-mail, Google Docs, etc. This plugin may rapidly and efficiently share information with these platforms.
Additionally, this plugin triggers and sends updates to customers and order information within WooCommerce. This plugin allows you to use any currency and payment method compatible with WooCommerce when shipping goods.
💵 Get all the great features plus 12 months of free support for $38.
Key Features:
WooCommerce data is sent to over 1000 cloud services
Provides Zapier integration for WooCommerce
Integrates multiple Zapier feeds for data sharing
Changes in WooCommerce data are triggered
Suitable for use with simple and variable products
Integrates Your Contact Form With Zapier
If you wish to integrate your contact form with your Zapier contact list, you can use the CF7 to Webhook plugin. This WordPress Zapier webhook plugin facilitates the creation of Zaps, selecting triggers and catchy hooks, and the entry of a URL into your contact form.
A webhook is a method for sending data via a URL. You can now combine WordPress's best contact form plugin with a webhook that receives JSON data.
In addition, Zapier provides a beneficial service for connecting your apps and automating your workflow through simple activation and configuration.
To use it, Activate the Contact Form 7 and the 'CF7 to Webhook' plugins and configure the URL to which the data should be sent, or create a Zap on Zapier.
💵 Free plugin with forum support.
Key Features:
Translations integration are available
Triggers and hooks can be easily selected
Makes it possible to create Zaps
Integrates your Zapier contact list with your contact form
Provides excellent service for connecting your applications
Random Reviews:
Customizations are limitless, and support is outstanding.

Plugins like this are lovely, simple, and extremely useful.
Connect Your Favorite Service to Your WordPress Website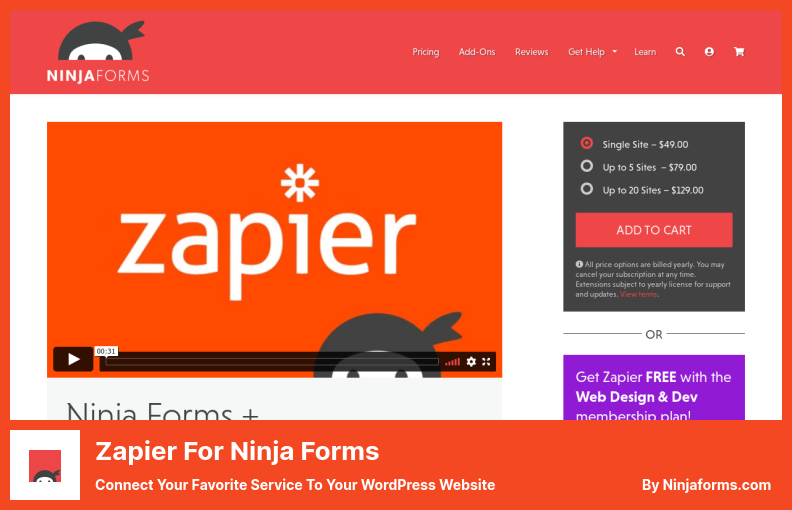 The Zapier for Ninja Forms plugin allows you to connect WordPress with over 4,000 different services through Zapier and your WordPress Ninja Forms without coding knowledge.
Essentially, this plugin uses Zapier to facilitate the connection of WordPress to general services that have not yet been officially integrated.
This plugin will turn your WordPress Ninja forms into a bridge between your website and Zapier, where you can connect to the service of your choice.
Zapier supports over a thousand services, and hundreds of them can be integrated with Ninja Forms directly. With this plugin, it is easy to integrate your forms with the services such as Google Sheets, Google Calendar, Excel, HubSpot, Zendesk, Freshbooks, MySQL, etc.
💵 This well-documented plugin is available for $49.
Key Features:
No coding expertise is required.
You can seamlessly integrate WordPress Ninja forms with the service you select
Provides a means of connecting WordPress to a variety of services
Your WordPress Ninja forms will be turned into a link between your website and Zapier
Finally, let me draw a conclusion
Those are the best WordPress plugins you can use to improve your website in 2022. If you want a better website, select one of these plugins.
📌 Note: Additionally, you may find our list of top WordPress security plugins helpful in enhancing the security of your website. We also recommend you look at our expertly selected WordPress hosting providers.
Thanks for reading this round-up of the best WordPress plugins for Zapier. We hope you get a lot out of it.
Keep an eye out for our fresh articles by following us on Facebook and Twitter! Feel free to share this article!