Are you running a WordPress website and in need of customer support? Look no further! In this blog post, we will cover the 7 best WordPress helpdesk plugins, both free and pro, that can provide exceptional customer support to your users.
Customer support is an essential part of every business, and having a dedicated helpdesk plugin can greatly enhance your customer experience. Our comprehensive list includes popular plugins such as WPForms and Help Scout, along with lesser-known gems like WPHelpDesk and Awesome Support.
Based on various factors such as functionality, user interface, and price, we have narrowed down the best helpdesk plugins to make your decision-making process easier.
In this article, we will dive into the world of helpdesk plugins and explore their features and benefits, along with highlighting any potential drawbacks.
We will also provide you with our top picks for both free and pro options so you can choose the best fit for your business needs. Get ready to improve your customer service and streamline your support process with the best WordPress helpdesk plugins!
Best Helpdesk Plugins for WordPress
If you are looking for a reliable way to manage customer support on your WordPress website, check out our list of the 7 best helpdesk plugins, including both free and pro options, to find the perfect fit for your site.
Discover how easy it can be to streamline your support operations and improve customer satisfaction with these top-rated tools.
Help Desk & Support Plugin For WordPress
JS Help Desk is an excellent WordPress plugin for assisting your customers in submitting their support tickets with ease. This ticket system tool is simple to implement and allows website visitors to create tickets directly from the front end, making the support process a breeze.
The plugin provides several features, including customizable support forms, attachment capabilities, ticket priority settings, and departmental assignment features.
In the premium version, users can experience more advanced features, such as time tracking, email filtering, and satisfaction reports. The plugin also offers a detailed status view of all tickets for tracking purposes.
This user-friendly plugin allows administrators to create tickets on behalf of others, which is incredibly handy when receiving support questions via phone and email.
One of the best features of this plugin is its ability to customize the website support form to display as much as you want. Customers can also attach files to their support tickets, making sure all relevant information is in one place.
The plugin also allows you to automatically respond to new tickets, send notifications, ensure accurate customer support, as well as add new fields to your support form.
The plugin's useful features make handling tickets much more efficient and provide a comprehensive overview of your support operation. With JS Help Desk, your customers can receive effective support and communicate easily with your team, leading to better customer satisfaction and retention.
Key Features:
Front-end ticket creation
Attachment capabilities for users, agents, and administrators
Customizable support forms with support icons on your site
The ability for administrators and agents to create tickets on behalf of users
Unlimited agent management in the base version
Anonymize or erase user data.
ELEX WordPress HelpDesk & Customer Ticketing System
WSDesk is a top-notch help desk plugin for WordPress website owners who are in search of a powerful, user-friendly, and customizable software solution.
The plugin comes packed with a variety of advanced features, such as email piping, unlimited agents, invoice history, customizable reply responses, and the ability to upload files.
This plugin offers a complaint management system, allowing your clients to communicate with you effectively and propose their complaints. It's also worth noting that the plugin doesn't affect your site's performance, and it's free to use.
The plugin knows your workflows, and this knowledge is put to use with the automation process, allowing you to enhance your support system. The plugin is easy to use, and its friendly interface enables agents to increase productivity, resulting in a higher level of customer engagement and loyalty.
Features of WSDesk include unlimited agents and supervisors, unlimited profiles, AJAX-based design, triggers, converting unread emails to tickets using IMAP or Google OAuth, and different viewing options for agents.
Key Features:
Unlimited agents and supervisors
AJAX-based design for easy access
Triggers for automating actions based on conditions
Dedicated email address of your domain
Different viewing options for agents.
Support And Helpdesk Services Provider Plugin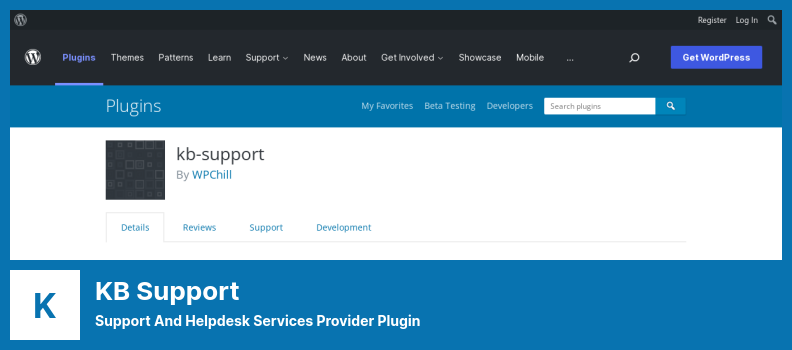 KB Support is an incredibly easy-to-use WordPress plugin that offers comprehensive helpdesk and knowledge base support. With the customizable submission forms, the Email Support module, and many other features, you are sure to get everything you need out of this helpful tool.
This plugin is a versatile tool that allows users to create specific Knowledge Base articles and send them to customers to help them solve problems or provide them with extra information.
It can also restrict certain Knowledge Base articles to logged-in users only. It does not require customers to register to submit a ticket, and it can be easily managed by the assigned agent. You have full control over your tickets and Knowledge Base articles.
Many capabilities, such as adding private notes and setting ticket status, enable agents to keep track of their tickets. You can also add other useful extensions, like Zapier, for integrating your favorite applications into your workflow.
With this plugin, managing and customizing submission forms is quick and straightforward. Participants can contribute unlimited funds to a ticket to ensure all relevant parties may contribute.
What's more, all communications and tickets are only viewable by agents and the assigned customer via restricted access. Customer support tickets can also be submitted as guests.
KB Support is the perfect solution for businesses that require a simple yet powerful helpdesk support system. With several capabilities that enable agents to handle tickets efficiently, this plugin is your one-stop shop for managing customer support.
Key Features:
Email notifications for recent ticket events.
Customizable submission forms
Customers can submit tickets as guests
Restricted access for agents and assigned customers
Capability for customers to contribute unlimited funds to a ticket
chat widget Plugin for WordPress
WordPress Live Chat Complete is a customer service-focused plugin that provides live chat support for your website visitors. You can even initiate a chat with any of your site visitors, and spice up your chat sessions with emojis.
It supports WPML, SSL encryption, WordPress 4.6+, and PHP 7, and social links can be added at the end of the chat session or when agents are offline. The installation process is simple, and the chat history is stored on your server.
You can have up to 100 users chat on your site at any given time, and if you're offline, the chat widget morphs into a contact form for visitors to send messages.
The plugin has an exceptionally well-designed layout, and you can customize your chat widget with many options and colors. With a page view of 5000/m on a monthly basis, you can install it on just one domain with a one-time fee.
You can also have more than 2,000 chat sessions per month, and the fastest iframe works behind the iframe so as not to hurt your website performance.
Key Features:
Supports WPML, SSL, WordPress 4.6+, PHP 7
Customizable chat widget with many options and colors
Chat history stored on your server
100 users can chat on your site at any time
Chat widget morphs into a contact form when offline
User And Order Support Tickets Manager Plugin For WordPress
WooCommerce Support Ticket System is a tool that simplifies the process of monitoring and resolving order and user-related issues. It enables you to manage user and item support tickets within the WooCommerce admin area.
Your customer complaints can be tracked and managed efficiently with this plugin, which lets you assign tickets to different agents, edit and delete tickets, get customer info, and more. Moreover, the plugin is easy to use, and users can submit tickets directly from their front end while shopping.
With the plugin, you can easily customize your plugin to suit your specific needs with the use of shortcodes. Plus, it adds tabs to the user and administrator pages, making it easier to access the plugin from those areas as well.
The plugin's responsive design ensures compatibility with all devices, ensuring your customers' seamless experience, and providing you with efficient management tools.
The plugin features several functionalities such as a limit on the length of messages and subjects. It also enables the front-end status display for tickets, allows attachments, and specifies the type, size, and number of files that can be attached.
Additionally, you can review the user-assignable priority for newly created tickets and enable or disable the email notification system for users and/or admins.
Key Features:
Simplifies tracking and resolving order and user-related issues
Customizable with the use of shortcodes
Adds tabs to the user and administrator pages
Allows attachments and specifies parameters
Enables front-end status display for tickets
Allows user-assignable priority for newly created tickets.
Feature-Rich Support Plugin for WordPress
Awesome Support is a flexible and easy-to-use WordPress support system that is incredibly popular. It integrates seamlessly with most WordPress themes, which means it can be used right away.
The plugin is designed to handle customer inquiries of different products and allows you to create support tickets, and you can target them with your support team more efficiently.
It is also responsive, ensuring that users have an excellent experience regardless of the device they are using. Another essential feature of the plugin is the ability to assign multiple agents to tickets based on priorities and move tickets between agents when required. This ensures there are no delays in support.
One of the key features of the plugin is that it offers you the ability to integrate your support system with WooCommerce products. This means you can respond to your customers in a manner that reflects their product knowledge.
Additionally, the plugin has a flexible customization tool, allowing you to integrate as many features as you want with the assistance of an experienced developer.
Your agent will get responses from your WordPress back-end, and you'll submit ticket requests from your WordPress front-end. You can handle multiple products at the same time, and it's private. With the free helpdesk importer add-on, you can also import tickets from other helpdesk systems.
The plugin comes with email notifications for different actions that you can tailor to your users' needs. You can customize the upload of files depending on how many files you want to upload and their size. Lastly, Awesome Support can provide support to multiple departments at once.
Key Features:
File upload scheduling and control.
Supports multiple products
Private correspondence between client and agent
Front-end ticket submissions, back-end agent responses
Import tickets from Zendesk, Helpscout, and Ticksy
Customizable email notifications
Ticket System Supporting Plugin for WordPress
WP Support Plus is a popular WordPress plugin that provides a unique solution for customer support. It allows your customers or visitors to submit tickets through your website that can then be resolved by your support team members.
With advanced filter criteria, questions can be filtered effectively, and tickets can be edited with HTML formatting. You can even attach user files to support interactions for seamless communication.
Additionally, it allows you to create customizable support forms by adding and adjusting custom fields with a custom CSS design. You can also create 'Private Notes' that simplify communication between customer support and the internal team, ensuring problems are resolved quickly and knowledge is shared.
One key feature of the plugin is its ability to accept guest tickets on your website. You can even submit guest tickets on behalf of others.
Its unlimited number of support agents and unlimited ticket support is unique among SaaS solutions, and it allows you to create a supervisor role for managing your agents, adding further control over your support team.
Key Features:
Allows users to submit tickets as guest or visitor
Ticket creation can be done by the admin/agent from the front end
Supports unlimited agents and tickets in the admin area
Provides various options for positioning the support icon on the front end
Allows for the creation of Private Notes.
Frequently Asked Questions
What are some of the benefits of using a WordPress Helpdesk Plugin?
There are several benefits to using a WordPress Helpdesk Plugin. It helps you streamline your customer support and reduce response time, which can improve customer satisfaction.
It also provides a centralized location for all customer inquiries, making it easier to manage and track. Additionally, most Helpdesk Plugins come with advanced reporting and analytics features that can help you gain valuable insights into your customer's needs and preferences.
What factors should I consider when choosing a WordPress Helpdesk Plugin?
When choosing a WordPress Helpdesk Plugin, there are several factors to consider. First, you should evaluate your needs and determine which features are most important to your business.
You should also consider the ease of use of the plugin, its compatibility with your existing setup, and its support and documentation. Additionally, you should look for plugins that are regularly updated and have positive user reviews.
Conclusion
In conclusion, we've gone through the 7 best WordPress Helpdesk plugins, both free and pro. We've emphasized the importance of choosing a plugin that fits your specific needs and highlighted the key features of each plugin on our list. We hope this article has been informative and insightful!
For more related tutorials and articles, be sure to check out the BetterStudio blog. We'll continue to provide helpful resources like this one to help you take your WordPress website to the next level.
Don't forget to follow us on Facebook and Twitter to stay up-to-date with the latest WordPress tutorial releases. We're committed to bringing you valuable insights and tips to help you navigate the world of WordPress like a pro.
Thank you for reading our article, and please don't hesitate to drop us a comment if you have any questions or concerns. We're always happy to help!