Are you a WordPress website owner looking to enhance collaboration and streamline your communication process? Or are you simply curious about the best integration plugins available for Slack and how they can benefit your website?
Look no further, because in this article, we will be exploring the seven best WordPress Slack integration plugins, both free and pro, that will revolutionize the way you work and communicate with your team.
Before we dive into the details, let's take a moment to highlight some interesting statistics and facts about these plugins. Did you know that Slack has over 12 million daily active users worldwide? This popular communication platform has become an essential tool for businesses of all sizes.
The use of Slack as a web hosting service can help owners of WordPress websites improve team collaboration, boost productivity, and streamline their workflows by using Slack integrations.
Now, let's get into the nitty-gritty of this article. In this comprehensive guide, we will explore the top seven WordPress Slack integration plugins that will take your website's communication to the next level.
Whether you're a blogger, a professional freelancer, or a business owner, these plugins will provide you with seamless integration between your WordPress website and Slack, making it easier than ever to collaborate with your team, receive real-time notifications, and stay organized.
So, without further ado, let's dive into the world of WordPress Slack integration and discover the best plugins that will enhance your communication and revolutionize the way you work.
Best Slack Integration Plugins for WordPress
If you're looking to enhance collaboration and streamline communication on your WordPress website, then you'll definitely want to check out the best Slack integration plugins available!
These plugins will not only help you stay connected with your team but also boost productivity and efficiency. So, let's dive right in and explore the top Slack integration plugins for WordPress!
Live Chat Solution for Slack Teams
Slack Live Chat is a convenient and user-friendly plugin that allows seamless integration between Slack and your WordPress website. While it may be slightly overpriced for its capabilities, it is incredibly easy to install and use.
With this plugin, both team members and others from your company can contribute to a conversation at any time and receive notifications via the Chatlio channel.
One of the key features of this plugin is its ability to facilitate customer support in a cost-effective manner. By installing a chat box on your website, visitors can directly communicate with you. You can set up automatic triggered messages to engage customers and provide answers to common questions.
As another feature of this plugin, you can also customize it so that it matches your brand and design preferences, such as changing the appearance of the chat box to suit you.
With this WordPress Slack plugin, you can also customize the appearance and behavior of your chat widget. This level of customization provides a personalized experience for your customers. Additionally, you can generate custom reports that offer insights into your customers' interactions with your website.
Key Features:
Integration with Zapier to streamline your workflow
Customized messages through Chatlio Triggers
A dedicated Chatlio dashboard providing key contact information
Support for image and file uploads
Seamless integration with Slack, allowing team members to chat instantly
Multiple options for chat box widgets to suit your needs
Website visitors Talking Plugin From MS Teams Or Slack
With the Social Intents plugin for WordPress, you can make direct contact with your website's visitors by using the web browser from your site to communicate with them directly.
With this plugin, you can manage free agents, set up multiple live chat widgets, and create targeting rules based on different criteria. It even has a feature that enables proactive messages to be sent at the right time to the right customer.
One of the standout features of the plugin is the ability to view detailed chat analyses through a dashboard. You can export these findings to another analysis tool, making it incredibly valuable for monitoring and improving customer interactions.
The chat widget itself is highly customizable, allowing you to add custom factors and choose from various colors, text, logos, and tab styles to seamlessly integrate it into your website.
You can also customize different aspects of your WP slack synch, such as pictures, names, and the availability of a chat room. Additionally, you have access to Slack Slash commands to address frequently asked questions.
Key Features:
Proactive chat triggers a more engaging user experience.
Adjustable pre-sales form catering to each customer's needs
Auto-answer system for common questions and concerns
Ability to increase the number of chat agents as needed
Targeting rules to enhance the effectiveness
Seamless integration with Microsoft Teams and Slack
Slack Synchronization With WordPress Plugin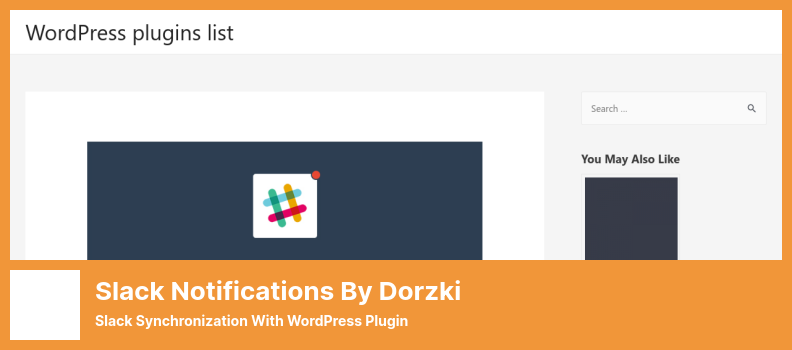 With Slack Notifications by Dorzki, it is possible to stay constantly in touch with your website and your customers through Slack, without having to switch between any two platforms.
With this plugin, you can receive notifications for various activities happening on your website, such as when a new post or page is created or when a new comment is made.
One of the standout features of this plugin is that it doesn't require a public channel in Slack for it to work. As soon as users sign up for Slack, the plugin will notify administrators, allowing them to schedule appointments and manage their website more efficiently.
By using the plugin, you have complete control over the notifications you receive and where they are delivered. You can choose to receive notifications for specific events and decide whether you want them sent to a group chat, a private message, or any other channel in Slack.
This plugin also integrates seamlessly with other services that support downloading packages and subscription options. You can keep your users informed about new updates or releases by automatically sending notifications to your Slack channel.
Additionally, Slack Notifications by Dorzki offers improvements for website administrators, such as being notified when a new user account is created, receiving alerts about failed login attempts, and being informed about new orders received through Nee WooCommerce.
Key Features:
New Comment Notifications for Administrators
Easy creation of New User Accounts
Notifications for Plugin Improvements
Alerts for unsuccessful login attempts
Real-time updates for new orders received through WooCommerce
Automatic Notifications For Slack Team Channel Plugin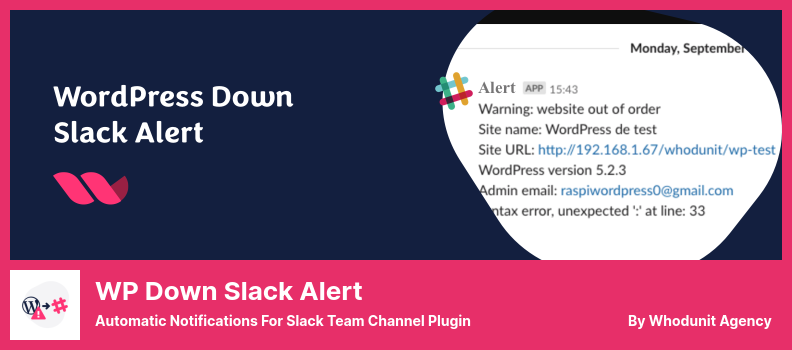 WP Down Slack Alert is a useful plugin that helps you keep track of your website's downtime. Whether you have multiple sites or just one, this plugin ensures that you are aware of any issues with minimal delay.
One of the key features of the plugin is its ability to generate email notifications when a specific channel in Slack becomes unavailable. This allows you to stay updated on any downtime and take immediate action. Additionally, the plugin can also send email notifications if the service itself is unavailable to the user.
It's easy to set up the plugin. You can customize your Slack channel settings, create an avatar and bot name, and tweak other settings to work with your notifications. In addition, the plugin comes with a setup section that lets you customize everything the way you want.
With the plugin, you have the option to use Slack or the It Service offered by WordPress for your notifications. You can easily configure your API token using the integrated Slack API Token configuration wizard. Just follow the provided steps, and you'll have your API token set up in no time.
This plugin not only alerts you of downtimes but also allows you to reset the core of WordPress using WordPress recovery mode. When this mode is triggered, you will receive an alert on Slack, providing you with further information about the recovery failure.
Key Features:
Customizable Slack channel settings
Email notifications for Slack downtime
Option to use Slack or It Service for notifications
WordPress recovery mode alerts
Real-time website downtime notifications.
Amazing Form Builder For WordPress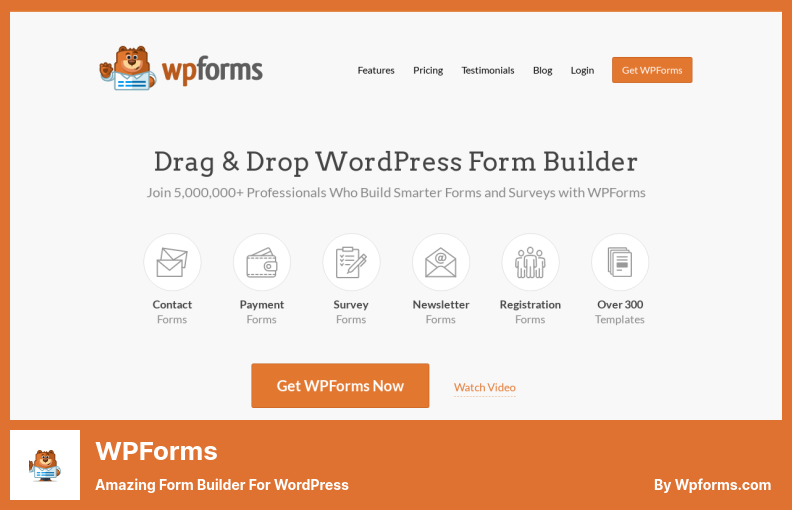 WPForms is a powerful WordPress form builder plugin that allows users to create various types of forms easily. Whether you need a contact form, payment form, job application form, or donation form, WPForms has got you covered.
One of the standout features of the plugin is its drag-and-drop functionality, which makes designing forms a breeze. Users can choose from pre-designed templates or create their forms from scratch. And the best part? It's completely free!
Slack integration makes the plugin shine. With the Zapier add-on, it's easy to hook up your WordPress forms to Slack. Whenever a form is submitted on your website, you'll get an email notification on Slack so you don't have to check your dashboard all the time.
The advantage of using the plugin with Slack integration is that it opens up a whole world of possibilities for developers. With customizable form fields and advanced capabilities, you can truly tailor the plugin to suit your needs.
What's more, the plugin also offers an option to send notifications directly to Slack channels or even individual users through the form submission process. This streamlined communication ensures that everyone is in the loop and nothing falls through the cracks.
But even if you don't want to use a third-party service like Zapier, the plugin has you covered with its Webhooks add-on. This allows you to integrate Slack seamlessly without any additional tools, giving you more control over your workflow and reducing expenses.
In addition to its Slack integration, WPForms also offers a range of other powerful features. These include anti-spam protection, more than 100 ready-to-use form templates, a comprehensive entry management system, and integration with other popular platforms like Mailchimp, PayPal, and Stripe.
Key Features:
Integration with Slack via webhooks
Efficient entry management system
Zapier's Slack add-on for direct notifications
Built-in anti-spam features
Wide range of form templates
No-Code Automation Tool For WordPress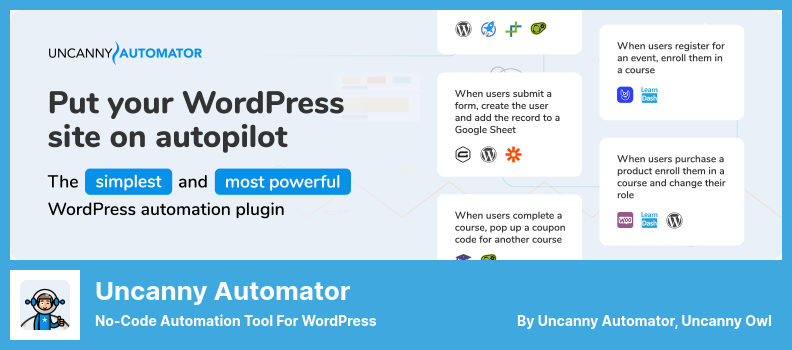 Uncanny Automator is a convenient plugin for WordPress that allows you to automate the integration of your favorite WordPress plugins with Slack. With just a few simple steps, you can set up Slack notifications for various events on your website.
What sets the plugin apart from similar plugins is its ease of use. You don't need any coding skills to create automated workflows between your WordPress site and Slack.
Whether you want to receive notifications for new purchases on your WooCommerce store or track form submissions on your WPForms, the plugin has got you covered.
One of the standout features of the plugin is its wide range of automation tools. With more than 100 actions available, you can create complex workflows that span multiple apps with just a few clicks. Plus, the plugin auto-detects the plugins installed on your system, making it even easier to set up your automation.
In addition to the plugin's great integration with external web apps, you can link your WordPress website to Zoom, Google Drive, and Slack, too. With this, you don't need a separate automation tool like Zapier because you can streamline your workflows from your WordPress dashboard.
Uncanny Automator also offers excellent documentation, making it easy to get started and troubleshoot any issues you may encounter along the way. The plugin is regularly updated and provides support for the common triggers and actions found in WordPress, ensuring compatibility with a wide range of plugins.
Key Features:
Well-documented plugin for easy setup and troubleshooting
Build automated workflows without any coding required
Auto-detects installed plugins for seamless integration
Automate over 100 actions for efficient workflow management
Easily download digital content from the internet
Supports common WordPress triggers and actions
Smart Chat Plugin for Better Support and Marketing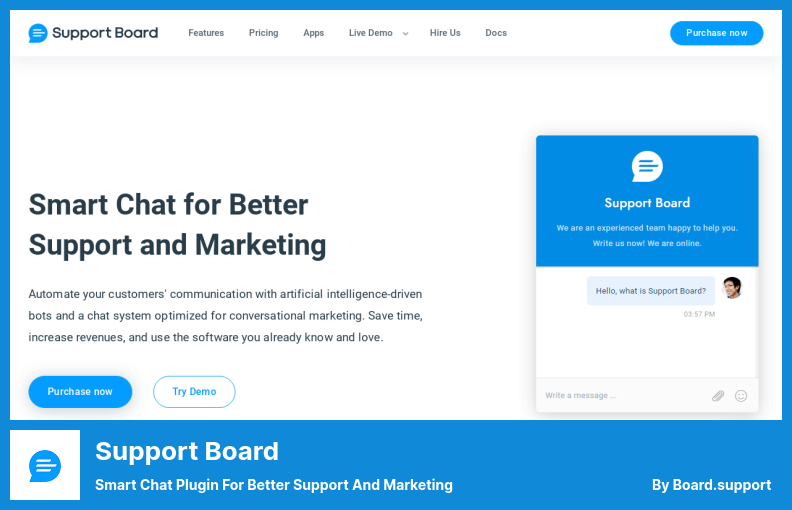 Support Board is a WordPress plugin that offers seamless integration with Slack for live chat notifications. With Support Board, you not only have the ability to modify messages, but you also have access to a user-friendly dashboard for managing customer information and conversations.
Among the best things about the plugin is its powerful chat tools based on AI. These tools let you get your visitors' attention even when you're not available by automatically answering their questions with intelligent triggers. It makes your customers happy because they always get a quick response.
Another great aspect of its integration with Slack is the ability to edit, modify, and delete messages. This seamless integration allows you to integrate Slack with your existing chat application, making it easy for your team members to assist customers and provide them with the support they need.
The plugin also offers convenient features like popups, rich messages, and login/user registration directly on Slack. This means that your customers can easily interact with your business without having to navigate away from the messaging platform.
One of the standout advantages of the plugin is its efficiency in managing customers directly on Slack. Compared to other online chat applications, it provides the best capabilities for managing and communicating with customers within the Slack interface.
In addition to saving replies, managing users and conversations, and gaining valuable insights into your customers, the plugin's admin panel is easy to navigate. Also, it syncs up your data with Slack, so you're always connected to your customers.
Key Features:
Convenient popups, rich messages, and user registration directly on Slack
AI-powered live chat conversations for real-time customer support
Seamless integration with Slack for instant chat notifications
Ability to edit, modify, and delete messages within the Slack interface
Efficient management of customers and conversations within the Slack interface
Automatic synchronization of user data and profiles with Slack
Frequently Asked Questions
What are Slack integration plugins?
Slack integration plugins are tools that allow you to connect your WordPress website with the popular communication platform Slack.

These plugins make it easier for you to manage your website and stay in touch with your team by sending notifications, updates, and other important information directly to your Slack channels.
Why should I use Slack integration plugins for my WordPress website?
Using Slack integration plugins can greatly improve your website management and team collaboration. With these plugins, you can receive real-time notifications about website activities, such as new comments, contact form submissions, or plugin updates.

You can also automate tasks, like sharing new blog posts or publishing updates to your Slack channels. This streamlines communication and keeps your team informed, ultimately improving efficiency and productivity.
What are the benefits of using pro-Slack integration plugins?
Pro Slack integration plugins usually come with additional features and advanced customization options. They offer more control over notifications, allowing you to choose specific triggers or events to be sent to your Slack channels.

Pro plugins also often provide integrations with external services and tools, enabling you to automate complex workflows and enhance collaboration.

If you manage a larger website or work with a team, investing in a pro-Slack integration plugin can greatly enhance your WordPress experience and streamline communication.
Conclusion
In conclusion, we've covered the seven Best WordPress Slack integration plugins, both free and pro, in this article. We discussed the features and benefits of each plugin, helping you make an informed choice for your WordPress website.
If you want to explore more tutorials and guides related to WordPress, be sure to check out the BetterStudio blog. They have a wealth of resources that will help you enhance and optimize your website.
Don't forget to follow BetterStudio on Facebook and Twitter to stay updated with the latest tutorials and tips. This way, you'll never miss out on any valuable insights.
Thank you for taking the time to read this article. If you have any questions or encounter any problems while implementing the Slack integration plugins, feel free to leave a comment below. Our team is here to assist you and provide solutions. Happy integrating!