Are you a WordPress website owner concerned about website security? If so, then you know how important it is to have a reliable SSL plugin installed on your website. But with so many options out there, how do you know which plugin to choose?
We will be exploring the 8 best WordPress SSL plugins, both free and paid, in this article, so that you can make an informed choice when choosing the best plugin for your website.
Did you know that according to a recent survey by HubSpot, 82% of internet users would leave a website that wasn't secure? That's why having a reliable SSL plugin is crucial for the success of your website.
In this blog post, we'll walk you through the top SSL plugins for WordPress, their features, and your options, so you can choose an SSL plugin that works best for you.
Whether you're an expert or new to the arena of website security, we've got you covered. So, let's dive in and explore the best SSL plugins for WordPress!
Best WordPress Plugins for Integrating SSL
If you are looking to secure your WordPress site with SSL, so you're in luck – there are some fantastic plugins out there that can make this process a breeze.
Check out our list of the 8 best WordPress SSL plugins (both free and pro) below to find the one that's right for you.
Easily Migrate Your Website to SSL WordPress Plugin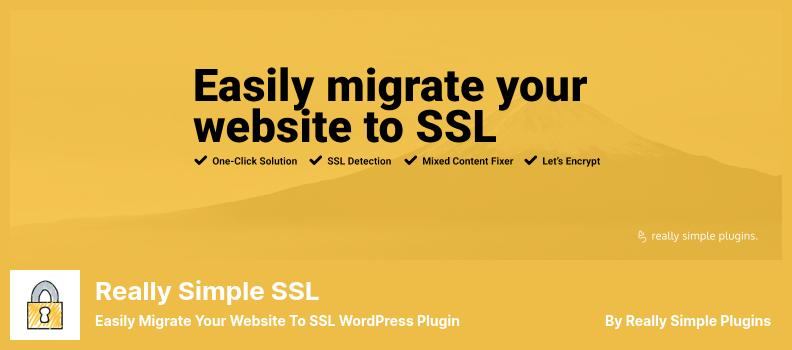 Really Simple SSL is a plugin that helps WordPress website owners to use SSL certificates to encrypt data between their website and its visitors. The plugin is easy to install and activate, but it is important to make a backup of site files before using it.
While using the free version allows access to all the necessary tools to secure a website, using the premium version offers additional benefits such as developer support, advanced security headers, and the ability to receive an email notification when the SSL certificate approaches its end of validity.
The plugin is beneficial in automatically redirecting incoming requests to HTTPS and changing the URL of the site and home page to force HTTPS by default. It also detects WordPress website settings and sets up to run over HTTPS automatically.
The plugin resolves the issues encountered while encountering SSL, including obstacles from reverse proxies, load balancers, or missing SSL detection headers.
With Really Simple SSL, users can configure HTTP Strict Transport Security, fix mixed content, and pre-load their websites with HSTS. Additionally, the plugin comes with the Mixed Content Scanner & Fixer feature that detects and corrects files requested using HTTP.
The Security Dashboard feature provides proactive support and detailed feedback, while security headers like Content Security Policy and Permissions Policy improve website security.
SSL / HTTPS Redirect to fix Insecure Content WordPress Plugin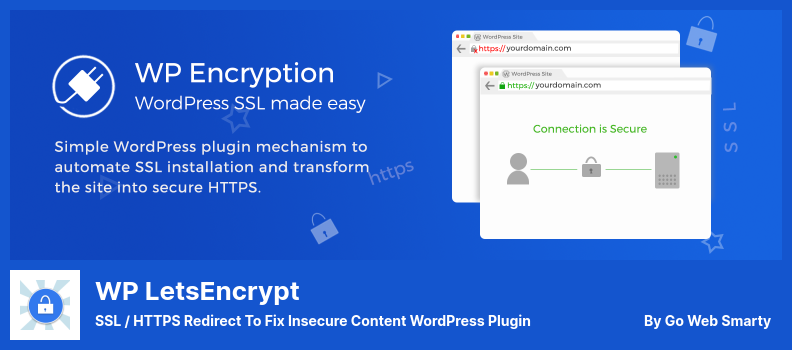 With WP LetsEncrypt, you can automate the generation of SSL, enable HTTP domain validation, and make SSL certificates easy to use and install. The plugin is free and easy to install.
The plugin also comes with a pro version that provides additional features such as automatic certificate renewal every 90 days, and wildcard SSL certificates to ensure the validity of DNS. Additionally, it has an easy-to-use interface to verify domain ownership using HTTP or DNS methods.
With the plugin, downloading and installing SSL certificate files on your web server, verifying the certificate's validity and enabling HTTPS on your site is the final step. This plugin also features free SSL certificate creation, granting access to certificate, key, and CA files via its interface.
WP LetsEncrypt's premium option offers technical assistance, ensuring the validity of headers related to transportation security within the framework of HSTS, SSL Health tools for SSL score tracking, secure webmail, and email certificates. With just a click of a button, HTTPS can be enabled throughout your site swiftly.
Key Features:
Automatic certificate renewal
Wildcard SSL certificates
Seamless HTTP domain verification
Free SSL certificate creation
Secured webmail and email certificates
SSL Health tools for SSL score tracking.
Insecure HTTP Traffic Redirection to Secure HTTPS Plugin for WordPress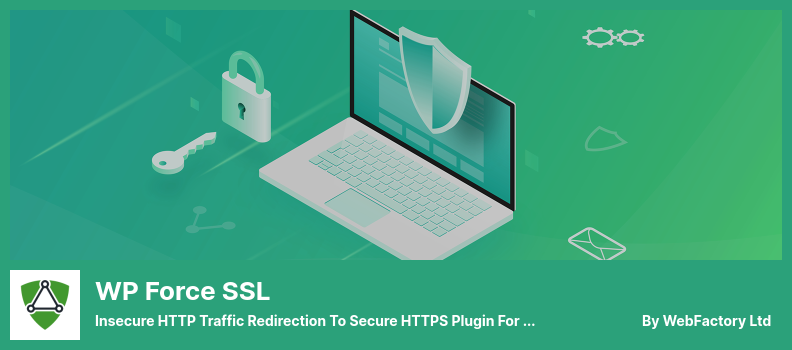 WP Force SSL is a plugin that will help you redirect your unencrypted HTTP traffic into HTTPS traffic which provides additional security for your website. It doesn't require code modifications on your site, making it incredibly easy to use.
This plugin is designed to offer a lot of advantages for users, including protecting their website from viruses and other harmful content while preventing intruders and hackers. SSL certificates make websites appear more credible, which can help improve your online reputation.
With the plugin, you can inspect your SSL certificates and check their validity by using their SSL certificate verification tool. This powerful feature ensures your website visitors are aware of the secure environment they are browsing.
The plugin can scan your website for mixed content publishing errors, which is one of its cool features. With their automatic scanner, you can stay away from these problems that obstruct SSL implementation. If you check your mixed content, you can make sure it's protected from cookie hijacking and downgrading.
In addition, the plugin lets you check your SSL configuration, issue, and licensing in one place. Additionally, it lets you forcefully depend on secure cookies to guarantee visitors have a safe browsing experience. XSS is their cross-site scripting threat protection, which protects against all kinds of stuff.
WP Force SSL's comprehensive report will provide a complete overview of your website's SSL settings and security implementation. Plus, with the HSTS feature, you can further increase your website's security.
Key Features:
Force secure cookies
Automatic mixed-content scanner
SSL certificate verification tool
All purchasing and licensing can be accessed in one place
HSTS enabled by enabling the settings
Cross-site scripting threat protection.
Free SSL Certificate & HTTPS Redirect for WordPress
SSL Zen is a WordPress plugin that secures your website with an SSL certificate, which can help improve its rankings on search engines. Once installed, it redirects HTTP traffic to HTTPS, and a padlock icon appears at the top of the URL bar to indicate that the website is secure.
With the Premium version, you can automatically generate and verify SSL certificates when they expire. The free version allows you to receive a free domain-validated SSL certificate from Let's Encrypt and guide you through the installation process.
Compared to WP Force SSL, the plugin is less user-friendly, but it offers more comprehensive setting and configuration options. Let's Encrypt, a popular non-profit certification authority, provides the most popular source for free SSL certificates.
In addition to securing your website, SSL Zen offers several benefits, including regulatory compliance, improved search engine rankings, increased security for clients, and secure online payment acceptance.
Key Features:
Secure page display with lock icon
Secure connection displayed message
Improved search engine rankings
Compliance with regulatory requirements
Increased client security
Secure online payment acceptance.
SSL Certification On Your WordPress Website Plugin
'Easy HTTPS Redirection (SSL)' is a WordPress plugin that enables you to make your website more SEO-friendly by redirecting your HTTP traffic to HTTPS.
By installing this plugin and an SSL certificate on your website, it will automatically convert your website to HTTPS, improving both visitor experience and website ranking with Google.
One of the key features of the plugin is the dynamic loading of static files based upon HTTPS URLs. This ensures that your website is SSL-compliant and offers secure image, JS, and CSS files.
It is also possible to configure the plugin to automatically redirect visitors to HTTPS if they visit any URL within the site, and you can do this by setting up an auto-redirect for each URL.
If you have specific web pages you want to redirect to HTTPS, the plugin also offers enhanced automatic redirection capabilities. Furthermore, you can force your browser to store secure cookies and protect your website from cross-site scripting attacks.
Key Features:
Dynamic loading of static files based upon HTTPS URLs
Auto-redirect for each URL
Enhanced automatic redirection capabilities
Force browser to store secure cookies
Protection from cross-site scripting attacks.
Free SSL Certificate Plugin for WordPress
Free SSL installed by Auto-Install Free SSL allows users to create a secure site using HTTPS by allowing for the installation of a free SSL certificate on their WordPress website.
The plugin is easy to install and the icon with a padlock will appear when the URL bar is accessed. SSL certificates and private keys are saved above page roots and users have the option to specify a different byte size.
As part of the plugin, users can specify whether the certificate should be stored in a directory accessible through the WordPress or cPanel dashboard, and the plugin is compatible with both.
Furthermore, users who choose to install the plugin for cPanel will be automatically notified by the plugin that their SSL certificate is going to be automatically renewed, which is a free service for all users of the plugin.
Key Features:
Save SSL certificates and private keys above page root
Compatible with both WordPress and cPanel websites
Specify different byte size if required by application
Option to specify directory for storage of certificates
Provides free SSL certificate for users of cPanel plugin
Certificates are automatically renewed.
SSL Certification Plugin For Your WooCommerce Plugin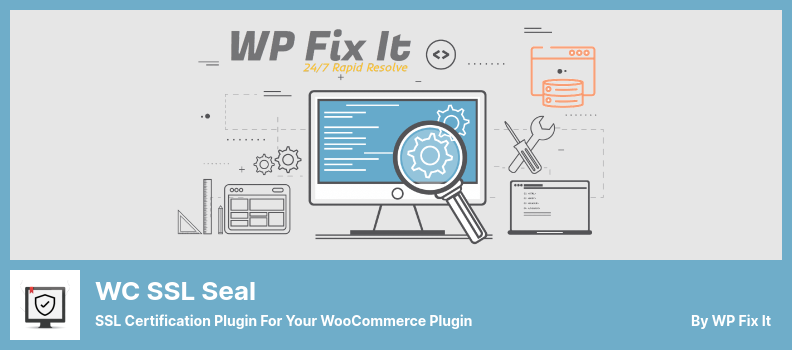 WC SSL Seal is a plugin that secures WordPress websites with an SSL certificate. It's essential to protect your customers' sensitive information such as bank accounts, credit cards, and other data.
Once the plugin is activated under the WooCommerce section, it provides site speed settings and allows you to place a secure seal at checkout, increasing customers' trust and confidence.
The plugin requires a valid SSL certificate, which can be obtained from an online SSL provider. After installation and activation, customers will feel safer and more secure when shopping on your website, knowing that their information is encrypted and protected.
WC SSL Seal offers enhanced security with HTTP Strict Transport Security support, customizable secure seal images, and error checking to ensure the certificate is working correctly. It also fixes the "mixed content" warning that may appear in some cases.
Key Features:
Support for HTTP Strict Transport Security
Customizable secure seal images
Error checking to ensure correct installation
Increases customers' trust and confidence at checkout
SSL certificate encryption protection.
Clean Up WordPress Website HTTPS Mixed Content Plugin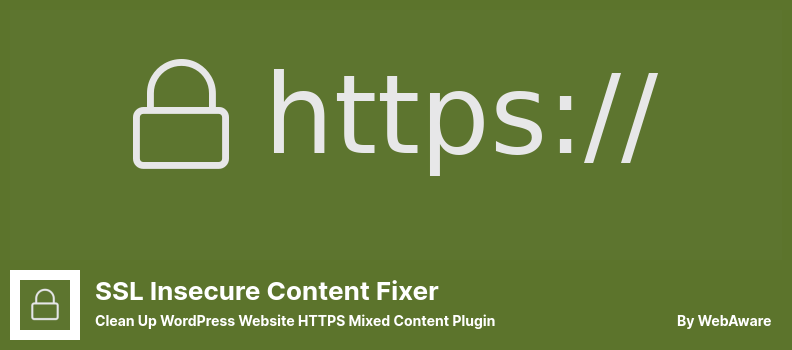 Using SSL Insecure Content Fixer, you can fix HTTPS insecure and mixed content warnings on your WordPress website with no hassle. HTTPS can be detected easily with this powerful tool, so you don't have to worry about any problems. You can install and activate it very easily, and it has a lot of great features.
You can install the plugin and let it automatically fix several typical issues on your website. If you need more comprehensive fixes, you can customize the fixes according to your requirements. If any problems still remain, you can handle them with ease using simple checks and fixes.
This plugin is ideal for network administrators who want to control site settings for all subsites by modifying network settings in the Network Admin area.
You can also set network-wide defaults using Network Settings, which means that network administrators only need to specify site-specific settings when those settings differ from those in the network.
By downloading, installing, and activating the plugin and running the test tool, you can determine if your WordPress website can detect HTTPS. You can then test your website with a browser tool or an online test.
Overall, SSL Insecure Content Fixer is an essential plugin for any WordPress website owner looking to resolve HTTPS issues quickly and efficiently.
Key Features:
Comprehensive approach to fixing levels
Multilingual support is provided.
Built-in testing tool
Fixes HTTPS warnings.
Frequently Asked Questions
What are SSL plugins?
SSL plugins are add-ons or extensions that can be installed on a WordPress site to enable secure connections by encrypting sensitive data communication between the server and the client's browser.
Why is SSL important for a WordPress site?
SSL is crucial for a WordPress site because it secures the website from external threats, improves search engine ranking, builds trust with visitors, and protects sensitive data such as login credentials and payment information.
Which SSL plugin should I choose for my WordPress site?
The best SSL plugin for your WordPress site depends on your specific needs and requirements.
Some of the factors to consider when choosing an SSL plugin include ease of installation and setup, features and functionalities offered, compatibility with your host and other plugins, and user support and reviews. It's best to research and compare different options before making a final decision.
Conclusion
In conclusion, we have gone through some of the most popular and effective SSL plugins for WordPress websites. These plugins provide you with a secure environment for your website, ensuring the protection of your users' sensitive data.
Having an SSL certificate is crucial for your website's success and credibility, so make sure you choose the one that suits your website's needs the best.
We hope that this article has been helpful and informative for you. If you want to read more related tutorials about WordPress, make sure to check out BetterStudio's blog. We have a wealth of resources that can help you take your website to the next level.
Also, follow us on Facebook and Twitter to stay updated with the latest news and tutorials for WordPress. We are always happy to help you refine your online presence.
Thank you for reading this article, and please feel free to ask any questions or share any problems you may have had with SSL plugins in the comment section below. We value your feedback and look forward to hearing from you.