Can't you find the perfect plugin for Text Editor?
In this article, we would like to share some of the best WordPress plugins for Text Editor that you can get your hands on. These plugins have a unique touch coupled with a well-designed and appealing design, rated by you, the shoppers! In conclusion, these plugins work with top WordPress themes.
These plugins are all specific to the Text Editor. For example, it is possible to use the following plugins for Improve WordPress Content Creation, Text Editor Code, WYSIWYG Editor, Text Editor Widget, and Easily Edit WordPress Data.
Best Text Editor Plugins for WordPress 🥇
Let's check out the list of the best Text Editor WordPress plugins for 2022:
Introduces A "Classic Paragraph" Block For The Block Editor
The Advanced Editor Tools plugin enables you to easily configure the WordPress text editor so you can use formatting tools more efficiently when you are restricted by the WordPress text editor.
Using this plugin, you will have immediate access to all formatting tools, as you do with the Classic Editor plugin.
In addition, to cut, copy, and paste, the plugin allows you to display the source code as well as change the background color of the editor and text editor code.
Several resources are available to help you resolve any problems that may arise while using the plugin. These resources include tutorials that may help you troubleshoot the problem.
Although the plugin developer has been monitoring and resolving issues posted in WordPress.org's forums, the plugin can occasionally produce 403 and 500 errors.
💵 This software is free to download and will be updated for life.
Key Features:
You can add the subscript and superscript buttons
On the setting page, you can select the desired buttons
You can Improve WordPress content creation
The plugin is compatible with all WordPress themes
An empty document button can be added
Random Reviews:
In 2022, Classic Editor is still the best editor.

The product category description is incompatible with plugins for WooCommerce*
Gutenberg Blocks Plugin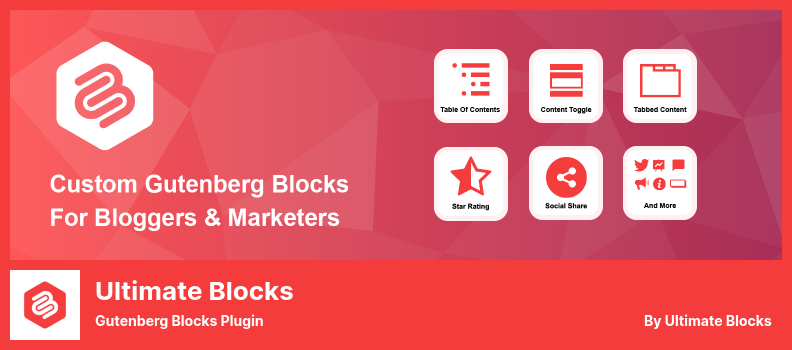 You can add more blocks to the Gutenberg editor with the Ultimate Blocks Gutenberg plugin.
This plugin will allow you to add a table of contents, a content filter, a review box, buttons, testimonials, a countdown timer, tabbed content, and more to your WordPress posts or pages. It contains more than 15 custom Gutenberg blocks. Like Classic Editor, it is a very simple plugin.
Now, making your content look appealing is no longer a difficult process. You do not need a developer or designer to achieve this, and your learning curve is very low.
In addition, there is a review, call to action, an improved button block, a countdown block, a progress bar block, and a click-to-tweet block. However, the plugin is designed only for the Gutenberg editor; it cannot be used with the Classic editor.
💵 It is FREE. There is no charge.
Key Features:
There is no complexity involved
Visitors can filter content using the content filter to see only certain types of content
There is no need to completely change the editor; you are simply making better use
You don't need to worry about coding to achieve your goal
Random Reviews:
Currently my favorite tool. This topic was modified 1 hour, 8 minutes ago by

I love the plugin, it has so many useful features!
An Official WordPress Plugin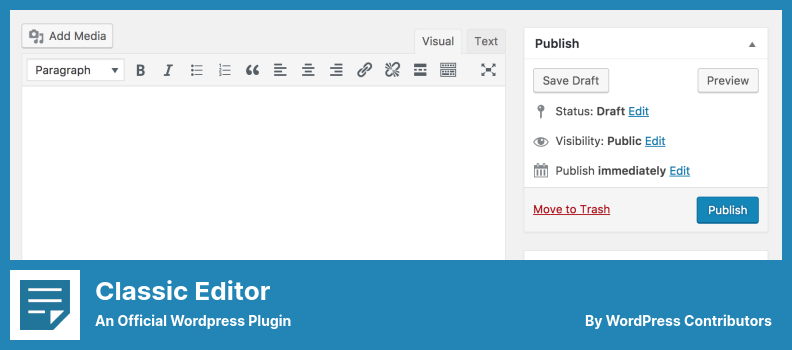 WordPress' Classic Editor is an official plugin developed by the WordPress team that restores the classic editor of WordPress. The default editor in WordPress 5 is Gutenberg, which might not meet your needs.
It operates somewhat similarly to the Ultimate Blocks plugin. With this plugin, all of the features of the Gutenberg block editor will be hidden from you, so you may write posts the traditional way.
If the plugin is enabled, administrators can select the default editor for all users, and users have the option of changing their default editor.
Once the option is enabled, users can select the default editor for each post. Maintenance and support will be provided as long as necessary.
Moreover, the Classic Editor plugin contains several filters that can be used by other plugins like the WYSIWYG editor and text editor widget in order to control certain post settings and editor parameters in certain post types.
💵 There is no charge for using this plugin.
Key Features:
Administrators can permit users to change their default editor
You can easily edit WordPress data
Regardless of who edited a particular post last, the posts open in the last editor used
The users can choose the type of editor to use for each post when allowed to do so
There is no complexity involved
Random Reviews:
Besides, Gutenberg has a code editor mode that eliminates the need to use this plugin.

This plugin is working fine with ***c xài th*y
Adds A New Visual Editor Widget Type
Using the Black Studio TinyMCE Widget plugin, you can add rich text and media objects directly to your sidebar without taking any additional steps.
It lets you edit your widgets in a WYSIWYG fashion, utilizing the native TinyMCE editor within WordPress, similar to how you can edit your posts, pages, and comments. The plugin also gives you the option to switch from visual mode to HTML mode for developers.
There were several limitations to this plugin when it was launched in 2011. A new text widget was added in version 4.8 of WordPress in June 2017 that enabled users to manage and display widgets visually.
💵 It's a Free plugin for download and all future updates.
Key Features:
Editing mode with no distractions
Suitable for multi-site deployments
Compatibility with the most common multilingual plugins
More than 20 languages are available in this plugin
Text widgets have the option to 'Automatically add paragraphs.'
Random Reviews:
It is very useful and makes my life easier. Thank you.

I needed more options in the text widget to add to the footer. This is a very useful plugin.
One final note
You will find in this article the top-rated Text Editor WordPress plugins that you can use on your site. Keep in mind that using these plugins will increase the number of visitors to your website.
📌 Note: Don't forget to check out our article on the useful WordPress themes for bloggers and our list of the best WordPress hosting companies.
Thank you for reading this article. I hope you found it helpful.
You are welcome to write to us if you have any opinions, comments, or interests. Also, if you enjoyed this article, please share it with your friends, family, and followers. Stay up to date with our newest articles on Facebook and Twitter!