Are you a WordPress website owner looking to enhance your text editing experience? Maybe you're tired of the limitations of the default WordPress editor and want to explore the world of plugins.
Well, you're in luck because we've rounded up the four best WordPress text editor plugins, both free and pro, to help you find the perfect fit for your needs. Now, you might be wondering why you should bother with text editor plugins in the first place. Well, let me share some eye-opening stats with you.
Did you know that over 40% of websites worldwide are powered by WordPress? That's a staggering number, and it means there's a huge demand for plugins that can enhance the functionality of WordPress websites.
The article discusses the top four text editor plugins for WordPress. It will provide detailed information about these plugins, including their main features, advantages, and disadvantages. The article helps readers make informed decisions about which text editor plugin to choose for their WordPress website.
Whether you're a seasoned WordPress pro or just getting started, this guide will provide you with all the information you need to make an informed decision and take your text editing game to the next level. So without further ado, let's jump right in!
Best Text Editor Plugins for WordPress
If you are looking to up your text editing game on your WordPress website, look no further! In this section, we'll be diving into the best text editor plugins available for WordPress.
Whether you're in need of a free option or are willing to invest in a pro version, we'll have you covered. So, let's dive in and discover the perfect text editor plugin to take your website to the next level!
Introduces A "Classic Paragraph" Block For The Block Editor
Introducing Advanced Editor Tools, a powerful WordPress plugin designed to enhance your text editing experience. With this plugin, you can easily configure the WordPress text editor to make better use of formatting tools, even when you're limited by the built-in editor.
One of the main advantages of using the plugin is that it provides immediate access to all formatting tools, just like the Classic Editor plugin. Say goodbye to limitations and hello to a more efficient writing process.
While the plugin has proven to be a valuable addition to any WordPress website, it's important to note that there have been occasional reports of 403 and 500 errors. However, the developer has been diligent in monitoring and addressing these issues through WordPress.org's forums.
To enhance your experience with the plugin, a variety of resources are available to help troubleshoot any problems that may arise. You can access tutorials and other helpful materials to ensure a smooth and hassle-free editing experience.
In addition to its core functionality, the plugin offers additional features such as the ability to display source code, change the background color of the editor, and even add subscript and superscript buttons. Imagine the possibilities of creating richer, more visually appealing content with ease.
With compatibility across all WordPress themes, you can seamlessly integrate the plugin into your website without worrying about conflicts or compatibility issues. It's a versatile tool that can adapt to your unique website needs.
One standout feature of this plugin is the option to add an empty document button. This can be particularly useful when starting a new project or simply needing a blank canvas to work with. It's all about providing you with the necessary tools to streamline your content creation process.
Key Features:
superscript buttons and Subscript for enhanced formatting
Customizable button selection on the settings page
Improved content creation in WordPress
Compatibility with all WordPress themes
Option to add an empty document button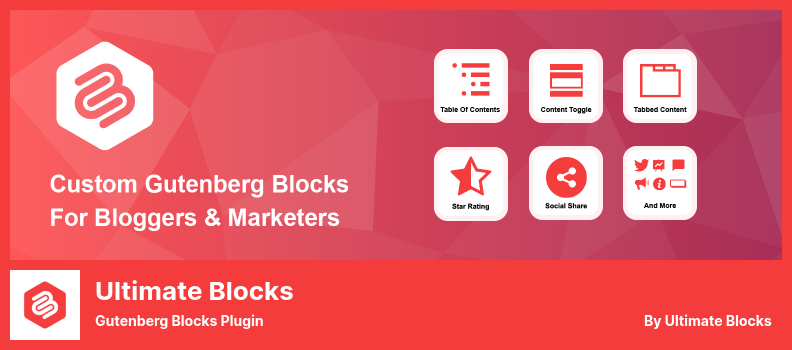 Ultimate Blocks is a WordPress plugin that makes it easy to enhance the appearance of your content without the need for a developer or designer. It offers over 15 custom Gutenberg blocks, making it simple and convenient to create engaging and visually appealing content.
With a low learning curve, this plugin allows you to add various elements such as a table of contents, content filters, review boxes, buttons, testimonials, countdown timers, and tabbed content to your WordPress posts or pages.
One of the standout features of the plugin is its content filter, which allows your visitors to filter and view only certain types of content. This feature provides a great user experience by allowing users to easily find the information they are looking for.
Plus, with this plugin, users don't have to replace their current editor entirely. Instead, they can augment their existing editor by incorporating advanced blocks provided by the plugin.
Unlike other plugins that require coding knowledge, the plugin eliminates the complexity and allows you to achieve your desired results without any coding skills. It provides a user-friendly interface that streamlines the process of adding attractive elements to your content.
While Ultimate Blocks is compatible with the Gutenberg editor, it cannot be used with the Classic editor. However, if you want to expand the range of blocks available in the Gutenberg editor, you can easily do so by using the plugin.
Key Features:
Review boxes

and testimonials for added credibility

Content filtering for enhanced user experience
Countdown timers for creating urgency
Customizable table of contents for improved navigation
Tabbed content for an organized presentation
Seamless integration with the Gutenberg editor
An Official WordPress Plugin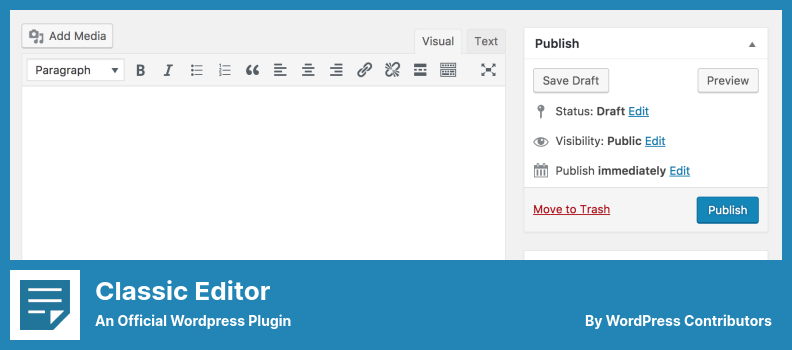 Classic Editor is a WordPress plugin developed by the WordPress team that restores the classic editor of WordPress. With the default editor in WordPress 5 being Gutenberg, the plugin provides an alternative for users who prefer the traditional way of writing posts.
Once enabled, administrators have the ability to select the default editor for all users, while users themselves can also change their own default editor if they wish. This flexibility allows users to choose the editor that best suits their needs.
One of the key benefits of the plugin is that regardless of who edited a particular post last, it will open in the last editor used. This ensures a seamless experience for users and eliminates any confusion or inconvenience.
Additionally, the plugin offers several filters that can be utilized by other plugins, such as the WYSIWYG editor and text editor widget. These filters provide control over certain post settings and editor parameters in specific post types, adding further customization options for users.
It's worth noting that the plugin operates in a similar manner to the Ultimate Blocks plugin, hiding all the features of the Gutenberg block editor. This allows users to compose their posts in the familiar and comfortable manner they're accustomed to.
To summarize, the plugin is a powerful WordPress plugin that brings back the classic editor for those who prefer it over the Gutenberg block editor. With its ease of use, flexibility, and compatibility with other plugins, Classic Editor provides a seamless and customizable writing experience for WordPress users.
Key Features:
The ability for administrators to permit users to change their default editor
Easy editing of WordPress data
Posts open in the last editor used, regardless of who last edited them
Users can choose the type of editor to use for each post
Simplified functionality with no complexity involved
Adds A New Visual Editor Widget Type
Black Studio TinyMCE Widget is a WordPress plugin that allows you to easily add rich text and media objects to the sidebar of your website. Unlike other sidebar plugins, this one doesn't require any additional steps or complex configurations.
When it was first launched in 2011, the plugin had some limitations. However, with the release of version 4.8 of WordPress in June 2017, a new text widget was introduced, which made it easier for users to manage and display widgets visually.
With the plugin, you can now edit your sidebar widgets in a WYSIWYG (What You See Is What You Get) mode, just like you would edit your posts, pages, and comments in sections.
One of the standout features of this plugin is the ability to switch between visual mode and HTML mode. This means that if you're a developer or prefer working directly with HTML, you have the option to switch to code view and make changes using HTML tags.
In terms of compatibility, it works seamlessly with the Page Builder plugin, allowing you to create customized layouts and designs for your sidebar. It is also suitable for multi-site deployments, making it a great choice for those who manage multiple WordPress websites.
For those who require multilingual capabilities, this plugin is compatible with the most common multilingual plugins available. It supports more than 20 languages, ensuring that you can reach a wider audience with your website.
Another handy feature of the plugin is the option to automatically add paragraphs to your text widgets. This can make your content more visually appealing and easier to read for your visitors.
Black Studio TinyMCE Widget is a powerful and user-friendly plugin that simplifies the process of adding rich text and media objects to your sidebar. With its compatibility with other plugins and its customizable features, it's a valuable addition for any WordPress website owner looking to enhance their user experience.
Key Features:
Compatibility with the Page Builder plugin
Distraction-free editing mode
Suitable for multi-site deployments
Compatible with popular multilingual plugins
Option to switch between visual and HTML mode
Automatically add paragraphs to text widgets
Frequently Asked Questions
Are these WordPress text editor plugins easy to use?
Yes, these WordPress text editor plugins are designed to be user-friendly and intuitive. They are built with both beginners and experienced users in mind, offering simple interfaces and drag-and-drop functionality.

Whether you're new to website editing or a seasoned pro, you should find these plugins easy to navigate and use. Additionally, many of them provide documentation and tutorials to help you get started and make the most of their features.
Can I use multiple WordPress text editor plugins on my website?
While it is technically possible to use multiple WordPress text editor plugins on your website, it is generally not recommended. Using multiple text editor plugins can lead to conflicts and compatibility issues, causing your website to function improperly.

It is best to choose one text editor plugin that suits your needs and stick with it. If you find that you need additional functionality, consider looking for a single plugin that offers all the features you require or explore other tools and plugins that can complement your chosen text editor.
What makes Gutenberg a good text editor plugin?
Gutenberg is a popular text editor plugin because of its simplicity and intuitive block-based editing system. It allows users to easily create and arrange content using different blocks, such as paragraphs, images, headings, and more.

It also offers a wide range of formatting options and customizability, making it a versatile choice for WordPress users.
Conclusion
To recap, in this article, we discussed the four best WordPress text editor plugins, both free and pro options, for enhancing the editing experience on your WordPress website.
If you're interested in learning more about WordPress and exploring related tutorials, we highly recommend checking out the BetterStudio blog. They provide valuable insights, tips, and tricks to help you make the most out of your WordPress experience.
Don't forget to follow BetterStudio on Facebook and Twitter to stay updated with the latest tutorials and news. By following them, you'll always be in the loop and discover even more ways to optimize your WordPress site.
Thank you for taking the time to read this article. If you have any questions or encounter any issues related to the topics discussed, please feel free to ask in the comment section below. We're here to help and provide further clarification if needed.