Searching for the best WooCommerce Affiliate WordPress plugin for your website?
We have researched the internet, so you don't have to, and provide you with the top WooCommerce Affiliate plugins out there. Additionally, they are speed optimized with good support. Moreover, WordPress plugins are compatible with all modern WordPress themes.
I have designed the following plugins to work with WooCommerce Affiliate sites. There is a wide range of WordPress plugins that can manage Affiliate Marketing, Affiliate programs, and more.
📌 Recommended: It is recommended that you use a modern WooCommerce theme that offers both useful features and a nice design to enhance your store's look and functionality. To learn more, you may also want to read our article about advanced WooCommerce plugins.
Listed below are the top 10 discussed and ranked WordPress plugins for WooCommerce Affiliate in 2022:
Automated Advertising Campaign WordPress Plugin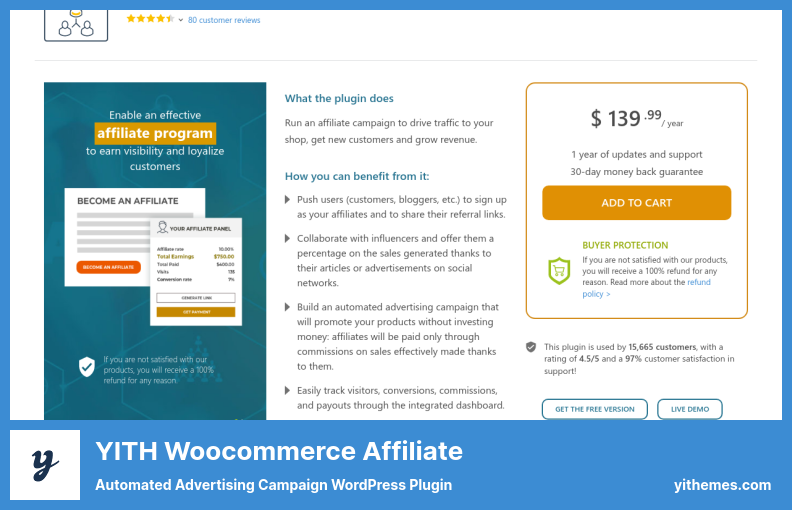 The YITH WooCommerce Affiliate plugin is also available for customers who use WooCommerce exclusively. With this plugin, affiliates can promote your products and services on their blogs in exchange for a portion of any purchases made through their links.
You can set the cookies of this plugin to expire at any time, allowing you to track referrals for a specified period of time. its shortcodes enable affiliate registration as well as affiliate creation based on existing visitors to your website.
All affiliates have access to a dashboard that displays sales information and trends in the event of a refund. The plugin calculates the refund and deducts it from the commission owed to the affiliate.
Through the use of an automated program, you can market your products without spending any money affiliates will be compensated only when sales are generated as a result of your efforts.
You will be able to track your visitors, conversions, payouts, and commissions with our integrated dashboard, so you can increase traffic to your website, generate qualified leads, and improve your search engine ranking by incorporating backlinks to your blog, social profiles, and other websites.
You can significantly reduce the cost of advertising with Yith WooCommerce Affiliate since you do not have to pay per click even if no sales are generated in your store.
When you have launched your affiliate program through a single plugin, you will be able to generate leads, traffic, and sales through partnerships with bloggers and influencers who are relevant to the interests of your target audience.
💵 With the YITH Woocommerce Affiliate plugin, your website will look like no other. The plugin is available for $€129.99.
Key Features:
Cookie and commission options can be customized to meet your needs
Flexibility in terms of payment
Anyone can use the free plan, which offers a variety of sophisticated functions
By using automated affiliate creation, you will not have to manually create affiliates
Utilizing referral program to earn referral commissions
Affiliate Marketing System WordPress Plugin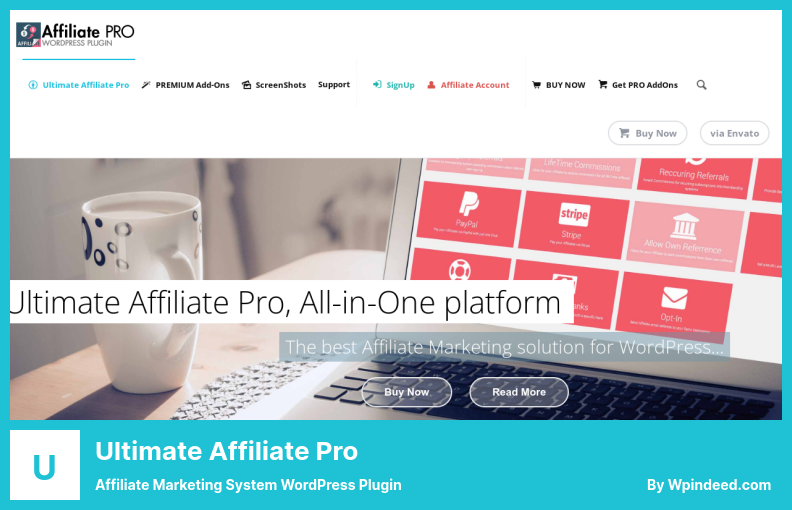 Ultimate Affiliate Pro is one of the most popular affiliate plugins, which provides a number of useful features that will help your affiliate program to succeed.
Affiliates have the option of customizing their website's menus, including the vertical and horizontal menus, as well as sections such as 'Marketing,' 'Profile,' and 'Reports.'
Several email marketing tools are compatible with the Ultimate Affiliate Pro plugin, including Mailchimp, MailPoet, and other popular services, regardless of how many affiliates you have involved.
By means of the Social Share and Locker plugin, affiliates will be able to share links via social media through the addition of a 'Share' button, and advertisers will be able to share their links through social media.
You can also categorize affiliates according to their performance, another unique feature. You can specify which requirements must be met in order for an affiliate to qualify for promotion to the next affiliate level, and each rank may carry its own commission percentage.
Affiliates and advertisers may share links on social media using the Social Share and Locker plugin. Affiliates may use a 'Share' button and advertisers may share their own links using the same feature.
Affiliates can be classified according to their performance, and a higher commission can be set for affiliates with excellent performance. There are also conditions that can be set up so affiliates can progress further in the system.
💵 With this plugin, you get 12 months of free support for $48.00.
Key Features:
Payments received through PayPal
If you are not satisfied with the plugin, we will issue a refund within 30 days of purchase
Reward individuals who refer a friend a second time
By setting up recurring commissions, you won't have to pay your affiliates once
Your affiliates can take advantage of special deals
Bonuses may be offered to your employees in response to their performance
Affiliate Link Cloaking Plugin for WordPress
The ThriftyAffiliates plugin offers a variety of features to ensure that you are managing your affiliate links effectively. you can shorten your affiliate links in order to create short URLs that are easier for people to remember – no more unsightly links that include 30 distinct numbers.
Also, you can set up 301 redirects, configure all affiliate links to be nofollow, and have them open in a separate browser window. Moreover, you can embed affiliate links into your written content as well.
When you use thirsty affiliates' dropdown link inserter, you will not have to log into each affiliate program separately whenever you need to insert a link.
But thirsty affiliates' greatest advantage is that you only need to modify affiliate links within the thirsty affiliates interface once for each individual article if you need to modify the link later on.
If you did not utilize a link management plugin like thirsty affiliates, you would need to modify each affiliate link for every individual article.
Easily uncloak Amazon affiliate links to ensure complete compliance with their terms of service. Front-end link fixing to ensure that your affiliate links are always current Manage your affiliate links via CSV for ease of installation or updating across multiple sites.
You just need to provide your keywords, and your affiliate link will be linked automatically. You will never get 404 errors on affiliate links again thanks to a proactive link checking system Tight integration with Google Analytics Pushes a click event when your affiliate link is clicked.
Thirsty Affiliates does not provide split testing or rotation, unlike Ultimate Affiliate Pro. Additionally, there may be an upgrade fee to gain access to additional capabilities.
💵 The Lite version is free, while the Pro version charges a fee.
Key Features:
To prevent losing money, Thirsty Affiliates will let you know if one of your affiliate links stops working
Automatically link keywords within your content in order to not miss out on revenue-generating opportunities
Google Analytics can integrate with the program
Organize and categorize your connections according to your preferences
Random Reviews:
The plugin also gives reports of the number of clicks

This tool transforms all bad links into pretty-looking ones. Very useful.
Full-featured Affiliate Program On WordPress
Affiliate WP plugin allows you to create a comprehensive affiliate system in WordPress and handle affiliates, referrals, payments, and other aspects of your business from your website. It includes all of the affiliate marketing tools you'll need to expand your business and profit.
It's a WordPress plugin that looks and feels like WordPress itself. Its features have all been meticulously developed to work with WordPress and provide you with a familiar experience.
Furthermore, it has extensive affiliate and referral monitoring tools that deliver precise and dependable data.
The plugin lets you track sales and traffic from affiliate partners in real-time through its state of the art dashboard which also includes new affiliate registrations.
You can also manage creatives and other elements of your brand that you want your affiliate to use while marketing your store and products.
AffiliateWP was designed by the same team that built the eCommerce plugin Easy Digital Downloads. As a result, the plugin works in tandem with Easy Digital Downloads.
Not to mention WooCommerce and other popular membership, form, and invoicing plugins are all fully supported.
In addition to that, each of your affiliates gets a dedicated area that allows them to track their earnings, and sales, and retrieve their affiliate URLs.
In comparison with the YITH WooCommerce Affiliate plugin, Affiliate WP is more expensive and all add-ons must be purchased separately. For example, a tracking code must be purchased separately for Affiliate WP.
💵 Take advantage of this impactful plugin for $149.00.
Key Features:
Manage affiliate coupons and track their performance
Approve affiliates manually if necessary
Automating the creation of affiliates is possible with a computerized affiliate system
Customers are well served by a well-designed and well-manufactured product
Partners can use their own links and promotional codes for no additional cost
An Affiliate Program for Selling Products WordPress Plugin
We recommend checking out SliceWP if you are interested in setting up a WordPress affiliate program on your own. This plugin is user-friendly and straightforward to use, and it requires little time to set up.
In addition to supporting WordPress websites, SliceWP helps you manage your affiliate program efficiently. It provides reporting and real-time statistics so you can track how far your affiliate program has advanced.
It has a powerful free version that is available on WordPress.org, but if you want to take advantage of more features for your affiliate program, you can subscribe to paid subscription plans that give you access to premium add-ons for free.
As of today, there are 16 add-ons that provide various functionality, including affiliate coupons, PayPal payouts, cross-site tracking, detailed reports, and integration with MailChimp
In order to create a successful advertisement, you will likely have to hire a professional. Then, you need to hope that it is successful. Additionally, these ads are usually pay-per-click ads, which means you are charged only when someone clicks on them.
As soon as you become knowledgeable about affiliate programs, you will be able to leave them running on autopilot once you have implemented them.
There are many affiliates who already have an audience, and they also have the know-how to market a business, and you can tap into them for guidance.
Building an audience today is more challenging than ever, so if you do not already have one, promoting your business can be quite challenging.
💵 The Lite version is free, but the Pro version costs $99.00.
Key Features:
A live display of statistics that is updated in real time
A refund is always available within 30 days if you are dissatisfied
Cookies can be customized in terms of their duration and function
Automating your payments through your PayPal account
Affiliate registration can be customized depending on your requirements
An individual can sign up for an unlimited number of affiliate programs
Random Reviews:
There is also excellent customer support from the team during the installation and setup of this plugin.

As usual, I don't review this plugin on this site (since I am pretty lazy), but I got the Pro Version a few months ago, and it is absolutely excellent. The Plugin contains everything you will need to promote Affiliate products. I never had a better experience when dealing with support.
Link Management, Branding, Tracking & Sharing Plugin For WordPress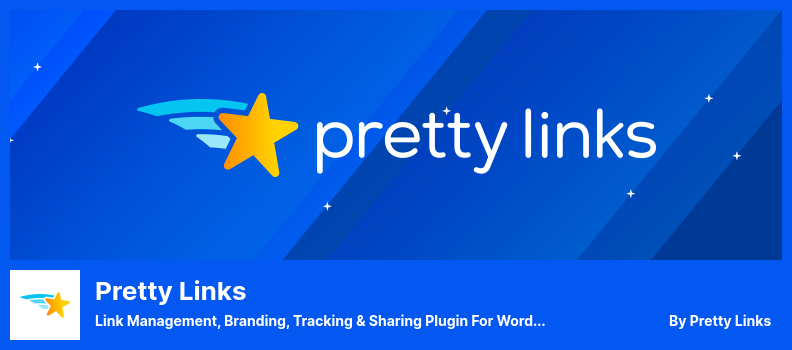 As its name suggests, Pretty Links is one of the best WordPress plugins for hiding affiliate links. Hence, we can conclude that its primary purpose is to cloak affiliate links in the best possible way.
The software not only automatically creates affiliate links, but also does so in an automated fashion. There are many other products available on the market, but none are as comprehensive and powerful as this one.
A tracking system for affiliate URLs is in place, so that control can be kept and that the tracking system can provide useful information regarding its performance.
The report includes several parameters, including the IP address, the operating system, and the referring site, for example, it displays information such as how many clicks there were on the link, how many unique clicks there were on the link, etc.
Through this plugin, you are provided with the ability to assess which affiliate links are most effective for your purposes.
Having link reports is a critical tool because they allow you to increase conversion rates directly on the click. If you receive more clicks on a given link than usual on a webpage, this means that it has been successful, and you can use it to generate more revenue.
Furthermore, if there is a substantial amount of traffic and few clicks on a page containing an affiliate link, you may want to consider improving the affiliate links to attract more visitors. Once the quality of your content and call-to-action is enhanced, you are likely to attract more visitors.
💵 The Lite version is free, the Premium version is priced at $79.00.
Key Features:
Thorough link analysis is carried out
Automatic linking results in increased productivity and efficiency, thereby saving time and money
Links to affiliate sites will be redirected at the server level
Enables you to create affiliate links that do not affiliate links
Using keyword exclusions, dynamic redirections, and link scheduling capabilities of a website can greatly increase its effectiveness
Random Reviews:
Until they stopped allowing me to edit my URLs, bitly was my go-to shortener. They started charging me steep monthly fees. No thanks! I discovered Pretty Links and have managed my short links right within my site dashboard.

I've used this plugin for years — it's so helpful and gives me URL's I can remember! Thanks, Pretty Links.
Campaign Posts Creation & Affiliate Program WordPress Plugin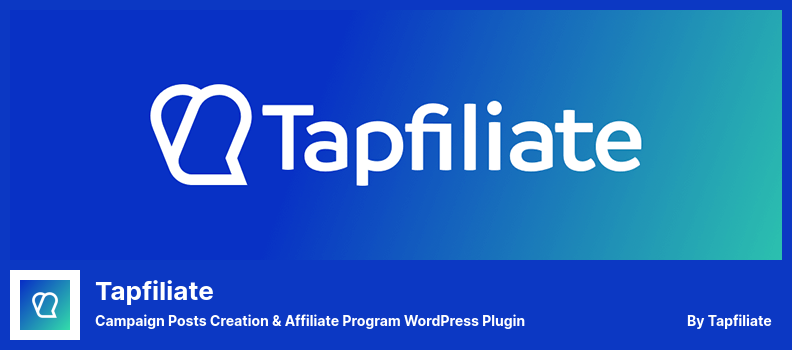 As an affiliate management system that offers SLAs and is fully scalable and flexible, Tapfiliate is a great choice if you are seeking a solution that will enable you to create an affiliate program that can meet the needs of eCommerce or SaaS affiliates.
The affiliate network platform is very easy for affiliate networks to integrate with affiliate networks, which turns it into an extremely effective affiliate network.
This Getting Started Dashboard will allow you to access a variety of useful tools, as well as a comprehensive set of automated and customized options that will make tracking and managing your affiliate networks easier than ever.
As a result of creating affiliate websites and marketing assets on your platform, it will be possible to white-label them and modify them to match your brand, as well as provide affiliates with a dashboard and different tools to monitor their progress.
Using Tapfiliate's website, you can pay affiliate partners in the most professional way possible by utilizing a variety of commission options.
The Tapfiliate website additionally offers you a variety of options for rewarding affiliate partners in a manner that provides the best incentive for profit.
Once the program has been integrated into your online store and you have provided the affiliate partners with their unique affiliate URL, it is possible to sign up new affiliate partners.
With the Tapfiliate plugin, there are no built-in features for creating newsletters, however the Pretty Links plugin includes this functionality.
💵 It is free to use, but there is a $69.00 to upgrade.
Key Features:
Connects easily to existing e-commerce marketing platforms
Depending upon your needs, you can create customized commission plans
The admin dashboards allow you to access all the information collected by the program, so that you may monitor and control the data
Affiliate Dashboard allows you to share links, receive marketing materials as well as keep track of your own performance
Upon conversion, affiliates pay a user or consumer who has been referred to your website by your affiliates
Shortcodes facilitate implementation by simplifying the process
Creating a customized sign-up form for your website
Random Reviews:
Finally, something to replace Leaddyno and Post Affiliates' archaic nonsense. Kudos to Amaris! Tapfiliate is the best who cares about the rest too.

Easy to use and does as it says. Keep up the good work! This topic was modified 4 years ago by

Keep it up, guys! Setup is super easy. Just enter your codes and you're done!
Powerful Affiliate Program With Full Control WordPress Plugin
Affiliate for WooCommerce Plugin is a free affiliate plugin developed by StoreApps, a developer with extensive experience in developing WooCommerce plugins that have incredible extensions for other platforms as well.
Upon installation of the plugin on your website, you will have full control over your affiliate program and be able to perform a number of functions, including accepting affiliate partner requests, releasing payouts, changing your customers into affiliate partners, etc.
As an added feature, Affiliate for WooCommerce features a user-friendly dashboard that provides you with insight into all the information that you need, so that you can easily understand it.
By using a one-page interface, you will save time as well as avoid swiping between images in order to find the information you require. The plugin developers will also provide full support, ensuring that you can obtain the assistance you require if needed.
It is fairly straightforward to create an affiliate program. The only thing you have to do is persuade people to join and explain what the program is about. Once they do this, they will be able to receive commissions upon enrollment and referral links.
Establishing new affiliate partnerships by converting customers and subscribers into affiliates Tracking affiliates' progress and adjusting commissions according to order statuses and recurring payments.
The Plugin's Commission Plan System allows you to set commissions based on various factors, such as commissions based on the first product, commissions based on categories, commissions based on affiliate tags, commissions based on individual affiliates, etc.
💵 Buy the plugin for $129.00, and you'll get full documentation and 12 months of support.
Key Features:
Provide affiliates with a leaderboard to track their performance
Provides the option of setting affiliate commissions at a store-wide level
Managing all affiliates from one location is possible
Referrals can be tracked through coupons
Reports on sales being conducted at the moment
Affiliate Marketing Program Manager Plugin for WordPress
With the WordPress Affiliate Manager, you can benefit from a great affiliate program that offers several interesting features. Perhaps the most impressive feature is the possibility to customize payment options according to your requirements
It is possible to award bonuses to affiliates through the manual distribution of payouts. The payout rates can also be customized for individual affiliates, which allows rewards to be given to your most successful affiliates
Besides its high popularity, this plugin also includes an advanced asset management system that tracks impressions for each banner and link. This provides you with easy means to test and improve the plugin.
Plugins such as WordPress Affiliate Manager are ideally suited to business owners who wish to maintain a simple affiliate program. The plugin can also be used by smaller, budget-conscious organizations
The integration list consists mostly of payment systems and eCommerce solutions. I was a bit disappointed at the lack of integrations for marketing tools, but for a free plugin, the WordPress Affiliate Manager is excellent.
There is a tracking system for all creative assets with custom email templates, as well as to accept mass payments through the PayPal system.
This product integrates with popular tools and services such as WooCommerce, Easy Digital Downloads, iThemes Exchange, and Paid Membership Pro.
💵 The Pro version is priced at $Free, and the Lite version is free.
Key Features:
All assets can be used to track campaign impressions
The amount earned by each affiliate can be determined
A dashboard is provided where you can view your affiliate links
An option for flat-rate payout and an option for percentage payout is available
Each asset can be toggled on and off independently at any time
If you need to make a manual payout or adjustment, you have several options
Random Reviews:
Thanks for the response and encouragement for a FREE plugin! I appreciate your help and so far, the plugin is performing as we need it to! This topic was modified 2 months, and 3 weeks ago by Kirby.

As a German company, we were interested in a simple but effective affiliate program for our online store (shop.erdenfreund.de). Unfortunately, there were some small bugs in the German language. The support team resolved the issues immediately and competently, using a free plugin. Now everything works fine, thanks!
Amazon Associates Reports Plugin for WordPress
WooCommerce Amazon Affiliates allows you to earn affiliate commissions from Amazon sales on your own website, which is a plugin designed to integrate Amazon products with your website.
In just a few clicks, you can begin selling hundreds of products through Amazon affiliate programs.
In addition, it offers an Amazon Associate reporting module, which displays conversions, clicks, and shipped products, as well as the affiliate commissions generated through affiliate marketing.
As an Amazon Associate, you have access to a tool called Reports which can be very effective when it comes to increasing profits. You can monitor your performance using Reports and make gains using them.
Members of the Amazon Associates program have access to a variety of useful reports that can make their work lives easier.
In addition to receiving a real-time report regarding any orders placed through your affiliate links, you will also receive a detailed report of your earnings for the present period.
If you use this method, your website will function and appear much like a traditional eCommerce site, except that customers are redirected to Amazon when they complete their purchases.
The API allows you to sync and import products seamlessly without the need to use product advertising keys. The synchronization occurs automatically every 15 minutes, and the interval for recurring synchronization is every 24 hours.
💵 It costs $49.00 to use this plugin.
Key Features:
As long as you maintain your cart, it will remain on your site
Cookie data is retained for 90 days
A brief description of the product statistics
Upon submitting your products to Amazon, all of your products will appear simultaneously
Random Reviews:
Honestly, I have to revise my last review. It was my mistake that the plugin eBay Addon did not work. Now realize I made an incorrect entry on eBay. Sorry to AA team for the emotional and hurried review. The plugin now works fine.

This plugin allows me to generate income with a minimum effort. It does everything for you. Support responds very quickly and resolves issues. I highly recommend this plugin.
To conclude, let us state
These are the best plugins around for WooCommerce Affiliate. Use these to build an amazing website.
📌 Recommended: Our articles about the best WordPress blog themes and best WordPress plugins for bloggers are also highly recommended.
Hope you've found the best WooCommerce Affiliate WordPress plugin for your site from all the ones listed here.
You can ask any questions you like. Please share this content on social media.