Are you a WordPress website owner in search of the perfect WooCommerce affiliate plugin? Look no further! In this blog post, we'll be exploring the top 10 WooCommerce affiliate plugins that are available for both free and pro versions.
Whether you're new to affiliate marketing or a seasoned pro, these plugins are sure to help you maximize your earnings and streamline your affiliate program.
Now, you might be wondering why you should even consider using a WooCommerce affiliate plugin. Well, let me tell you, affiliate marketing is a powerful way to monetize your website and boost your income.
By partnering with other businesses and promoting their products, you can earn a commission on each sale that is generated through your referral. With the right plugin, you can easily manage your affiliates, track their performance, and automate commission payouts.
So, without further ado, let's jump right into the 10 best WooCommerce affiliate plugins that will take your affiliate marketing game to the next level. From features and integrations to user reviews and pricing details, we've got you covered. Let's get started and find the perfect plugin for your WordPress website.
Best Affiliate Plugins for WooCommerce
If you're looking to boost your affiliate marketing game on your WooCommerce website, you're in the right place! In this section, we'll be diving into the best affiliate plugins for WooCommerce that will help you skyrocket your earnings.
Make sure to keep reading and discover the game-changing plugins that can take your affiliate strategy to the next level.
Automated Advertising Campaign WordPress Plugin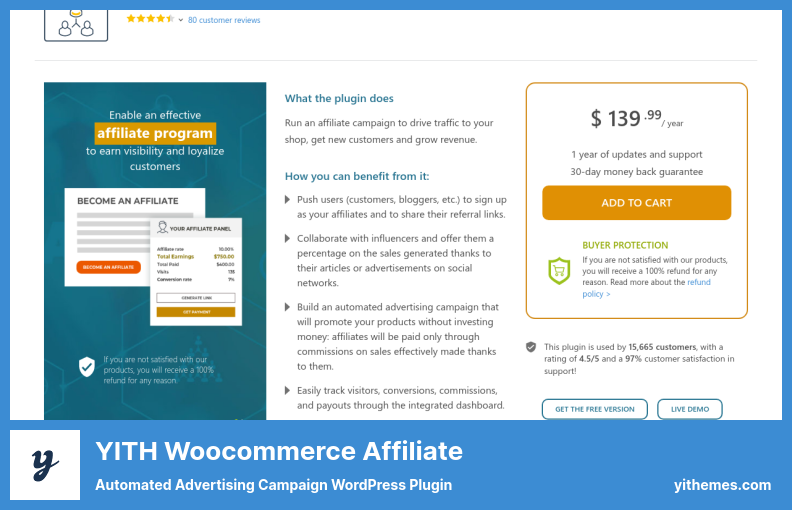 YITH Woocommerce Affiliate is a powerful plugin that allows your affiliates to promote your products and services on their blogs. They earn a portion of any purchases made through their referral links. The plugin provides a user-friendly dashboard where affiliates can track their sales and commissions.
With this plugin, you can easily track your visitors, conversions, payouts, and commissions through the integrated dashboard. This helps you increase traffic to your website, generate qualified leads, and improve your search engine ranking by incorporating backlinks.
One of the key benefits of this plugin is that it allows you to market your products without spending any money upfront. Affiliates are only compensated when sales are generated as a result of their efforts. This significantly reduces the cost of advertising compared to pay-per-click.
You have the flexibility to customize the cookie and commission options to meet your specific needs. The plugin also offers various payment options, ensuring that you can easily compensate your affiliates. Even the free plan provides a range of sophisticated functions, making it accessible to anyone.
Another great feature of YITH Woocommerce Affiliate is the ability to automatically create affiliates. You don't need to manually create accounts for each affiliate. This saves you time and effort, allowing you to focus on growing your business.
The plugin also offers a referral program, which allows you to earn referral commissions. This means that you can benefit from both affiliate promotions and referrals from happy customers.
Key Features:
Customizable cookie and commission options
Flexible payment options
Sophisticated functions available for free
Automated affiliate creation
Referral program for earning referral commissions.
Affiliate Marketing System WordPress Plugin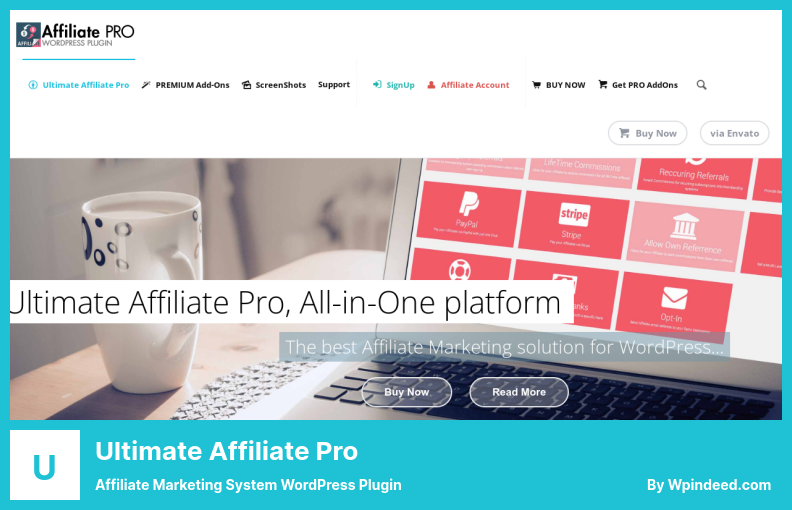 The Ultimate Affiliate Pro plugin gives you a bunch of useful affiliate features to make your program succeed. Social Share and Locker plugins make it easy for advertisers and affiliates to share links on social media. Affiliates can share with 'Share' buttons, while advertisers can share with 'Share' buttons.
One standout feature of the plugin is the ability to classify affiliates based on their performance. You have the option to set higher commissions for affiliates with excellent performance. Additionally, you can establish conditions for affiliates to progress further in the system.
Customization options are also available for affiliates, allowing them to personalize their website's menus, including vertical and horizontal menus, and sections like 'Marketing,' 'Profile,' and 'Reports.' This feature helps create a seamless integration with your existing website design.
Another great aspect of the plugin is its compatibility with various email marketing tools such as Mailchimp and MailPoet. No matter how many affiliates you have, you can easily integrate them with these popular email marketing services.
This plugin also lets you categorize affiliates based on how well they are doing. It lets you specify the requirements affiliates need to meet in order to be promoted. Each rank has a different commission percentage, so you can reward affiliates based on their performance.
Ultimate Affiliate Pro allows affiliates to share links through social media platforms. This makes it effortless for affiliates to spread the word about your products or services, increasing their reach and driving more traffic to your website.
Key Features:
Receive payments through PayPal for seamless transactions
A refund can be issued within 30 days of purchase
Double Referral Rewards
Set up recurring commissions to automate affiliate payments
Enable your affiliates to offer special deals to their audience
Performance-Based Bonuses.
Affiliate Link Cloaking Plugin for WordPress
Using ThirstyAffiliates, you can manage your affiliate links effectively. With it, your affiliate links can be shortened so that they're easier to remember. You don't have to log into each affiliate program separately anymore – with our dropdown link inserter, you don't have to do any extra work.
But that's not all – the plugin offers even more features to simplify your affiliate marketing efforts. You can set up 301 redirects, configure all affiliate links to be nofollow and have them open in a separate browser window. You can also embed affiliate links directly into your written content, saving you time and effort.
It also provides Amazon link uncloaking, ensuring that you're in complete compliance with their terms of service. Managing your affiliate links has never been easier with the option to import and export links via CSV, making installation and updating across multiple sites a breeze.
It's got a feature that links keywords automatically in your content. Just let the plugin know your keywords, and it'll link them to your affiliate links so you make more money. The proactive link-checking system at ThirstyAffiliates will keep your affiliate links free from 404 errors.
The plugin seamlessly integrates with Google Analytics, allowing you to track your affiliate link clicks and gain valuable insights into your marketing efforts. It even pushes a click event to Google Analytics when your affiliate link is clicked, providing you with accurate data to analyze.
While ThirstyAffiliates offers a wide range of features, it's important to note that it does not provide split testing or rotation capabilities like Ultimate Affiliate Pro. Additionally, there may be an upgrade fee to access additional features.
Key Features:
Link monitoring to prevent loss of revenue from broken affiliate links
Automatic keyword linking to maximize revenue opportunities
Seamless integration with Google Analytics for tracking and analysis
Easy organization and categorization of affiliate links.
Full-featured Affiliate Program On WordPress
With Affiliate WP, you can get a complete affiliate system right on your WordPress site. If you've got this plugin, you can do a lot of things with your affiliate marketing business, including managing affiliates, referrals, payments, and more. It's got all the tools you need to grow your business.
There are a bunch of awesome features in this plugin, including affiliate and referral tracking. With these tools, you'll get detailed data on your affiliate traffic and sales in real-time. A dashboard that shows you how well your affiliate partners are doing includes info on new affiliates.
You can easily integrate the plugin with WooCommerce and other popular plugins like memberships, forms, and invoicing. Since Affiliate WP is built by the same team as Easy Digital Downloads, it's perfect if you're already using Easy Digital Downloads.
It's easy to manage your affiliates and give them the tools they need with this plugin. If you want your affiliates to promote your store and products, you'll want them to have banners and images that they can use. You make sure your affiliates have everything they need to get your business out there.
When comparing Affiliate WP to other similar plugins like YITH WooCommerce Affiliate, it is a bit more expensive. It's important to note that with the plugin, you'll need to purchase add-ons separately, such as a tracking code. However, the features and functionality it provides make it well worth the investment.
One of the major advantages of the plugin is that it seamlessly integrates and feels like a part of WordPress itself. The professional developers have carefully crafted each feature to work harmoniously with WordPress, providing users with a familiar and user-friendly experience.
In addition to all the powerful features for website owners, this plugin also offers a dedicated area for each affiliate. This allows your affiliates to easily track their earnings, and sales, and retrieve their affiliate URLs. It's a great way to keep your affiliates engaged and motivated.
Key Features:
Manage affiliate coupons and track their performance
Ability to manually approve affiliates if necessary
Automated affiliate system for effortless creation of affiliates
Well-designed and well-constructed products for optimal customer satisfaction
Partners can use their own links and promotional codes at no additional cost.
An Affiliate Program for Selling Products WordPress Plugin
SliceWP is a powerful WordPress plugin that allows you to set up your own affiliate program with ease. Whether you're an experienced affiliate marketer or just starting out, this plugin is user-friendly and straightforward.
You can try it out for free on WordPress.org before committing to a paid subscription plan, which is one of the coolest things about the plugin. You can unlock even more features and capabilities for your affiliate program if you choose one of their paid subscription plans.
It can be time-consuming and expensive to set up an affiliate program if you don't know how to do it. The plugin lets you tap into the knowledge and expertise of affiliates already with audiences and know how to market companies. It saves you time and energy.
Also, it's super user-friendly, and it has lots of reports and statistics. You can track how well your affiliates are doing and adjust your strategies accordingly, so you can keep an eye on how well your affiliate program is doing.
This plugin works with WordPress websites and comes with 16 add-ons. It's got affiliate coupons, PayPal payouts, cross-site tracking, detailed reports, and MailChimp integrations, so you can tailor it to suit your business.
Another great feature of the plugin is the ability to customize affiliate registration. You can tailor the registration process to fit your requirements and collect the necessary information from your affiliates.
If you're unhappy with SliceWP for any reason, they offer a 30-day refund policy. This gives you peace of mind knowing that you can request a refund if the plugin doesn't meet your expectations.
Key Features:
Affiliate coupon functionality
Real-time statistics and reporting
Customizable cookies duration and function
PayPal payment automation
Unlimited affiliate program sign-ups.
Link Management, Branding, Tracking & Sharing Plugin For WordPress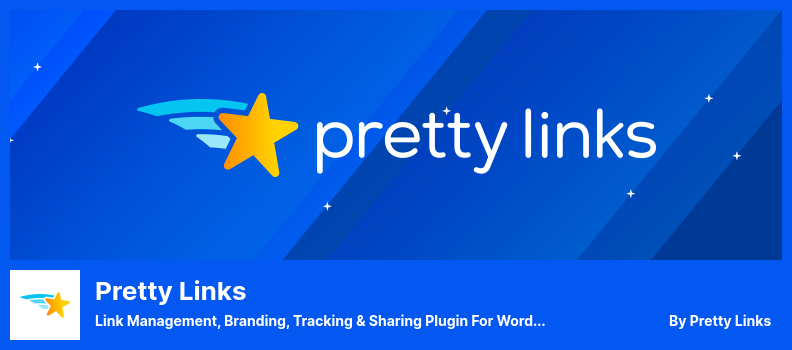 Pretty Links is a WordPress plugin that specializes in concealing affiliate links, making it a top choice for website owners looking to protect and optimize their affiliate marketing efforts. With its automated link creation feature, this plugin saves you time and effort by automatically generating affiliate links for you.
Also, it tracks and analyzes links, giving you valuable insight into how well your links are doing. This plugin gives you a ton of info. It's great for boosting conversion rates and maximizing revenue. You can track metrics like clicks, unique clicks, IP addresses, and referring sites.
Not only does the plugin provide valuable tracking capabilities, but it also offers a sophisticated system for managing your affiliate URLs. With its server-level redirection, you can easily control and redirect your affiliate links, ensuring that they are effective and achieving your desired results.
One of the standout features of the plugin is its ability to create affiliate links that are not easily recognizable as such. By using keyword exclusions, dynamic redirections, and link scheduling capabilities, you can enhance the performance of your website and drive more traffic to your affiliate links.
In short, Pretty Links lets you manage your links, analyze them, and optimize them on WordPress. If you're looking to maximize affiliate revenue, this plugin is a must-have. It cloaks affiliate links, tracks performance, and gives you insightful reports.
Key Features:
Thorough link analysis for comprehensive tracking and optimization
Automatic link creation for increased productivity and efficiency
Server-level redirection for seamless management of affiliate links
Ability to create affiliate links that blend seamlessly with your content
Keyword exclusions, dynamic redirections, and link scheduling for enhanced effectiveness.
Campaign Posts Creation & Affiliate Program WordPress Plugin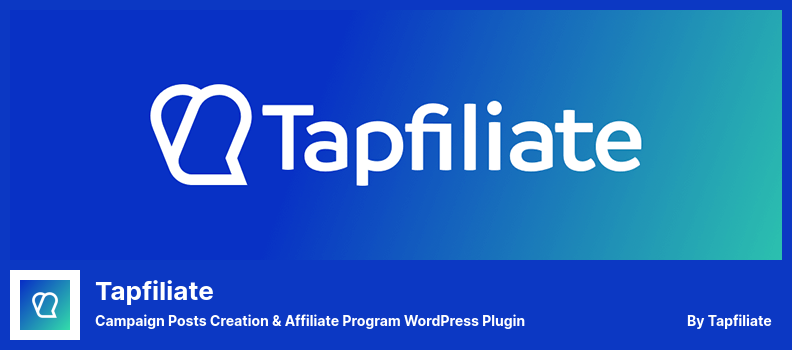 Tapfiliate is an affiliate management system that offers SLAs and is fully scalable and flexible. It is a great choice if you are looking for a solution to create an affiliate program that can meet the needs of eCommerce or SaaS affiliates.
Having integrated your web store with your affiliate plugin, you will be able to sign up new affiliate partners and provide them with their unique affiliate URL once it has been integrated.
You can find a lot of useful tools and a bunch of automated and customized options on the Getting Started Dashboard of the plugin. With this plugin, you can track and manage your affiliate networks in a professional way, and you can pay affiliates in different ways.
A lot of people like the plugin because it lets you white-label affiliate websites and marketing assets. You can also give affiliates a dashboard and tools to track their progress. It doesn't have built-in newsletter capabilities, but you can use the Pretty Links plugin to do that.
The integration process with affiliate networks is seamless, making the plugin a highly effective affiliate network. Moreover, the Tapfiliate website offers a range of options for rewarding affiliate partners, providing the best incentive for profit.
Key Features:
Easy integration with existing eCommerce marketing platforms
Customized commission plans to suit your needs
Access to admin dashboards for monitoring and controlling data
Affiliates can earn commissions upon conversion
Simplified implementation through the use of shortcodes
Ability to create a customized sign-up form for your website.
Powerful Affiliate Program With Full Control WordPress Plugin
Affiliate for WooCommerce is a free affiliate plugin developed by StoreApps, a trusted developer in the WooCommerce plugin space. This plugin makes it incredibly easy to create and manage an affiliate program for your WordPress website.
With the plugin, you can simply persuade people to join your affiliate program and explain the details. Once they sign up, they can start earning commissions through referral links.
Besides the one-page interface, this plugin has a lot to offer. All the info you need to manage your affiliate program is conveniently located on one page, so you don't have to switch between pages. Plus, the plugin developers offer full support if you need anything.
This plugin has a great Commission Plan System that lets you set up commission rates based on different factors like the first item you buy, product categories, affiliate tags, or even individual affiliates. With this flexibility, you can reward your affiliates the way you want.
The user-friendly dashboard provided by the plugin gives you instant insight into all the information you need. You can easily track the progress of your affiliates, review sales reports, and make informed decisions to optimize your affiliate program's performance.
The plugin lets you manage your affiliate program all the way from accepting affiliate requests to paying out affiliates. You can even convert your existing customers and subscribers. You'll be able to set up new affiliate partnerships easier and maximize your revenue.
Furthermore, Affiliate for WooCommerce tracks referrals with coupons. It lets you see which affiliates are driving sales and how effective your affiliate program is. In addition to real-time sales reports, you can make informed decisions based on this valuable information.
Key Features:
Leaderboard for affiliates to track their performance
Store-wide commission setting option
Centralized management of all affiliates
Referral tracking through coupons
Real-time sales reports.
Affiliate Marketing Program Manager Plugin for WordPress
WordPress Affiliate Manager is a plugin that offers a great affiliate program with customizable payment options. It's perfect for business owners who want to keep their affiliate program simple and budget-conscious organizations can benefit from it as well.
One of the most impressive features of this plugin is the ability to customize payment options according to your requirements. You can set different payout rates for individual affiliates, giving rewards to your most successful ones. Additionally, you have the ability to manually distribute bonuses to affiliates.
The plugin also includes an advanced asset management system that tracks impressions for each banner and link. This makes it easy for you to test and improve your affiliate program.
While the integration list primarily consists of payment systems and eCommerce solutions, it does lack integrations for marketing tools. However, considering that it's a free plugin, the plugin still offers excellent functionality.
With this plugin, you also get a tracking system for all creative assets, custom email templates, and the ability to accept mass payments through PayPal. It integrates seamlessly with popular tools and services such as WooCommerce, Easy Digital Downloads, iThemes Exchange, and Paid Membership Pro.
Key Features:
Track campaign impressions for all assets
Determine the amount earned by each affiliate
View your affiliate links on a dashboard.
Choose between flat-rate and percentage payouts
Toggle assets on and off independently
Multiple options for manual payouts and adjustments.
Amazon Associates Reports Plugin for WordPress
WooCommerce Amazon Affiliates is a plugin that allows you to earn affiliate commissions from Amazon sales on your own website. It seamlessly integrates Amazon products with your website, making it easy for you to sell hundreds of products through Amazon affiliate programs.
One of the key features of this plugin is the real-time report it provides. You can easily track any orders placed through your affiliate links and receive a detailed report of your earnings for the present period. This allows you to stay on top of your affiliate marketing efforts and monitor your performance.
Another useful feature is the Amazon Associate reporting module. With this module, you can view conversions, clicks, and shipped products, as well as the affiliate commissions generated through affiliate marketing. This gives you valuable insights into the success of your affiliate marketing campaigns.
A member of Amazon Associates gets access to Reports, a powerful way to make more money. You can make strategic gains, monitor your performance, and identify areas for improvement. With this tool, you can make your affiliate marketing strategies work better and make more money.
The plugin also offers seamless synchronization and import of products through its API. You don't need to use product advertising keys, as the synchronization happens automatically every 15 minutes.
Additionally, the plugin allows for recurring synchronization every 24 hours. This ensures that your website is always up to date with the latest products and prices from Amazon.
With WooCommerce Amazon Affiliates, your website will function and appear like a traditional eCommerce site. Customers can browse and add products to their cart, which will remain on your site as long as they maintain it. When customers are ready to complete their purchases, they will be redirected to Amazon.
Key Features:
Real-time order tracking and earnings reports
Seamless synchronization and import of products through API
Cart retention on your site as long as customers maintain it
Brief product statistics for easy reference
Simultaneous display of all your products on Amazon
Automatic synchronization every 15 minutes.
Frequently Asked Questions
What are WooCommerce affiliate plugins?
WooCommerce affiliate plugins are tools that integrate with your WooCommerce online store to help you set up and manage an affiliate program.
These plugins enable you to reward affiliates for promoting and driving sales to your store. With affiliate plugins, you can track affiliate links, manage commissions, and monitor the performance of your affiliate program.
Why should I use WooCommerce affiliate plugins?
Using WooCommerce affiliate plugins can be beneficial for your online store in multiple ways. Firstly, it allows you to tap into a wider audience by leveraging the marketing efforts of affiliates who promote your products or services.
This can result in increased visibility, traffic, and ultimately, higher sales. Additionally, having an affiliate program encourages brand advocacy and loyalty, as affiliates will be motivated to actively promote your store.
Moreover, these plugins automate the process of tracking affiliate sales and managing commissions, saving you time and effort.
What features should I look for in WooCommerce affiliate plugins?
When selecting WooCommerce affiliate plugins, it's important to consider features that suit your specific needs. Look for plugins that offer reliable tracking of affiliate links and sales, as accurate reporting is vital for managing commissions.
Integrated commission management systems that allow customization of commission rates and payment methods are also desirable.
Additionally, check if the plugin offers promotional tools such as banners, widgets, and social media sharing options to help affiliates effectively promote your products.
Conclusion
So in the end, we've explored the top 10 WooCommerce affiliate plugins, free and paid. From learning about their features and benefits to understanding how they can help you, we've got you covered. Now that you've done that, you need to take action.
If you're hungry for more tutorials and articles related to WooCommerce and affiliate marketing, don't forget to check out the BetterStudio blog. We regularly update our blog with helpful resources and guides to help you navigate the world of WordPress and affiliate marketing.
To stay updated with the latest tutorials and tips, make sure to follow BetterStudio on Facebook and Twitter. We share valuable insights and updates on social media to ensure you never miss out on any important information.
In addition, we want to say thanks for reading it. Feel free to leave a comment if you have any questions or run into any trouble implementing these plugins. If you have any questions or problems, you can get in touch with us below. We're here to help. Happy affiliate marketing!