In search of the best WordPress plugins for Amazon affiliates?
Aside from that, all the best WordPress plugins here are feature-rich, have great customer support, and do not have any issues. Additionally, these plugins can easily be integrated into all popular WordPress templates.
All of the following plugins are for Amazon Affiliates. What if what you are looking for is not the exact Amazon Affiliate plugin you are looking for? In conclusion, these plugins work for both WooCommerce Amazon Affiliate and Amazon Product Advertising API.
📌 Recommended: We suggest you check our article for the best WordPress Amazon Affiliate themes if you need a theme with built-in features for creating an amazon affiliate marketing website.
Here are the 6 Best Amazon Affiliate WordPress plugins for 2022:
Increase The Value Of Your Affiliate Page And Your Earned Commissions
AAWP is the most widely used Amazon affiliate WordPress plugin, and it is almost the most expensive too. This plugin is equipped with a comprehensive range of capabilities.
It includes the majority of the typical functionalities that are usually found in Amazon affiliate plugins, as well as some additional features.
It provides a great deal of options in terms of how you may successfully market Amazon items to visitors to your site.
It enables you to build affiliate links in a variety of formats, such as a text affiliate link, or by establishing several data fields and inserting various information, such as the product details, title, promotion, and rate, into each data field.
Make full use of all of the tools available to you in order to attract more customers and complete your first efficient transaction.
---
💵 Avail of many features and 12 months of free support with this plugin. It is priced at $49.
Increase Revenue By At Least 250%
AzonPress is a straightforward solution for arranging and organizing your Amazon affiliate links. It offers you outstanding service as well as all of the typical features you want in order to show your affiliate links in an appealing manner to your visitors.
They promise to be able to raise your affiliate earnings by a factor of 250 percent. They do this with a clever combination of features that include visually appealing pre-built layouts, customized affiliate ad feeds such as Best Seller, and so many other things.
Shortcodes are also supported by AzonPress, which makes it simpler and more amazing for the visitor. Simply create and copy the code, and then paste it into the desired spot on your computer.
You will be able to customize the overall appearance of your website as a result of this. Apart from that, the installation procedure is straightforward and quick. It's ideal for affiliate marketers that wish to save time on their campaigns.
---
💵 This price is $23.
Key Features:
Affiliate links will be produced, and items, prices, and discounts will be updated on a regular basis as well
Earn extra commissions for referring new Amazon Prime users to Amazon
Support for Google Accelerated Mobile Pages (AMP)
Functionality and output may be customized on a high-class level using the plugin's settings or on a per-shortcode basis by improving the shortcodes
Support for SSL/HTTPS
allows you to create layouts that are completely adjustable
WooCommerce Amazon Affiliates
WZone is an Amazon affiliate plugin that does everything. You won't find many of these features and functionalities in other plugins, which makes it an excellent choice. Because of the plugin's intricacy, it is recommended for experienced and expert users only.
WZone, in contrast to other plugins, establishes a direct connection with your WooCommerce shop. Then, it instantly imports your affiliate product information from Amazon and presents them as standard goods on your WooCommerce shop, saving you time.
Amazon affiliate WordPress plugin WZone is our top pick for e-commerce companies and dropshippers looking to make money from Amazon. There are several features in the plugin that might assist you in increasing conversions. The plugin is properly adjusted to satisfy almost all of your requirements.
---
💵 After purchasing the WZone plugin for $49, you will always have free plugin updates for 12 months.
Key Features:
Get thorough and specific information and data about your business
You can maximize the use of Amazon discounts to increase your conversion rate
Products may be imported straight from Amazon
Complete compatibility with WooCommerce for the creation of online shops
You may use your website to show product reviews that have been submitted on the Amazon product page for that product
Product and pricing variants may be created
Random Reviews:
This plugin allows me to generate income with very little effort. It works perfectly, does everything for you. The support team responds quickly and solves any issues very kindly. I offer it as a 100% recommendation.

I have to revise the last assessment. It was my mistake that the eBay Addon did not work. I made a mistake when I entered eBay. Thank you for your patience. It works now!
Make Money Blogging With Amazon & Amalinks Pro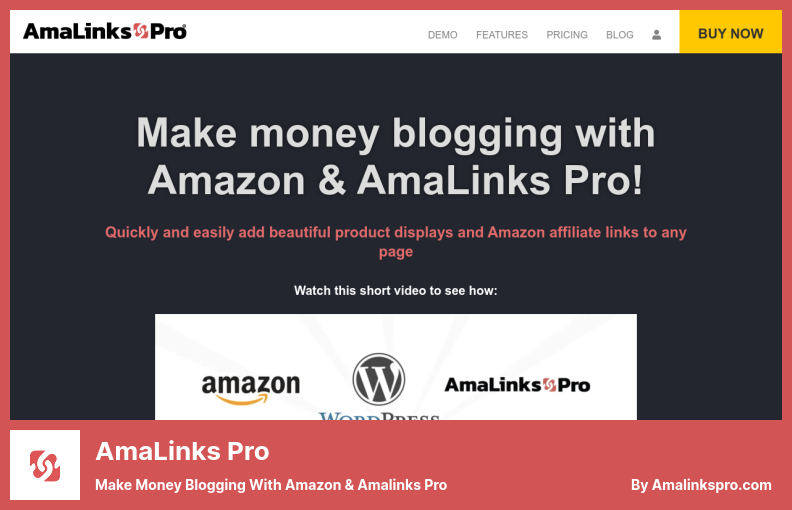 AmaLinks Pro is a basic Amazon affiliate plugin that places a strong emphasis on adhering to the terms and conditions of the Amazon Associates Operating Agreement.
A number of plugins fail to pay careful attention to the tiny nuances, and as a result, they create layout and features that may result in their customers being removed from the Amazon affiliates' program.
It's possible to monitor all of your affiliate link clicks and engagements inside your Google Analytics account data. The plugin incorporates Google Analytics event monitoring to assist you in achieving the highest potential click-through rates.
Users may be more creative with how they display their Amazon-associated items on their websites by customizing the widgets and modifying the links, which helps your page get more SEO and interactions while also promoting the connected product.
The AmaLinks PRO team does not stop improving the plugin and is constantly releasing updates
---
💵 The $67 plugin comes with 12 months of support.
Key Features:
Amazon compliance is built-in
There are many contemporary product box designs to pick from, and each design is fully customizable
Due to the 90-day cookie, users may still get their commissions
Create, store, and re-use your own call-to-action button designs
Table creation by dragging and dropping
Updates to the data are performed automatically
Browser memory that is more advanced
There is no need for an API
Amazon Associates Affiliate Plugin
If you're an affiliate expert and marketer, it's likely that you've encountered EasyAzon at some point. This is a free and the most widely used affiliate marketing plugin, and it allows you to rapidly establish affiliate links for your products.
You may immediately create Amazon affiliate links, and the plugin is compatible with all of the countries that participate in the Amazon Associates program.
Although the free edition of EasyAzon is really beneficial in and of itself, if you're searching for a straightforward plugin to establish affiliate links, you should absolutely have a look at this plugin as a starting point.
There's also an automated link localization tool that allows you to direct users to the appropriate Amazon site without having to do anything.
Additionally, it supports a variety of affiliate link kinds, such as direct links, Amazon purchase buttons, and product data sections that contain a visual thumbnail and a price for each product.
---
💵 No charge is associated with it. Its FREE.
Random Reviews:
That is exactly what I have been seeking.

This plugin does not provide access to the PA API unless you have completed 3 qualifying sales in 180 days, have an approved associate account, and undertook the Operating Agreement. If you do not have a super active amazon associates account, use the HTML block and copy/paste the code from the associates account. This topic was modified 4 months ago by alexwalker.
Create Amazon Affiliate Links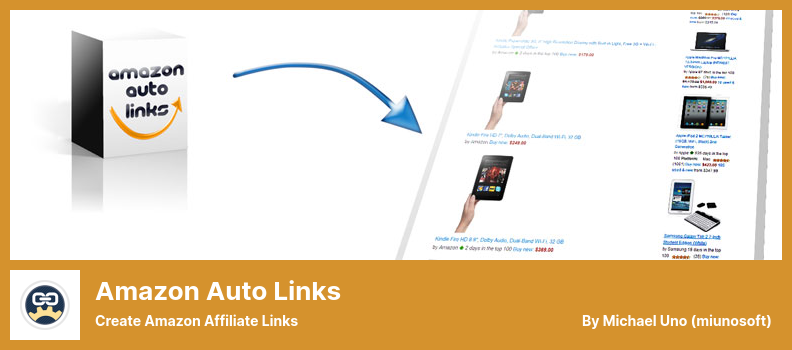 Obviously, as the name implies, Amazon Auto Links is a free WordPress plugin that enables you to automatically create product links for Amazon products from inside your WordPress site.
Instead of manually creating affiliate links one at a time, you can quickly discover goods and produce affiliate links with your tracking ID with this plugin.
It is a 100 percent free WordPress plugin that uses the Amazon Product Advertising API. The fundamental appeal of this product is that it is straightforward, with a clean, uncomplicated design that is easy to use.
As a blogger, this is an excellent method to get your foot in the door in the affiliate marketing industry.
The plugin provides you with a number of options for specifying the goods that will be shown in the affiliate ad feed. Depending on your preferences, you may select to view goods from a certain category or those that match a specific search term.
Using the plugin, you may automatically show goods that are related to your business. All that is required of you is to choose Amazon product categories that are appropriate for your affiliate marketing website.
---
💵 Free download of this plugin is available now.
Key Features:
Compatibility with all 14 Amazon distribution centers
There is a widget on the sidebar
Link conversion on the fly
Remove or customize any goods that you don't want
Support for shortcodes
Custom buttons
It works without the need for JavaScript
Affiliate links may be generated quickly and easily
Insertion of hyperlinks on demand
Random Reviews:
A remarkable performance is remarkable in terms of the search modes, the category and product creation

It can be improved slightly so that the user interface is better as this plugin hides a number of features that are not immediately apparent.

Pluginul este după mine cel mai bun, with tests to enable adding products*
This concludes our discussion
We have discussed a number of WordPress plugins that will aid you in promoting Amazon Affiliates for your website. Even so, these plugins are phenomenal for improving your website.
📌 Recommended: Our articles about the best WordPress blog themes and best WordPress plugins for bloggers are also highly recommended.
We hope this article helped you find the right Amazon affiliate WordPress plugin.
Please feel free to leave us a comment below if you have any questions. You can also follow us on Facebook and Twitter. Share this post with your friends!