Are you a WordPress website owner looking to monetize your platform with Amazon affiliate marketing? Well, look no further, because, in this blog post, I'm going to introduce you to the six best WordPress Amazon affiliate plugins, both free and pro, that will help you maximize your earnings.
Surely you're wondering, "Why do I need these plugins? Can't I just promote Amazon products on my own?" It's true that you can promote Amazon products without any plugins, but these tools make it easy and more efficient and offer extra features to boost your affiliate marketing campaign.
We're going to dive into the top WordPress Amazon affiliate plugins that'll revolutionize your earning potential. You'll be able to build product widgets and compare tables, track clicks, and manage affiliate links with these plugins, so you can succeed in affiliate marketing.
Now that you have a taste of what's to come, let's jump right in and discover the exciting world of WordPress Amazon affiliate plugins. Buckle up, because it's about to get interesting!
Best Amazon Affiliate Plugins for WordPress
If you are looking to monetize your WordPress website with Amazon affiliate products, look no further! In this section, we've rounded up the best Amazon Affiliate plugins for WordPress that will help you boost your earnings. So, keep reading to explore all the amazing options we have in store for you!
Increase The Value Of Your Affiliate Page And Your Earned Commissions
You can fully integrate Amazon affiliate marketing through AAWP, which is a WordPress plugin that has a wide variety of features that let you do a lot of things in relation to affiliate marketing on Amazon.
With this plugin, you can generate affiliate links in various formats and customize them with product details, titles, promotions, and rates. It allows you to effectively market Amazon products to your website visitors.
One of the standout features of the plugin is its ability to generate comparison tables using multiple data fields. This feature enables you to combine data from different sources and present it in an organized and easily understandable format for your audience.
Additionally, the plugin ensures that your product boxes continue to function seamlessly in AMP content, improving the overall mobile performance of your website. This is crucial in today's mobile-first world, where a significant portion of web traffic comes from mobile devices.
Another notable feature of AAWP is its flexibility in ad placement. You have the freedom to display advertisements wherever you want on your page, allowing you to optimize your monetization strategy and maximize your revenue potential.
Key Features:
Seamless functionality in AMP content for

improved mobile performance
Generate comparison tables with multiple data fields
Flexible ad placement options for optimal monetization
Easy customization of affiliate links with product details
Integration with Amazon's affiliate program for easy tracking and reporting
Regular updates and support for optimal performance.
Increase Revenue By At Least 250%
Your Amazon affiliate links can be managed in a way that's much easier with AzonPress. Shortcodes let you make visually appealing affiliate ads and layouts for your website with them. Thanks to its clever combination of features, the plugin promises to boost your affiliate earnings by 250 percent.
One of the standout features of the plugin is its ability to generate affiliate links and keep them updated with the latest product information, including prices and discounts. This ensures that your visitors always have access to accurate and timely information about the products you're promoting.
Additionally, it offers support for Google Accelerated Mobile Pages (AMP), allowing your website to load quickly and provide a seamless user experience on mobile devices. This is especially important in today's mobile-driven world, where users expect fast and responsive websites.
This plugin stands out from other similar plugins because it's super customizable. You can make the plugin look and feel the way you want it, thanks to its extensive settings. In addition, you can tweak the way your affiliate links look and work using individual shortcodes.
The plugin also supports SSL/HTTPS, ensuring that your website and affiliate links are secure. This is crucial for building trust with your audience and protecting their personal information.
In terms of installation, it offers a straightforward and quick process. You don't need to be a tech wizard to get it up and running on your WordPress site. It's designed with affiliate marketers in mind, allowing you to save precious time on your campaigns.
The AzonPress plugin is a must-have for anyone with Amazon affiliate links on WordPress. It has great service, beautiful layouts, automated link updates, customization options, and secure browsing. Affiliate marketers can make a lot of money and save time with it.
Key Features:
Support for Google Accelerated Mobile Pages (AMP)
Automated affiliate link generation and regular updates
Earn extra commissions for referring new Amazon Prime users
Extensive customizability at both the plugin and individual shortcode level
SSL/HTTPS support for secure browsing
Fully adjustable layouts for complete control over appearance.
WooCommerce Amazon Affiliates
WZone is a WordPress plugin that establishes a direct connection with your WooCommerce shop and seamlessly imports affiliate product information from Amazon. This plugin is perfect for eCommerce companies and drop shippers looking to monetize their websites.
One of the standout features of the plugin is its ability to import products directly from Amazon, saving you a ton of time and effort. It also presents these imported products as standard goods on your WooCommerce shop, allowing you to seamlessly integrate them into your existing inventory.
The plugin offers a comprehensive set of features that can greatly assist in increasing conversions. For instance, you can take advantage of Amazon discounts to maximize your conversion rate. This means that you can offer your customers discounted prices on Amazon products, making them more likely to purchase from your website.
What sets the plugin apart from other plugins is its complete compatibility with WooCommerce. This means that you can easily create an online shop using your WordPress website and seamlessly integrate Amazon products into it. This combination of WordPress and Amazon gives you the best of both worlds.
Another cool feature of the plugin is the ability to display product reviews. You can use your website to show product reviews that have been submitted on the Amazon product page for that particular product. This adds credibility and social proof to your website, making it more likely that visitors will trust and purchase from you.
In summary, this plugin's a powerful Amazon affiliate plugin with a bunch of features and functionality you don't typically find in other plugins. It is recommended for experienced users, due to its complexity. If you're interested in monetizing your WordPress site with Amazon products, check out WZone.
Key Features:
Detailed business information and data tracking
Increased conversion rates through Amazon discounts
Straightforward product import from Amazon
Seamless compatibility with WooCommerce
Display product reviews from Amazon
Create product and pricing variants for greater flexibility.
Make Money Blogging With Amazon & Amalinks Pro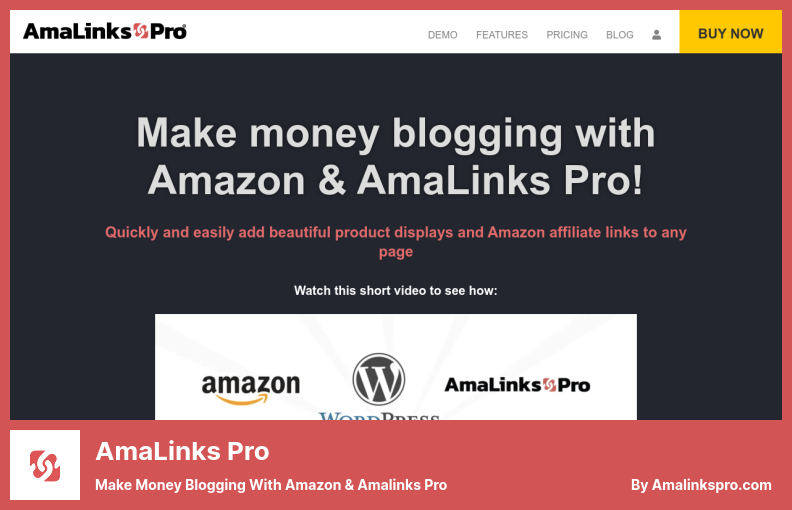 AmaLinks Pro is a powerful WordPress plugin designed specifically for Amazon affiliate marketers. It focuses on helping users comply with the rules and regulations set by Amazon Associates, while also offering a range of customizable features to enhance their website's SEO and user engagement.
This plugin has Google Analytics integration, which is one of its best features. With your account connected, you can track click-through rates and engagements on your affiliate links, so you can optimize your strategies. With this data-driven approach, you'll get the most out of Amazon affiliate links.
Another great aspect of the plugin is its customizable widgets and link modification options. With a variety of contemporary product box designs to choose from, you can easily create eye-catching displays for your Amazon-associated items.
It also provides you the option of customizing the design of your call-to-action buttons, so you can truly customize the look and feel of your affiliate links according to your preference.
Table creation is made easy with the plugin, thanks to its intuitive drag-and-drop functionality. You can effortlessly organize and present product information in a clear and organized manner, making it easier for your readers to find and navigate through your content.
Besides taking care of the technical aspects, the plugin also takes care of all of your updates for you. Automated updates keep your browser up to date, and the extra browser memory makes it faster. The best thing is that there's no API, which simplifies setup and makes it accessible to everyone.
AmaLinks Pro lets you optimize your affiliate marketing efforts with Amazon compliance and customizable features. It's a great tool if you're looking to maximize your Amazon affiliate earnings on your WordPress website. It integrates with Google Analytics and comes with customizable widgets.
Key Features:
90-day cookie for commission retention
Create and reuse custom call-to-action button designs
Drag-and-drop table creation
Advanced browser memory.
Built-in Amazon compliance
Fully customizable product box designs
Amazon Associates Affiliate Plugin
EasyAzon is a popular and widely used WordPress plugin designed specifically for affiliate marketing. It enables users to easily create and manage affiliate links for their products.
One of the standout features of the plugin is its automated link localization tool, which redirects users to the appropriate Amazon site based on their location, saving you time and effort.
With the plugin, you have the ability to use various types of affiliate links, including direct links, Amazon purchase buttons, and product data sections that display a visual thumbnail and price for each product. This versatility allows you to tailor your affiliate links to suit your website and audience.
The plugin also offers a built-in feature for affiliate link cloaking, providing an added layer of professionalism and security to your affiliate marketing efforts.
Additionally, the plugin includes call-to-action functions, allowing you to create compelling buttons and prompts that encourage users to take action and make a purchase.
Another valuable feature of the plugin is its ability to display product popups on the screen, providing your audience with additional information and enticing visuals that can further boost conversion rates.
Moreover, if you have an e-commerce website, EasyAzon allows you to add items directly to a shopping cart, making the purchasing process seamless for your visitors.
Key Features:
Sectional product information
Automatic link localization
Affiliate links for images
Automated link cloaking
Shopping cart functionality
Easy link creation and management.
Create Amazon Affiliate Links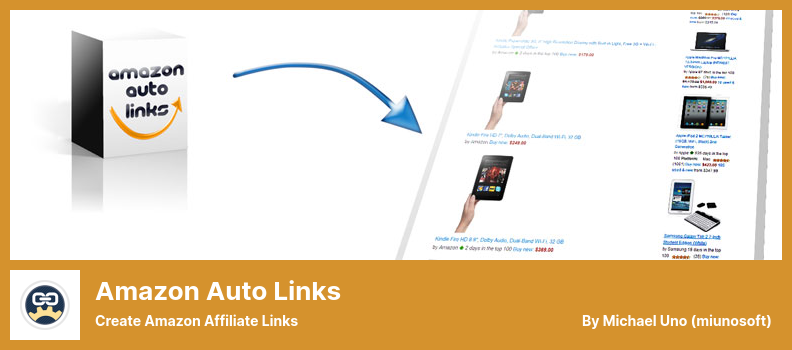 Amazon Auto Links is a free WordPress plugin that allows you to easily generate affiliate links for Amazon products directly within your WordPress site. With this plugin, you have a variety of options for selecting the products that will be displayed in your affiliate ad feed.
Further, you can choose to display products from a specific category or based on a specific search term, ensuring that the products shown are relevant to your business.
The plugin utilizes the Amazon Product Advertising API and is compatible with all 14 Amazon distribution centers. This means that no matter where your audience is located, they will be able to view and purchase the products you promote.
This plugin is awesome because you can find products easily and make affiliate links with your tracking ID instead of having to do it one by one. By doing this, you're able to spend more time creating content and growing your affiliate business, not creating affiliate links one by one.
The plugin offers a widget on the sidebar of your WordPress site, making it easy to showcase affiliate products to your visitors. You can also customize or remove any products that you don't want to display, ensuring that you have control over the content shown on your site.
In addition to the widget, the plugin supports shortcodes, which allow you to insert affiliate links into your content on demand. This gives you the flexibility to promote products within your blog posts or pages, seamlessly integrating affiliate links into your content.
The plugin also provides the option to add custom buttons to your affiliate links, further enhancing the visual appeal of your site and potentially increasing click-through rates.
Another advantage of the plugin is that it works without the need for JavaScript, ensuring compatibility with a wide range of WordPress themes and setups.
Amazon Auto Links is a WordPress plugin that generates affiliate links for Amazon products. You can customize the plugin, it's compatible with Amazon distribution centers, and it supports shortcodes. You can monetize your WordPress site efficiently with it, whether you're a beginner blogger or an experienced marketer.
Key Features:
Sidebar widget for

easy product display
Customization options to remove or customize specific products
Compatibility with all 14 Amazon distribution centers
Support for shortcodes for flexible affiliate link insertion
Custom buttons to enhance the visual appeal
Works without JavaScript for broad compatibility.
Frequently Asked Questions
What are Amazon Affiliate plugins?
Amazon Affiliate plugins are WordPress plugins that help website owners monetize their content by integrating Amazon affiliate links and earning commission on any purchases made through those links. These plugins make it easier to create affiliate links, display product information, and track earnings.
What are the main features of these Amazon affiliate plugins?
These Amazon affiliate plugins offer various features such as easy integration with Amazon's API, product search and display options, customizable product templates, geo-targeting capabilities, automatic link localization, automatic link insertion, and more.

These features help users to optimize their affiliate marketing efforts and increase their earning potential.
How can these Amazon affiliate plugins benefit website owners?
These Amazon affiliate plugins can benefit website owners by simplifying the process of integrating Amazon affiliate products into their WordPress sites.

They provide tools and features that help optimize affiliate marketing efforts, increase click-through rates, improve conversions, and ultimately generate more revenue.

With these plugins, website owners can easily add affiliate links, display attractive product showcases, and automate the process of monetizing their websites with Amazon products.
Why should I use Amazon Affiliate plugins on my WordPress site?
Using Amazon Affiliate plugins on your WordPress site can be a great way to earn passive income by promoting products from Amazon.

These plugins simplify the process of creating and managing affiliate links, allowing you to focus on creating valuable content and driving traffic to your site. Additionally, they provide detailed reporting and analytics to help optimize your affiliate marketing strategy.
Conclusion
In conclusion, we have explored the top 6 WordPress Amazon affiliate plugins, both free and pro versions. From easy integration to advanced features, these plugins offer a range of options to enhance your Amazon affiliate website.
If you're looking for more in-depth tutorials and guides on WordPress, be sure to check out the BetterStudio blog. They have a wealth of resources to help you maximize your affiliate marketing efforts.
To stay updated with the latest tutorials and tips, make sure to follow BetterStudio on Facebook and Twitter. Their social media channels are a great way to connect with like-minded individuals, learn from experts, and stay in the loop on all things WordPress affiliate marketing.
Thank you for taking the time to read this article. If you have any questions or need further assistance, please don't hesitate to leave a comment in the section below. We're here to help and would love to hear from you!