How about discovering one of the best WordPress plugins for WooCommerce shipment tracking?
Below, we have researched the internet, so you don't have to, and found the top WordPress plugins for WooCommerce Shipment Tracking out there functional for your website. Our plugins are easy to use, deliver optimum performance, and will help you raise your site's quality. Now that we're at the end, we can guarantee they work with all the best WordPress themes.
Additionally, all of the plugins listed below are for WooCommerce Shipment Tracking. This collection of WordPress plugins also contains plugins for WooCommerce Tracking, WooCommerce Order Tracking, and Shipping Tracking.
📌 Note: You might benefit from reading our article about advanced plugins for WooCommerce and powerful WooCommerce themes to find out how to select a theme that will both enhance the appearance and functionality of your WooCommerce store.
We have compiled our recommended WordPress plugins in 2022 for WooCommerce shipment tracking:
Lets You Integrate Order Tracking Functionalities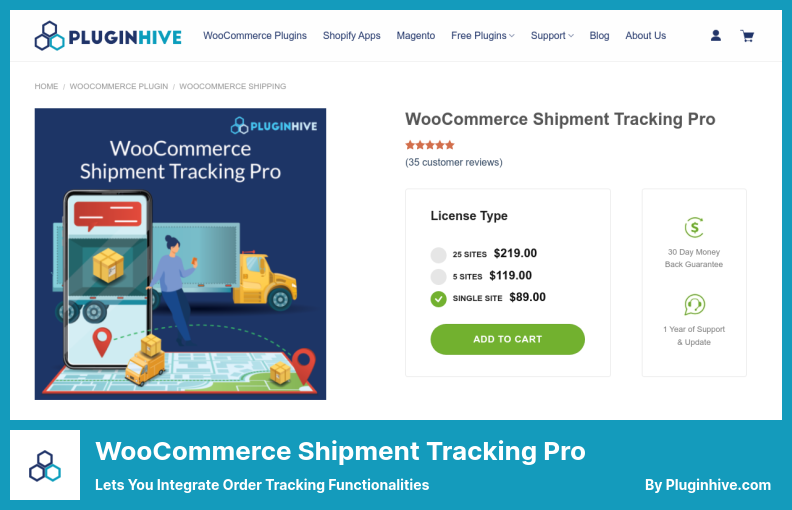 WooCommerce Shipment Tracking Pro from PluginHive is a powerful and easy-to-use plugin that allows you to track the delivery of your products to your customers after purchasing them.
With this plugin, all tracking information will appear automatically on the My Account pages for both the owner and the customer due to the automated process involved.
Shipping links provide direct access to APIs used by the shipper. The shipping company will provide customers with this information regularly, and they will be able to monitor their order's progress in real-time.
There are over 80 shipping companies pre-defined in the plugin, offering several shipping services.
Furthermore, this plugin allows you to add your local shipping service and other shipping services. Store owners can also remove shipping services as easily as they can add them.
Additionally, this plugin allows you to customize the text of the email you send after your order is completed. You can import CSV files containing the necessary information for an extensive number of orders so that they can be updated.
💵 This plugin costs $89 and you get 12 months of support.
Key Features:
Imports order tracking information using the FTP server
Customers can access order tracking information on their My Account page
There is no limit to the number of shipments you may send
Creates custom tracking pages for orders by email
Marks orders as 'complete' automatically by using FTP import or CSV file
CSV files can be imported in bulk for order tracking data
an Excellent Shipment Tracking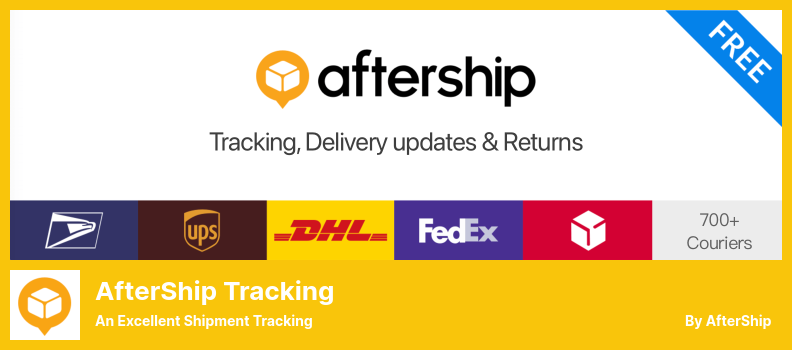 AfterShip Tracking can be a tracking plugin with many benefits, but many are only available with the premium version.
With this plugin, users can receive notifications regarding the status of their shipments and can view a history of the performance of their shipments over time. In the store owner's area, the status of deliveries is displayed, whether they have failed or are pending.
Additionally, this plugin allows users to edit the content of emails they receive after completing a transaction. This option may allow business owners to provide customers with a more customized experience.
With the premium version of this plugin, users can customize notifications to their preferences. If you have the pro version, you can send your customers an SMS once their order has been completed to inform them that their order has been successfully completed.
💵 The Lite version is free, and the Pro version costs $9/month.
Key Features:
Automates the identification of shippers
Allows tracking of shipments across multiple channels
Content related to your brand can be incorporated
Adding or removing different shipping companies is possible
Embedding your tracking button can be customized and controlled
Random Reviews:
I like the service and professionalism of the customer service department. I think the emails are great. It's great to make all the emails individualized to keep track of your orders. My favorite feature is the possibility to customize all the emails.
Add The Shipping Information to Every Order
In addition to tracking and tracing WooCommerce orders during the logistics process, the YITH WooCommerce Order & Shipment Tracking plugin helps you improve efficiency.
While its free version lacks some of the features included in the paid version, it still offers several impressive features.
The premium version of WooCommerce is even more valuable to owners of WooCommerce stores due to its enhanced functionality. In addition to being compatible with third-party plugins, this plugin allows you to import tracking data using a CSV format, for example.
Furthermore, owners of online stores can access their orders from the plugin's My Orders page. The following button will give customers information regarding tracking their order with the courier of their choice.
The plugin also enables customers to monitor the progress of their orders from the time they place them until they are delivered. However, several features are unavailable in this plugin, including no analytics capability and some other issues.
💵 A Premium version of this plugin costs $59, whereas a Lite version doesn't cost anything.
Key Features:
Compatible with the other plugins
Use placeholders when making a statement
A variety of messages can be customized
Provides your customers with the ability to track their orders
A total of 200 carriers are available for use
Random Reviews:
PS: I did submit the ticket. And the admin support was beneficial. Thanks a lot.

Is it free to have multiple or select carriers, or do I have to purchase it?
Add Shipment Tracking Information to Your Orders
Using the WooCommerce Shipment Tracking plugin, you will be able to track shipments through WooCommerce with ease. It has a very intuitive user interface that makes it easy to use.
This plugin will allow online store owners to add shipment tracking information to orders that are capable of being tracked. This WooCommerce shipment tracking plugin provides customers with a convenient and easy method of tracking their shipments.
In order to achieve the best results, you can add tracking information just before the purchaser clicks on the 'complete order' button. WooCommerce tracking information will appear in emails and on the tracking page if the purchaser uses the tracking information within the account section.
There are numerous major services supported by this plugin for both custom tracking links and automatic tracking links. However, it does offer several useful features. Still, it does not offer the same level of coverage as other similar plugins.
💵 The plugin comes with one year of support and updates for $49.
Key Features:
Several major services are supported.
Allows online store owners to provide tracking information for orders
Allows customers to track their shipments in a convenient and easy manner
Emails and the tracking page will contain tracking information
Allows to Enter Shipment Tracking Number

The Shipping Details Plugin for WooCommerce plugin is being used by several companies today to track their shipments. This plugin provides easy tracking of orders and shipments.
It is probably its most useful feature that the plugin regularly informs customers and owners of the company about the status of orders. This plugin allows businesses to customize email messages and choose the type they wish to send to their clients.
By utilizing this WooCommerce order tracking plugin, courier information and tracking information will be emailed to your customers, along with detailed information regarding the services provided by the courier.
This plugin provides dynamic URLs and links that will direct customers to a tracking page that provides status information for their orders.
💵 The value of this plugin is the 12-month support it gives you if you buy it for $38.
Key Features:
Dynamic URLs are also included.
A maximum of five tracking numbers can be assigned to a single order
Provides information regarding courier services and tracking
Support is provided for a variety of shipping companies
Random Reviews:
This plugin is exactly what I was looking for. It has a clean code base and is very easy to set up. Now my customers can receive tracking numbers quickly with their orders. This plugin will make your shopping cart even better. If you use Woocommerce, this plugin is highly recommended.
Track The Status of Orders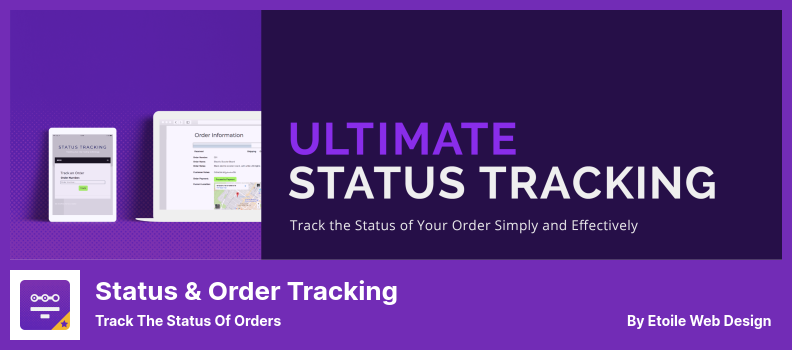 The Status & Order Tracking plugin provides a one-stop shop for tracking orders, shipments, and other projects.
To better understand how this plugin works, it is provided with built-in demos, documentation, and YouTube videos. Using this paid plugin will provide great value if you are the owner of a WooCommerce store.
This plugin lets customers track their orders more easily by providing them with simple order numbers. With this plugin, besides assigning order numbers to team members, you can also have them track those shipments themselves.
If you use the same template for all your orders, you do not have to follow the same format for each one. A separate order form will be provided if a particular type of product requires additional information.
Using the plugin, you can customize fields and labels according to your preferences. With this plugin, it is possible to enhance the appeal of the order tracking interface by adding a variety of design elements.
💵 The Premium version of this plugin costs $119, while $0 is charged for the Free/Lite version.
Key Features:
Orders from WooCommerce can be added.
Graphics for tracking are available in different formats
You have the option of importing and exporting orders
Fully functional front-end customer order forms are available
Your clients can track their shipments precisely
Customer notes can be added to specific order fields
Random Reviews:
We recommend this plugin for couriers and shipping companies to provide tracking on their websites.

With the Premium version, I find it straightforward to use and flexible, and I can accommodate unlimited users for a very affordable price.
Allows Your Clients to Easily Track Their Orders
With the WooCommerce Shipping Tracking plugin, your customers can easily track their orders, providing them with an immediate status update after they place an order.
In addition to receiving detailed information about each order's status via email notifications, you can specify the tracking number and shipping company so you can be notified as soon as it has arrived.
As a result of this plugin, you can add details such as dispatch date, shipping company name, tracking URLs, and custom notes to your orders. Upon completion of an order, you will receive an email with the following information. You can view this information on the 'View Order' page.
The plugin allows users to create their own companies and select from several pre-defined clients.
Apart from adding the tracking URL and special name included with WooCommerce, no further steps are required. It is possible to assign one or more tracking codes to each order to keep track of all orders.
💵 With complete documentation and 7/24 support, there are no worries. This plugin can be yours for $28.
Key Features:
Tracking codes, dispatch dates, and shipping companies can be added to your orders.
There is no restriction on the number of companies you can assign
Tracks each order using one or more sets of tracking information
Creates an automatic tracking URL for tracking the status of shipping
Displays tracking information on the WooCommerce details page
Random Reviews:
This tracking feature is terrific. A link is sent to the customer to track automatically. The tracking feature is terrific.

I recommend this plugin for those looking for many options; it works well, and the support is fantastic. Thank you
Add Tracking Information and Fulfill Orders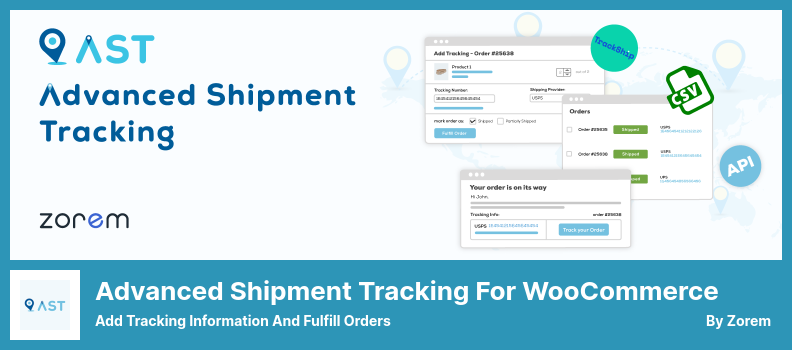 The Advanced Shipment Tracking for WooCommerce plugin provides shipment tracking information for your orders. It lets your customers know what is happening with their orders.
During the payment process, shop managers can include these details on every order processed by this plugin.
If your customers have placed an order, you should send them the tracking information soon after completing it. Furthermore, customers may also access the tracking information in the My Account section.
Using this plugin, you will be able to search through more than 100 shipping companies. Detailed information about each company can be accessed through this plugin, which includes a picture and a pre-set tracking link that can be altered.
In addition, the tracking display can be customized, and the delivery status can be modified as required.
💵 The Pro version costs $129.
Key Features:
You can Send customers their shipping information.
You can fulfill orders when adding tracking numbers
Creates multiple tracking numbers for a single order
Orders can be tracked by adding tracking information
Increases the efficiency of the fulfillment process
Random Reviews:
It has become unusable since the recent update. Notification emails now look terrible to customers, and changes are not saved in the 'customizer.' All the text and customization options I initially set up have also been cleared since the update. In emails, it appears that custom text is only plain text, and HTML doesn't seem to work, so formatting looks terrible.
Summary
We discussed the best WordPress WooCommerce Shipment Tracking plugins. However, you should consider your site priorities. If you hope to increase your site, you can use them.
📌 Note: We suggest you check out our articles on the best WordPress blog themes and best WordPress plugins for bloggers.
Thanks for taking the time to read this. I hope it was helpful.
We are happy to answer any questions you may have. Follow us on Facebook and Twitter to keep up to date on our latest articles.