Are you struggling to improve your website's search engine rankings?
Backlinks are an essential part of SEO, and incorporating a backlinks plugin into your WordPress site can help boost your visibility online. But with so many options available, which plugins should you choose?
In this article, we'll be discussing the 4 best WordPress backlinks plugins for 2023, both free and pro versions included. These plugins have been handpicked based on their effectiveness, ease of use, and overall value.
Did you know that using a backlinks plugin can lead to a 14% increase in page views and a 23% increase in revenue? By the end of this article, you'll be equipped with the knowledge to enhance your website's SEO and drive more traffic to your pages.
Without further ado, let's dive into the top backlinks plugins for WordPress in 2023!
Easier Way to Build Internal Links
In addition to your incoming backlinks, the Link Whisper plugin allows you to manage your internal linking structure with artificial intelligence based on your content and incoming backlinks.
Linking to other articles on our website is often time-consuming and ineffective, especially if there are many articles nad if you do not do that you will have orphaned content on your site that is a negative noise for Google. This plugin offers suggestions for articles relevant to the new article we wish to write.
Furthermore, this plugin allows you to edit the articles it suggests if you do not agree with them.
This backlinks strategy plugin provides statistics about how many posts have been crawled, how many internal and external links have been accessed, and the domains most frequently link to your site.
The paid version provides additional features such as bulk hyperlink changes, auto-linking, and the limited functionality of the free version.
Note: BetterStudio users get an exclusive $15 discount by using this link!
Key Features:
There is a bulk link changer.
Provides suggestions for articles related to your planned publication
Your internal links can include incoming backlinks
Manages your internal linking structure using artificial intelligence
Adding your articles is possible
SEO plugin for Traffic, Authority & Backlinks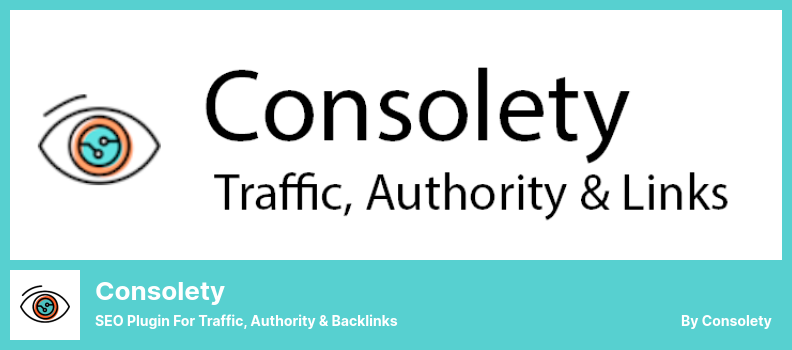 Consolety is a WordPress plugin that provides several functions to help website owners with their backlink strategy and SEO efforts.
This plugin connects you with people in your network who have authority backlinks, allowing you to obtain links automatically without having to outsource content marketers or spend time and resources on new links.
With Consolety, you can focus on what you do best: creating content. Whether you're blogging, taking photos, or creating tutorials, this plugin helps you build links effortlessly so that you can continue to do what you love.
In addition to backlink building, Consolety also allows you to connect your Facebook pages and provides various other SEO features to optimize your website's visibility online.
Key Features:
You can create guest articles for other sites without spending much time
You can receive a good amount of traffic from many other related sites
Increases the overall exposure of your content
You can get high authority backlinks on autopilot
Displays links from other sites as your content are read on more sites
Lets You Track Your Link Building Campaign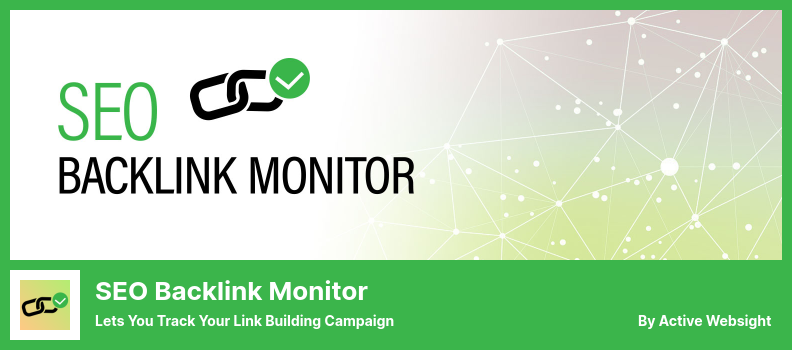 SEO Backlink Monitor is a plugin that enables you to monitor the progress of your link-building campaign on your WordPress website.
With this plugin, you can add links to your site and keep track of changes made to their status for both your desktop and mobile user agents.
One of the best features of this backlink generator plugin is that it sends you an email whenever any changes are made to your links. Moreover, you can set up the frequency for the checks to be conducted every time changes are made.
This plugin is a modified and optimized version of the original Backlink Monitoring Manager plugin by Active Web sight. With SEO Backlink Monitor, you can streamline your link-building process and keep track of your website's backlinks with ease.
Key Features:
Allows you to track the results of your link-building campaign
Your link can be added and checked to see whether it does follow or not follow
Sends an email when an update is made to a link
Checks all your links automatically using WordPress' cron service
A Powerful Tool for Anyone Serious About SEO
SEO Booster is a WordPress plugin that helps improve your site's ranking by creating internal links between your blog posts automatically. This feature can be particularly useful if you have a large number of blog posts on your site.
With this plugin, you can also keep an eye on your backlinks, both external and internal, to ensure they are relevant and not spammy. The PRO version even allows you to monitor your backlinks more closely, giving you valuable insights such as anchor text and referring sources.
One of the most convenient features of SEO Booster is the RSS feed that provides updates on your backlink profile. This way, you can stay informed about any changes on your site's backlink structure, ensuring that you are always up-to-date with the latest developments.
Key Features:
Backlinks from spam sites can be discovered
Builds internal links within your website
You may find SEO analysis overviews
Provides an overview of all backlinks
You can find information about the link
FAQ
What are backlinks and why are they important?
Backlinks, also known as inbound links or incoming links, are hyperlinks from other websites pointing to your website.

They are important because search engines like Google use them as a way to determine the popularity and credibility of a website. The more high-quality backlinks a website has, the more likely it is to rank higher in search results.
How do I choose the right backlink plugin?
The right backlink plugin for your WordPress website will depend on your specific needs and goals. Consider factors such as your budget, the size of your website, and the level of control you want over your backlink profile. Research different options, read reviews from other users, and try out free trials or demos before committing to a paid subscription.

Ultimately, the best backlink plugin is one that helps you build high-quality, relevant backlinks that improve your website's search engine visibility and drive traffic to your content.
What are some features to look for in a WordPress backlinks plugin?
When choosing a WordPress backlinks plugin, look for features such as the ability to monitor and analyze your backlink profile, automatic backlink outreach, customizable email templates, the ability to disavow bad backlinks and integration with Google Analytics and other SEO tools.
Conclusion
In conclusion, we have discussed the top four WordPress backlinks plugins for 2023. These plugins can help improve your website's SEO and increase your organic traffic. We've covered both free and pro options, so you can find the right plugin to fit your needs and budget.
If you're interested in learning more about WordPress and improving your website's performance, be sure to check out the BetterStudio blog for more related tutorials. Our team of experts shares valuable insights, tips, and tricks to help you succeed online.
To stay up to date with the latest tutorials and news from BetterStudio, be sure to follow us on Facebook and Twitter. We regularly share useful information and resources that can help you take your website to the next level.
Thank you for reading our article on the best WordPress backlinks plugins for 2023. If you have any questions or comments, please feel free to leave them in the comment section below. Our team is always here to help and support you on your journey to success.