Are you a WordPress website owner looking to boost your website's visibility through backlinks? Or maybe you're just curious about the best WordPress plugins available for this purpose?
Well, you've come to the right place! In this blog post, we will explore the four best WordPress backlinks plugins, both free and pro options, to help you enhance your website's SEO and drive more organic traffic.
Now, you might be wondering, why are backlinks important for my WordPress website. Well, here's a staggering fact for you: a study conducted by Moz found that backlinks are one of the top-ranking factors for search engines.
In other words, having high-quality backlinks pointing to your website can greatly improve your chances of ranking higher in search engine results pages (SERPs). So, it's crucial to invest in the right WordPress backlinks plugins to optimize your website's performance.
So, let's dive right into our list of the 4 best WordPress backlinks plugins. Whether you're on a tight budget or willing to invest in a premium option, we've got you covered.
We'll take you through each plugin's features, benefits, and any potential limitations, so you can make an informed decision about which plugin is the best fit for your WordPress website. So, without further ado, let's get started on this backlinking journey!
Best Backlinks Plugins for WordPress
If you're a WordPress website owner, you're probably always on the lookout for ways to enhance your site's performance and improve its ranking on search engines. One important aspect of optimizing your WordPress site is building strong backlinks. That's where the best WordPress backlinks plugins come in handy.
In this article, we'll introduce you to four top-notch plugins that will help you effortlessly manage and create powerful backlinks for your website. So, let's dive in and take a closer look at these plugins to see how they can boost your site's SEO and drive more organic traffic your way.
Easier Way to Build Internal Links
Link Whisper is a WordPress plugin that helps website owners improve their internal linking structure and optimize their backlink strategy. It simplifies the process of linking to other articles on your website, saving you time and making your site more effective in Google's eyes. You can say goodbye to orphaned content on your site.
One of the key features is its ability to provide suggestions for articles that are relevant to the new article you're writing. This artificial intelligence-driven plugin analyzes your content and incoming backlinks to generate these suggestions, ensuring that your internal linking is strategic and impactful.
In addition to managing your internal linking, it also provides valuable statistics about your posts. It tells you how many posts have been crawled, how many internal and external links have been accessed, and identifies the domains that frequently link to your site.
This information can help you track the performance of your backlink strategy and make informed decisions for optimization. While the free version offers valuable features, the paid version takes things a step further. With the paid version, you gain access to bulk hyperlink changes, which allows you to make multiple changes to your links at once.
Auto-linking is another feature that makes your internal linking even more effortless and efficient. And if you don't agree with the articles suggested by the plugin, no problem! You can easily edit them to fit your preferences.
Link Whisper is a powerful tool for WordPress website owners looking to improve their internal linking structure and optimize their backlink strategy. With its user-friendly interface and AI-powered suggestions, it takes the guesswork out of internal linking and helps you create a more effective website.
Note: BetterStudio users get an exclusive $15 discount by using this link!
Key Features:
Make multiple changes to your links at once
Get suggestions for articles that are relevant to your planned publication
Include your incoming backlinks in your internal linking structure
Use artificial intelligence to optimize your internal linking structure
Add your articles with ease
SEO plugin for Traffic, Authority & Backlinks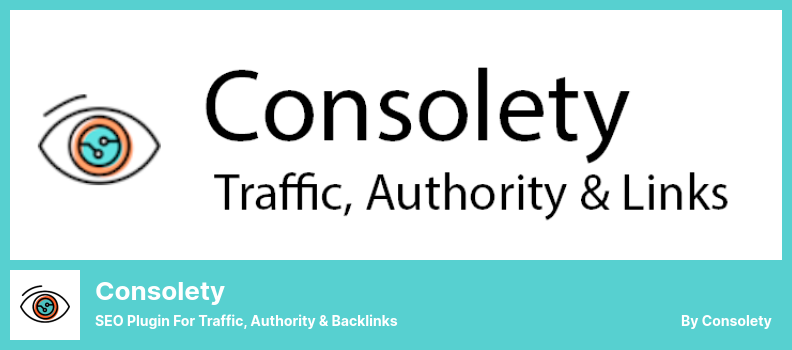 Consolety is a WordPress plugin that offers a variety of functionalities to assist website owners in their backlink strategy and SEO efforts. With this plugin, you can easily connect your Facebook pages and access other SEO features to optimize your website's visibility online.
By using the plugin, you can focus on creating great content while effortlessly building backlinks. Whether you're a blogger, top photographer, or tutorial creator, this plugin streamlines the process of obtaining quality links, allowing you to continue doing what you love.
The plugin works by connecting you with individuals in your network who possess authoritative backlinks. This way, you can acquire these links automatically, without the need to outsource content marketers or spend excessive time and resources on securing new links.
In addition to backlink building, it offers several other notable features. Firstly, it allows you to easily create guest articles for other websites, saving you valuable time. This feature helps to generate more traffic to your own site from related sites in your industry.
One of the standout features of Consolety is the ability to obtain high-authority backlinks on autopilot. This ensures that you are consistently building a strong network of quality links without having to constantly monitor and manage the process manually.
Key Features:
Easy creation of guest articles for other sites
Increased traffic from related sites
Enhanced exposure of your content
Autopilot acquisition of high authority backlinks
Display links from other sites when your content is read
Lets You Track Your Link Building Campaign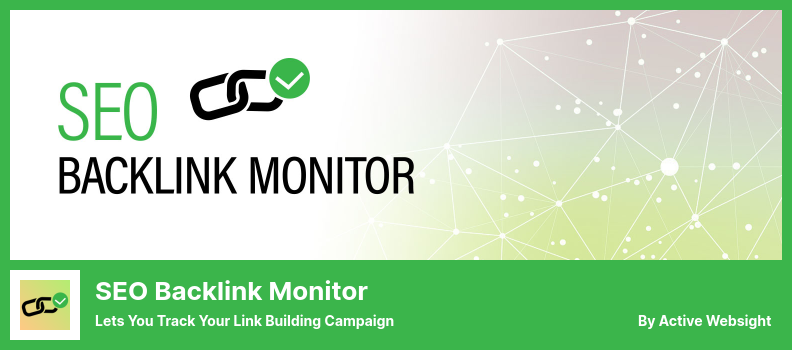 SEO Backlink Monitor is a WordPress plugin that allows you to easily monitor the progress of your link-building campaign. With this plugin, you can add links to your website and keep track of any changes made to their status, both for desktop and mobile users.
This plugin is a modified and optimized version of the original Backlink Monitoring Manager plugin by Active Web Sight. It has been designed to streamline your link-building process and make it easy to keep track of all your website's backlinks.
One of the standout features of the plugin is its ability to send you an email whenever any changes are made to your links. This means that you'll always be alerted to any updates or modifications that are made, allowing you to stay on top of your link-building efforts.
Additionally, this plugin allows you to set the frequency for the checks to be conducted. You can choose to have the plugin automatically check your links every time a change is made, ensuring that you're always up to date with the status of your backlinks.
Key Features:
Receive email notifications for link updates
Track the results of your link-building campaign
Check if your links are followed or not followed
Automatic checks using WordPress' cron service
A Powerful Tool for Anyone Serious About SEO
SEO Booster is a WordPress plugin that helps website owners improve their site's ranking by managing and monitoring backlinks. With this plugin, you can easily keep track of both internal and external backlinks to ensure they are relevant and not spammy.
The PRO version offers even more advanced features, such as monitoring anchor text and referring sources. One of the standout features of the plugin is its RSS feed, which keeps you updated on any changes to your backlink profile.
This allows you to stay informed and make necessary adjustments to your site's backlink structure, keeping you up-to-date with the latest developments in order to maintain a strong ranking.
A particularly convenient feature of the plugin is its ability to automatically create internal links between your blog posts. This can be incredibly useful, especially if you have a large number of blog posts on your site.
By creating internal links, you can help improve the overall SEO value of your website, making it easier for search engines to crawl and index your content. In terms of additional features, it also provides SEO analysis overviews, giving you valuable insights into your backlink profile and overall SEO performance.
You can easily access information about all your backlinks, ensuring that you have a comprehensive understanding of your site's link structure and the impact it has on your ranking.
With its range of features and user-friendly interface, SEO Booster is a valuable plugin for WordPress website owners looking to optimize their backlink strategy and improve their site's ranking.
Key Features:
Discover and manage backlinks from spam sites
Automatically create internal links within your website
Provides SEO analysis overviews
Offers an overview of all backlinks
Allows you to access detailed information about each link
Frequently Asked Questions
What are backlinks and why are they important?
Backlinks, also known as inbound links or incoming links, are hyperlinks from other websites pointing to your website.

They are important because search engines like Google use them as a way to determine the popularity and credibility of a website. The more high-quality backlinks a website has, the more likely it is to rank higher in search results.
How do I choose the right backlink plugin?
The right backlink plugin for your WordPress website will depend on your specific needs and goals. Consider factors such as your budget, the size of your website, and the level of control you want over your backlink profile. Research different options, read reviews from other users, and try out free trials or demos before committing to a paid subscription.

Ultimately, the best backlink plugin is one that helps you build high-quality, relevant backlinks that improve your website's search engine visibility and drive traffic to your content.
What are some features to look for in a WordPress backlinks plugin?
When choosing a WordPress backlinks plugin, look for features such as the ability to monitor and analyze your backlink profile, automatic backlink outreach, customizable email templates, the ability to disavow bad backlinks, and integration with Google Analytics and other SEO tools.
Conclusion
In conclusion, we have discussed the top four WordPress backlinks plugins. These plugins can help improve your website's SEO and increase your organic traffic. We've covered both free and pro options, so you can find the right plugin to fit your needs and budget.
If you're interested in learning more about WordPress and improving your website's performance, be sure to check out the BetterStudio blog for more related tutorials. Our team of experts shares valuable insights, tips, and tricks to help you succeed online.
To stay up to date with the latest tutorials and news from BetterStudio, be sure to follow us on Facebook and Twitter. We regularly share useful information and resources that can help you take your website to the next level.
Thank you for reading our article on the best WordPress backlinks plugins. If you have any questions or comments, please feel free to leave them in the comment section below. Our team is always here to help and support you on your journey to success.