Are you tired of your static images not generating enough engagement on your WordPress website? Are you looking for a way to make them more interactive and informative? Look no further, as we have compiled a list of the 8 best WordPress image hotspot plugins that will take your website to the next level.
In this article, we will explore both free and pro versions of these plugins, providing you with all the information you need to make an informed decision.
Did you know that adding interactive image content to your website can increase engagement by up to 300%? With the user experience being a top priority in today's web development world, interactive images have become a must-have feature for websites.
In this comprehensive guide, we will introduce you to the top 8 WordPress image hotspot plugins that will help you create engaging and informative images for your website/blog.
These plugins have been handpicked and tested to ensure that they not only deliver on their promise but also provide an exceptional user experience. Let's dive in and explore the possibilities of taking your images to the next level.
Best Image Hotspot Plugins for WordPress
Discover the best image hotspot plugins for your WordPress website with our curated list of top-performing tools. Get ready to elevate your visual content game and engage your audience like never before! Check out our selection of both free and pro options below.
Collection of Gutenberg Blocks for WordPress Plugin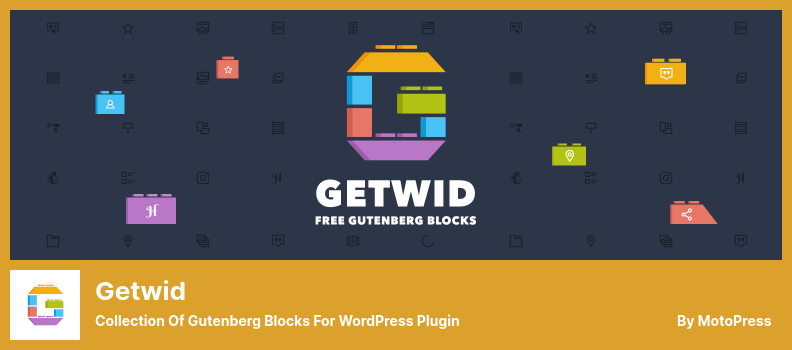 Getwid is an amazing WordPress block library plugin for creating custom blocks that can be combined into a whole. With this plugin, you can create video pop-ups, image galleries, and post carousels, among other useful features.
This plugin also comes with an exciting feature, a free image hotspot block that is customizable using WordPress' native features along with other cool features.
One of the stunning features of the plugin is the Font Awesome icons that can be implemented for the tooltip pointers, and their colors and sizes can also be customized.
Additionally, animations can be added to the hotspot icons such as pulse, appearance, and hover animations to make them more appealing. Moreover, you can customize tooltips in every way and also make them fully movable.
With the plugin, you can add or remove space as you wish between the blocks, and the spacer block can be hidden from your smartphone, tablet, and desktop/laptop. Compared to Stratum, it has only one disadvantage that when deactivated, content appears in a simpler format, but it is not a con.
You can use accordion tabs to manage job titles, names, and image sizes, and customize icons and headings for FAQs, making it easy to create an eye-catching team showcase. Gettingwid's Image Stack Gallery block is fully customizable, so you can fit it with any WordPress theme design.
Key Features:
Edit images with animation effects
Variety of typographic controls
Easily embed custom markers on Google Maps

Custom layout for almost any website section

Custom icons for creating an effective application interface.
High Quality Elementor Widgets WordPress Plugin 
Stratum is an image hotspot plugin that works with Elementor page builder, allowing users to add image hotspots to their websites. It includes many of the same features as third-party Elementor extensions for no additional charge, making it an excellent choice for those looking to take advantage of Elementor's capabilities.
With its visually pleasing and customizable elements, the plugin offers a variety of design choices that enhance its usefulness across a variety of industries.
One of the most notable features of the plugin is its control over hotspot size, color, and icon, as well as its ability to trigger automatic tooltips when the hotspot is hovered over or clicked.
Additionally, the plugin supports animation effects and an interactive icon display. Users can also create their own icon sets that can be used across hotspots, allowing for even greater customization.
The plugin includes a range of Elementor extensions that are useful for businesses of any size, from simple setups to advanced ones. These extensions can be customized based on testimonials, pricing tables, progress bars, galleries, posts, and comparison tables, among other features.
The plugin also includes several fully adjustable settings, as well as templates for campaign banners, slideshows, flip boxes, and interactive images.
Stratum's only downside is that it doesn't offer as many features as WordPress Tooltips Ultimate and Image Hotspot. However, its versatility and ease of use more than make up for it. It's a great choice for businesses that want to make their website look and work better.
Key Features:
Enables image hotspot creation on your website
Includes a design toolchain for visually pleasing hotspots
Creates a library of icon sets that can be used across hotspots
Triggers automatic tooltips when hotspots are hovered over or clicked
Supports animation effects and an interactive icon display
Several fully adjustable settings to meet your specific needs.
Tooltips Insertion Inside Page or Post WordPress Plugin

WordPress Tooltips Ultimate & Image Hotspot is a flexible tooltip styling plugin that offers a wide variety of themes and styles to control visitor behavior. It provides standard and modal tooltips and also allows embedding YouTube and Vimeo videos, creating map styles, and writing HTML text to appear in the tooltips.
The plugin offers a user-friendly interface, making it easier to customize anchors and arrows, modify the animation effects, and choose between 22 different designs.
There's a lot of stuff you can do with the plugin. With the ability to customize fonts, choose arrow positions, and pick a theme, it's one of the most versatile plugins on the market. Besides offering 22 different designs, you can also create a tooltip that looks great on your site with it.
The plugin also lets you control your visitors' behavior without adding more calls to action. It's a great way to keep your website free of intrusive info by hiding things your visitors don't need. It also looks more professional when your website's main interface has lots of text.
During the anchor cursor setup, you can choose from several options. The tooltip dims the rest of the page when it's visible, so visitors will have a better chance of paying attention to it. Tooltips make your website easier to navigate instead of leaving visitors frustrated, confused, or asking for clarification.
Key Features:
Library of Google fonts

with customization options

Multiple arrow position options
Customizable tooltip window with YouTube and Vimeo video support
On-the-fly tooltip display with a dimmed background
Several options for anchor cursor selection.
All in One Widgets for Elementor Plugin

Image Hotspot Add-on for WPBakery is a plugin that allows you to add pop-up tooltips with media files in them. It also allows you to personalize your messages with fonts, styles, icons, numbers, and animations.
The plugin is likely to work well with WPBakery or Elementor Page Builder and to work efficiently with them once they have been installed. Nevertheless, you should test them first before installing them both.
With the Frontend Editor, you can customize the appearance of all hotspot icons. You can also use images and videos as content types for tooltips and color hotspots in any way. Additionally, this extension supports Lightbox, which can display YouTube, Vimeo videos, Google Maps, and more.
To use the Image Hotspot Add-on for the WPBakery page builder, you must install it on your site, and you should enable the Front Editor to drag the position of the icon. The plugin is compatible with the latest version of jQuery and WordPress, and FAQs and source code are available online for future updates.
Key Features:
Support for Lightbox is provided
Images and videos as content types
Customize hotspot icons with Frontend Editor
Hotspots can be colored how you want.
Virtual Tour Builder for WordPress
iPanorama 360 is a virtual tour builder that's ideal for marketing various types of businesses, such as hotels, with just a few clicks of your mouse. You can create custom marker views, navigate with fullscreen navigation modes and even integrate audio backgrounds into your virtual tours.
This plugin also allows you to display any web page and media on the fly. With an intuitive visual editor and various scene types like flats, spheres, cubes, little planets, and Google street view, you can easily create and customize your own virtual tours.
By adding hotspots and pop-over windows with information about different parts of the scene, users can move between different areas and learn more about what they're seeing. iPanorama 360 is mobile-friendly, providing a seamless experience for all devices.
Key Features:
Compatible with all modern browsers and mobile devices.
Creating marker views is a breeze
Tooltips are flexible and powerful
Highlights different areas of the scene
Display lots of information with a lightbox
Special markers for navigating between scenes
hotspots Creation on images WordPress Plugin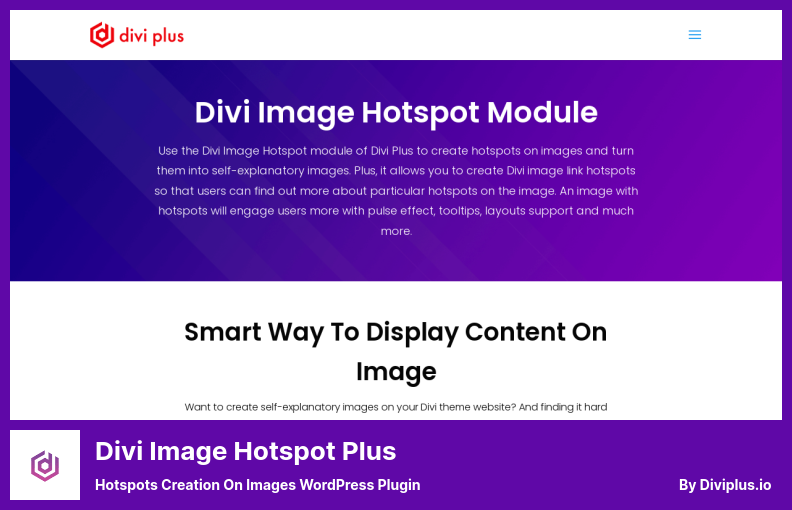 With Divi Image Hotspot Plus, website owners can easily add hotspots to their images on their website, which makes it easier to search for, and as a result, makes their website more user-friendly.
With this module, you can add links to images, allowing customers to understand the hotspots better. This visual image is more interactive due to the pulse effect, tooltip, and layout support, among other factors.
The plugin is critical if you intend to add images to a web page with spot areas & image information. It encourages users to add images to a web page with spot areas and image information.
This plugin makes your product images appear more appealing than they typically would, allowing you to take advantage of this feature to make them more appealing.
You can add an icon to the image, which will be accompanied by text markers, and the tooltip will provide information on the product's features. With the many customizations provided, you can create a unique visual that will draw attention.
In addition to allowing you to create your own self-explanatory images, this Divi Image Hotspot Plus plugin also enhances previously existing images, allowing you to create something new.
Key Features:
Add hotspots to images to provide additional information
Easily change the website's background and add animations to entrances
Create a web page and upload images with spot and area information
Include icons, images, and text markers on your map
The library layout and text will appear along with the tooltip content
Full customization options for the visual appearance.
Map Image Annotation WordPress Plugin
Image Hotspot is an essential plugin to make your website interactive. This customizable plugin features various shapes, sizes, and fonts to choose from. You can convey information visually and add images, videos, links, and text with an interactive map.
The plugin is easy to use and doesn't require any coding knowledge to customize and update images. You can create an interactive assessment or activity that explores content.
The plugin provides visitors with a unique experience every time they visit your website. The plugin also supports unlimited shortcodes and custom CSS styles.
This image map hotspot plugin is an innovative approach to make your website more interactive, which can help you stand out from your competitors.
With this plugin, you can combine your images with pointers available in three styles to create a popover effect for your visitors when they mouse over or click on them.
Key Features:
Three types of pointer contents
Create a Custom Image Map HotSpot template
Supports unlimited shortcodes and custom CSS styles
Supports images, videos, links, and text with an interactive map
Easy to customize and update images without coding knowledge
Create an interactive assessment or activity that explores content.
Visitor Comments Within Images WordPress Plugin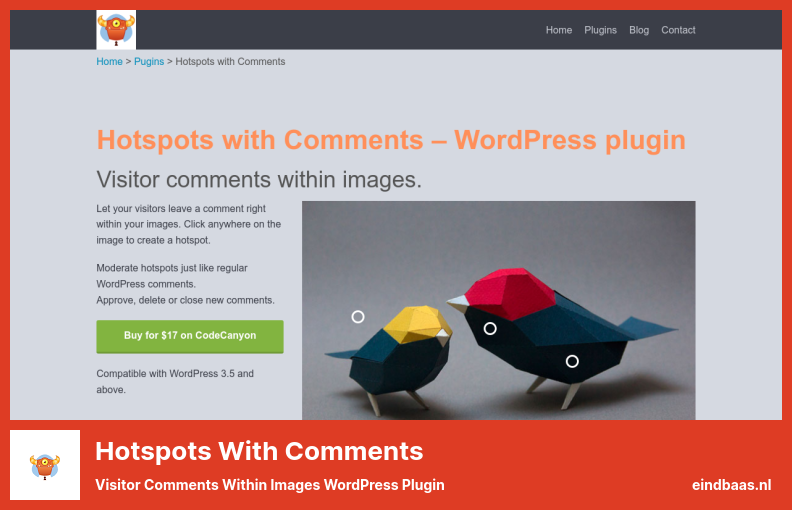 Hotspots with Comments is a plugin that allows visitors to leave comments directly on images through a shortcode that creates interactive hotspot images. This plugin is perfect for engaging your visitors, encouraging them to comment on pictures, and potentially turning them into customers.
To ensure that only authorized users can create hotspots, you can enable this feature for administrators only or allow everyone to create hotspots. You can manage the hotspots through the same process as typical WordPress comments: approving, deleting, and closing them as necessary.
With this plugin, whether you choose to create a public hotspot or a private one, you will be able to moderate them in exactly the same way as you would do with WordPress comments.
Using shortcodes, you can place images with hotspots in posts, pages, and widgets. Inviting visitors to add hotspots to your images will encourage engagement, emphasizing certain points and adding a personal touch.
Key Features:
Option to create a hotspot
Ability to view text, photos, and videos using hotspots
Easy management of hotspot status through disabling or enabling
A variety of styles, colors, and icons are available.
Frequently Asked Questions
What are WordPress image hotspot plugins?
WordPress image hotspot plugins allow you to add interactive hotspots to your images on your website. These hotspots can be used to highlight or link specific areas of an image to other pages or to display more information.
Why do I need WordPress image hotspot plugins?
WordPress image hotspot plugins allow you to create interactive images with clickable areas to display more information. It's a great way to engage your website visitors and provide them with additional details about your product or service.
With these plugins, you can create image hotspots with ease and enhance the user experience on your website.
What are the benefits of using hotspot plugins on my website?
With WordPress image hotspot plugins, you can add depth and interactivity to your website's images, making it easier for customers to explore your products and services.
It also helps in increasing website engagement and providing visitors with a unique and interactive experience. These plugins can also help in enhancing your website's visual appeal and making your content stand out.
Conclusion
In conclusion, we've introduced you to the 8 best WordPress image hotspot plugins available in both free and pro versions. We've discussed their features, advantages, and disadvantages, and how they can help improve the interactivity and engagement of your website.
If you want to further expand your knowledge of WordPress plugins, we suggest you check out the BetterStudio blog. It's your one-stop shop for well-researched, in-depth tutorials, and tips on all things WordPress-related.
Don't miss out on any of our updates and follow us on Facebook and Twitter to stay up-to-date with the latest tutorials. Thank you for reading this article, and if you have any questions or need further clarification, please feel free to ask in the comment section below.