Are you a WordPress website owner who's looking for the best FAQ plugins? Maybe you're wondering which ones are free and which ones require a purchase. Well, you've come to the right place!
In this blog post, we'll be discussing the top 8 WordPress FAQ plugins, both free and pro versions. Don't worry, we've done the research for you so you can find the perfect plugin that suits your needs.
Now, let's dive into the details. When it comes to FAQ plugins, having the right one can be a game-changer for your website. With an FAQ plugin, you can easily create and manage frequently asked questions, making it easier for your visitors to find answers to their queries.
But with so many options out there, it can be overwhelming to choose the best one. That's where we come in! We've compiled a list of the top 8 plugins that offer a range of features and functionalities to help you optimize your website's FAQ section.
The aim of this article is to talk about each plugin's key features, pricing options, and reviews of customers. This list of WordPress FAQ plugins will meet the needs of any WordPress user, whether you're just starting out or a WordPress seasoned user. Sit back, relax, and let us show you what it's all about!
Best FAQ Plugins for WordPress
Welcome to the section of our blog post where we delve into the best FAQ plugins available for WordPress. Whether you're a seasoned website owner or just starting out, these plugins will help you create an engaging and interactive FAQ section on your site.
So let's dive in and explore the top picks that we have lined up for you! Take a look and discover the perfect plugin to enhance your website's user experience.
a WordPress FAQ and Accordion Plugin
You can use Ultimate FAQ for all your FAQ needs. It's seamlessly integrated with WooCommerce and Block Editor, so it's compatible with nearly any website and meets all user experience standards. Using this plugin, you'll be able to track the statistics of all your FAQs, so you can see how many people read them.
In addition to this feature, one other feature that makes this plugin stand out is its ability to allow users to add comments to individual FAQs, creating a collaborative and engaging experience for users of your website.
The plugin also enhances the user experience with unlimited support for tags and categories, as well as visually appealing features like accordions and toggles. Whether you prefer shortcodes or the Gutenberg editor, the plugin has got you covered.
This plugin has one more advantage: you can customize it to fit your needs. With CSS, you can customize the FAQ layout to your preferences. With the WooCommerce FAQ feature, you can add FAQs to your product pages. Also, you can create as many FAQs and categories as you want.
Ultimate FAQ has accordion navigation layouts that can be customized based on the device used by your visitors. That way your visitors have a seamless and optimized browsing experience, no matter what they're using. If you have a lot of FAQs, you can import them in bulk using Excel or Google Sheets.
Key Features:
CSS customization for personalized FAQ layouts
Integration with WooCommerce for FAQs on product pages
Unlimited creation of FAQs and categories
Responsive accordion navigation layouts
Three FAQ blocks for addressing frequently asked questions
Bulk import of FAQs using Excel or Google Sheets spreadsheets.
an Awesome Accordion FAQ Plugin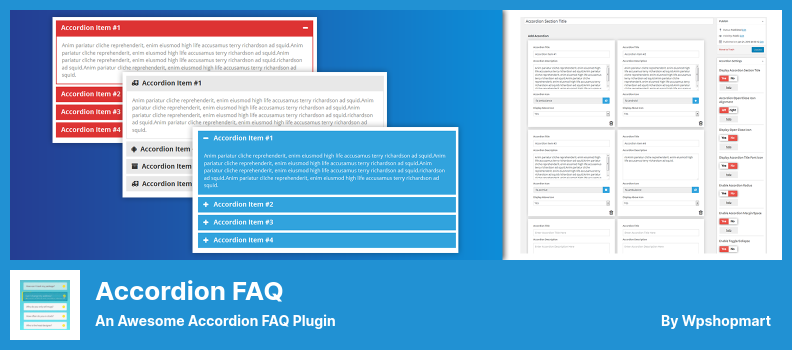 Accordion FAQ is a WordPress plugin that solves the common problem of cluttered and lengthy FAQ pages. It offers foldable, accordion-style layouts that allow users to avoid excessive scrolling.
With the plugin, you can easily create as many FAQ pages as you need. You have the option to display them in an accordion fashion or as a simple list. This flexibility makes it convenient for organizing and presenting your frequently asked questions.
If you're on a tight budget, you can opt for the free version of the plugin. However, if you're looking for more advanced features like animations, Google Fonts, and a comprehensive editor, the Pro version is a great choice for advanced users.
One of the standout features of the plugin is the drag-and-drop functionality, which allows you to arrange your questions in any order you prefer. You also have the option to add new icons to Font Awesome, giving you endless customization possibilities.
Adding FAQ lists to your website is a breeze with the plugin. Simply use the provided shortcodes to effortlessly integrate your FAQs into any page or post.
Customizing the color scheme of your accordion is made easy with the plugin. You can choose the colors that match your website's branding or design preferences, giving your FAQs a professional and cohesive look.
Another advantage of the plugin is that you can create multiple FAQ accordions to cater to different topics or sections of your website. This makes it convenient for managing multiple FAQs and keeping them organized.
Lastly, the Accordion FAQ plugin offers ongoing support for installation, bug fixes, and any other questions you may have. You can rely on their team to assist you with any technical difficulties you might encounter.
Key Features:
Drag-and-drop functionality for arranging questions
Customizable icons from Font Awesome
Easy integration with shortcodes
Customizable color schemes
Ongoing support for installation and bug fixes
Option to choose between accordion or list display.
Best Accordion FAQ Plugin for WordPress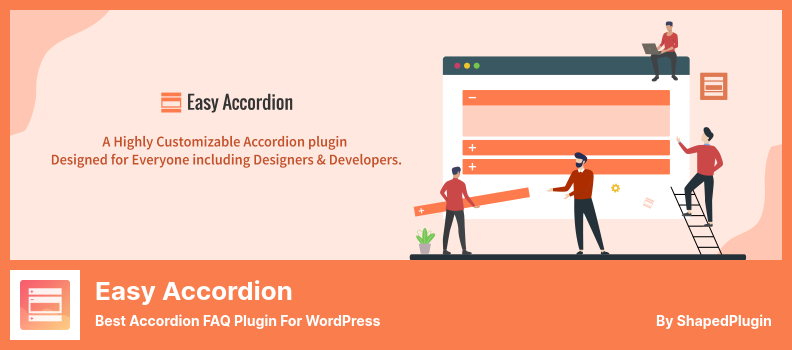 The Easy Accordion plugin is a lightweight and fast WordPress plugin that allows you to create a mobile-friendly FAQ page with functionality similar to an accordion, by using the instant FAQs function.
It offers a wide range of customization options, including typography, icon sets, colors, and themes. With an intuitive administration panel, you can easily manage and organize your accordion boxes by dragging and dropping them.
With this plugin, you won't have to worry about your website getting bloated with plugins. Even though it's got a lot of features, it doesn't get bulky and delivers great content quickly. It integrates with WordPress themes that use widgets, so you don't have to worry about implementation.
When it comes to customization, Easy Accordion offers various options. You can choose from different themes to give your FAQs a unique and visually appealing look.
Depending on the version you purchase, you will have access to either one theme or the option to add 16 themes to your database using the FAQ structured data.
Key Features:
Lightweight and fast

, preventing website bloat

Drag-and-drop functionality for organizing accordion boxes
Intuitive administration panel for easy management
Customizable appearance and color options for your FAQs.
One of The Significant Requirements of Any Informative or Business Website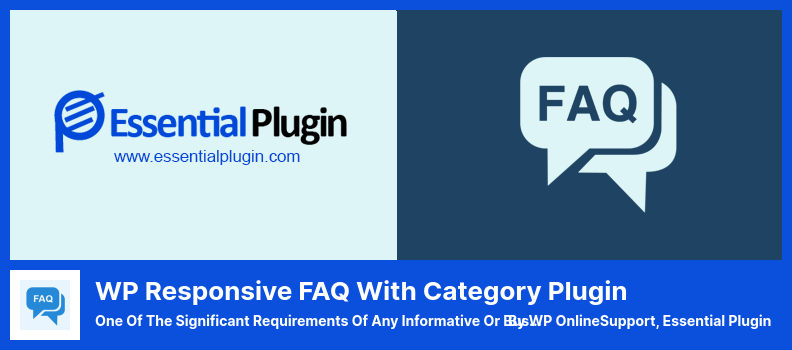 WP Responsive FAQ With Category is a powerful WordPress plugin that allows you to create and display a variety of FAQs on your website. With this plugin, you can organize your FAQs into categories, making it easier for users to find the information they need.
One of the standout features of this plugin is its shortcode system. By using shortcodes, you can easily display the relevant questions in the right place on your website. This ensures that users can access the FAQs they need without any confusion.
The plugin also offers excellent customization options. In the premium version, you have access to 15 new shortcode parameters, allowing you to customize your FAQs even further. You can customize the display of a specific category of questions or limit the number of items displayed.
Another great feature is the collapsible FAQ design. This design ensures that your website is mobile-friendly, as users can easily navigate through the FAQs on their mobile devices. The plugin also allows you to display your FAQs as accordions, which adds a neat and tidy look to your FAQ section.
If you're looking to further customize the appearance of your FAQs, you can do so by using CSS and JS. This gives you complete control over the styling of your FAQs, ensuring that they seamlessly integrate with the rest of your website.
To sum it up, WP Responsive FAQ With Category is a user-friendly and customizable plugin that allows you to create and display FAQs on your WordPress website. With its shortcode system, collapsible FAQ design, and options for customization, this plugin is a great choice for anyone looking to enhance their FAQ section.
Key Features:
Organize and display FAQs in logical categories
Customizable with shortcode parameters
Mobile-friendly and collapsible FAQ design
Display FAQs as accordions
Customize the appearance with CSS and JS
Create individual FAQs or WordPress posts.
The Best WordPress Knowledge Base Plugin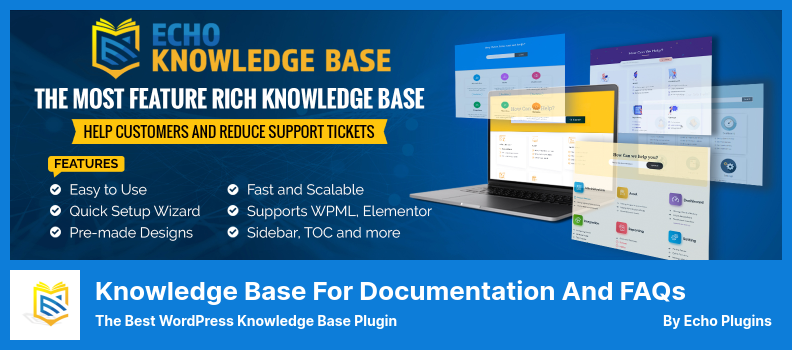 You can easily create and manage your knowledge base and FAQs with the Knowledge Base for Documentation and FAQs plugin on your website with this WordPress plugin. This FAQ plugin goes way beyond displaying FAQs and lets you organize and share all your knowledge across all your pages.
One of the standout features of this plugin is its tabbed interface, which seamlessly integrates with your website and gives it a native look and feel. This means that you don't need any coding expertise to create a professional and user-friendly knowledge base.
Setting up the plugin is a breeze thanks to the convenient setup wizard. Within minutes, you can customize and configure the plugin to match your specific needs. And if you run into any issues, their customer support team is available 24/7 to assist you.
While the core plugin is free, there are also premium extensions available that can further enhance its functionality. For example, if you want to provide detailed documentation for your products, there's an extension for that. These premium extensions give you the flexibility to tailor the plugin to your exact requirements.
Key Features:
Provide easy access to your documents and FAQs
Customize your knowledge base with pre-built themes
Organize support documentation by teams, products, and services.
Share user guides on your website
24/7 customer support
Provides a Quick and Easy Way Add FAQs
Quick and Easy FAQs is a WordPress plugin that allows you to create and display FAQs on your website. With this plugin, you can easily create custom post types for your FAQs, organize them into groups, and display them at different levels.
One of the great things about the plugin is that it is simple and easy to use. Plus, it's completely free! However, it does have some limitations when it comes to features. But don't worry, it still offers a lot of customization options.
With this plugin, you can customize the colors, styles, and fonts of your FAQs using CSS or by modifying the browser's options. This means you can ensure that your FAQ section matches the overall design of your website. You can even modify the style, color, and font to match any theme.
However, there is one downside to this plugin. It doesn't allow you to update the author's name, which can be crucial for FAQs. This is because the site's administrator may not always have time to answer every question.
When it comes to displaying your FAQs, the plugin gives you a lot of flexibility. You can choose to display them in filterable groups or have them sorted alphabetically by title or date in your post type.
Not only can you display your FAQs individually, but you can also showcase them in an accordion or toggle format, in addition to a simple list format. This gives you a variety of options to choose from, depending on your preference and the design of your website.
Key Features:
Create and display FAQs individually or in groups
Customize colors, styles, and fonts using CSS or browser options
Filter FAQs by content to make them easily accessible
Display relevant FAQs at the top of the list
Choose from different formats for displaying your FAQs
Publish your FAQs as custom posts.
FAQ Block is a fantastic plugin that makes it effortless to incorporate Frequently Asked Questions sections on your WordPress website. With this plugin, you can easily add a block for each question in the Gutenberg editor, allowing you to organize and display your FAQs in a user-friendly manner.
One of the standout features of the plugin is its color options. You have the ability to customize the font color and background color of your questions and answers, ensuring that they seamlessly match your website's design and branding.
To create an FAQ using this plugin, simply select the Gutenberg editor on the content page or post where you want to add the FAQs. From there, you can easily add multiple FAQs by clicking the convenient "Add FAQ" button. It's a straightforward and seamless process.
One of the notable advantages of FAQ Block is that it uses CSS throughout the plugin, eliminating the need for Javascript. This makes it easier to customize the theme and ensures that the plugin remains lightweight and efficient.
Key Features:
Easy incorporation of Frequently Asked Questions sections
Customizable font and background colors
Seamless integration with the Gutenberg editor
Ability to add multiple FAQs with just a few clicks
Uses CSS instead of Javascript for a lightweight experience.
an Easy-to-Create, Stylish FAQ Section
Arconix FAQ is a WordPress plugin that specializes in providing a simple and efficient solution for creating FAQs on your website. Unlike other plugins that may overwhelm you with unnecessary features, this plugin focuses on doing one thing exceptionally well.
With this plugin, you have the ability to tag related items, making it easy to group them together when creating your FAQ. This feature allows for better organization and effortless navigation for your users.
Another great feature of the plugin is the option to choose whether your FAQs will be open or closed. This means you can decide whether the answers to the questions are visible by default or if the user needs to click on the question to reveal the answer.
Moreover, for FAQs with a longer duration, there is a convenient box at the bottom that allows users to return to the top of the question, which saves them the trouble of scrolling back up the page.
A great thing about this plugin is how versatile it is. The FAQs can be displayed anywhere on your site, whether on a dedicated FAQ page or as toggles or animations within the content. You can integrate your FAQs seamlessly into your website with this flexibility.
Creating an FAQ section with the plugin is a breeze, thanks to its built-in shortcode. You can easily toggle between displaying or hiding the FAQ using the jQuery toggle or the animated Accordion Box. This gives you the freedom to choose the style that best suits your website and enhances the user experience.
Key Features:
Toggle between jQuery or display an animated accordion
Organize your FAQs into one or more groups using the 'group' taxonomy
Utilize shortcodes as widgets or within your posts and pages
Take advantage of the custom post-type design.
Frequently Asked Questions
What are WordPress FAQ plugins?
WordPress FAQ plugins are tools that allow you to easily create a frequently asked questions (FAQ) section on your WordPress website.
These plugins provide a user-friendly interface for adding and managing your FAQ content, which helps answer common questions and provide helpful information to your website, visitors.
Why should I use a WordPress FAQ plugin?
Using a WordPress FAQ plugin can greatly improve the user experience on your website. By organizing and presenting commonly asked questions in a clear and structured format, you can help users find the information they need quickly and easily.
This can reduce customer support inquiries and increase customer satisfaction. Additionally, having an FAQ section can also help with SEO by providing relevant and valuable content for search engines to index.
What features should I look for in a WordPress FAQ plugin?
When choosing a WordPress FAQ plugin, there are a few key features to consider. Firstly, look for a plugin that offers customization options, allowing you to match the design of your FAQ section to your website's branding.
It's also important to choose a plugin that supports categorization and search functionality, so users can easily find the information they're looking for.
Other useful features include accordion-style collapsible sections, responsive design for mobile users, and the ability to add images or videos to your FAQs.
Conclusion
In conclusion, we have explored the eight best WordPress FAQ plugins, both free and pro, to help you enhance your website's FAQ section and provide valuable information to your audience.
There was a discussion on how these plugins can be used to simplify the process of creating and managing FAQs on the website, as well as their various features and advantages.
For more detailed tutorials and guides on WordPress plugins and other related topics, be sure to check out the BetterStudio blog. We continuously update our blog with valuable resources to help you optimize and improve your WordPress website.
If you want to stay updated with the latest tutorials and tips from BetterStudio, make sure to follow us on Facebook and Twitter. We regularly share valuable insights and helpful content that can take your WordPress website to the next level.
Thank you for taking the time to read our article. We hope it provided you with valuable information and insights. If you have any questions or encounter any issues related to the article, please don't hesitate to leave a comment in the section below. We are here to assist you and address any concerns you may have.