Are you worried about the security of your WordPress website? Do you want to add an extra layer of protection to your content? Well, password protect plugins might just be your solution!
In this article, we'll be exploring the 8 best WordPress password-protect plugins (free & pro) that will give your website an added layer of security. According to a recent survey, 60% of hacked websites are due to weak passwords.
This makes it essential for website owners to prioritize security, and one of the best ways to do so is by using password protect plugins.
In this article, we will introduce you to the top 8 password-protect plugins, providing you with their pros and cons, as well as the different features that will suit your specific needs. So, whether you are a blogger, an eCommerce store owner, or a corporate website owner, this article is for you.
Best Password Protect Plugins for WordPress
If you're looking to secure your website content, password protect plugins are the way to go. Here are the top picks that you don't want to miss out on, both free and pro options included.
Most Complete Content Protector Plugin for WordPress
Content Protector by WPShield is a powerful plugin that complements password-protect plugins, adding an extra layer of security to your WordPress site. It prevents content theft by disabling all methods of copying content, making your site more user-friendly and secure.
This plugin comes with 15 protectors, so it can safeguard all types of content in one go, saving you the trouble of using multiple plugins for different content types. It works seamlessly with any WordPress theme or plugin and works quickly, ensuring that your site remains speedy and responsive.
One unique feature of the plugin is the option of limiting right-click menu items, which improves the user experience while still protecting your content.
The plugin also includes the option of disabling the view source code, Inspect Elements, and Developer Tools, and ensuring complete content protection.
If you're worried about hotlinking and image or video downloading, this plugin has got you covered. It prohibits hotlinking and downloading of images and videos, while also protecting your audio files from piracy. It also encodes and hides email addresses and phone numbers to prevent spam.
Key Features:
Disables right-click menu items for

improved user experience
Protects all types of content with 15 protectors
Prohibits image and video downloading and hotlinking
Works with any WordPress theme or plugin
Customizable with advanced options
Protects Feeds from theft.
Password Protection For WordPress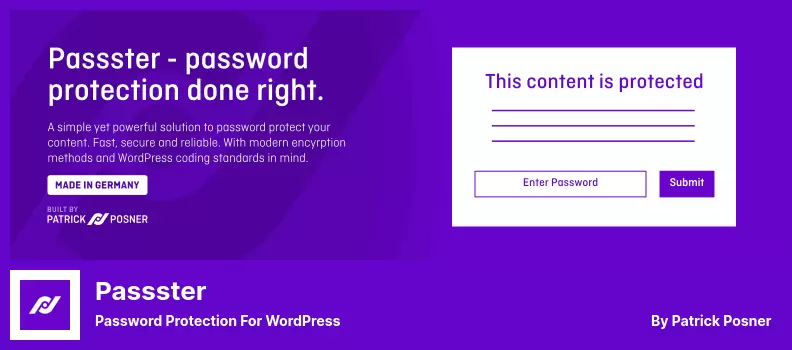 Passster is one of the most popular security plugins available for WordPress, offering comprehensive protection for selected posts and pages on a website
It provides the option to store passwords in cookies for faster access and allows the creation of a list of passwords that expire after one use or at specific time intervals. Another noteworthy feature is the automatic password expiration function in the premium version.
The plugin is an excellent plugin for use with a wide range of WordPress page builders. It can also create encrypted protected areas on your site by utilizing shortened area codes. It offers two protection options: password and captcha, and you can give access based on the user profile and role.
The plugin's global protection option is ideal for protecting specific pages or directing visitors to specific pages. You can likewise open content automatically, depending on the user's role and profile. Passster encrypts passwords for faster access, and shortened URLs are made with Bitly.
Key Features:
Single password or Captcha option for account protection
Stores passwords in cookies for faster access
Allows for the creation of a list of passwords with varying expiration dates
Automatic password expiration feature
Provides access to encrypted content with shortened URLs via Bitly
Compatible with WordPress page builders such as Elementor.
WordPress Trial Login Without Password
Temporary Login Without Password is a highly functional WordPress plugin that allows you to create secure, self-expiring links and auto-login links for WordPress, without requiring any password or username.
With different expiration options, you can set the account expiry as per your needs. The plugin also lets site administrators redirect users to a specific page after login, restrict access to certain content, and create a history of the temporary user's entry and exit times.
As a webmaster, you can create an unlimited number of temporary logins for your users. With this plugin, buyers can visit your site with just one click without creating permanent passwords.
The duration and role of the temporary account can also be specified by the webmaster. The plugin records the number of access times, and an expiry date for a temporary account can be set upon creation.
This WordPress plugin is incredibly useful for webmasters in providing temporary access to users without requiring permanent passwords or developing permanent memberships. Users can use WordPress without any lengthy verification procedures, and site admins can quickly grant and revoke access to users.
Key Features:
Login with a simple link without any password or username
Redirect users to a specific page after login
Set different expiration dates for temporary accounts
Record temporary user's entry and exit times
No limit on the number of temporary logins that can be created.
Password Protect WordPress Content Pluign
WordPress Password Protect Page (PPWP) is a highly efficient WordPress plugin that allows website owners to secure their website content by providing a password.
With PPWP, you can easily choose between multiple passwords or a single password to protect your website content, and pre-select the expiration time, after which these passwords will expire automatically. The plugin also allows you to protect all posts in a group or category instead of each post individually.
One of the most significant benefits of using PPWP is the ability to create different passwords for different user roles, such as subscribers and editors.
Moreover, users can easily access the rest of the content in that category once they have successfully unlocked a post. The password selection feature is activated with just a few simple clicks, making it easy to use for website owners.
It has lots of security features. With this plugin, you'll be able to access protected posts directly without putting in a password, get protection against unlimited WordPress pages, posts, and custom post types, and use multiple passwords to access one particular page.
Additionally, you can set passwords for specific user roles on your WordPress websites and protect multiple pages with the same password.
Key Features:
Choose between multiple passwords or a single password
Pre-select the expiration time for passwords
Create different passwords for different user roles
Protect all posts in a group or category
Direct access to protected posts
Set passwords for specific user roles.
Password Protect category for WordPress
Access Category Password is a plugin that enables WordPress website owners to restrict unwanted access by setting passwords for certain categories of posts. It also offers the option to display a message which can provide visitors with information before the lock screen is displayed.
With this plugin, you have the choice between authentication and cookie options. This plugin also offers four languages including English, French, German, and Chinese, as well as RTL languages. Security measures taken include the usage of PHP sessions or cookies to keep track of authenticated users.
Using encrypted passwords for each category of posts, only visitors with the right password can access restricted posts. In case you enter the wrong password, you'll also be able to select the message text you want. You won't see restricted categories on your feed anymore.
Access Category Password also allows for customization of the excerpt displayed before the password field, as well as the option to change the placeholder of the password field. Additionally, it lets users check for visitors without passwords to access specified categories.
Key Features:
Customizable password message display
Excerpt customizations are provided
The choice between an authentication session or a cookie
Customizable error messages
Ability to restrict password-less visitors
Ability to change password field placeholder.
Recover Forgotten Passwords For WordPress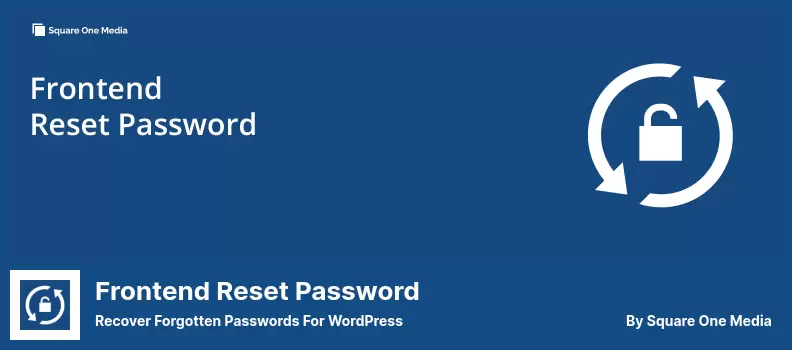 The Frontend Reset Password plugin is a user-friendly component of WordPress that provides users with the ability to reset their lost or forgotten passwords directly from the front page of their website.
It's also easy to use with Easy Digital Downloads! If the user enters the wrong email address or username, they will receive an error message. With this plugin, you will have a customizable toolset to create forms that perfectly fit your website's theme.
When a user wants to reset their password, they need to enter their email address or username. The default WordPress password reset form is no longer visible.
After following the password reset link sent to their email, your site will redirect them to a page where they can select a new password. Even better, the plugin uses WordPress default methods for security, and it's excellent for websites that have restricted member access to the dashboard.
Key Features:
Recover lost or forgotten passwords from the front of the site
Easy to integrate with Easy Digital Downloads
Avoid displaying the default WordPress password reset form
Personalize your password reset forms to match your website theme
Enter your email address or username to reset your password
Send password reset links to your email inbox.
Create Password Protect content For Members Only
WP Edit Password Protected is a plugin that offers you an easy solution to create password-protected pages on your website. With a variety of designs, you can create customizable pages for admins or site owners.
You can integrate social media icons, change the message on password-protected posts/pages, and set unlimited custom messages to display. The plugin also provides four different designs for locked pages.
This plugin will provide you with a simple way of creating attractive pages only for members, and it offers you the ability to create an unlimited number of pages for your members.
This plugin has a strong support team available to assist users with any issues. You have the ability to set the text wherever you prefer and can add social icons in three different positions. Additionally, you can add new texts with HTML tags and customize the pages to your liking.
Key Features:
Customizable text placement
Unlimited pages for members only
Social media icon options
Customizable text with HTML tags.
Reset Multiple User's Password In Just One Click
MASS Users Password Reset is an intuitive WordPress plugin for resetting WordPress users' passwords, and user groups' passwords. It has a lightweight size with a powerful performance.
A significant feature of the plugin includes the ability to categorize users based on their roles for resetting their passwords in groups. You can recover forgotten passwords using various access methods.
Furthermore, the plugin allows you to customize email notification templates by inserting predefined placeholders. The plugin is easy to install and is compatible with the popular WooCommerce, WooCommerce themes, and BuddyPress plugins.
This plugin has multiple features with the ability to reset passwords for individual users with the default users page. Moreover, it can reset the passwords for multiple selected users with a bulk password reset method.
Users have the option of receiving reset password links or plain text passwords. You can also create groups of users based on roles or custom fields and reset their passwords easily.
Key Features:
Reset passwords for individual users and bulk password reset
Customize email notification templates
Multiple ways to reset users' passwords
Option to receive reset password links or plain text passwords
Create groups of users based on roles or custom fields.
Frequently Asked Questions
What are some benefits of using a WordPress password-protect plugin?
WordPress password-protect plugins can help you secure your website or specific pages/posts with a password, ensuring that only authorized users can access the content.

This can be useful if you have content that is only meant for a specific group of people or if you want to protect sensitive information from unauthorized access. Some plugins also offer additional features like customizable login pages and password strength requirements.
What should I look for in a WordPress password-protect plugin?
When choosing a WordPress password-protect plugin, you should consider factors like ease of use, customization options, and security features. Look for a plugin that integrates well with your website and allows you to easily set up password protection on the content you want to protect.

It's also important to choose a plugin that offers strong security and encryption to keep your content safe from unauthorized access.
Can I password-protect my entire WordPress website?
Yes, you can password-protect your entire WordPress website using a plugin like Password Protected. Simply install and activate the plugin, then set a password that visitors will need to enter in order to access your website.

However, keep in mind that this will make your entire website inaccessible to search engines, so it may not be ideal for SEO purposes.

It's also important to remember that password-protecting your entire website can significantly impact user experience, so it's best to only use this option if absolutely necessary.
Conclusion
In conclusion, we hope that this article has given you a better understanding of the 8 best WordPress password-protect plugins available in the market, both free and paid. We have discussed their features, pros, and cons, so you can make an informed decision to suit your individual needs.
For more tutorials on WordPress, be sure to check out the BetterStudio blog. We provide valuable, informative articles on various topics related to WordPress and website development.
To stay updated with the latest tutorials, tips, and tricks, follow us on Facebook and Twitter. We are dedicated to providing our readers with the latest information and help you enhance your online presence effectively.
Thank you, dear reader, for taking the time to read this article. If you have any questions or problems regarding the topic, please feel free to ask in the comment section. We are always here to help you out.