You need a WordPress plugin to protect your passwords, but determining which is the best is not easy.
Looking for a quick answer? We recommend the WPShield Content Protector plugin for content copy protection and Passster for content password protection.
There are a lot of WordPress plugins available for Password Protection. However, we have chosen the best ones that can be used for Password Protected Pages, Password Protected Categories and Password Protected WordPress Websites.
Additionally, we recommend that you review our article on the best WordPress content protection plugins. If you lock some parts of your post contents and require your users to do something in order to access them, this can increase your WordPress newsletter subscribers and increase your social media interaction by utilizing the social sharing buttons on your content locker.
Best Password Protector Plugins for WordPress 🔐
Let's check our selections for the best WordPress Password Protection plugins in 2022:
Most Complete Content Protector Plugin for WordPress
WPShield Content Protector is the first item on our list of the best password protect plugins, as it is an excellent complement to password protect plugins to ensure your content will not be accessed or copied by others.
When password protects plugins are used, all users won't be able to access the pages, but by using this plugin, you still allow them to access the pages, but you prevent all methods of content copying from them, so your content will be safe and your site will be more user-friendly.
This plugin can also be used in conjunction with a password protector to ensure that users with passwords cannot copy your site's content.
This plugin contains 15 protectors so it can protect all types of content and thus saves you from having to use multiple plugins to secure your site. It works quickly and works with any WordPress theme or plugin.
This plugin includes the option of disabling the right click menu, just like any content protector, as well as the option of limiting the right click menu items, a unique and exclusive feature. Although right click is not disabled, features like save as, view source code, and inspect element are disabled.
WPShield Content Protector's website offers detailed information about all of its features and options and comprehensive step-by-step instructions on installing and setting up the plugin.
Key Features:
For dropping to need a password to protect, make sure your content is protected from copying and theft
This menu limiter doesn't disable right-click, but it does disable items such as save as and view source in order to improve the user experience
Copying content can be enabled by adding a reference link to copied text
Hotlinking and downloading of images is prohibited
Ensures that no videos can be downloaded or hotlinked
Protect your audio files from downloading and hotlinking
Deactivate the view source on your site
Ensure that your website content is completely protected from printing
Disables the Copy Enabler Extensions in browsers
Ensures feeds are protected and disabled
A complete tool for preventing and disabling hotlinking
Protects email addresses from spam by encoding and hiding them
The encoder and hider of phone numbers to prevent spam
Provides support for all plugins and themes
Provides advanced and extensive customization options
Random Reviews:
I use this photo protector for my photography and it kept all my photos from being downloaded. In the first week after I started using it, I received many emails from bloggers asking for image files, when I had not received even one email for a year before.

I sell courses on my website and I did not want someone to be able to easily copy/paste my content using a right-click. This plugin did this as advertised. I recommended using right click limiter to allow visitors to right-click on links for opening in new tab. it disables the view source and copy in menu.

I tried many content protections and all of them have lack of features but it does a great job and brings protection on the top level. There may be other plugins that offer similar functionality, but I have found that this plugin is the only one that disables the developers tools and CTRL+SHIFT+C completely.
Password Protection For WordPress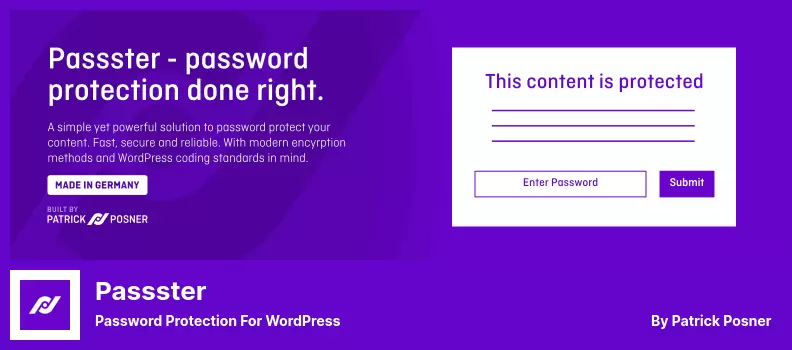 Passster, one of the most popular WordPress security plugins, gives you options to protect the entire website or just pages and posts of your choice.
By adding a shortened area code to your website, Passster can create encrypted protected areas on your website. It also integrates with WordPress page builders such as Elementor, which makes your life easier.
With the Global Protection option, you can protect specific pages on the website or direct visitors to particular pages. You can also use a password or captcha for protection. This plugin provides both options.
Additionally, this plugin allows you to use cookies to store passwords, which increases access to them. The professional version also features an automatic password expiration feature.
Furthermore, you can create a list of passwords that will be removed from the list after using them once or several times, depending on your preferences. Content can also be automatically opened, depending on the user role and profile.
💵 There is a $79.99 premium version as well as a free version.
Key Features:
Using an extensive list of passwords with the date and usage expiration
Encrypted passwords are stored in cookies for faster access
Ability to access content with encrypted links and shorten URLs with Bitly
A list of passwords can be set including: to expire after one usage, several uses, or after a certain period (hours, days, weeks, months)
Protect your account with a single password or captcha
Random Reviews:
I had some trouble using PPWP-plugin and was looking for alternative. Found Passster by coincidence and give it a chance … all my needs were satisfied. I'm pretty happy with Passster and think of using it in other related situations when needed.

This content-protection plugin is the best I know using with elementor. With PPWP-plugin some errors occured which I couldn't fix (also not with support). With Passster everything worked well and the support was more than fast (under 24 hours for replies). Great job!
WordPress Trial Login Without Password
Temporary Login Without Password is a plugin to create secure, self-expiring links and auto-login links for WordPress.
Webmasters can use this plugin for temporary access to users. After sending the link, you can enter the site without a password.
A useful plugin for WordPress allows users to create temporary accounts with a temporary validation period without developing permanent memberships. Users do not need to create permanent passwords and can use WordPress without them.
Whenever a user wants to visit the site as a buyer, they just enter their user account with just one click. As a webmaster, you can specify the duration and role of this temporary account.
With this plugin you can create an unlimited number of temporary logins. It does not require a password or username; you only need a simple link. It has an expiration date and can no longer be used afterward.
Provides site administrators with a variety of options for setting expiration dates. Logging in allows the user to be redirected to a specific page or restrict access to certain content. Users' entry and exit times are recorded with this link, and the number of access times can be checked.
💵 The plugin is free to download.
Key Features:
Ability to login with just a simple link. Without need any password or username
Ability to redirect users to a specific page after login
Ability to set account expiry with various expiration options
Create a history of the logged-in time of temporary users
Ability to create unlimited temporary logins
Random Reviews:
Extremely easy to use. Just what I needed, thanks!

Just perfect.

A nice plugin that helps when cooperating with others for a set timeframe.
Password Protect WordPress Content Pluign
WordPress Password Protect Page plugin (PPWP) is a powerful WordPress restricted content plugin to secure your website by providing a password.
Choose between multiple passwords or even one password to secure your website content. You can set the expiration time and these passwords will expire automatically
Choose to secure your website content with multiple passwords or, if desired, a single password. You can pre-select the expiration time of these passwords, and they will expire automatically.
The password selection feature is activated with just a few simple clicks and it is easy to use. The plugin allows you to protect your WordPress posts and pages through user roles and passwords.
You can then create different passwords for different user roles, such as subscribers and editors. Alternatively, you can protect all posts in a group or category at once instead of individually.
When users successfully unlock a post, they can automatically access the rest of the content in that category.
💵 The Premium version of the WordPress Password Protect Page plugin costs $190.80, and the Lite version is free.
Key Features:
Provide direct access to protected posts without requiring users to enter a password
Protection against unlimited WordPress pages, posts, and custom post types
Access a particular page using as many different passwords as you like
Passwords can be set for specific user roles on your WordPress websites, such as members and customers
Rather than securing each page separately, protect multiple pages with the same password
Random Reviews:
I love being able to easily gate content with this plugin. Their support is fantastic, too!

This guys are good at what they do, the fastest support I've ever seen. I recommend them.

Plugin works perfect. Saves me a lot of time and energy. Great tool.
Password Protect category for WordPress
Access Category Password helps you specify passwords for categories of posts from your website and restrict the access of unwanted people.
To access the password page, you can access those posts after entering the password. With this plugin, you can choose between authentication and cookie options.
As an alternative, you can display a message which conveys information to visitors before displaying the lock screen. After entering the wrong error code, you can select and customize the desired message text.
Supports four languages: English, French, German and Chinese, and also RTL languages. As a security measure, the plugin uses PHP Sessions (more secure) or a Cookie (less secure) to keep track of authenticated users. Each password is encrypted and stored before it can be used.
This plugin allows you to set a password for each category of your website posts, and then it will only be displayed to visitors with the password. This feature prevents restricted categories of posts from being displayed in the regular feed.
💵 There is no cost to use this plugin. It is FREE.
Key Features:
Display information about password types before the password field
Custom excerpts can be displayed before the password field
Option to choose between authentication session or cookie
Set error message when a user enters the wrong password
Checking users without passwords to access specified categories
Change the placeholder of the password field
Random Reviews:
This plugin does what it says. Extremely helpful for managing your WordPress content access. It allows you to control access based on user roles. If you are running a membership site, you'll find it especially handy. Plus, it's totally free. I give it a 5 star rating!

protection type COOKIE is insecure. If User set browser COOKIE, he can access protected posts. — protection type がCOOKIEの場合は安全面に問題があります。 ある名称のCOOKIEをブラウザに埋め込めば保護された投稿にアクセス可能で、それはとても簡単にできます。
Recover Forgotten Passwords For WordPress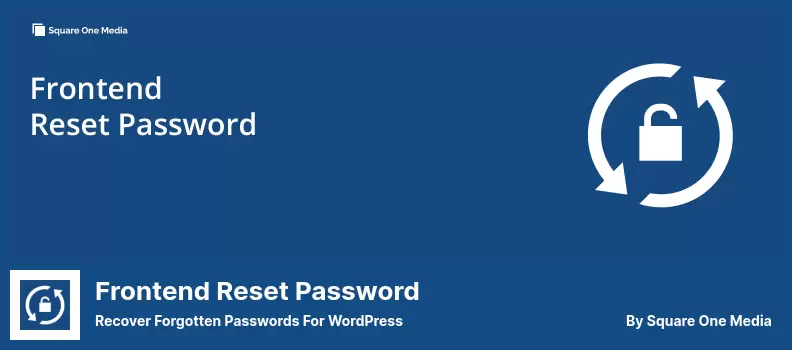 Frontend Reset Password is a WordPress frontend user profile plugin that allows users to recover their password from the front of the site if they have lost or forgotten their password.
Users enter their usernames or email addresses in the relevant fields to reset their passwords, but the default WordPress password reset form is no longer visible. After entering your email address and clicking on the password reset link, your site will redirect them to your site, where they will be asked to choose a new password.
Everything is done using WordPress default methods, including security, so you do not have to worry. Frontend Reset Password is great for sites that have disabled members' access to the WordPress dashboard or if you plan to add a lost/reset password to your site pages.
This plugin also works excellent with Easy Digital Downloads! Entering the wrong username or email address will result in an error message. After setting up this plugin for your website, you have a box of tools to build a form that matches your website's theme excellently.
💵 Without paying and Free! You will have the advantages of this plugin and It's support.
Key Features:
A Lost/Reset Password form can be included on your custom site pages if your site has disabled access to the dashboard
Displaying error message when a user enters wrong information
Provide minimum character requirement for passwords
Provide password reset forms that match your website theme
Email reset link for users who lost their passwords
Random Reviews:
Excelente, fácil de usar y tiene grandes características para ser totalmente gratuito.

It is easy to use and works perfect. I would like this plugin could have more customization… but I am very grateful it exist 🙂

Exactly what I needed, a no fuss front page reset password system that works.
Create Password Protect content For Members Only
WP Edit Password Protected is one of the plugins that you can easily use to create a single page for admins or site admins utilizing a variety of designs. This plugin gives you many options to change this page.
You can add social media integration or icons to change the password form in posts or pages hidden with the password. Sometimes a webmaster wants to create a page for only members and change the message on password-protected posts/pages.
It allows for the creation of such pages with attractive options. WP Edit Password Protected makes the process very straightforward. It allows you to create unlimited pages for members only.
You can easily set a password on these pages and create custom messages to display. You can display the created texts anywhere on the page. Supports premium social media. It also offers 4 different designs for locked pages.
💵 You can download this inclusive plugin for Free.
Key Features:
Strong supporting team to assist users with their problems
Ability to set the text wherever you prefer
Create unlimited pages for only members
Provide the option to put social icons in three different positions
Provide the ability to add new texts with HTML tags
Random Reviews:
I had to watch the author's video a couple of times, but that was nothing compared to the hours I wasted chasing other solutions before finally finding Wp Edit Password Protected. It works great! Thanks for a great plugin!

First, my English is not really good. It would be nice if you had the opportunity to change the look of the "form.styles". Have a nice day…
Reset Multiple User's Password In Just One Click
MASS Users Password Reset is a powerful yet lightweight WordPress plugin for resetting users' passwords. This plugin can categorize users based on their roles and reset their passwords in groups. This plugin notifies users of their new passwords by sending them an email.
With this plugin, you can recover your password using several different methods. In addition, you can choose from several email formats when retrieving your password from the professional version.
Supports several different languages ​​and is compatible with popular WordPress plugins such as WooCommerce and WooCommerce themes, BuddyPress, and more. An unlimited number of passwords can be reset from this plugin. It is easy to install and can also be used efficiently.
For recovering forgotten passwords, this plugin with its excellent features might be a good choice if you think you need a plugin like Mass users password reset.
💵 It is free to use, but it costs $49.00 to upgrade.
Key Features:
Password reset for individual users, and bulk password reset for multiple selected users can be done from the default users page
Ability to customize the email notification template by inserting predefined placeholders
Provides various ways to reset the passwords of users
Provide users the options of receiving a Reset Password Link or the plain text password
Create groups of users based on roles or custom fields, then reset the passwords only for those users
Random Reviews:
It's a really good plugin to reset the user's password.

Excellent

Really such a great plugin for password reset. also i'm use this plugin as a security purpose, I'm use the a schedule password reset option to secure my store user details. Thank you.
Final Thoughts on the Top Password Protection plugins!
The evaluation of plugins is important. We reviewed the best WordPress Password Protection plugins. If you hope to enhance your website, you can use them.
We hope you liked our collection. Furthermore, you may want to review our article regarding disabling right-click on WordPress sites, which adds additional content protection and copy theft protection to your site.  
It is possible to use the plugins to password protect WordPress sites and also password protect WordPress pages. We have ensured that every plugin you find here works smoothly with all WordPress themes.
Furthermore, we will discuss how to customize your WordPress login page and which plugins your website may need.
Would you suggest a different plugin? Do give us know in the comments section below. Please consider sharing this article on Facebook and Twitter.