Are you searching for the best Beaver Builder Page Builder Addons plugins for WordPress? Not sure which addon plugin will be the best fit for you?
We will be covering the best Beaver Builder Page Builder Addons WordPress plugins on the market that will add sophistication to your website. These WordPress plugins are also speedy, easy to use, and integrate with all popular themes in WordPress.
We have hand-picked the following Beaver Builder Page Builder Addons plugins to help you pick the best Beaver Builder Page Builder Addons plugin.
However, you can still use these Beaver Builder Addons plugins for Beaver Builder Addons for WordPress Sites, WooCommerce Page Builder Plugin, Beaver Builder Modules, Beaver Builder Functions, Beaver Builder Templates, Beaver Builder Extension, and Beaver Builder Theme.
Furthermore, we recommend you read our article about WordPress page builders comparison for more information on the current trending builders and how you can switch to a more powerful builder
Now let's look at the best Beaver Builder Page Builder Addons plugins for WordPress in 2022:
The Ultimate Addons For Beaver Builder
The Ultimate Addons for Beaver Builder is a beaver builder page builder addons plugin that was developed by Brainstorm Force, which also makes the Astra theme and several other extensions for other tools, such as Elementor Addons and Gutenberg Block Addon.
This collection includes both WooCommerce and general-purpose modules, one of the many exciting features of a group of more than 60 unique modules.
This plugin includes features such as displaying multiple products, adding a shopping cart button, and viewing categories.
You will also get creative functionality within the 'general-purpose' module, such as pricing lists, call-to-action buttons, and contact form styles.
The Brainstorm Force modules and templates are exceptionally well designed, which makes them both excellent choices, both for consumers and product developers.
In addition, this plugin can be white-labeled to match your company's branding. This is ideal if you use it to build your own website or one for a client.
💵 The Lite version is free, and the Premium version costs $59.
Key Features:
You can insert attractive and relevant images between rows
Using a clear-cut module, content can be stated very descriptively
Using a lead generation module, you may display headings and titles within your content
Both the front and the back of the box can be customized
The user can view a list of items, their respective details, and an image or icon associated with each item
Random Reviews:
Thank you, DonorBox, for creating a valuable and well-designed plugin. Your plugin deserves a 5-star rating.

Provides the ability to modify pages more easily.

Simple editor and easy to use.
Extends Beaver Builder With Custom Options, Unique Modules And Templates
Like Ultimate Addons for Beaver Builder, PowerPack Lite for Beaver Builder functions as an extension for Beaver Builder, providing various custom options, modules, and templates.
This Beaver Builder addon allows you to enhance Beaver Builder's capabilities creatively and innovatively. The modules are custom-designed to Beaver Builder and developed by Idea Box Creations.
With this plugin, you can create a wide range of powerful tasks, such as information search forms, testimonials widgets, menus for restaurants, pricing tables, and stylers for the conditions.
Even though PowerPack does not include WooCommerce page builder modules, the developer has developed a second Beaver Builder extension called WooPack for Beaver Builder.
With its elegant appearance, this package will appeal to users of various tastes and niches, and it is even possible to rebrand the package to fit your own requirements thanks to its white-labeling capabilities.
💵 Version Lite is free, and Version Pro is $47.
Key Features:
You can insert beautiful blocks of text and images into the content of your pages by using the content module
You can write and create eye-catching headlines for your web page
Your Beaver Builder website will appear more exceptional and appealing when using fancy row separators
You can include a call-to-action button on your website
You can display lists vertically or horizontally according to your preferences
Several elements on the site help break up the space nicely, including a tilt function, a big triangle, etc
Random Reviews:
It is an awesome plugin with wonderful and extremely kind support!

Many thanks to Nirbhay Rao for offering your assistance and support.

I use this plugin on so many websites. I love it and their support is amazing!
This topic was modified 3 months, 3 weeks ago by
Helping You Build WooCommerce Websites With Beaver Builder
Developed by the same developer as the PowerPack plugin, the WooPack for Beaver Builder plugin is unique because it is exclusively focused on enabling you to build WooCommerce sites utilizing Beaver Builder.
This plugin allows you to easily integrate WooCommerce content into Beaver Builder websites with several beaver builder modules.
You can create some neat effects with these, such as a pop-out cart or a 'mini cart.' If you are a Beaver Builder user and like to use WooCommerce, this plugin is for you.
It is easy to design beautiful, user-friendly online stores with WooCommerce. It is also possible to customize every aspect of the shop and create fully responsive layouts quickly and simply.
It was designed to solve performance issues, so you will not be troubled by extra bloat on your website when you use this plugin.
💵 There will be free support from this awesome team for 12 months. You can buy the plugin at $47.
Key Features:
Sliders are available for accessing the products
You can add items to your shopping cart by clicking the 'Add to Cart' button
You can find a list of options for styling your shopping cart page
Product grid compatibility is offered
There is a checkout page available
It is possible to support a single product
The Only Official Beaver Builder Add On From The Beaver Builder Team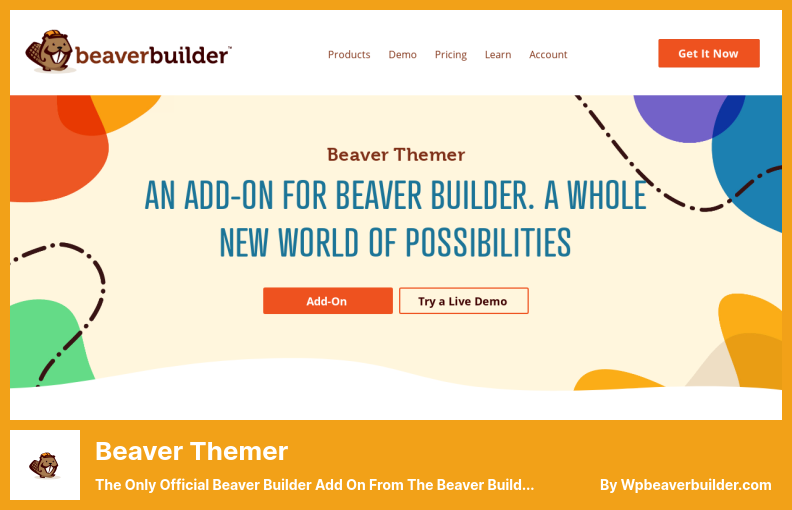 Beaver Themer is a practical addon that lets you use the famous WooCommerce page builder plugin, Beaver Builder. Using it, you can add Beaver Builder's functionality to your theme design.
Using this plugin, as a result of the template system, you will be able to apply different templates based on your needs. For instance, other headers can be used to blog posts, and various headers can be applied to custom post types.
Likewise, Beaver Themer includes unique connections to fields, which allow you to dynamically import data to your website, including data from custom fields that you have created using other plugins, such as Advanced Custom Fields.
When using Beaver Builder across your entire website, Beaver Themer is an essential component. Unfortunately, the Beaver Themer add-on is only available in Beaver Builder's premium version. It cannot be accessed by Beaver Builder's free version.
💵 It includes 12 months of free support and updates. It costs $147.
Key Features:
You can create designs for various post types, including blog posts, pages, and custom posts
You can make excellent blogs and archive web page designs
There is a way for you to add theme templates and parts to the underlying data on individual pages and posts
You can create layouts for blog archives, custom post types, WooCommerce products, 404 pages, and search pages
You can partially construct the layout using headers, footers, announcement bars, and call-to-actions
The design of your blog post or custom post type can be archived when you create it
Features Huge Collection Of Premium, Easy To Use Yet Highly Functional Extensions
Like Beaver Themer, Livemesh Addons for Beaver Builder have been developed to create additional modules for Beaver Builder. It contains 25 modules, most of which are currently available in both light and dark versions.
This plugin is an ideal partner to Beaver Builder's page builder. It offers a comprehensive collection of easy-to-install, highly effective extensions.
The modules you create with this plugin allow you to insert charts, testimonials, pricing plans, grids, image galleries, and video galleries for various purposes.
The plugin is free on WordPress.org, and it adds 14 new modules. You can access all the other theme features by upgrading to the premium version.
By activating this plugin, you will have access to all the premium page builder plugin elements, which can be easily dragged and dropped into your website.
💵 Free Lite, paid Pro.
Key Features:
Your service offering can be designed to capture the best of what you have to offer clients and customers
Allows you to create an impressive masterpiece that can be displayed on any device using the Post Carousel feature of the Beaver Builder theme
There are several pricing options available to increase sales and conversions
The Generic Carousel element can be used to display a list of HTML elements in a carousel format and allow scrolling
The Team Profiles extension allows all members of a team to be viewed simultaneously
Animated Pie charts are commonly used to display percentage data
Random Reviews:
Among the things I used, everything worked perfectly.
Best regards, Thomas.

Thanks for this add-on!

Livemesh has the easiest to use, most customizable pricing table module I've seen. Plus, their other modules work great too. We haven't had any issues with them.
Allows You To Use Customized Templates And Pages As A Header Or Footer
The Header Footer for Beaver Builder plugin is one of the best Beaver Builder addons for WordPress sites. It allows you to use Beaver Builder templates for your site's header and footer.
Suppose you only require this functionality, and it is straightforward to install. In that case, this can be an excellent alternative to Beaver Themer.
With this Beaver Builder addon, you will be able to create your own headers and footers, which will be tailored to your web template or web page. It is a perfect match for Beaver Builder which is a popular page builder plugin for WordPress.
Using this plugin, you may add custom headers and footers to your page using a new option within the settings section of your plugin for page building.
This plugin can currently be used with several themes: Astra, Beaver Builder, Genesis, GeneratePress, Primer, and Neve.
Unfortunately, there are sometimes issues with caching, which may cause some formatting problems with the plugin.
💵 There is a Free version of this plugin with free limited support available on WP.org.
Key Features:
You have the option of making a page or template the header of the document when you save it
You can display a custom header or footer to the right or left of the page
You may use a template or a page of your choice if you want to create a header or a footer
There are several themes available for it
Random Reviews:
Outside of Beaver Builder itself, this is the most helpful plugin I use, and I would be lost without it.

With this plugin, you can make your header and footer look exactly the way you want, which Beaver Builder does not give you. It is also very easy to use

*Thank you* for this plugin which allows you to easily design headers and footers for Beaver Builder sites. This topic was modified 4 years, and 8 months ago by
Elementor, WordPress & Beaver Builder Templates
The Starter templates plugin for Beaver Builder will enable you to extend the functionality of Beaver Builder above and beyond widgets and blocks. Additionally, you will be able to easily access and use templates for your website and pages within the Beaver Builder dashboard.
Considering that it can also be used in conjunction with Elementor, Brizy, and Gutenberg themes, it does not seem appropriate that it should be limited to using only Beaver Builder templates.
The Brainstorm Force application developed this plugin that allows users to choose from 280 website templates and individual pages that are fully pre-designed.
In addition, you can export only certain sections of the page or specific customization settings according to your requirements.
Thus, you will not be required to design or edit your website pages since all you would have to do would be to update its content.
This plugin can import individual pages, web pages, or various content blocks directly into your site. You can choose the content you wish to import at any time.
💵 Free downloads are available for this plugin.
Key Features:
It is possible to design an individual site using a variety of pages and templates
There are pre-designed templates that can be imported onto your website
A user can directly import a page into the website builder by using the page builder element
Users can click the button to import data once they are ready
Random Reviews:
I love it. It makes my work easier and saves me a lot of time. Thanks.

Easily sets up a new site.

If you have never designed a site before, this theme is perfect for you.
Putting it all together
In conclusion, we have discussed the best Beaver Builder Page Builder Addon plugins that you could use to expand your website. You should select one of these plugins.
It is our hope that we have given you enough information.  In addition, you may wish to check out our article about the best WordPress blogging themes and the best WordPress hosting providers.
Let us know if you need more information in the comments section. Please share this content on your Facebook and Twitter if you are compatible with it.