Are you looking for the perfect WordPress theme for your website? Well, look no further because today we're going to explore some of the best alternatives to the KLEO theme in 2023. 
Whether you're a seasoned WordPress website designer or just starting out, finding the right theme can be a daunting task. But don't worry, we're here to help!
Now, you might be wondering why you should consider looking for alternatives to the KLEO theme. While KLEO is undoubtedly a popular choice among website designers, it's always a good idea to explore other options to ensure you find the perfect fit for your specific needs.
In this article, we'll not only present you with eight fantastic alternatives to the KLEO theme but also provide you with some interesting stats and facts to help guide your decision-making process.
So, let's dive right in! In this comprehensive guide, we'll be showcasing the top eight KLEO theme alternatives for 2023. We'll take a closer look at each theme and highlight its unique features, customization options, and ease of use. 
Whether you're looking for a theme that focuses on e-commerce, blogging, portfolio showcasing, or any other specific niche, we've got you covered.
So, whether you're already familiar with the KLEO theme or are just hearing about it for the first time, get ready to discover some amazing alternatives that will take your WordPress website design to the next level. 
Keep reading as we delve into each alternative for an in-depth analysis of their capabilities. Say goodbye to endless scrolling through themes and let us help you find the perfect match for your website design endeavors. Let's get started!
Best KLEO Theme Alternatives For WordPress
In this article, we'll introduce you to the best KLEO theme alternatives for WordPress, so you can find the one that suits your needs. Make sure to check out the following products and discover the perfect theme for your website.
Multipurpose BuddyPress WordPress Theme
Socialize is a multi-purpose theme that focuses on creating communities and social networks. It integrates seamlessly with BuddyPress, a WordPress plugin that allows you to build social networks with features like member profiles, activity streams, user groups, and private messaging.
With Socialize, you have the freedom to choose from various layouts for your homepage, posts, pages, and categories. It is also responsive, ensuring that your website looks great on different devices. 
The theme offers Ajax filtering, making it easier for users to navigate and find the content they're looking for.
Setting up Socialize is a breeze with its one-click install feature. You can quickly get your social network up and running without any hassle. The theme also provides powerful menus, allowing you to create intuitive navigation for your users. 
Key Features:
BuddyPress integration for creating social networks
Ajax filtering for easy navigation
bbPress integration for a traditional forum appearance
Multiple layout options for different sections of your site
Responsive design for a seamless experience on different devices

Bundled with

WPBakery Page Builder

for easy customization

Tons of customization options for complete control over your site
Powerful menus for intuitive navigation
Front-end and social login for easy user interaction
WooCommerce integration for monetizing your site
PRO Multipurpose Membership, Social Network & BuddyPress Community WordPress Theme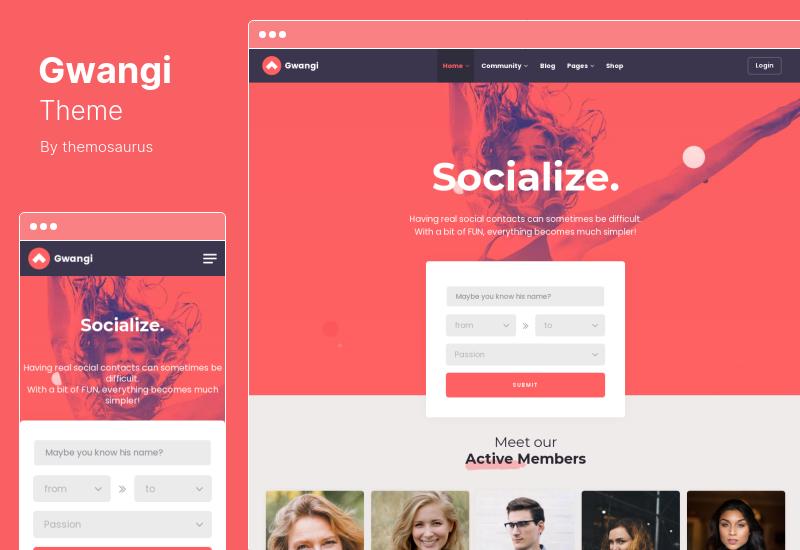 Gwangi is a PRO Multi-Purpose Membership, Social Network & BuddyPress Community Theme. With Gwangi, you can customize your site in unlimited ways with a wide range of options like colors, fonts, spacing, various buttons, blocks, and more. 
One great feature of Gwangi is that it comes with five child themes that allow you to get started quickly and easily. These pre-designed themes give you a head start in creating your website and make the process even simpler. 
The best part is that you don't need to have coding skills to make these customizations, it can all be done with just a few clicks.
When it comes to performance, Gwangi doesn't disappoint. The code is built to meet WP Standards Friendly guidelines, which means you won't have to worry about any messy or inefficient code. This results in a top-notch PHP performance that ensures your website runs smoothly and quickly.
Key Features:
Fully translatable and compatible with WPML for multilingual websites.
Unlimited site customization with a variety of customizable options.
Five pre-designed child themes for a quick start.
WP Standards Friendly code for optimal PHP performance.
Developer-friendly with hooks, filters, and actions for customization.
SEO-friendly code for better search engine rankings.
Multipurpose WordPress Theme
Mingle is an amazing WordPress theme that is BuddyPress-ready. BuddyPress is a social network plugin for WordPress that allows you to turn your website into a fully functional community portal.
With BuddyPress compatibility, users can interact through groups, forums, friends, status updates, private messaging, and much more.
You can also attach custom headers and footers to your layouts and interchange them as needed. This gives you incredible flexibility in designing your site, allowing you to have complete control over how it looks.
The theme also includes options for custom validation, custom error messages, CAPTCHA, and more, giving you the ability to create unique and functional contact forms for your site.
You can also insert sidebars directly into any content area using a special shortcode. This makes it easy to customize your website's layout and add additional functionality where needed.
Key Features:
Contact Form Builder with options for custom fields, validation, and error messages.
Drag-and-drop Layout Manager for customizing page and post layouts.
Unbranded White Label Admin for customizing the administrative interface.
Sidebar Generator for creating unlimited sidebars and inserting them into content areas.
Coded with HTML5 and CSS3 for advanced styling and search engine optimization.
BuddyPress integration for creating a fully functional community portal.
Customizable headers and footers for added flexibility in design.
Easy management and well-formatted code for a smooth website-building experience.
Proper heading tags and coding standards for improved SEO.
Supports customization and branding options for client sites.
More Than a WordPress Dating Theme
Sweet Date is a premium WordPress theme that offers a unique, clean, and modern design. Originally designed for dating websites, it can be easily customized for any type of community or business website.
One of the standout features of Sweet Date is its integration with Facebook login/register. This theme also includes BuddyPress, which provides quick profile navigation and a matching system. You can easily view other members' profiles and check your compatibility with them.
All the extra information that you see on the demo site is available right after installing the theme. This makes it easy to gather important information from users. 
The theme also offers a unique profile area and smart notifications, making it super useful for dating sites and other community portals.
Key Features:
Revolution Slider plugin for stunning effects
Facebook Login/Register integration
BuddyPress for profile navigation and matching
Predefined profile fields
Unique profile area and smart notifications
Real-time online status display
Ajax instant search
rtMedia ready for multimedia content
WooCommerce ready for easy online selling
Powerful admin panel for easy customization
Community, Membership, BuddyPress WordPress Theme
Aardvark is a WordPress theme that is designed to create a strong sense of community on your website. It is compatible with popular plugins such as BuddyPress, bbPress, WooCommerce, Paid Membership Pro, Sensei, and Event Manager, allowing you to add various features and functionalities to your site.
It also supports adding reviews and ratings to your posts, pages, custom post types, and comments, making it easy for your audience to leave feedback. 
The theme comes with premium plugins, ensuring that you have access to all the necessary tools for a successful website. 
It is built with clean code and is well-documented, providing a smooth and efficient user experience. Additionally, Aardvark includes 15 custom page builder elements and shortcodes, allowing you to easily customize your site to fit your needs.
Key Features:
bbPress compatible

for adding a forum to your site.

WooCommerce compatible for easy integration of an online store.
Paid Membership Pro compatible for creating a subscription-based membership site.
BuddyPress compatible for creating a community-focused website.
Sensei compatible for adding online courses and education features.
Clean code with no PHP notices and well-documented for a seamless user experience.
Event Manager compatible for managing and promoting events on your site.
Add reviews/ratings support to posts, pages, custom post types, and comments for user feedback.
Includes over $100 worth of premium plugins for added functionality.

15 custom page builder elements/shortcodes for easy customization.

SEO Ready and mobile-optimized for improved visibility and user experience.
BuddyPress Responsive WordPress Theme
Salutation is a WordPress theme with a clean design that focuses on high-level content organization. It offers an easy-to-navigate layout that promotes user satisfaction. With well-organized menus and page structures, your visitors can quickly find what they're looking for.
Another useful feature is the Contact Form Builder, which allows you to add custom fields to your contact forms. 
You can create any number of custom fields and attach them individually to any form. The theme also offers options for CAPTCHA, custom validation, custom error messages, and more.
Salutation also includes an unbranded White Label Admin interface. This allows you to add your logo and other company details to the admin area, giving it a personalized touch. 
You can also set permissions to restrict client access to theme options, and even hide advanced developer features if necessary.
Key Features:
Clean and optimized code using HTML5 and CSS3.
Easy navigation and positive user experience.
Well-organized menus and page structures.
Flexible customization options for headers and footers.
Advanced search engine optimization with proper coding standards.
Drag-and-Drop Layout Manager for customizable layouts.
Contact Form Builder with options for custom fields and validation.
Unbranded White Label Admin for a personalized administrative interface.
Sidebar Generator for creating unlimited sidebars.
Personalized touch for a unique and memorable website.
BuddyPress Membership WordPress Theme
OneCommunity is a perfect solution for all kinds of communities. With this WordPress theme, your members can create profiles, make friendships, send private messages, and create and interact in groups.
Whether you prefer to use Elementor Page Builder or any other page builder, or simply rely on the theme itself, OneCommunity provides pre-built frontpages for easy customization. 
Additionally, the theme offers intranet groups, allowing you to display different content blocks for members and guests, as well as a dark mode or night mode for a visually pleasing experience.
What sets OneCommunity apart is its compatibility with WooCommerce, allowing you to sell both digital and physical goods. You can also take advantage of its compatibility with hundreds of BuddyPress extensions, such as chats, music managers, user galleries, and social articles.
Key Features:
Dark mode/Night

mode for a visually pleasing experience

Full integration with bbPress for seamless forum functionality
Compatible with BuddyPress Forum Editor
40+ carefully styled social pages
RTL support for global reach
Responsive layout for optimal viewing on all devices
Compatible with WooCommerce for selling digital and physical goods
Event Manager integration for managing and promoting events
Translation ready for reaching audiences in different languages
Ajax Search Pro plugin included for enhanced search functionality
LearnPress integration for educational communities
Live notifications to keep members informed and engaged
BuddyPress, Membership, Review Multipurpose WordPress Theme
Magzine is a powerhouse WordPress theme that is perfect for any type of website. It offers a plethora of features specifically designed for community, member-focused, and review sites. 
With Magzine, you can create websites in various niches such as Gaming sections, Reviews, Dating, Fitness, Newspaper, Directories, Paywalls, Job Listings, and Media Streaming.
One standout feature of Magzine is its unique Hub System. This system allows you to create reviews and associate content with them. 
For example, if you have a game hub, you can include articles, reviews, and associated images all under different tabs. This makes organizing and showcasing content a breeze.
Utilizing the popular Elementor page builder, you can easily customize your headers, footers, post/page templates, post loops, and more. With over 50 custom elements included, you have endless possibilities for creating a unique website.
Key Features:
100% SEO friendly for higher search engine rankings.
First-class support for 6 months included.
Optimized page performance for fast load speeds.
Multilingual and translation ready.
Fully WPML compatible for global accessibility.
Unique Hub System for easy content organization.
Template Editor with Elementor page builder for customization.
One-Click Website Importer for hassle-free setup.
Free lifetime updates with no recurring fees.

RTL ready for right-to-left layout support.
Frequently Asked Questions
What is the KLEO theme and why would someone look for alternatives?
KLEO theme is a popular WordPress theme that offers a range of features and designs for creating a website. However, some people may look for alternatives if they want a different style or need specific functionalities that KLEO does not provide.
What are the key factors to consider when choosing an alternative to the KLEO theme?
When choosing an alternative to the KLEO theme, it is important to consider factors such as design aesthetics, customization options, responsive layout, compatibility with plugins, SEO-friendliness, customer support, and pricing. 

These factors will help ensure that the alternative theme meets your specific requirements and preferences.
Conclusion
In conclusion, we discussed the 8 best KLEO theme alternatives for 2023 in this article. We explored the features and benefits of each alternative, providing you with a comprehensive guide to help you find the perfect theme for your WordPress website.
For more in-depth tutorials and guides related to this topic, be sure to check out the BetterStudio blog. Our team of experts regularly publishes informative content to help you optimize your website and make the most of your WordPress experience.
To stay updated with the latest tutorials, tips, and tricks, make sure to follow BetterStudio on Facebook and Twitter. We share valuable insights and updates regularly, ensuring that you are always up to date with the latest developments in the WordPress world.
Thank you for reading this article! We hope you found it helpful in your search for the best KLEO theme alternative. If you have any questions or need further assistance, please feel free to leave a comment in the comment section below. Our team will be happy to help you out.