Would you like to find the best WordPress Tumblr plugin?
In this text, you will discover the best WordPress Tumblr plugins on the market and suggestions for pure scenarios. Pick your favorite plugin to build a robust and stable blog from the list of best WordPress plugins we found.
With these WordPress plugins and their most delicate features, you can find the best fit for your social requirements. In conclusion, we guarantee that all plugins can be integrated with any WordPress theme.
Last but not least, all of the following plugins are for Tumblr. This stack of WordPress plugins is also relevant for Microblog Themes, Tumblr themes, Automatic Posting, Social Networks, Linking WordPress And Tumblr Blogs, Tumblr Style Blog Themes, Tumblr-Inspired Themes, Add Tumblr Feed to WordPress Website, and a range of other related plugins.
Best Tumblr Plugins WordPress 🥇
Add a header to begin generating the table of contents
The following are 2022's best Tumblr WordPress plugins:
A Perfect WordPress Plugin To Auto Post
The Social Auto Poster Plugin for WordPress is one of the best WordPress social media auto-posting plugins that enables your website content to be instantly published to the most popular social media platforms, including Tumblr, Facebook, Twitter posts, LinkedIn, BufferApp, Instagram, and Pinterest.
Also, you can automatically share all of your new content on these social media platforms to make it go viral. You can also repost your content on these platforms to promote its longevity.
This plugin includes an excellent scheduling feature that lets you ensure your content is published when convenient for you.
Furthermore, the plugin provides automatic posting of any content type from your sites, including Blogspot, linking WordPress and Tumblr blogs, pages, Tumblr style blog themes, and WooCommerce products. This makes this plugin suitable for both custom websites and WordPress sites.
Unfortunately, since the plugin does not support personal profile posting in accordance with Facebook's Graph API, this feature is not supported.
---
💵 It is included for free on the Lite version and for a price on the Premium version.
Key Features:
Your website can be shared multiple times on all social media platforms with each post
Provides support for Google Analytics
Provides logging functionality as well
Also, emoji codes can be automatically posted
Your content can be shared with an unlimited number of accounts on these social networks
Random Reviews:
There is no point in spending your time with this plugin. It is not working the way it should. It is out of date and the author has lost touch.. Br> This topic was modified 1 year, 6 months ago by Chris.

The documentation seems to be outdated and incorrect. Additionally, I was temporarily locked out of my Facebook account when following the instructions in this plugin.

You update the plugin and Facebook updates their platform . Why aren't you updating the video tutorial? It's a waste of time.
Increases Traffic & Engagement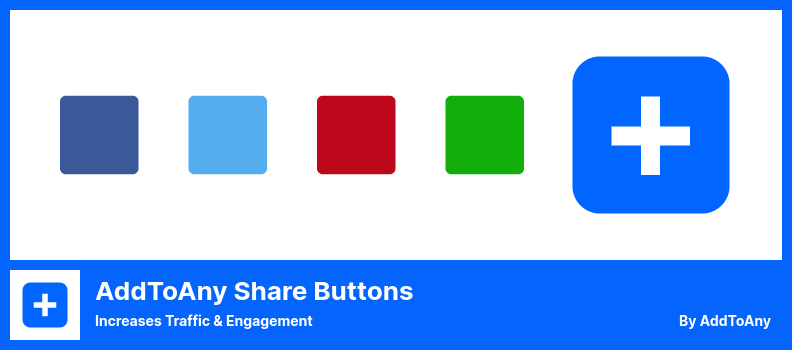 The AddToAny is a WordPress social share button plugin that enables your site users to share any of their posts or pages with any social network. This will lead to an increase in traffic and engagement for your site.
A wide variety of social media websites and applications are supported, including Tumblr, Facebook posts, Instagram, Twitter, Pinterest Pins, LinkedIn Posts, Reddit, and WeChat.
The plugin is also the most popular social sharing button plugin for WordPress. It also features universal sharing and is the most popular plugin for social media integration.
Moreover, it supports microblog themes, Tumblr-like themes, Tumblr-inspired themes, and theme-specific features including HTML5, widgets, infinite scrolling, and post formats. In addition, WooCommerce, multilingual sites, multisite networks, and accessibility are supported.
However, it is heavily used compared to other social sharing plugins, perhaps because it offers many options and features.
---
💵 Free plugin.
Key Features:
There is a vertical floating share bar and a horizontal floating share bar
Links to your social media pages
Share counts are fast and official in the same way
Using the template tags programmatically
buttons for sharing and following
You can add a Tumblr feed to the WordPress website
A share button for images
Share icons that are custom made
Random Reviews:
You're the best! Great and Simple

An aesthetically pleasing plugin with infinite options for networks. Very useful

It was up and running within minutes – also easy to make changes and does the job very well
Social Media Auto Post & Scheduler
The Blog2Social plugin is similar to Social Auto Poster in that it enables you to automate the cross-promotion, scheduling, and sharing of content on several social media networks.
Some of these include Tumblr, Facebook, Twitter, Google My Business, LinkedIn, XING, Instagram Business, Pinterest, Imgur, Flickr Images, Reddit, VK.com, Medium, and others.
Using this plugin, you can automate your social media marketing efforts. Your posts will be shared on social media networks automatically at the appropriate time. As a result, you will be able to save a substantial amount of time as you will no longer be required to do so manually.
The plugin can be integrated with several Plugins, including WooCommerce, Gutenberg Editor, Hummingbird, Bitly, Rebrand.ly, Sniply, and WP Automatic Plugin. Additionally, it has the ability to integrate with WordPress Page Builders and RSS Importer.
---
💵 Download Lite for free, and Pro for a small fee.
Key Features:
Using parameters in URLs to track
The hashtags associated with your posts will be automatically generated
Posts may be automatically reshared and rescheduled
Your blog posts and pages can contain meta tag information
All of your social media posts are accessible in one place
Provides Link to articles and posts from other sources
Random Reviews:
Want to spend time and get some sleep? Don't use that shit trash free version. Don't wanna pay money for that and use more. Deleted

It's easy to use, and there is adequate documentation to learn it.

What I like so much about this plugin is that it does exactly what I want.
Social Media Sharing Plugin
Like Blog2Social, the Social Media Feather, a lightweight WordPress plugin for sharing social media content, allows you to easily add social media sharing and the following functionality to all your posts, pages, and custom post types.
This plugin is designed to allow you to add social media buttons to your posts, pages, and any custom type of post. They will appear automatically on posts of any type, including custom-type posts.
It is one of the few social sharing and bookmarking plugins that supports Retina displays and high-resolution screens, similar to those found in the iPad, iPhone, and other mobile devices.
Among the numerous social sharing and following WordPress plugins, WordPress Social Media Feather is distinguished by its simplicity, performance, and social sharing impact.
---
💵 Free plugin from a respected author.
Key Features:
You can customize social icons further by selecting from the available skins
Provides a set of modern icons as a default
Various skins are available with cool effects such as fading and greying out social icons
It is possible to select the services that each provider is exposed to
A fast and discreet social bookmarking service for your website
You can enable or disable each social provider
Providers can customize their titles and URLs to meet their requirements
Random Reviews:
A very useful plugin that is easy to use

My experience with the plug-in has been good on several sites.

I've tried a lot of social media plugins and this is the best!
Social Networks Auto-Poster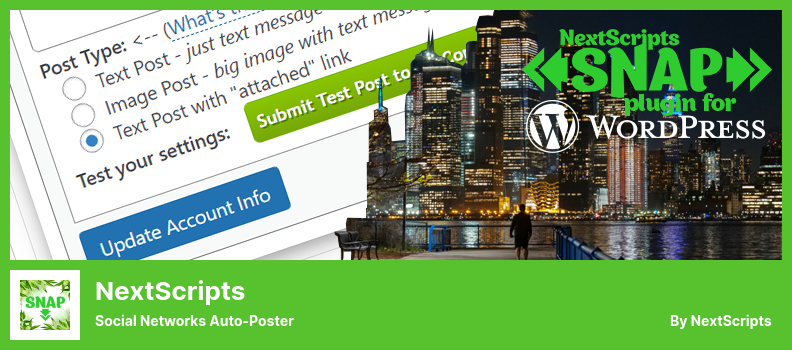 By installing the NextScripts plugin, you can auto-publish or automate the publication of blog posts to your social networking accounts, such as Tumblr, Facebook, Twitter, Google Plus, Blogger, Flickr, and LinkedIn. Other options include Ok.ru, LiveJournal, Dreamwidth, Flipboard, Instagram, Telegram, etc.
Your configured social networks will be notified every time you publish a new article. The entire process is automated. Just write a new article, and it will be published either as an article or as an announcement with a link back to your site.
This plugin will allow you to broadcast a message to all your friends, readers, and followers when you publish a new post. It is compatible with profiles, business pages, community pages, groups, etc.
Also, messages can be fully customized and tailored to the requirements of each social media network.
---
💵 This is the $49 for the premium version and the free version.
Key Features:
URLs customized for auto-posts
Automatically import tweets and tweet replies as WordPress comments
Possibility to 'Spin' message post templates
Using images to post to Facebook, Twitter, and Vkontakte
Direct access to the published posts is available through the 'Edit' page
Comments from Facebook are automatically imported into WordPress
Options for exporting and importing plugins
Additional URL Parameters are available
Random Reviews:
I bought the Nextscripts license pro for access to Instagram autopost. Nothing worked! It's no longer available. I asked for reimbursement after receiving a ticket for help with my parameter. No response for the help request or for my reimbursement request. I'm going to request a refund and file a lawsuit.

Instead of redirecting you to twitter to grant the app access to post on your feed, this plugin requests that you create developer accounts and apply to the social network for special access to simply post to your profile. It's too much trouble for such a simple task.

The Facebook autopost feature does not work any more…
Briefly summarizing what we discussed
This is our list of the best Tumblr WordPress plugins. Choose a plugin and improve your site. These plugins are helpful.
If you found this helpful article, let us know. Additionally, please take a moment to view the following links, which contain articles on the most popular WordPress blog themes, as well as the top WordPress blog plugins that are rated, used, and otherwise interacted with by our subscribers.
If you have any questions, please post a comment. If you enjoyed this article, share it with your friends. Keep up with the latest articles by following us on Facebook and Twitter. Please share this post too!