Are you a WordPress website owner looking to expand your website's capabilities? Have you considered using Tumblr to spice up your content? Well, good news! In this blog post, we'll be discussing the 5 best WordPress Tumblr plugins.
Let's start with the basics. Tumblr is a microblogging and social networking website where users can create and share their content with others.
But why limit your creative content to just Tumblr when you can integrate it with your WordPress website? By adding these plugins, you can easily showcase your photos, videos, quotes, and other Tumblr posts directly on your website.
Recent research indicates that adding Tumblr to your WordPress website may boost engagement and increase traffic as a result of integrating them together.
By using the top WordPress Tumblr plugins, you'll be able to create a seamless and visually enhanced experience for your users. So, let's dive in and explore the 5 best WordPress Tumblr plugins and how they can benefit your website.
Best Tumblr Plugins for WordPress
If you are looking for ways to seamlessly integrate Tumblr into your WordPress website, check out our list of the 5 best WordPress Tumblr Plugins, featuring both free and premium options. Discover how these plugins can enhance the functionality and user experience of your website.
A Perfect WordPress Plugin To Auto Post
Social Auto Poster is a powerful WordPress plugin that enables users to instantly publish website content on popular social media platforms such as Tumblr, Facebook, Twitter, LinkedIn, BufferApp, Instagram, and Pinterest.
Whether you have a custom website or a WordPress site, this plugin allows you to share any content type from posts, pages, Tumblr-style blog themes, and WooCommerce products.
This plugin is perfect for users who want to save time and effort in sharing content across different social media channels. With its advanced scheduling feature, users can set the time and date for when their content will be published.
Furthermore, this plugin allows you to share new and old content from your site, which makes it easier for you to promote your content and help it remain fresh for longer periods of time.
The plugin also provides support for Google Analytics, enabling users to track website traffic and custom events, providing in-depth insights and analytics. It also comes with logging functionality, which helps users to troubleshoot errors when sharing content.
Another great feature of Social Auto Poster is the ability to post emoji codes automatically, which makes online communication more engaging and fun. Additionally, this plugin allows sharing content with an unlimited number of accounts on social networks, which can help boost visibility and drive more traffic to your website.
Key Features:
Automatic posting of emoji codes
Share content with an unlimited number of accounts on social networks.
Instantly publish website content to popular social media platforms
Advanced scheduling feature for easy content publishing
Support for Google Analytics and logging functionality
Increases Traffic & Engagement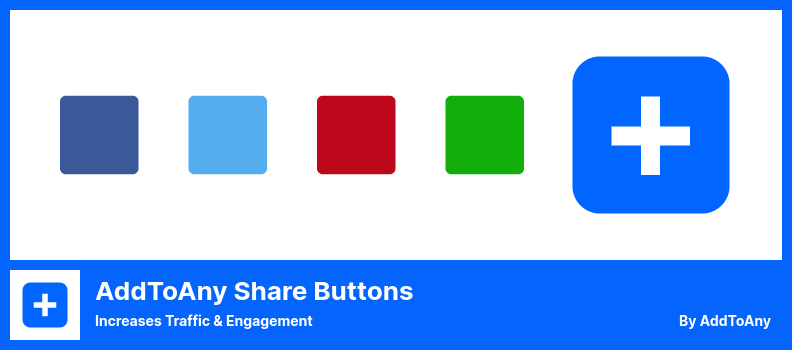 AddToAny is a WordPress social share button plugin that allows users to share their posts or pages with any social network. It's heavily used due to its many options and features, including microblog and Tumblr-inspired themes, HTML5, and infinite scrolling. Multilingual sites, WooCommerce, and accessibility are also supported.
There are a number of social media products and websites that the plugin can be integrated into, including Tumblr, Instagram, Twitter, and LinkedIn.
The plugin features a vertical and horizontal floating share bar, as well as links to users' social media pages. Share counts are official and fast, and there are buttons for sharing and following.
Using the template tags programmatically, users can add a Tumblr feed to their WordPress website. The plugin also includes a share button for images and customizable share icons.
Key Features:
Addition of Tumblr feed through template tags.
Vertical and horizontal floating share bar
Links to social media pages
Fast and official share counts
Support for microblog and Tumblr-inspired themes
Social Media Auto Post & Scheduler
Blog2Social is a plugin that makes your social media marketing effortless. It automates the scheduling, cross-promotion, and sharing of your content across various social media networks. This plugin saves you time as you no longer have to manually share your posts on several social media platforms.
One of the best features of the plugin is its integration with WooCommerce, Gutenberg Editor, Hummingbird, Bitly, Rebrand.ly, Sniply, and WP Automatic Plugin. This plugin also works smoothly with WordPress Page Builders and RSS Importer.
The plugin allows you to share your content on several social media networks. Some of these social media platforms include Tumblr, Facebook, Twitter, Google My Business, LinkedIn, XING, Instagram Business, Pinterest, Imgur, Flickr Images, Reddit, VK.com, Medium, and others.
Blog2Social is great at handling parameters in URLs that track, generate hashtags, schedule, reshare, and provide meta tag information for your posts and pages. You can easily access all your social media posts in one place. Additionally, it provides a link to articles and posts from other sources.
Key Features:
Integration with several Plugins
Automates social media marketing
Parameters in URLs to track
Hashtags automatically generated
Posts may be automatically reshared and rescheduled
Meta tag information for your posts and pages.
Social Media Sharing Plugin
Social Media Feather is a WordPress plugin that allows adding social media sharing and following features to all posts, pages, and custom post types.
It is a lightweight and simple-to-use plugin that automatically adds social media buttons to all types of posts. One of the distinguishing features of the plugin is its support for high-resolution screens such as those found on mobile devices.
This plugin provides several skin options for further customization of social icons, including modern default icons and cool effects such as fading and greying out social icons.
Additionally, users can select which services are available for each provider, customize their titles and URLs as needed, and enable or disable each social provider.
Key Features:
Enables fast and discreet social bookmarking services
Options to enable or disable each social provider.
Customizable social icons with various skins and effects
Support for high-resolution screens
Ability to select services for each provider
Customizable titles and URLs for providers
Social Networks Auto-Poster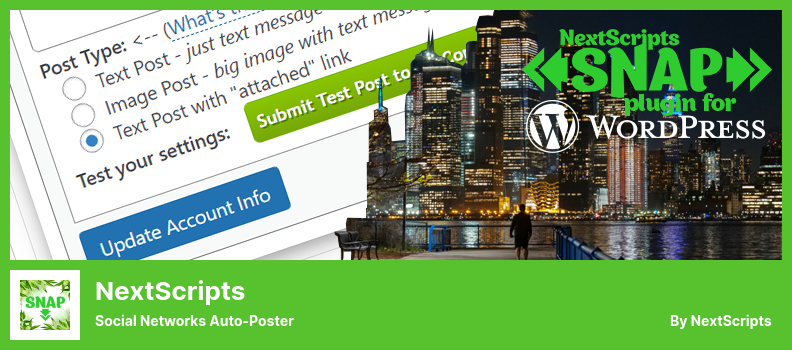 The NextScripts plugin automatically publishes your blog posts to various social media accounts, providing exposure to a wider audience. It supports social media platforms such as Tumblr, Facebook, Twitter, Google Plus, LinkedIn, Flickr, and many more.
You can customize messages, and the plugin publishes to configured social media accounts as articles or announcements. Your friends and followers are informed of your new posts.
With URLs customized for auto-posts, the plugin automatically imports tweets and tweet replies as WordPress comments. You may 'Spin' message post templates and use images to post to Facebook, Twitter, and Vkontakte directly.
Furthermore, you can access published posts directly via the 'Edit' page and comments from Facebook are automatically imported into WordPress. With options for exporting and importing plugins, the NextScripts plugin provides added flexibility.
Key Features:
URLs customized for auto-posts
Importing tweets and tweet replies as WordPress comments
Post images to Facebook, Twitter, and Vkontakte
Direct access to published posts
Import comments from Facebook
Export and import plugin options.
Frequently Asked Questions
What are some key benefits of using WordPress Tumblr plugins?
WordPress Tumblr plugins can help increase the functionality of your website, enhance your social media presence, improve your site's SEO, and provide an easier way to share content from your Tumblr blog on your WordPress site.
What factors should be considered when choosing a WordPress Tumblr plugin?
When choosing a WordPress Tumblr plugin, factors to consider include functionality, compatibility with your WordPress theme and version, customer reviews and ratings, and whether the plugin is free or premium.
Conclusion
In conclusion, we hope this article helped you find the best WordPress Tumblr plugins for your website. We discussed five different options, including both free and paid versions, so you can choose the one that best fits your needs.
If you enjoyed this article and want to learn more about WordPress and website design, be sure to check out the BetterStudio blog for more related tutorials. We offer a wide variety of articles to help you improve your website and enhance your online presence.
Don't forget to follow BetterStudio on Facebook and Twitter to stay up-to-date with our latest tutorials and tips. We strive to provide our readers with the best possible content to help them succeed online.
Thank you for reading this article, and we hope you found it helpful. If you have any questions or problems, please feel free to leave a comment below, and we'll do our best to assist you. Happy blogging!