Do you plan to find the best "Click To Tweet" WordPress plugin? However, how do you accomplish that?
We will review the best WordPress plugins in today's article, highlight their key features, and provide some advice on whether you should use each one. The following list of WordPress plugins will help you find something that matches your needs perfectly also these plugins are compatible with all WordPress themes.
As a result, all of the following plugins are for "Click To Tweet". But, they are also for Twitter widget & Feed and WordPress social media integration.
Best Click to Tweet Plugins for WordPress 🥇
What's WordPress "Click to Tweet" Plugin?
A WordPress Click to Tweet plugin is a plugin that can be used to share your content on the Twitter social network, and more users will see your content.
There are many WordPress click-to-tweet plugins available in the market, and you can use them both for free and as a premium. 
The free version of these plugins meets the needs of many websites, but if you want to have more options, you can get premium versions of these plugins. The Premium version will give you access to more options and features.
Below are tested and ranked top WordPress plugins for Click To Tweet in 2022:
Click to Tweet Plugin for WordPress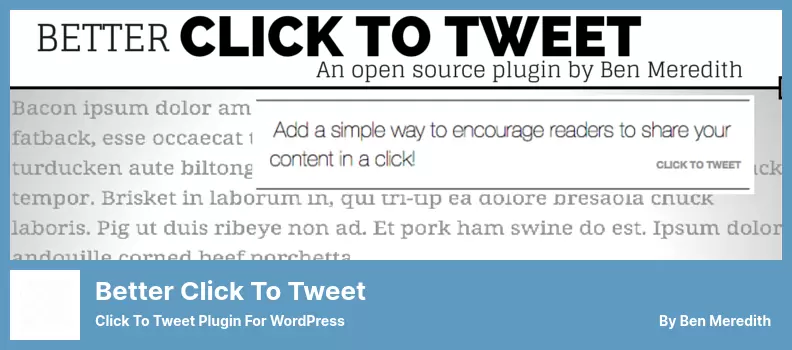 Better Click to Tweet is the most popular plugin for WordPress. Ben Meredith makes this plugin, and you can directly download it from the WordPress directory.
This plugin is also open-source, and you can see its source code. You can use the Better Click to Tweet plugin in the Gutenberg editor as a block or shortcode.
This plugin encourages your users to interact more with your content and share your content on Twitter social networks.
💵 The Pro version of this plugin costs $price versus $0. The Lite version costs $0.
Key Features:
It is easy to use and work with this plugin, and you can use many options that this plugin has with the slightest difficulty
You can use it to change your Twitter username and use short URLs on your WordPress website
The plugin has a complete and comprehensive guideline in which all the options are explained
You can do options such as creating nofollow links, selecting a custom template to use, changing anchor text, and more
You can use a premium version of the plugin from the developers of Better Click to Tweet and use more features of this plugin
Random Reviews:
It was frustrating to use because BCTT was not functioning as needed and I couldn't get a response to the support request – the tweet call-out area caused the paragraph below to look small. I was looking forward to using the plugin.

You should get this if you want traffic from twitter

My go-to plugin for sharing my content on Twitter. The plugin is easy to use and has excellent support. It is a plugin that should be on almost everyone's site.
Minimal Click to Tweet plugin for WordPress
Click to Tweet plugin is another WordPress click to tweet plugin that creates shareable content on your website, and you can share it on Twitter.
You can use the free version of this plugin available in the WordPress directory and create content that website users can share on Twitter.
Using the Click to Tweet plugin is very simple. Click on the plugin icon, use a name for the tweet and click the OK button.
If you want to use more features, you can get the premium version of the plugin. The premium version will give you more options for customization and sharing.
One important thing about the Click to Tweet plugin is that some versions are incompatible with the Gutenberg editor. Thus, you cannot use them in the Gutenberg editor.
Use the Gutenberg editor for your website. You can use the alternative Use the other ones introduced in this and other articles.
💵 Free support is available in the WP.org forums for this plugin.
Key Features:
You can encourage users to share quotes by using beautiful Click to Tweet boxes
Simple and easy to use the plugin
It does not slow down your website
Random Reviews:
A mi de momento me sigue funcionando con la última versión de WordPress. Yo acabo de personalizarlo con un bonito efecto cortina creado con CSS y me quedado muy atractivo ;).

It must be updated to be compatible with newer WordPress versions!

With each tweet, an advertisement link will be included.
Click to Tweet Widget for WordPress
Ultimate Blocks is a free plugin that allows bloggers and marketers to use different blocks in the Gutenberg editor. As a result, you have a more engaging page and complete content.
Using Ultimate Blocks, various options are added to the website dashboard. You can use these options to create an engaging website.
After installing the plugin, a block called 'Add a click to tweet' will be added to your posts. But by installing the plugin, other blocks will be added to your posts, and you can use them to have complete content
After installing the plugin, you can use its blocks in your website's Gutenberg editor. Also, you can change settings such as font size, the color of the sharing button, the color and border of the button, and more.
Ultimate Blocks plugin is a powerful plugin that, by installing it, you can use various blocks, including blocks, to tweet in posts.
By installing the Ultimate Blocks plugin, you can use various blocks and add exciting features to your website. You can use them to make the content more attractive without installing many plugins and slowing down your website speed.
💵 Free download of this plugin.
Key Features:
Plugins built from scratch and optimized for speed by us are built from scratch
The schemas included in Ultimate Blocks are Review and FAQ. They are highly optimized for SEO
Include sections, steps, and valid schema data in the HowTo Schema
Your headings can be used to generate a table of contents
Random Reviews:
As of yet, this product has worked without any issues for me. I haven't used it for very long.

Wonderful plugin!

Have downloaded it specifically for the features (reveals), but using it for so much more! Well done!
WordPress Social Media and Click to Tweet Plugin
The Social Snap plugin is another plugin that can add content sharing on social networks to the website. And as a result, the amount of site traffic and the percentage of user interactions with the website will increase.
Installing and activating the Social Snap plugin is simple. You can use it to share website content on social networks.
Many beginners and professional users use the Social Snap plugin to share content on social networks due to its simple UI.
Due to using vector icons, this plugin is very fast and does not slow down the website, and it keeps the site performance as high as possible.
The social media sharing button can be customized to your liking and made beautifully.
The Social Snap plugin supports all popular social networks such as Facebook, Twitter, Linked In, etc.
You can share content with others on these social networks.
By using the premium version of this plugin, you can use +30 social networks to share your content and use many unique features.
With the Social Snap plugin, you can place the share button as you like in the sidebar or before, after, or in any corner of your content.
💵 While the Lite version is free, the Premium version will cost you a price.
Key Features:
Whenever you change your domain name or move to SSL, the Share Recovery feature will ensure that you never lose your social share count
Understanding how users engage with your social media content will allow you to make effective decisions
These social buttons are designed to load as fast as possible, meaning that you will never experience slowed page loading
Create custom tweets that appear when visitors click the Twitter button on your website
The Frame Buster plugin is included to prevent competing calls-to-action from being added to yours
Random Reviews:
There is an annoying notice asking for a grade. Get one, please.

Hello, thanks so much, this plugin is awesome.

The plugin I have noticed slows down my site and causes a lot of 'Avoid an excessive DOM size' messages on GT Metrix…even with just the Image Pinterest social button*.
Social Sharing for WordPress
Another WordPress click to tweet plugin is the Social Warfare plugin. This plugin was created by an expert team of social media marketers.
Social Warfare plugin increases content traffic on social networks by sharing content. As a result, more users will see your published content.
The Social Warfare plugin makes optimal website resources and does not slow down the website's loading speed.
The share button of the plugin can be customized beautifully, and it can be designed. Besides, the share button can be placed anywhere on the content. Thus readers and users of the website can access the share button on social networks and easily share the content with others.
The Social Warfare plugin supports all popular social networks. As a result, the Social Warfare plugin can share site content on these social networks.
💵 The Pro version costs $29 , the Lite version is free.
Key Features:
With a focus on design aesthetics, we take care of how your site looks, as well as letting you pick colors to suit your style
Plugins that share social content negatively impact your website's load time. This is bad for both users and SEO. Social Warfare is lightning fast and lightweight so your load times are solid!
If you have questions or encounter difficulties, the support team is dedicated to ensuring that you receive all the assistance you need
Whenever the permalink structure or protocol is changed from HTTP to HTTPS, the social share counts are recovered
Each shared link is automatically tracked via UTM so you can measure its performance via analytics
Random Reviews:
It seems that both versions of this plugin do not work correctly, and your developers have not been able to resolve the issue.

i try some of social share button plugin, but this is the best i've used. Easy to Use!

A great theme! I like the free version, but can't wait until the site grows a bit since it's around $30 This topic was modified 11 months ago by
WordPress Page Builder + Click to Tweet Widget
The most popular page builder in WordPress is Elementor, and you can use it to add almost anything to a page. Elementor is an advanced page builder with advanced features that have never been seen before.
Using the Elementor page builder, you can add any element you need to your website by dragging and dropping. Elementor is compatible with all editors. Elementor is responsive, meaning that it works best on both PCs and mobiles, and the screen size does not affect the performance of the page builder.
Elementor has many ready-made templates, and you can also use them in designing website pages.
This page builder supports various widgets, and they can be added to the page.
Using the social media button in Elementor, you can design different parts of a page and add a WordPress click to tweet button to your content. Considering that Elementor is one of the most powerful page builders in WordPress.
By using Elementor, there are many features for the Customization share button on social networks. As a result, you can customize this button professionally.
💵 There is a free Lite version and a premium version.
Summary
Additionally, you've likely already got an idea of what plugin you are searching for. You may want to improve your website. Also, you can use them.
We hope this article helped you find the best Click To Tweet plugins for WordPress. We also suggest you check the best WordPress blogging themes and best WordPress hosting providers' articles.
I'd appreciate it if you shared this post on your social media channels. Feel free to post any questions you may have in the comments.