Do you want to find the best Twitter WordPress plugin? You have difficulty identifying the best Twitter plugin, don't you?
We have compiled the best WordPress plugins for Twitter to assist you to pick the perfect match for you! As you can see, there are some with modern features, and some are simple enough for even beginner users or usages! You will stay right on top of things with these plugins! We have to mention these plugins are compatible with all WordPress themes.
We selected plugins that are the absolute best fit for Twitter. It contains various categories of plugins, including Twitter Feed, social media plugins, and share buttons.
What's a WordPress Twitter Plugin?
A Twitter plugin for WordPress is a plugin that allows your site to connect to your Twitter account in different ways.
Now this question arises, what are the benefits of connecting a website to a Twitter account? Approximately 300 million people use Twitter worldwide, and it is one of the top social networks.
Connecting your website to a Twitter account allows you to share your content with more people. It will increase the number of users of your website and increase your current user's engagement. 
Increasing the interaction of current users and increasing the number of site visitors is critical to SEO and site ranking. 
Your site will be displayed in more search engines, which will ultimately increase your revenue.
Also, you can show your Twitter feed on your site that can increase your followers and also add more social proof for your site.
So, one way to increase your site traffic and revenue is to increase the number and engagement of users. Even so, Twitter plugins are one of the elements that help you to the goal.
Let's take a look at the best WordPress plugins for Twitter in 2022:
Twitter Feed Widget for WordPress
Custom Twitter Feeds plugin is one of the best WordPress Twitter plugins. This plugin displays a fully customizable, responsive, and crawlable Twitter RSS feed on your website.
The plugin shows the tweets on your site's account well and has unique possibilities for customization. You can customize the plugin to your desire and customize its shape and format according to your needs.
Custom Twitter Feeds plugin is fully responsive. It displays well on mobile and tablets and can be used on various platforms. The plugin enables you to display various RSS feeds from different Twitter accounts on multiple pages of your site.
The author also has another plugin for the Instagram feed and widget that is very popular.
Custom Twitter Feeds content is easily crawled by search engines. This feature is one of the most critical factors in SEO and site ranking. This plugin has able to be translated into any language and is entirely international.
💵 You can download the Lite version for free, and the Pro version costs.
Key Features:
The plugin allows you to add your CSS and JavaScript code for further customization
Increases the engagement of social network users of your website with the site
You will bring more followers and users to your site. As a result, your site traffic will increase, which will ultimately improve the site ranking
By allowing users to reply and like your tweets, you will increase users' time on site
The plugin development team quickly supports it. It solves any questions or problems you may have as soon as possible
Random Reviews:
Just the fact that I can add it to my website and it looks good makes it a good tool. I wish it had more free options.

Enhanced social media feeds for your website. Fantastic, swift support from friendly developers – highly recommended.

It does what it claims to do
Social Sharing for WordPress
Another good and paid plugin for sharing content on social networks is the Social Warfare plugin. This plugin was created by a team of experts working globally and active in social media marketing.
This plugin not only does not slow down your site like many plugins. Also, it has a nice look, and it does not matter what the size and quality of the user's screen are. The plugin is responsive and displays well on different devices.
The Social Warfare plugin shows the number of times your content has been shared. This way, you can find out what content has attracted the most users and can be used to increase site traffic and revenue.
When using the plugin's premium version, it is possible to customize both the plugin and the widget to your liking. Moreover, you can choose what title and description you will display.
💵 The free version is available for download, while the pro version charges a fee.
Key Features:
It allows you to recover the number of times your content has been shared if you delete or change the site URLs
It supports Facebook, Twitter, Google Plus, Pinterest, and LinkedIn, among other social networks
Make specific decisions based on how your users are interacting with your content on social media
Your tweets will have rich, large images and include 'via @[username]' by default
If you want to use images, you can add them to the tweets that are displayed when someone clicks on your Twitter button
Random Reviews:
My plugin is compatible with both versions, but the share counter does not work and your developers have been unable to resolve the issue.

Having tested several social share button plugins, this is the best one I have found. Easy to use!

The theme looks great! Very clean. One of my favorites. Love the free version! Looking forward to getting the pro version once the site grows a bit since it's priced around $30 This topic was modified 10 months, 4 weeks ago by Christy.
Automatic Old Posts Social Media Sharing for WordPress
Another excellent plugin for connecting websites to social networks is the Revive Old Posts plugin.
Once you install the plugin, it will be automatically enabled in the background of your site to share your old automatically on social media.
Due to its features, this plugin will increase website traffic and followers on social networks. In addition, this plugin improves users' engagement with your content.
In addition to website owners, social media marketers can also use Revive Old Posts. Depending on the features this plugin provides, they can market optimally on social media.
💵 There are two versions: Lite Free and Premium.
Key Features:
It allows you to share your old articles according to a schedule in your social media profile
Works with social networks such as Facebook, Twitter, Linked In, and Tumblr, and articles can be shared
Per account, you can exclude or include Tags, Categories, and other WordPress taxonomies from sharing
The URL shortening services and tracking campaign metrics are integrated with Google Analytics
Random Reviews:
Plugin works efficiently and can be configured to meet any standard. I recommend it if you want to post to social media accounts automatically.

I've never seen a plugin that shows a frequent admin notice to review. All are good.

The free version is already limiting posting to every 5 hours or more, but now it continuously duplicates posts. Even when you uncheck the option 'Share More Than Once?' I've tested this across dozens of WordPress blogs. This plugin is clearly broken!
Twitter Timeline Feed Plugin For WordPress
Twitter Timeline Feed WordPress plugin is listed in the Best Premium Twitter feed Plugins for WordPress. It is due to its features.
The Twitter feed will be added automatically to the website once you connect the plugin to your Twitter account.
We also suggest you add Facebook feed to your site and show your Facebook posts on your site to increase your Facebook page followers.
Tweet Timeline Feed plugin appears user-friendly, and users will be easily attracted to it and easily use it.
💵 For $12 , the plugin offers 12 months of support.
Key Features:
It lets you customize colors, icons, fonts, text, and more
Easy to Customize!
The alert groups can be saved and loaded so you can easily make changes to them, like changing the information, changing the boxes, and changing the colors!
Because it is a floating element, users can always access it easily. Among other things, you can customize if it should always be open or closed from the start
Twitter Share Icons for WordPress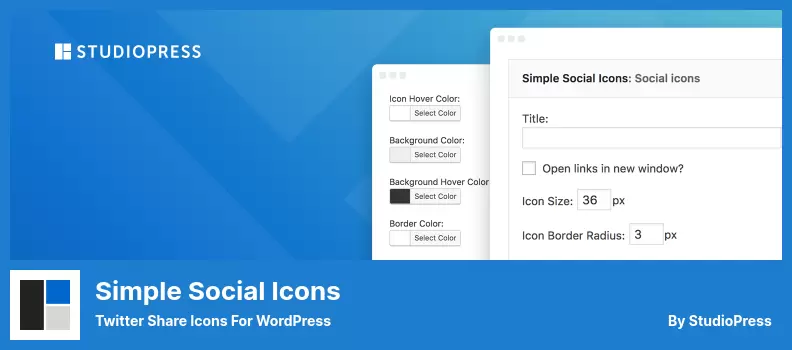 The Simple Social Icons plugin will allow you to direct followers of social networks to your website. You can encourage them to share the website content on social networks.
Using this plugin, you can easily add icons related to social networks such as Twitter to widgets on the WordPress site.
These icons connect to your account on social networks. You can easily share your content on these networks, or your users can share your site content on their social networks.
We considered the number of active installations of the Simple Social Icons plugin on WordPress websites and their reviews. We introduced it in the best WordPress Twitter plugins article in the free plugins section.
💵 No price is associated with Simple Social Icons plugin!
Key Features:
Very simple and basic!
You have options to change colors, content order, and text alignment
Fast & Lightweight
Random Reviews:
Plugin used to work very well but now it won't work with Gutenberg

Like but without telegram*br

I got an unordered list with bullet points and massive SVGs when I installed the plugin in the sidebar. I may need to rework some items in this one.
Click to Tweet Plugin for WordPress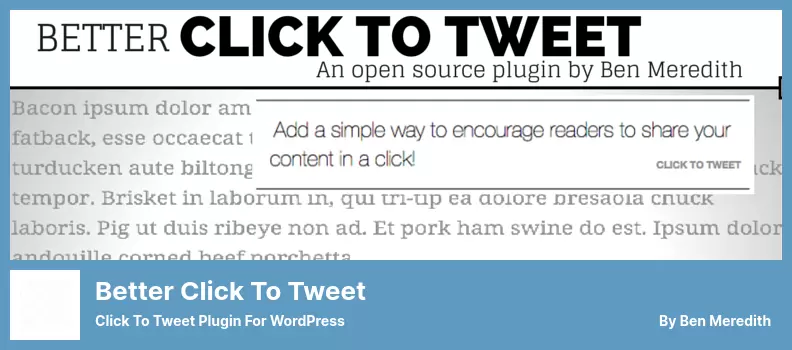 The Better Click To Tweet plugin allows you to easily connect your Twitter account to WordPress sites.
This plugin is a free plugin that allows you to add a Twitter share button to your posts in a box.
The plugin is fully compatible with both old and new WordPress editors and works without any problems.
The plugin is free and therefore has no option for customization. This plugin has monetary features that can add custom codes to customize the posts we want to share on Twitter.
This plugin creates tweetable content for website readers, and this content can be shared using shortcodes.
💵 Lite is free, but Premium is charged.
Key Features:
Users are encouraged to share and comment on your content
Simple and easy to use
Lightweight and fast
Choose from a variety of premium styles if you don't like the default
Random Reviews:
The message box never worked correctly and I was never able to get a response to the support question — the tweet call-out area affected the font of the paragraph directly below. I was disappointed and was looking forward to using this plugin.

If you want to generate traffic from Twitter, you need to get this

My favorite tool for helping to get my content shared on Twitter. Well supported, easy to use, and almost everyone should have this plugin on their site.
Post Tweets From WordPress to Twitter
WP to Twitter is another excellent plugin for creating tweetable content on a website.
You can also show different tweets based on search. This plugin uses shortened links to share.
This plugin can be used to show recently tweeted content.
💵 Download the Premium version for $59 and the Lite version for free.
Key Features:
Use text tags as Twitter hashtags
Use alternative and shortened URLs instead of post permalinks
Support for Google Analytics
Random Reviews:
It used to work really well until Gutenberg was implemented. It is no longer tweeting tags, which is the reason I used this plugin. Since Gutenberg became default on WordPress, this makes this plugin unusable. It can now only do tweets with title and link. I'm hesitant to purchase Pro if basic features are broken.

Installed it as per the video tutorial, but it doesn't seem to work. This topic was modified 2 years, 3 months ago by alan.

The auto-Tweet function for new posts doesn't work on multiple websites, it works on one site, but not on others. With multiple authors, this isn't ideal. I'm looking for another app.
Twitter Social Feed Widget for WordPress
The Recent Tweets Widget plugin is another excellent free way to embed Twitter on your website.
It has the advantage of using cache to read the status of tweeted content, and it uses cache as well. You can specify how often the browser cache is updated.
💵 There is no charge for the Recent Tweets Widget plugin!
Key Features:
The site can display tweets in a lightbox without leaving it
You can upload your avatar and bio for the Tweets feed widget
It supports lazy scrolling
Lightweight plugin
Works with Gutenberg
Random Reviews:
The plugin appears to do the job just fine.

The.'.'

You will have to connect it to Instagram every time you use the plugin. Access tokens are valid for 60 days. If the widget stops working, please generate another access token below.
Finally, Conclusions
The Twitter plugins we've listed here are the best ones. If you want to improve your site, you're in the right place. Just pick one of these plugins.
We are hoping we helped you think through that decision more clearly and arrive at a confident decision. We suggest you check the best WordPress blogging themes and also the most popular WordPress themes.
If you have any questions or concerns on this subject, do not hesitate to leave a comment. If you liked this article, please spread it on Facebook and Twitter.