Have you ever found yourself lost in the endless number of WordPress plugins? Want to know which ones can truly enhance your website's performance? Look no further. In this article, we'll explore the nine best WordPress popular posts plugins available for free and at a cost.
WordPress is an incredibly powerful platform, but it can be challenging to navigate, especially for new users. This is where plugins come in. These small packages of code can extend the functionality of WordPress, making it easier to design and manage your website.
In this article, we'll focus on one specific type of plugin: the popular posts plugin. These plugins are designed to help you showcase your most popular content and encourage readers to engage with your site.
If you're struggling to showcase your best content or want to improve your site's engagement levels, this article is for you. Read on to find out more about the nine best WordPress popular posts plugins available. We'll provide you with some stats, facts, and insights to help you choose the right plugin for your site.
Best Popular Posts Plugins for WordPress
If you're looking for ways to increase engagement on your WordPress website, consider adding a popular posts plugin. In this section, we've rounded up the nine best plugins for you to choose from. Take a look and see which one would be the perfect fit for your site.
a Highly Customizable Widget That Displays Your Most Popular Posts
WordPress Popular Posts is the most popular plugin for displaying trending posts on your website. It's the most downloaded plugin for this purpose and offers a number of customization options.
You can add the widget multiple times to a single sidebar and choose the way thumbnails, excerpts, and authors are displayed. You'll also be able to identify the number of comments or views your posts have received.
This plugin offers several other features, including support for multiple widgets, time-range support, custom post types, thumbnails, sorting options, and various layouts.
It also has dashboard statistics, custom theme options, template tags, API support, and WordPress multisite support. The only downside is that it does not offer the option of integrating real-time analytics.
Thankfully, WordPress Popular Posts allows you to access popular posts with shortcode support. This feature allows you to view recent trending articles based on your selected dates. You may also view the most popular comments and stories from the past few days.
Key Features:
Supports Polylang in the application
Fully customizable to your preferences
Recommended for displaying popular posts

Easy-to-use software with flexible capabilities
Popular posts plugin for WordPress
Top 10 is a popular posts plugin that every website owner must have in 2023. It has a configurable widget, post views counter, recent posts shortcode, post views author, post summary, thumbnails, and an in-built caching mechanism. It is fully customizable and comes with a beautiful default style.
With this plugin, you can track your entire WordPress blog, including posts, pages, and custom post types. It also has a comprehensive API that can be easily accessed by anyone. The codebase is extensible and compatible with WordPress actions and filters, allowing for new features or updates to be added easily.
Moreover, it supports caching plugins like W3 Total Cache and WP Super Cache, ensuring fast page loading times. It also offers thumbnail support, widgets, custom post types, and CSS styling, making it one of the best plugins for WordPress. GDPR compliance is ensured, and it incorporates Gutenberg block support.
The software is simple-to-use with flexible capabilities, making it perfect for any website owner. So why not give Top 10 a try and see the difference it can make to your website?
Key Features:
Comprehensive API is included
Caching Mechanism is available
Support for Caching plugins
Thumbnail support is provided
Related, Featured, Latest, and Popular Posts by BestWebSoft
Relevant is a popular post plugin that enables you to display popular posts in widget areas and create shortcodes. You can also customize picture sizes for featured images, inner content width, and related posts.
Moreover, this plugin provides the ability to showcase post thumbnail, author, excerpt, and post date. You can easily set up this plugin without any prior coding knowledge.
By using the plugin, you can highlight and display meaningful content for your readers. It comes in a user-friendly package that includes the most recent featured articles and related posts. Unfortunately, if you use the popular posts feature, you cannot specify the exact period for displaying posts.
The plugin offers widgets that show related posts, the latest posts, featured posts, and the most popular posts. You can customize them based on your preferences and arrange them in various ways.
Besides, you can also use shortcodes to display related, featured, latest, and popular articles. You can display related posts within posts and pages using categories, tags, titles, and meta keywords.
Key Features:
Provides widgets for related posts, featured posts, latest posts, etc.
Customize featured, latest, and popular posts based on your needs
Arrange featured posts, related posts, and top-rated posts in different ways
Use shortcodes to display related, featured, latest, and popular articles
Display related posts within posts and pages.
Allows You to Displays The Most Popular Posts/trending Posts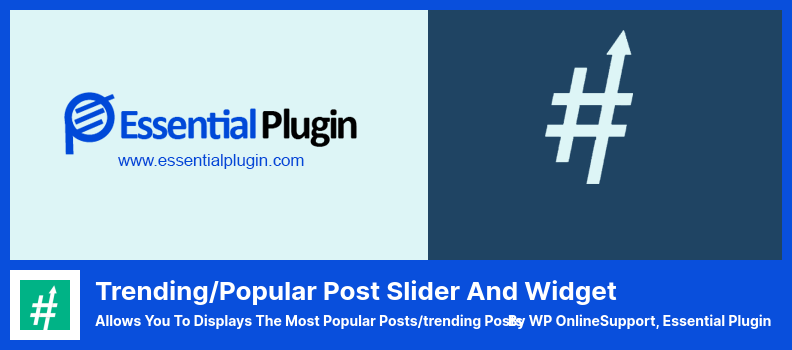 Trending/Popular Post Slider and Widget is a fantastic plugin for WordPress that displays the most popular and trending articles on your blog. It is especially useful for freelancers, agency web designers, and even freelancers who want to track the performance of their articles.
This plugin is easy to use and can be integrated with popular page builders such as Beaver Builder, Elementor, Divi, and Gutenberg. It includes all of the tools you will need, such as sliders, publications, WooCommerce, marketing popups, social proof, spin wheels, galleries, review systems, and other functions.
One of the best things about this plugin is that it offers outstanding customer service, so you can get help when you need it. You can also customize this software to suit your needs without having any programming skills.
With Trending/Popular Post Slider and Widget, you can place post sliders, grid blocks, and other widgets on your website and show them live or as a series of videos. You can also include a sidebar widget that displays your most popular posts over a specified period.
Additionally, you can use template tags to integrate them directly into your theme. The popular and trending posts will not be displayed as grid blocks, sliders, or carousels.
Key Features:
Post sliders

, grid blocks, and other widgets

No programming skills are required
Customizable to suit your needs.
Outstanding customer service
Easy Lists, Grids, Navigation, and More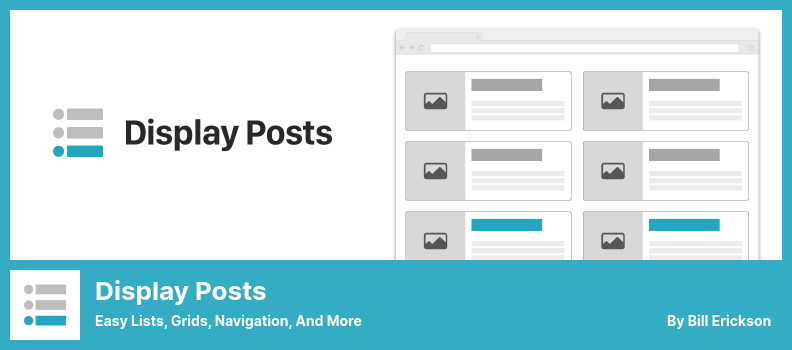 The Display Posts plugin is a very popular plugin that is widely used for WordPress websites. It simplifies the process of displaying content on your website effectively and it is easy to read.
Using shortcodes, you can easily customize your queries and display your most popular posts with excerpts, thumbnails, author avatars, and more, based on the display parameter you set.
To display your website's content, you need to edit the code. You can sort it according to relevance, content type, or metadata. Display parameters can help you customize the output. For a more accurate match, you can use a framework portion.
One of the fantastic features of the plugin is the shortcode ability. You can display posts according to the number of comments and shared counts. This gives you the flexibility to choose how you want your posts to be displayed.
Display Posts also offers detailed documentation that contains all the information you need. The ability to display highly flexible posts can also be highly beneficial for your website. With social sharing, you can rank the most popular posts and retrieve and display any popular post you desire.
Key Features:
Choose from a variety of image sizes
Use social sharing to rank popular posts
Easily retrieve and display popular posts
Detailed documentation available
Display highly flexible posts.
The Only Plugin You Need To Get The Perfect Tabs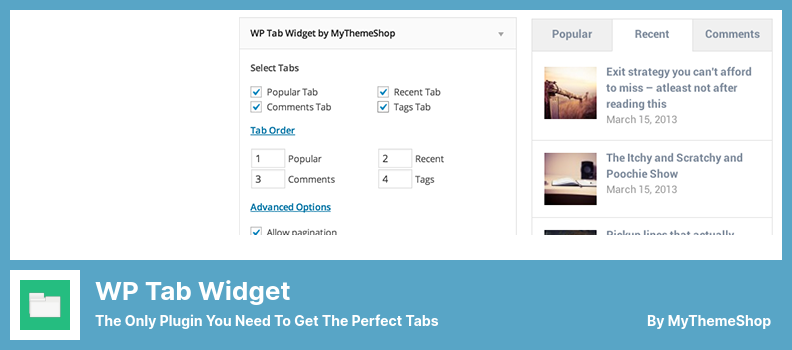 WP Tab Widget is an incredible plugin that you should definitely consider integrating into your blog or website. It makes it easy to add value to your site by integrating valuable content tabs effortlessly. The plugin uses AJAX to load the content only when requested, making it lightweight and easily adaptable.
With the plugin, you can produce an effective layout for your visitors that promotes your content and offers a remarkable user experience. You can quickly install the plugin, configure the widget and enable visitors to locate your most valuable content effortlessly.
One advantage of this plugin is its lazy loading feature. It is designed to keep your visitors on your website for an extended period. This plugin is unique, coded, and professional, which will enhance your website's performance.
WP Tab Widget has amazing features that make it stand out. Not only can you control the number of tabs displayed, but you can change the order of the tabs as well. The thumbnail size can be selected from three different options.
Furthermore, you can hide or show the number of comments displayed and control the number of posts displayed. You also have the option to display or hide the post's date.
Key Features:
The order of tabs can be changed
The number of comments can be displayed or hidden
Three thumbnail size options are available
Control the number of posts displayed
Choose the number of tabs to show
The post date can be displayed or hidden.
WP Security, Backup, Speed, & Growth
As one of the most popular WordPress plugins, Jetpack provides an array of security, marketing, and performance features to enable users to boost their website's performance and security.
With this fantastic plugin, users can easily customize their WordPress posts, allow visitors to subscribe to email notifications, and set up multiple contact forms without having to know how to code.
This plugin is also the best WordPress article tool currently available, as it offers excellent security for WordPress websites, boosts website speed, and increases web traffic. It is also simple to select which post types to include and how new posts will appear.
Moreover, Jetpack provides users with the necessary tools to create image galleries, slideshows, and slideshows for WordPress websites and eCommerce stores.
Another crucial feature of this plugin is that it allows users to create eye-catching landing pages easily, enabling websites to stand out from their competitors automatically.
Key Features:
Multiple features for ease of use
Simple to use with no coding experience required
Good results without any extra configuration
Secure and fast performance
Increases website traffic
Different types of galleries are available.
Google Analytics Dashboard for WordPress
MonsterInsights is a WordPress plugin that optimizes your website with customizable features. With universal tracking, custom dimensions, and EU compliance, it guarantees that your website is secure.
This plugin can display the most popular blog posts or items wherever you wish and is compatible with several other plugins, including easy access to your Google Analytics dashboard.
Additionally, the Inline Popular Posts feature allows users to display popular content within their content seamlessly. You can also showcase the most popular articles on any page on your WordPress website.
The plugin caters to many other plugins, such as WooCommerce, Yoast, AMP, Member Press, Gravity, EasyDigitalDownloads, PrettyLinks, Formidable Forms, Google Optimize, and Google AdSense.
With MonsterInsights, you can pick a theme and customize it to your liking, plus you can integrate and customize it. With the Pro plan, you'll get eCommerce tracking, conversation tracking, and custom dimensions. All plans are GDPR-compliant, and the most popular posts can be displayed in a couple of different ways.
Key Features:
GDPR Compliance Functionality
Variety of Themes
Integrates With WooCommerce
Easy Customization Feature
Many Popular Post Display Options.
Enables A Custom, Flexible And Super Advanced Recent Posts
Recent Posts Widget Extended is a plugin that helps you to show advanced and custom recent posts. It comes with a flexible design that can be shown through widgets or shortcodes. You can create your own style based on your preferences.
This plugin is a great way to display your posts in thumbnails, by date, or in widgets. You have several options at your disposal to create an engaging display for your visitors.
Additionally, you can customize the widget to show the most recent posts, improve your writing abilities, and adjust the length of the excerpts displayed. The plugin displays thumbnails, titles, excerpts, and the post date at the top of the page.
In this plugin, although the CSS has many '!important', the built-in styling comes compatible with all themes. If you do not want it, you can disable the option for default styles and remove custom CSS codes.
Key Features:
Customize thumbnail alignment and resize
Choose to display comment count, date, or a random selection.
Adjust the length of excerpts
Display categories from all, specific, or multiple categories
Results for all or particular tags
Frequently Asked Questions
What is a popular posts plugin for WordPress?
A popular posts plugin for WordPress is a tool that displays the most viewed or popular posts on a website. This can help engage readers and promote content that is relevant and interesting.
Why is a popular posts plugin important?
A popular posts plugin is important because it can help increase user engagement and improve the overall user experience. By highlighting popular content, readers are more likely to stay on the site and interact with other content.
What are some features to look for in a premium popular posts plugin?
Some features to look for in a premium popular posts plugin may include advanced customization options, integration with social media platforms, support for multiple post types, and the ability to display popular posts based on specific criteria such as time frame or category.
Conclusion
In conclusion, we have covered the nine best WordPress popular posts plugins, both free and pro, that can significantly enhance your website's functionality and user experience.
From the user-friendly interface of Jetpack to the powerful customization options of WordPress Popular Posts, you can easily find a plugin that suits your specific needs.
If you are looking for more related tutorials, visit the BetterStudio blog, where we offer insights on different WordPress-related topics regularly. You can find more information on plugins, themes, web design, and more.
To stay updated with the latest trends and news in the WordPress community, follow BetterStudio on Facebook and Twitter. Our social media pages offer updates on the latest tutorials, tools, and resources to help you enhance your WordPress website.
Finally, we appreciate you taking the time to read this article. If you have any questions or encounter any problems, please do not hesitate to leave a comment below. We are always happy to help!