Are you a food blogger using WordPress and struggling to increase your website's traffic and sales?
Look no further because we have compiled a list of the 7 best WordPress plugins for food bloggers in 2023 that will help take your blog to the next level.
In this article, we'll cover both free and pro versions of these plugins, giving you options that fit your budget. Did you know that implementing just one plugin can improve your website's loading time by up to 50%?
With our suggested plugins, you can optimize your site for faster loading times, improve SEO, and increase engagement with your readers.
If you're ready to take your food blog to the next level, keep reading. We're excited to share with you the top 7 WordPress plugins for food bloggers that will boost your website's performance, attract more traffic, and ultimately lead to increased sales and success.
Best Free & Pro WordPress Plugins For Food Bloggers
Best Food Blogging WordPress Plugins
Most Complete Content Protector Plugin for WordPress
WPShield Content Protector is a must-have plugin for any WordPress website owner who's concerned about their recipes, images and videos being stolen or copied without their permission. With 15 built-in content protectors, this plugin can safeguard all kinds of content including text, audio, video, and source code.
One of the unique features of this plugin is that it provides an option to limit the right-click menu items rather than just disabling it. This means that even if someone tries to right-click on your content, they won't be able to view the source code, save as or inspect element.
Additionally, WPShield Content Protector offers an exclusive feature to disable the Inspect Elements system used for bypassing other content protectors.
Another significant benefit of this plugin is that it simplifies your video player by hiding the download button and URL of the video file location. This way, people cannot copy your videos illegally and display them on other platforms as their own.
If you're worried about protecting your site's content but don't know where to start, the comprehensive step-by-step documentation provided with WPShield Content Protector can guide you through the process.
In summary, WPShield Content Protector is a reliable WordPress plugin that not only disables right-click menus but also limits the items available in it. It offers various other content protection features such as disabling Inspect Elements and adding watermarks to printed content.
If you're looking to keep your site's content safe and secure, this plugin is worth considering.
Key Features:
Offers 15 protectors to secure all formats of content on your WordPress website.
The plugin works quickly and is compatible with any theme and plugin for WordPress, making it easy to use and integrate into your existing site setup.
It's Developer Tools Protector feature disables the Inspect Elements system, preventing users from bypassing other content protectors.
If someone tries to open the developer tool or inspect elements, WPShield Content Protector will clear the page's content, ensuring that no one can steal your content.
It is easy to set up and offers comprehensive step-by-step documentation to assist you in securing your site's content quickly.
You don't have to use multiple plugins to secure your site as WPShield Content Protector covers all the bases.
The plugin's user-friendly interface makes it an ideal choice for WordPress website owners looking to secure their valuable content quickly and easily.
Random Reviews:
I use this photo protector for my photography and it kept all my photos from being downloaded. In the first week after I started using it, I received many emails from bloggers asking for image files, when I had not received even one email for a year before.
The First WordPress SEO Plugin
Yoast SEO is a fantastic plugin for food bloggers who want to make sure their website is optimized for search engines. This plugin helps improve your organic search ranking by allowing search engines like Google to easily find and understand your posts and pages.
One of the best features of Yoast SEO is its compatibility with a variety of plugins and themes, making it easy to integrate into your existing site. Additionally, with this plugin, you can manage breadcrumbs on your site, which helps visitors and search engines navigate your website more easily.
The free version of Yoast SEO provides excellent tools for managing your site's search engine optimization. However, if you want even more powerful tools, the premium version is definitely worth considering. With the premium version, you can take control of your site's meta descriptions and even get suggestions for internal linking to improve your site's navigation.
Overall, Yoast SEO is an essential tool for any food blogger looking to improve their search engine optimization and increase traffic to their site.
Improves The SEO and Overall User Experience of Your Site
W3 Total Cache is an essential and powerful plugin for food bloggers that can significantly enhance your website's speed and user experience. It employs caching mechanisms and a host of other features to ensure your food blog performs optimally.
By installing W3 Total Cache, your site will load faster, which is critical in retaining first-time visitors and encouraging them to sign up. This plugin is designed specifically for mobile-friendly and SSL-secured sites, ensuring high rankings on search engines like Google.
W3 Total Cache offers three different server configurations, including shared hosting, virtual private servers, and clusters of dedicated servers. These options enable you to select the best configuration that suits your website's needs.
Additionally, the Image Service API extension provides WebP image format conversion from standard image formats. This feature helps improve the performance of your images, resulting in a better user experience.
Overall, W3 Total Cache is a must-have plugin for food bloggers that want to optimize their site's speed and performance, rank higher on search engines, and provide a seamless user experience. By installing this plugin, you can be assured of maintaining a successful food blog.
A WP Security, Backup, Speed, & Growth Plugin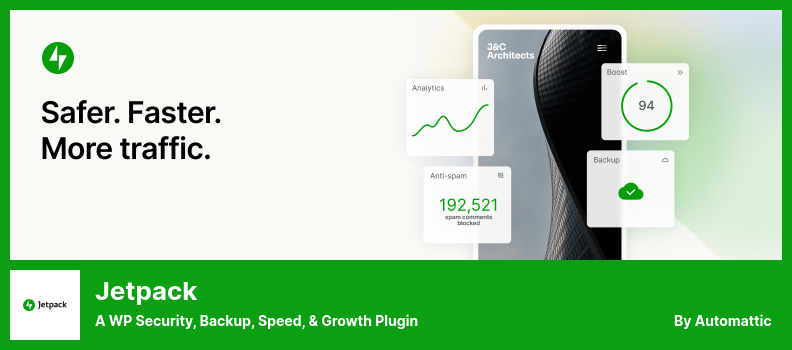 Jetpack is a highly valuable plugin for food bloggers looking to improve the appearance and functionality of their blog. With an array of features such as social media sharing icons, website analytics, email subscription forms, and more, Jetpack offers a comprehensive solution for enhancing your online presence.
One of the standout features of this plugin is its ability to provide real-time backups, malware scans, and spam filtering, giving you peace of mind knowing that your website is protected from security threats. Additionally, features like brute force protection and uptime monitoring ensure that your site runs smoothly without any issues.
Jetpack also allows for easy migrations to new hosts and facilitates database transfers, making it simple to duplicate or repair your website.
Whether you're starting a new blog or looking to enhance an existing one, Jetpack is an excellent choice for improving the appearance, functionality, and security of your food blog.
Key Features:
Monitoring your website's uptime and downtime is possible
There are simple blocks to customize your site
Advanced site statistics and analytics are available
You can manage migration to a new host
Your site will be automatically backed up
Manage Multiple Contact Forms
Contact Form 7 is a valuable plugin that can be used to add customization features to WordPress sites without contact forms. As a food blogger, this plugin offers several benefits to help you communicate with your readers, potential customers, and partners more efficiently.
One of the key advantages of Contact Form 7 is its ability to customize the content of the form and email via simple markup. Additionally, it allows you to manage multiple contact forms simultaneously, which is useful for those who run multiple blogs or websites.
The plugin also supports several features like CAPTCHA submission mechanism, Akismet spam filtering, and Ajax-based submission, making it easier to manage submissions and filter out spam messages.
While there are many benefits to using Contact Form 7, it's important to note that the default configuration does not track users by stealth. So, if you require tracking capabilities, you may need to look into other plugins.
Overall, Contact Form 7 is an excellent option for food bloggers who need to add a customizable contact form to their website. Its features make it easy to manage multiple forms and filter out spam, ensuring that you can stay connected with your readers, customers, and partners.
Key Features:
Personalized contact forms are available for users
Good WordPress themes without a contact form are supported
You can add a CAPTCHA filter
Akismet spam filtering is provided
There is a possibility for Ajax-based submission
Monitors and Tests All Internal & External Links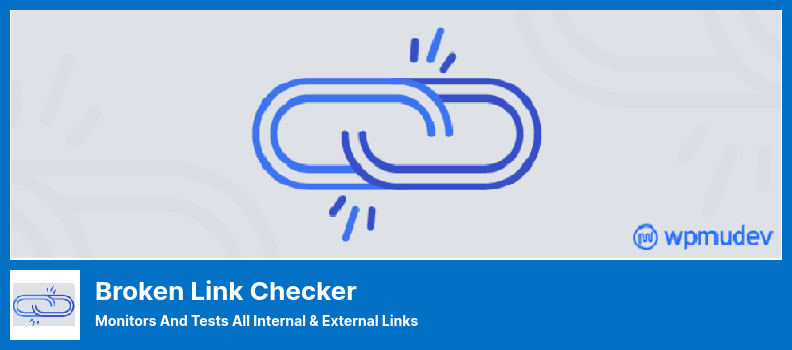 Broken Link Checker is a must-have plugin for any food blogger or website owner. As its name suggests, this plugin checks the links within your comments and pages for broken links so that they may be repaired. If it finds any broken links, you'll receive an email notification so that you can fix them quickly.
Having broken links on your website can negatively impact your reputation with readers and search engines alike. The Broken Link Checker plugin helps you avoid this by keeping track of all broken links on your site and alerting you when they need to be fixed.
One of the great features of this plugin is the ability to create custom filters for links affiliated with comments. This means you can easily view and manage links associated with comments on your site. Plus, hovering over each link reveals several actions you can take, such as editing or unlinking the broken link.
Overall, Broken Link Checker is a powerful tool that every food blogger should have in their arsenal. It's easy to use, saves you time, and helps ensure that your site is always running at its best.
Key Features:
Detects broken links

, and missing images, and redirects

Ensures that external and internal links are monitored
Provides you with either an email or Dashboard notification
Posts with broken links are displayed in a different manner
Links can be searched and filtered based on URL, anchor text, etc
Gives You an Overview of Your Blog
Editorial Calendar is a must-have plugin for food bloggers who want to keep their content organized and scheduled. This WordPress plugin provides a user-friendly interface that displays your blog posts in a handy calendar format, allowing you to see exactly when each post will go live.
With Editorial Calendar, you can easily rearrange your blog posts by simply dragging and dropping them on the calendar. This makes it simpler to create an effective content strategy and ensure that your posts are published regularly.
In addition, you can edit your posts directly from the calendar, which helps to streamline your workflow. If you need to move a post to a different date, you can do so quickly and efficiently with just a few clicks.
Overall, Editorial Calendar is an essential tool for food bloggers who want to stay on top of their content production. With its user-friendly interface, drag-and-drop functionality, and easy editing capabilities, this plugin can help you manage your blog seamlessly and publish high-quality content on a consistent basis.
Key Features:
Post status

can be easily viewed

You can edit post titles, content, and times quickly
Provides management of posts from multiple authors
Drafts can be managed through the new drafts drawer
Your posts can be viewed along with the posting date
In conclusion
To wrap up, we hope you found this article useful in finding the best WordPress plugins to enhance your food blog. We have discussed 7 of the most effective plugins for improving your site's functionality and increasing traffic and sales.
If you want to learn more about creating a successful food blog, be sure to check out BetterStudio's blog for more related tutorials.
Don't forget to follow BetterStudio on Facebook and Twitter to keep up with the latest updates and tutorials. We appreciate you taking the time to read our article and we encourage you to leave any questions or concerns you may have in the comments below.
Thank you for choosing BetterStudio as your go-to source for WordPress tips and tricks!