Are you searching for the best WordPress Recipe & Food plugins?
This article has selected some of the best WordPress plugins you can find on the internet for the Recipe. The following list of WordPress plugins will assist you to find something that exactly suits your must-haves. We have to mention that these plugins are compatible with all WordPress themes.
We chose plugins that are the entire best for the Recipe. Despite this, you may also use these plugins for Elementor Recipe, Bakeries, and Food Magazines.
let's check which are the best WordPress plugins for Recipe websites in 2022:
WordPress Recipie Plugin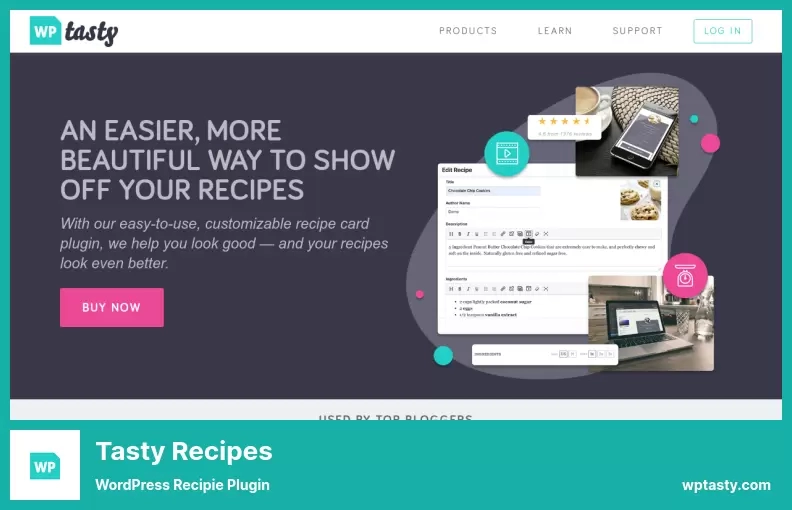 Tasty Recipes is the name of a powerful WordPress cooking recipe plugin for cooking blogs. This plugin supports the possibility of placing videos in cooking instructions, which means that in addition to putting instructions in the form of text, you can also put food preparation videos in your post.
The flexible formatting of this plugin has caused everyone to format their instructions as they see fit, meaning that not all instructions are written the same.
The plugin also allows you to rate instructions via an asterisk so that new readers can follow your instructions more confidently.
The main features of the Tasty Recipes WordPress plugin are the ability to place ads between posts, the possibility of placing complete nutritional information including calories, fiber, fat, and more, an excellent visual interface, optimized SEO, and many other features Cited.
It comes with five beautiful themes that you can choose to your liking. It is a fully responsive plugin compatible with all devices, including mobile, tablet, and desktop. In the following, we will mention some other features of the WordPress Tasty Recipes plugin.
💵 The Lite Version is provided for Free and The Premium version for $0.00.
Key Features:
Easy to install and use
Compatible with a variety of browsers, including Chrome, Firefox, and more
Ability to print instructions and support WordPress print plugins
Ad support
It has flexible formatting
Support video format in the instructions
Ability to rate instructions
Compatible with most popular WordPress themes
WordPress Recipe Plugin
Delicious Recipes is an easy-to-use and powerful recipe plugin for WordPress websites.
This add-on is a feature-rich plugin that creates recipes from your WordPress dashboard as well as displays them.
The plugin also is SEO-friendly and schema-friendly. As a result, search engines can rank your recipes higher and social networks can display information about your recipes accordingly.
The delicious Recipes plugin has all the features you need for recipes. The plugin also allows your readers to register on your website and browse your recipes.
Your readers can rate your recipes directly. This feature will boost your recipe's ranking. Delicious Recipes to create and manage recipes use the REST API from WordPress core.
Delicious Recipes also includes page templates for recipes courses, cooking methods, cuisines, recipes keys, and tags that categorize your recipes.
💵 Free and Premium versions of the plugin are incorporated. The Premium version costs $49 , whereas the Free version is free.
Key Features:
You do not need any special technical knowledge to use the Delicious Recipes plugin. You can easily use different parts of the plugin
The plugin includes schema markup, which positively and directly affects SEO and makes your recipes look good in search engines and social networks
Your users can register on your website. After registering, they can search among your Recipes and add your Recipes to your Favorites list or rank your Recipes
The plugin has an attractive design, and you can use it to create beautiful recipe cards for yourself. By doing this, you will attract more users to your website. You can also add more details to your cards, such as degree of hardness, cooking time, calories in food, and more
The plugin has tools for analyzing and measuring cards. So you can see the number of submitted recipes, the popularity of each recipe, and the ratings given by users to each recipe. Even you can use this data for email marketing
Random Reviews:
Dieses Plugin ist wirklich richtig gut. Es gibt wahnsinnig viele Einstellmöglichkeiten, sodass quasi keine Wünsche offen bleiben. Ich habe hiermit ein privates Rezept-Archiv angelegt und bin mehr als zufrieden! Ganz klare Empfehlung!

thank you so much…!!

A great recipe plugin. It would be a great add-on if visitors can add recipes too
Simple Recipe Plugin for WordPress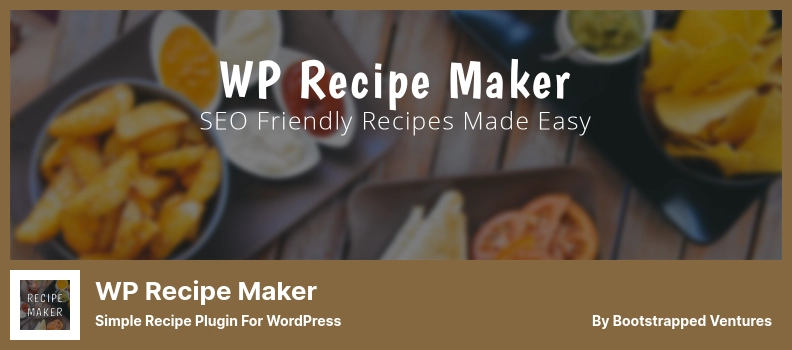 WP Recipe Maker is an easy plugin to create a recipe in WordPress that everyone can use. This plugin lets you add your recipes to any post or sheet with automatic JSON-LD metadata. The metadata will improve your WordPress SEO ranking and attract more visitors to your site.
WP Recipe Maker plugin has a template editor that you can use to customize your recipe template.
💵 Without paying and Free! You will have the profits of this plugin and It is supported.
Key Features:
Compatible with both Classic Editor and Gothenburg WordPress Editor
Ability to enter recipes in all posts and tabs
Use metadata schema.org/ Recipe JSON-LD optimized for Google search
The recipe includes an Elementor block to work with the Elementor Page Builder plugin
Shortcodes for WordPress popular page builders
And many other features
Random Reviews:
This is by far the best recipe plugin out there. It takes a little time to take advantage of all the features but that's just because there are so many 🥳 years into using it I'm still discovering awesome features. And don't get me started on the support. It couldn't be better 💪👏🏼👏🏼👏🏼

I was looking a long time for a SOLID recipe plugin, after trying it first I was sold! Please don't look any further. Try it, you won't be disappointed. Developer is updating frequently and sending valuable tips by mail for a better understanding of this gem 😉 Keep up the good works Brecht!

If you are looking for a recipe plugin, look no further. I have been following this recipe plugin before it was even dreamt up. I started with the Ultimate Recipes plugin (the 1st version) Now for 7 years and it keeps getting better. As a chef I recommend it.
Food Blogs Recipie Recipe Maker Plugin for WordPress
Zip Recipes plugin is an intuitive template editor for WP websites. This plugin creates professional recipes for your food website. It supports optimized Recipe JSON-LD metadata. Therefore, your organic search will increase, and more people will reach your recipes.
This template editor has many possibilities and a wide range of settings. Zip Recipes is designed fully responsively and shows recipes for any device professionally. The plugin for adding new recipes supports WYSIWYG Editors.
You can easily copy and paste the recipes that you already have from MS Word or other programs into your website.
With this plugin, people can come to your website, search for your recipes, and click on the recipes they want. This plugin gives you an excellent opportunity to build many fans for yourself.
Most of the SEO parameters are observed in this plugin. Google shows them rich snippets related to the recipes, images, nutritional value, cooking methods, and other items when users search for your recipes.
This editor is flexible and adds recipes to posts, pages, or custom post types. This plugin adds schema.org and JSON LD microdata to your recipes. As a result, search engines like Google understand your recipes better.
Zip Recipes will make your recipes load instantly from Google results by supporting Google's Accelerated Mobile Pages. With the JSON LD recipe markup, your recipes will appear on Pinterest as Rich Recipe Pins.
💵 All these features will be available in the plugin, and It is FREE.
Key Features:
Automatic nutrition generation
Automatic serving adjustment for your users
Choose from several themes
People can search among your Recipes through this plugin and find the Recipe they want
This plugin contains rich snippet codes and allows users to comment on recipes and rate them
People can also store recipes on social networks such as Big Oven and Yummly
Random Reviews:
Zip recipes is easy to use, works beautifully and makes recipe blogging simple, pain free and professional.

I have using this plugin for a few hours and i'm in love with it. Soon i will add the "lover" (premium) features to it. I one word: GREAT!

I like how easy it is to use.
Gutenberg & Elementor Recipie Widget and Block
Recipe Card Blocks created by WPZOOM company. This plugin supports Elementor page builder, and you can add a recipe card widget for Elementor. You can customize recipe cards with multiple styles. Recipe Card Blocks includes four modern styles, with more coming in future updates.
This plugin is one of the best WordPress recipe plugins. It is specifically designed to work with the new WordPress editor (Gutenberg).
The plugin is an innovative way to show people the recipes. This plugin automatically adds the data structure recommended by Google to your content, which ultimately causes your recipes to appear in Google results along with rich snippet code.
The plugin has many attractive templates, and users are easily attracted to them and can easily interact with your recipes.
In the premium version, you can use social media CTA (call to action) for Facebook, Instagram, and Pinterest.
Recipe Card Blocks include these blocks:
– Recipe Card (with Schema.org Markup)
– Recipe Details
– Ingredients
– Directions
– Nutrition Facts
– Recipe Card Widget for Elementor
The plugin works well with any theme, and also it complies with GDPR. Recipe Card Blocks does not collect any information outside your WordPress installation. Therefore it's GDPR compliant.
In the new version of the plugin, you can use the video recipe feature in the form of a block. You can also add ingredients and directions by inserting more entries at once.
In the premium version, a new block with schema markup is added to the plugin. You can use a single block to create a recipe card. You don't have to add any more blocks like Ingredients or Directions separately.
💵 The Lite version is Free, while the Pro version costs $69 .
Key Features:
Elementor Support
Multiple Designs
Gutenberg-ready
Works with any theme
Video integration
GDPR-compliant
Bulk Add Ingredients and Directions
WPML Support
Random Reviews:
I had an issue with rich snippets. I went to the website and sent a question in the chat. Late-night! In the morning there was an update that fixed an issue. Thank You!!

There are many options to choose from and create a beautiful recipe section with ease. With such professional work it deserves the pro version upgrade.

After using a few other "Recipe Card" plugins, THIS is the only one that really gets it right! Intuitive and easy to use, but especially helpful when converting an already posted recipe typed on the page to something professional and easy to read…much easier to copy and paste ("Bulk Add", FTW) from the same page/content when ye can see what you're doing!
WordPress Recipe Maker with Schema and Nutrition Facts
The Total Recipe Generator plugin is a valuable add-on for Mentor to display cooking recipes on WordPress sites. Using this WordPress plugin, you can display cooking, cooking, and mourning recipes professionally on your site.
This plugin works in addition to the Mentor page builder plugin. After installing and activating this plugin, a unique element will be added to your Mentor elements set. All the necessary settings to implement a professional recipe in this plugin are available. You can also use a picture for any of your recipes.
One of the good features of this plugin is the possibility of extensive personalization. You can implement a complete and comprehensive recipe in both the settings and the design section. In addition, the ability to add share buttons and PDF WordPress recipe plugin is available.
This plugin provides all the necessary features to insert a recipe in WordPress sites. You can also customize tags, colors, and share buttons for your recipes from the settings section.
The total Recipe Generator plugin will have continuous updates. In addition, with each update, you can have a complete and more optimal format.
💵 The price of the Total Recipe Generator plugin is $29 for purchase. You will get 12 months of free support too.
Key Features:
This plugin works on the mentoring platform, which you must use to install and activate the mentor plugin
In this plugin, it is possible to insert the table of food minerals with various designers
Ability to insert an image in the recipe
Possibility to insert a table of minerals
Ability to insert sharing buttons
Ability to add a recipe button
Ability to add the necessary materials section
Ability to add meals
Has a settings section
Support for the Mentor page builder plugin
Ability to insert custom fields
Random Reviews:
This is a great product. I have recently bought and installed this and so far I am quite impressed

I'm crying because it's so beautiful!!! Thank you for creating this. I have been beating my brains out trying to figure out how to add recipes to Elementor. You rock!

Thanks for making and releasing this plugin! It is absolutely unique and is a perfect example what is already possible with Elementor in 'real life usage'. 😉
Bakers and Makers Plugin for WordPress
Create is a plugin for bakers, makers, and adventure-takers. With the Create plugin, you can craft multiple shema.org types. The plugin is fast and has no negative effect on your site speed. It is also SEO-friendly and has a positive effect on ranking in search engines.
With this plugin, you can design and add your recipes to the website. You can also automatically calculate nutritional data for your recipes freely.
The Create plugin displays beautiful printable materials lists, instructions, and videos for DIYs, crafts, and more.
A prominent feature of the plugin is a live preview. With this feature, you can see the content how it will appear on your website in real-time.
The plugin supports Google Rich Snippet and has schema validation. So content is marked up for mobile search carousels. You can easily transfer your content from other recipe plugins.
Create is a responsive plugin and works optimally on any device, especially mobiles.
💵 You can start using this plugin for Free.
Key Features:
It is lightweight and speed
Calculates nutritional data automatically
Optimized for SEO
It's built for optimal user experience
Easy to use
Having multiple themes
Support live preview
Designed responsively
Random Reviews:
We started our food blog and searched and went through all the plugins there was available, and when we came across this it was the game-changer our site (tastyrecipelovers) needed. It has everything you need, that other recipe plugins put in their premium section, and its free. The Recipe card has great looking cards to choose from and your users won't be disappointed.

This is a wonderful plugin which is user friendly and which produces beautiful recipes with many helpful extras. Mediavine provided me quick and exceptional assistance with an installation issue I needed help with. I can't say enough good about this company and their plugin!

THE BEST!
Concluding
In this text, we checked the best WordPress Recipe plugins. If you desire to have a better site, just select one of these plugins to extend your site.
Thanks for reading this selection of the best Recipe WordPress plugins. I hope you have found a remarkable new plugin for your website.
We suggest you check the best WordPress grocery store themes article.
Please give us know if you have any questions or recommendations about the post. Please show your support for this post by sharing it on your Twitter and Facebook.