Looking for a WordPress plugin for Recipes?
A list of WordPress plugins that we think will help you is available on our Recipes page. The best WordPress plugins are good-looking, mobile-friendly, have good support, are speed-optimized, and provide the top WordPress themes.
We handpicked a selection of Recipe plugins to help you choose the best plugin to fit your needs. However, this stack even contains plugins that may be useful for Delicious Recipe, Easy Recipe, Recipe Maker, Recipe Card, and Elementor Recipe.
Check out the hand-picked list of the top Recipe WordPress plugins of 2022: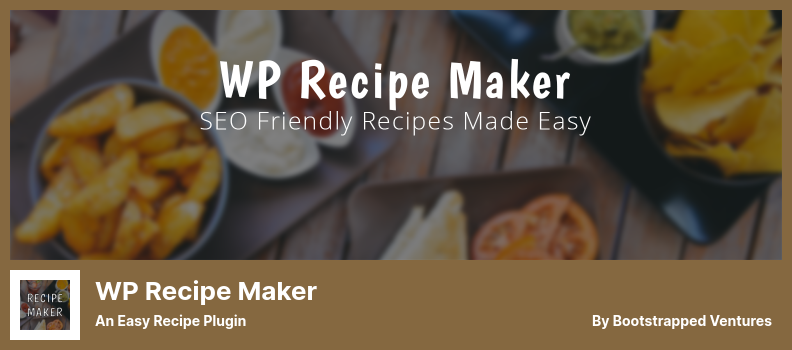 Using the WP Recipe Maker plugin, you can easily add recipes to any page or post on your website. This plugin can optimize your SEO for recipes on Google by using JSON-LD metadata.
The plugin will work with both Gutenberg and the classic editor. Images and videos will be able to be included in the recipe steps as well.
With this plugin, it is possible to group the ingredients according to their function. Shortcodes can be used to print the recipe, and shortcuts can be used to access it. Additionally, there is space for advertisements in the print edition.
This plugin provides an easy-to-use template editor that makes it easy to customize your templates.
Several features are included in the pro version, including adjusting the serving ratings, linking ingredients, and providing nutritional information.
💵 Pricing: $49 for Premium and free for Lite.
Random Reviews:
I honestly think it is a fantastic plugin, the team that built it should be very proud of themselves since they have created a user-friendly, functional plugin with excellent features. It's very well thought out, and the support the guys provide is great. They always respond within a day, typically within an hour, and are very helpful every time.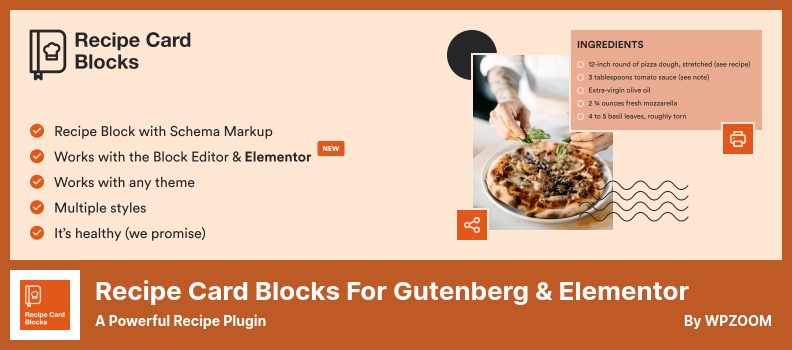 The Recipe Card Blocks for Gutenberg & Elementor plugin allows you to create recipe cards using Gutenberg or Elementor. This plugin has several key features, including its ability to add several blocks, including a recipe card with SEO-friendly schema markups.
In this plugin, detailed information regarding ingredients, directions, and nutritional information can also be found in other blocks.
With this Elementor recipe plugin, videos can be incorporated into your recipes in various ways. Adding the ingredients and instructions in advance will make it easier to prepare.
Furthermore, you can select from a variety of designs, and it also supports AMP and GDPR compliance.
In the pro version of this app, you will find galleries that allow you to start rating, change serving sizes, to enter ingredients quantity, as well as a gallery that allows you to add comments or social calling to actions to Pinterest images.
💵 A premium version is available for $59 and free.
Key Features:
Support for AMP is provided
There are five Gutenberg blocks
You can add instructions in bulk
Schema markup is available
Ingredients can be added in large quantities
You can integrate video
Compatible with GDRP
Random Reviews:
The plugin works well, looks great, and is easy to use. I have found no issues with it, and when I have run into a problem (due to my general lack of experience), my questions are answered kindly and quickly.

The rich snippets did not appear to me.
Create & Display Recipes With WordPress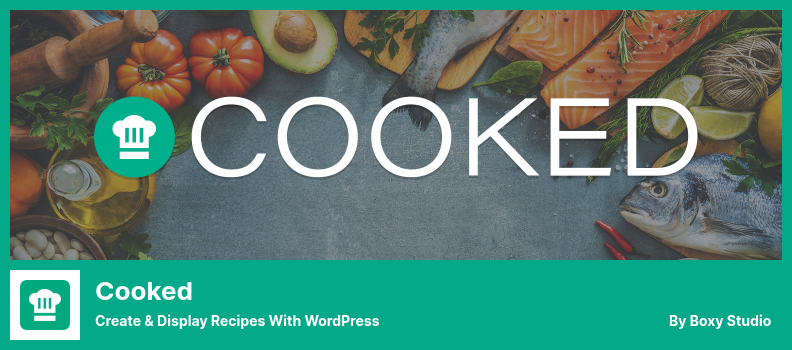 It is important to note that the Cooked plugin even offers premium features as part of its free version. Several features are available on this plugin, including galleries, cooking timers, nutritional facts, printable recipes, drag-and-drop recipe creation, search engine optimization, etc.
It is possible to display recipes in a grid format with the help of this plugin. This plugin provides a serving switcher, which facilitates the change of serving size.
This plugin can be customized to include various features, including cooking and prep times, difficulty levels, timers, etc.
Moreover, this plugin includes the ability to sort search results and to operate in full-screen mode so that you can view everything at once.
Additionally, you will be able to rate favorite recipes, create user profiles, share recipes, and utilize additional taxonomies with the Pro version.
💵 The premium version costs $39.
Key Features:
A drag-and-drop page builder is included.
There are author templates available.
There are various galleries.
Prep and cooling times are available.
Search and sorting options are available.
There are SEO features available.
Random Reviews:
They won't refund the purchase less than 24 hours after I purchased it. I sent them proof of purchase and screenshots, but they aren't responding.

They have not refunded me after contacting them more than a week ago.
Create Professional Recipes for Your Food Blog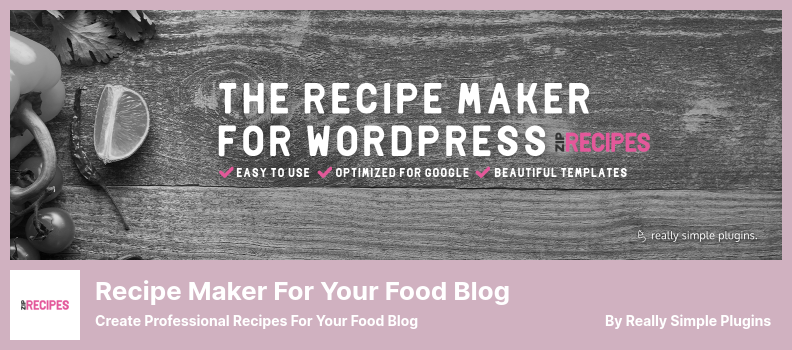 In addition to providing a template editor, the Recipe Maker For Your Food Blog plugin includes a recipe editor that ensures that your recipes are professionally designed on any device.
You can easily create templates using the plugin's WYSIWYG editor, and copying and pasting text are possible from any source, including Microsoft Word.
In this plugin, there is the option of adding recipes to the posts pages and custom post types of your site. This plugin also allows you to use the featured image from a post or page as the featured image.
This plugin can add nutritional information and information regarding cooking time, preparation time, etc. Moreover, this plugin optimizes metadata from JSON-LD for search engine visibility.
The Pro version features author settings, recipe card themes, visitor ratings, a recipe grid on social media, and automatic nutrition serving adjustments. In addition, metric and imperial conversions are also included, as is a tool for searching ingredients.
💵 In this plugin, there is a Lite and a Premium version. The Premium version costs $39, whereas the Lite version costs $0.
Key Features:
JSON-LD is available for SEO
Compatible with AMP
The WYSIWYG editor is included
You can display recipes in multiple post types
Nutritional information is provided
Random Reviews:
Also available as a free version.

It works beautifully, is easy to use, and provides a professional and straightforward method for posting recipes on the web.
A Plugin for Bakers, Makers, Adventure-takers
The Create plugin allows you to create any type of instruction, such as roundups of recipes and instructions on how to do something.
With this plugin, it is possible to automatically calculate nutritional information. Furthermore, you can enhance the quality of your recipe by embedding videos.
You will be able to import your data regardless of which recipe plugin you use due to the wide range of importer functionality included in this plugin.
This plugin allows users to choose from various templates so that the look and feel of their site can easily be matched. By utilizing plugins such as this, you can monetize your content.
This plugin also allows you to validate a mobile search carousel with a single button click. It supports Google Rich Snippets as well. This plugin has been designed to be fast and lightweight.
💵 Free download of this plugin is available.
Key Features:
Automates the calculation of nutritional data

You can import from other recipe plugins

Multiple templates are available to choose from
You can embed video
Random Reviews:
However, I feel that the plugin's embarrassing lack of an export function hurts it, in my opinion. The developer has overlooked this feature, as it was brought to their attention here in the support forum, but nothing has been done about it. Exporting content should be a no-brainer for any content plugin software.
The Best WordPress Recipe Plugin
With the Delicious Recipes plugin, you can manage your recipes via REST API. Several features are included in this WordPress recipe plugin, including a gallery of images and videos, nutrition charts, grain charts, star ratings, and the ability to adjust the serving size according to the recipe.
As part of the plugin, you can share your results on Instagram and Pinterest, and Pinterest Rich Pins will also be supported.
Using this plugin, you can add nine Gutenberg blocks, six widgets, and color and layout options. It is also SEO-optimized, utilizing Google Structured Data and supporting schema markup.
With this plugin, recipe creation can be accomplished through the WordPress dashboard. Furthermore, there are several ways to display recipes easily with Gutenberg and widgets on the sidebar.
💵 There is a Premium and Lite version of the Delicious Recipes plugin. The Premium version costs $49 and the Lite version is free.
Key Features:
Nine Gutenberg blocks are available.
There are six widgets.
There are adjustable servings.
Various galleries are available.
There is a possibility for Social sharing
Color and layout settings are provided
Random Reviews:
I like the Delicious Recipes plugin because it can be customized according to your needs. It is frequently updated, and new features appear. Also, many thanks to the developers for their prompt support. I received explanations for every question I had within the same day.
A Recipe Plugin That Every Food Blog Needs
Using the Blossom Recipe Maker plugin, you can create customized shortcodes for recipes and insert them into posts and pages.
Besides adding photos, you can embed Vimeo videos and YouTube to any step and group instructions with headings. Furthermore, additions and sorting of ingredients and instructions can be made to the recipe to suit your needs.
The plugin contains categories for cuisine, cooking methods, and tags related to each template. Furthermore, it is possible to search for cuisines, cooking methods, or tags using the advanced search function of this plugin.
Using this plugin, users can print recipes without including images, and they can translate the recipes.
With this plugin, the visitor can interact with recipes by changing the serving size, checking the ingredients, and taking note of instructions as they prepare the food. This allows them to modify recipes as they proceed and monitor their progress as they do so.
💵 The plugin is free. There is no charge for it.
Key Features:
You can print without images.
You can adjust the serving size.
Add to pages and posts with shortcodes is possible
YouTube and Vimeo videos can be embedded
There is an advanced searching
You can group with headings
Random Reviews:
Your plugin is exactly what I was looking for, and it does so much more

This recipe plugin beats all the others with an easy-to-use interface and great design.
A Premium WordPress Recipe Plugin
The Tasty Recipes plugin includes everything you need to create delicious recipes, making it a premium recipe solution.
As a result of this plugin, you will be able to create nutrition information videos as well as create recipes according to your writing style so that they will be easy to create and share with other people. It is also possible to scale up or down visitor preferences automatically using this plugin.
By using five premade templates, you can easily customize recipes. You can also convert recipes from other plugins. This plugin uses JSON-LD to ensure your recipes are properly displayed on Google and Pinterest.
Utilizing this plugin will prevent you from running into the headaches associated with complex and frustrating plugins that are difficult to customize or use and require you to go through hoops to obtain assistance.
This plugin helps you streamline your blogging process, allowing you to spend more time creating recipes, promoting them, and creating content that will be enjoyable for your readers.
💵 This plugin gives you free support for 12 months. The price for the Tasty Recipes plugin is $79.
Key Features:
You can import from other plugins
Five pre-made styles are available
The recipe can be scaled
Flexible formatting is provided
There is the nutritional information
Converting in bulk is possible
A Beautifully Crafted WordPress Recipe Plugin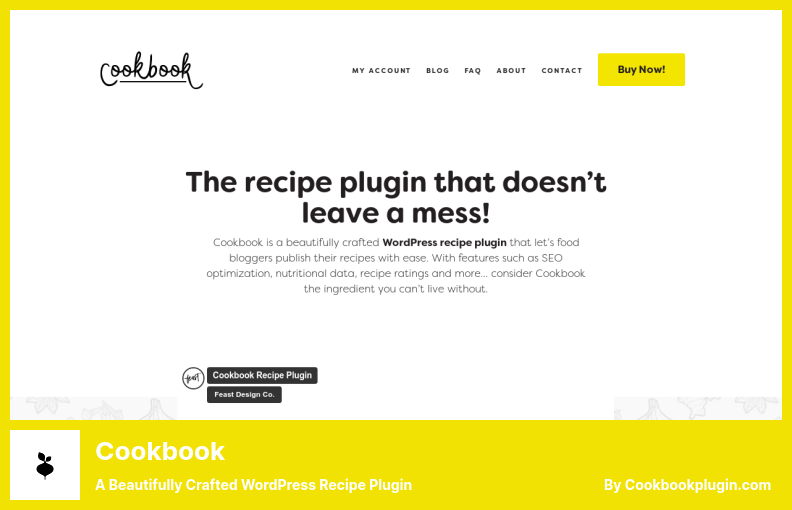 In addition to being a premium plugin, Cookbook was designed specifically with food bloggers in mind. This plugin includes nutritional data, a rating system, and other information.
This plugin allows visitors to view the recipe at the bottom of the page via a shortcode embedded within the content. Furthermore, it is possible to print out the recipes, and the format of recipes can be enhanced in several ways if desired.
This plugin is designed to be used with the classic editor, in contrast to WP Recipe Maker, which was designed to be used with the Gutenberg editor alone.
In addition, this plugin is designed to ensure that your recipes are optimized for search engines, shareable as quickly as possible, and simplified posting recipes.
With this plugin, custom labels can also be created in addition to overriding the schema output. This plugin also allows you to import translations from other plugins and the translations already available.
💵 It costs only $59, and 12 months of free support and updates are included.
Key Features:
You can Import from other plugins
Created for the classic editor
Nutritional data is provided
You can jump to the recipe feature
There is a rating system
Schema and JSON-LD are included
The conclusion
We aim to give you as much information as possible about the best WordPress Recipe plugins. They are helpful, and they can help you build a great site.
📌 Note: Please take a few minutes to review our posts highlighting the modern WordPress blog themes and the best WordPress plugins for your blog, which are regularly used, voted, and shared by our readers.
Thanks for sharing this resource. We wish it had been insightful.
Feel free to comment with your questions. Share the list with your friends on Facebook and Twitter if you like it.