Trying to find the best WordPress AMP plugins for your website?
You've come to the right place! We rounded up a list of some of the best WordPress plugins you can find on the internet for the AMP. Choose your favorite plugin from the list and build a robust and responsive website.
With these WordPress plugins and their most delicate features, you can select the right option for your requirements. Additionally, we ensured that all plugins worked well with all WordPress themes.
The plugins below are all for the Accelerated Mobile Pages. They're also functional for the Google AMP, AMP Optimizer, and AMP Themes. Choose the one that suits your site and level it up!
Check out our recommendations and decisions for the best AMP WordPress plugins in 2022:
Automates The Optimization and Application Of Best Practices On Your Site
The Official AMP Plugin for WordPress allows you to use three different template formats: standard, reader, and transitional, irrespective of whether you are a developer or not. This plugin supports all WordPress themes also there are many exclusive WordPress themes for AMP.
By using this plugin, you will be able to identify HTML errors and identify the components responsible for those errors, allowing you to take corrective action to eliminate them. As a result, your site will function smoothly without mistakes.
Aside from customizing the header background, the theme can also be changed from a light to a dark style. Moreover, the plugin's three AMP templates are grouped into the following categories:
The standard mode enables the conversion of an entire site into AMP. The transition mode allows for AMP versions of specific pages to be created. The reader mode offers two websites, one AMP and one non-AMP.
It can be challenging to introduce AMP on your website and implement it, so this AMP plugin will take care of most of the workable choices for you.
The only disadvantage of this plugin is that you are unable to customize the appearance of your AMP content to your liking.
---
💵 Is price is Free!
Key Features:
Allows the creation, editing, and publishing of AMP stories
Development support is provided to WordPress developers
A powerful validation tool helps to resolve AMP incompatibility issues
AMP pages can be enhanced with analytics tracking scripts through the Analytics area
Easy, free, and effective means for making your website mobile-friendly
Random Reviews:
Crashed my site. Restore is not working. Maintenance plugin is not working. * Thanks a lot.

The plugin installed with no issues, it is easy to understand and configure (I am not an expert) and when I encountered a problem with adsense appearing, I got proficient support from the plugin team.

Your plugin is wonderful and a much needed addition to the WordPress community. Everything works as it should!
Boosts The Performance Of Your WordPress Site By Adding Accelerated Mobile Pages
AMP for WP plugin delivers you more functionality than the official AMP plugin. It offers diverse customization options and allows you to add your Google Analytics tracking ID, add banner ads to your posts, and integrate SEO plugins.
The ability to integrate this plugin with the WooCommerce platform is one factor that makes you stand out from the competition. Basically, this plugin allows your website to be turned into a mobile app that can be utilized for marketing through digital media.
As with The Official AMP Plugin for WordPress, this plugin provides an easy way to customize the look and feel of AMP content.
If you enable AMP for the Homepage, once a user clicks the site's logo, they will be directed to its AMP version. This page also allows AMP for the Custom front page, archive posts, and categories.
However, most plugin functions are available only through extensions.
---
💵 While Lite is free, Premium costs $149/Y.
Key Features:
It is possible to customize the themes from the dashboard
The RTL language styles and translation services are available
Simpler layouts for AMP
Scripts for tracking and advertisements
An editor with drag and drop functionality
A social media integration strategy
Excellent customer support system
Random Reviews:
It's easy to use and it's good!!

This service has ever been a nightmare for me. I have no idea what's going on and the support is bad. Product pages do not work at all (woocommerce amp purchased). they redirect to the homepage, images also appear on the homepage. After asking multiple times for support, some answered, but when he realized he could not fix this, he stopped answering. WORST SUPPORT EVER !!! This topic was modified 2 weeks, 3 days ago by Deidre.

Initially, give 5 stars
Make Your Site Load 5x Faster On Mobile With This Open Source AMP Project
AMP WP (aka Google AMP for WordPress) is a lesser-popular plugin offering several features that make it helpful if you're looking for a clutter-free setup. Although it is less popular, it provides many valuable features.
Some of the plugin's features seem promising. The developer claims that the tool can deliver 5x faster loading times and is 100 percent compatible with Yoast SEO.
In addition, this plugin allows you to translate your website to AMP format and apply it to specific posts or categories. Furthermore, you can determine which content appears on AMP-enabled pages and which should be hidden.
It is currently free to use, but it may become more costly as more features are added.
---
💵 This is a FREE service.
Key Features:
Placing a cookie warning on the screen
Europe will be compliant with the GDPR
Data analysis using Google Analytics, Facebook Pixels, and other tracking tools
Basic layout choices, like enabling header sliders
Random Reviews:
*Fast settings for starting the page!

Working out of the box! Just enough features for my use case. Two suggestions: 1. Would be nice to have a performance option: to enable server-side caching for AM pages specifically 2. Need the option "view desktop version" in the header as well.

Great plugin! It would be really cool if they added AMP Optimizer. And everything is so cool!
Full Site & WooCommerce Support for AMP in WordPress
Better AMP by BetterStudio offers many of the benefits of the official AMP plugin. Still, it is less complex than its competitors. This plugin probably offers the most helpful free version among free choices.
Compared to the widespread WordPress AMP plugins, Better AMP delivers faster loading speeds, making it a top choice for those looking for an alternative that includes assured features.
It operates similarly to AMP WP, letting you build AMP pages right from the WordPress Customizer. Thus, it provides a user-friendly way to construct and customize content and designs.
Following the plugin's implementation, you can edit the text lines in your AMP content. You can also make adjustments to the AMP version of the sidebar, such as adding social icons and customizing the appearance.
---
💵 There is no charge for Better AMP plugin!
Key Features:
Provides automatic redirection of mobile users to the AMP content
Google Analytics can be used for tracking purposes
Colors can be changed if necessary
Offers sliders, YouTube embeds, RTL, and WooCommerce support
All post types and taxonomies are eligible for AMP
Several options are available in the post settings
Customizing CSS and HTML code is possible
Random Reviews:
The problem I'm having is this plugin does not display Google ads, which display in the web version, and instead shows blank spaces where the ads should appear

The best, the simplest… The most efficient!

Exactly do not use "; I lost about 5000 index of woocommerce because of this plugin USE thank you very very much
Create a Nearly Complete AMP Version Of Your Site
WeeblrAMP has been designed to aid with the creation of AMP-compatible content. A complete AMP version of your website can be developed with this plugin, outshining other plugins on the primary functionality.
The free version of the plugin allows you access to features like Providing support for native WordPress comments and content, such as building posts and pages, collecting data, and integrating third-party components, including Jetpack, Beaver Builder, Elementor, and Yoast SEO.
But suppose you don't mind spending some money. In that case, you can get features like Polylang, automatic ad insertion in your AMP content, integration with WooCommerce, Facebook Pixel, Mailchimp for WordPress, etc.
Furthermore, this plugin supports AMP template overrides, allowing users to modify their experience to their liking.
---
💵 A Free Lite Version is available alongside a $39/Y Premium Version.
Key Features:
Provides automatic conversion of MailChimp registration forms
An interface that is both user-friendly and professional
The ability to create custom CSS styles if needed
A maximum degree of control over colors, styles, and information
Designed and developed for professional WordPress websites and blogs
Random Reviews:
In the free version, elementor is not available.

This is the most versatile AMP plugin by far. I was able to convert 40 of 44 post pages to AMP and make them look even better than the original pages. All the upgrades I needed were very reasonably priced, and the pages validated perfectly.

It's not stable, you'll get nothing without an update!
Adds Google Rich Snippets Markup to Structure Your Site for SEO
Schema and Structured Data for WP and AMP offers 33 different kinds of schema, including blog entries, news articles, local business listings, recipes, and videos.
It provides users with the opportunity to utilize Schema.org markup for search engine optimization.
However, it does not enable AMP for your site. But instead makes your content richer by incorporating HTML markup into your AMP content so that it appears as rich snippets in Google's search engine results.
Additionally, this plugin allows you to import data from other schema plugins, including WP SEO Schema, Schema plugins, etc. To help you decide which plugins to use, you can include a start rating box with pros and cons.
---
💵 It's $99 for the Premium version and free for the Lite version.
Key Features:
WooCommerce-compatible
Schema types can be requested in any format you desire
Both the official AMP plugin and AMP for WP are compatible with this plugin
Custom post types can be created in an unlimited number
Fields are displayed according to conditions
Taxonomies, posts, pages, and much more can be included or excluded
Simple and easy-to-use, with few settings required
A more integrated approach to SEO
Random Reviews:
Great plugin, thank you very much!

This plugin is really amazing ! It required some patience and time to learn the settings, but the results were worth it

I requested extended support for a schema and they solved the problem. For the rest of the plugin, it is easy to install and works great. Thanks!
Brings The Power Of The Progressive Web Apps to The WP & AMP
PWA for WP & AMP comes with supporting WordPress multi-sites and offline access. Therefore, your website will load faster because of the offline access and update when the user is online.
You can use this plugin to take advantage of the background process manager in many modern browsers. Then you can modify app icons, create splash screens, and make your web pages appear full-screen.
With the assistance of a service worker, your website will be optimized, increasing the likelihood that users can access it promptly.
---
💵 Free Lite, Premium $99/Y.
Key Features:
It is possible to access the list of installed applications directly through a person's mobile device
Support for multiple sites is available
Visitors will automatically be sent the app version of the website
The addition of your application and short name is possible
Random Reviews:
This is really cool

There are constant attempts to attack /pwa-register-sw.js?ver=1.7.3xxx. Contacting support did not solve the problem.

It works fine, but not in multisite mode for me.
Highly Optimized for Google and Other Popular Search Engine Algorithm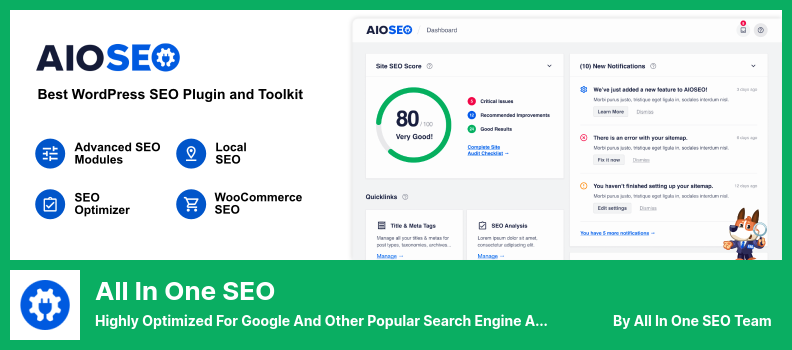 All In One SEO (aka AISEO) provides multiple options for free and paid subscriptions, suitable for both beginners and more experienced users. Using its intelligent schema markup will increase traffic coming to your website.
Because it works with the AMP for WP and AMP plugin, this plugin should not cause any issues if you have already taken steps to make your website mobile-friendly.
The XML sitemap functionality of this plugin allows you to automatically notify Google, Bing, and other connected services when your WordPress site is updated. Also, it supports WooCommerce, which means your online store will look fantastic and run smoothly on mobile devices.
Last but not least, it is the only AMP plugin integrating SEO for eCommerce platforms, making it an ideal means for retailers, vendors, and service providers.
---
💵 The Premium version of the All in One SEO plugin is charged at a $99/Y, while the Lite version is free.
Key Features:
Integration of social media into a marketing strategy
Allows for the importation of WordPress SEO plugins
Smart titles and descriptions for the meta tags
Simple and easy to use, without the need for specialized skills
Random Reviews:
AIOSEO is one of the two giants of WordPress SEO and competes with Yoast in every area.

You can learn this plugin very easily. This is a very complete plugin!

Definitely liked it… I really do
Final Thoughts
We have compiled a list of advanced and practical WordPress AMP plugins. You can choose the one that suits you best and use it to improve your site. We assure you that all of them work incredibly well.
We hope this post helped you decide on an AMP plugin.
If you are looking for new ways to monetize your blog, I would recommend reading our article on WordPress plugins for blog owners. We also covered the best WordPress hosting providers in our other article.
If you enjoyed this article, please leave a comment and share it on Facebook, Twitter, and other social media channels.