Do you wish to install a WordPress Download manager plugin? However, you're unsure which plugin is best for you?
There is a huge list of the best WordPress plugins for Download manager in this post. we have provided all the plugins that are fast and well-coded, user-friendly, have five-star support, and are SEO optimized. these plugins are also able to work with all of the latest WordPress themes.
These topics are all meant to be used for the Download manager. Nonetheless, this wide selection of WordPress plugins also contained plugins functional for File Upload, File Sharing, File Management, or Document Management.
We will present below our hand-picked WordPress plugins for Download manager in 2022:
Managing Downloadable Files For WordPress
With Download Monitor, you can grow your audience, track downloads, and convert traffic into sales with a simple digital download manager.
It's a free WordPress plugin for selling and distributing digital files that works great with all themes and lets you sell and distribute digital files through your WordPress site.
As an added bonus, Download Monitor features advanced report capabilities. Using it, you'll be able to see your download history over any period, see your top downloads (including your store's most popular download) instantly, analyze your daily average, and more.
You can unlock all of these features and more for a fantastic discounted price by buying the complete bundle of all of its premium extensions.
With this plugin, it is easy to organize digital files by categorizing, tagging, and managing them (PDFs, digital art, audio tracks, video files, software packages, etc.) along with their versions.
You can upload multiple versions of your downloads, each with its own data set – such as the number of downloads and file links. This plugin also supports PayPal and other payment gateways with ease.
💵 The plugin costs $0 in the Lite version and $39.00 in the Pro version.
Key Features:
Supporting from different payment gateways like PayPal
Provide an option for importing/exporting all your downloads in a CSV file just by a single click
Provide a Google reCAPTCHA feature before users download their files
Provide automatic download file history to review your history
Provide easy steps for selling and distributing digital files on your website
Providing various types of options for uploading, categorizing, tagging, and managing your digital files
Random Reviews:
It was very clunky. Lots of pop-ups on the dashboard. When you click on 'don't allow for the data collection you get an 'expired link'. I deactivated and deleted the plugin.

In searching for a plugin that can help with the downloading of GPX files, we found this one that looked simple enough. We've used it for a few weeks and it is extremely easy to use and does everything we need. It turned out to be an ideal solution for us.
File Manager for WordPress
Advanced File Manager plugin provides a user-friendly and robust solution for editing and adding your own website files by eliminating cPanel and FTP work. The root directory path can be customized as well.
A shortcode can also be added to your site by the plugin, so some users can access full file management capabilities. You will access files through the root directory and other directories throughout your site.
Its light and the elegant user interface is an ideal tools for beginners. The video and audio previews help quickly check and compare files in your directory. A great deal of your productivity can also be improved by using the file search functionality.
The user can perform various actions, including uploading files, creating them, renaming them, and archiving them. Additionally, you can view samples of PDF documents without opening each of them separately.
Advanced File Manager provides keyboard shortcuts, multiselection tools, and a solid infrastructure for users who require an efficient environment for managing file uploads, deletions, and movements.
Your website will not lag or slow down due to this high-performance plugin. With the plugin, you can easily find items within seconds using a file search module.
💵 Free access to all the progressive features of the Advanced File Manager plugin.
Key Features:
Ability to upload files directly to each folder in the directory
Keeping the browsing history for checking and reviewing the previous actions done before
Provide thumbnails for all files to inform you of stored files
Provide image edit options for your WordPress website
Provide full edit option for all root directory files
Provide a shortcode for a specific group of users to access particular files
Random Reviews:
In testing, I'm using it to manage custom files on a WP multisite installation. Seems to work well, with no issues, and there is a handy right-click menu that gives me access to file management features. I'm experimenting with the access permissions flow-through now, as it would be very handy to limit file access to logged-in users, as well as users who have 'personal folders'.
Flexible File Management Plugin
The File Manager integrates quickly and easily into WordPress, simplifying your file management process by providing functions like editing, deleting, copying, pasting, uploading, downloading, and zipping files directly from the WordPress backend.
So that you don't have to worry about SFTP anymore, this plugin will save you time. The File Manager plugin is free and available in a premium version that offers user permissions, maximum upload sizes, and shortcode generation.
This plugin has many great features, including the fact that the free version is ideal for most businesses since it allows archives, file moving, and file copying. Even those interested in working with advanced tools can use the code editor and syntax checker.
The File Manager plugin offers PDF previews and file resizing, along with cost-effective PDF previewing. With the plugin, you can allow non-logged-in users to download files from your site.
A remote server allows you to perform various operations on files and folders. Administrators can compress, archive, and extract files (zip, rar, tar, gzip). There is a section for multi-files in the plugin.
Drag-and-drop is the easiest way for administrators to copy and move files. You can choose the types of files that can be uploaded and downloaded. Ensure your site won't go offline while updating code by performing code reviews before saving files.
💵 Lite is free and Premium is priced. It costs $25.00.
Key Features:
Provide the ability to backup and restore items
Provide shortcodes for public visitors that enable them to download files from your website
Ability to upload files directly to the media library
Ability to edit the root path directory, so you can access the files inside or outside of the WordPress
Ability to create, archive, or extract the files by admin
Complete control over uploading and downloading files
Random Reviews:
The content is managed on Kubernetes, so we don't have to do anything special to give access to our web developers.

WP File Manager eliminates the hassle of using cPanel or FTP because of server or network issues. One of the best WP Plugins ever. It's a great product. I highly recommend it.
Easy Download Manager and File Sharing Plugin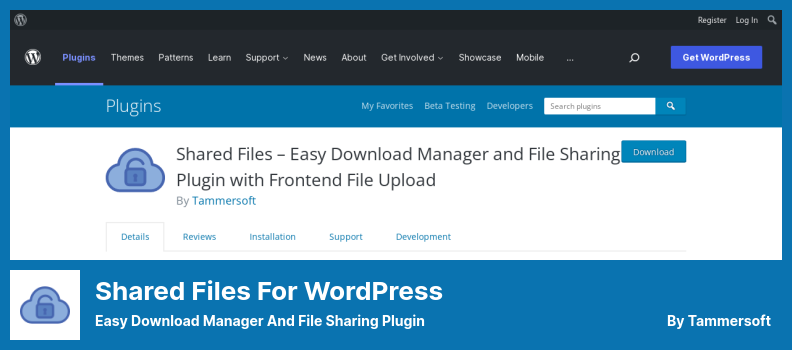 The Shared Files WordPress plugin lists and manages files on a WordPress site. Anyone who has access to your site can download and use any files you share there. Your WordPress admin adds files to the shortcode, and your site uses the shortcode to let people download that file.
Moreover, you can organize your files that people will download to be easier to find. You can manage files into categories or create a list to simplify things for users.
Additional features are included in the premium version such as bandwidth usage limits, file sorting, and layout options. You'll also get priority customer support and password protection when you pay for the plugin's premium version.
Having this assurance lets you know you're always safe, and it gives you someone to talk to if anything is amiss. As a whole, It offers all users a straightforward interface, and most of the settings are configured automatically, so you don't have to change anything for it to function.
It also provides an option that you can see a logged-on user on the backend of your WordPress website for all shared files and manage them so quickly.
💵 It is FREE. There is no charge for it.
Key Features:
Provide file sorting and file loading features in the premium version
All shared files are displayed in the back end of your WordPress site, making managing them easy
Publish spreadsheets and PDFs in the WordPress admin
Providing a search bar for finding specific files with their name or descriptions
Shortcodes from the plugin let you place Download buttons anywhere on your website
Organize the files so users can quickly locate the ones they want to download
Random Reviews:
Easy to install, easy to operate

The program let me add zip files containing GPS files.

Very easy to use and everything works flawlessly. Awesome support from the author. I truly appreciate this awesome plugin.
Simple eCommerce for Selling Digital Files
Essentially, Easy Digital Downloads is an e-commerce solution that allows you to sell any digital download, but you can also manage multiple files on each download. The functionality is great if your products have different prices or bundle products together.
As the default payment option, PayPal and Manual Payments are available, but other payment options are also available for a fee. Working with this plugin is a little complicated; you should prepare a comprehensive guide if you'd like to learn more about Easy Digital Downloads.
WordPress is integrated with tools for selling digital items to anyone who comes to your website in this plugin. Essentially, you upload the files to your site, list them as an e-commerce product, and email buyers download links immediately after they purchase.
The number of file types you have permission to upload is endless, such as software, documents, and graphics. With the plugin, you'll be able to integrate PayPal Standard and Amazon Payments straight out of the box.
There is no limit to the number of digital goods you can sell or organize, and you can start trading immediately, even with the free version.
Once you have upgraded to the premium version, you will need to choose one of the add-ons available for purchase. In fact, most payment gateways require a premium extension.
💵 Easy Digital Downloads is an ultimate Free plugin.
Key Features:
Provide advanced tools like email marketing features and sell download subscriptions in the premium version
Provide customers the ability to create their own pages for checking their downloads and shopping history
Provide download functionality and file management for different types of files
Supporting different payment gateways for your WordPress website
Ability to restrict your users from accessing the download files
Provide the Rest API feature to integrate with external applications
Random Reviews:
Using the shortcodes to display the Purchase History was giving me trouble. After contacting Easy Digital Download support, they resolved it quickly and efficiently.

Simplesmente the best plugin for eCommerce

Having used this plugin for a few years now, it does what it is supposed to do with no hassle.
Open-Source eCommerce Solution For WordPress
Using WordPress WooCommerce, a free e-commerce plugin, you can sell products with ease as your shopping cart. The world's most popular e-commerce solution, WooCommerce integrates seamlessly with WordPress and gives store owners and developers complete control.
What role does it play as a download manager plugin? The service is similar to Easy Digital Downloads, where you can upload all your digital files and then arrange them for selling online. When you aren't planning on selling anything, WooCommerce makes no sense.
You can use WooCommerce both as a file manager and e-commerce platform. So, if you need both of those functions, it makes sense to do that.
WooCommerce allows you to sell digital goods, such as ebooks and music tracks, via its file download management. This plugin can handle most of the major file types, so you will have to depend on the file types you can upload to WordPress.
In addition, WooCommerce provides options for supplying your customers with instant downloads or emailing them with download links.
Your files will be organized and sold in no time when you integrate them with your payment gateways and a WooCommerce theme.
💵 Installing and using this plugin is free. It can be downloaded for free.
Key Features:
Provide critical metrics such as downloads data in your dashboard
Provide settings for digital products and mark these products as downloadable
Provide several different payment gateways for your WordPress website
Provide user restrictions for your downloadable files so specific groups can access the files
Provide functions both for download manager and e-commerce store
Downloadable Files Management System Plugin
Lana Downloads Manager is a free and easy-to-use plugin. Local files can be uploaded via WP uploads, and remote files can be accessed via FTP. You should use this plugin if you want an application that is lightweight and works well.
A counter and a log system are part of its basic functionality. Both of these tools are great for keeping track of downloads and files on your computer. When you begin exceeding your server limits, it also comes in handy for measuring file sizes.
You can start using the plugin the moment you install it on your WordPress site. When you install it, you will be prompted to upload digital content from your admin. You can choose from the long list of supported files, from audio clips to videos and images.
It's easy to organize the files after you upload them. If you want users to download the files, you can name them and tell them if they can. Lana Downloads Manager automatically assigns a URL and shortcode to every file uploaded to the plugin.
This shortcode can be inserted into any page or post you like, or you can share a link directly with customers. Every single file is accompanied by a download counter to let you know how popular it is.
💵 There's no cost!
Key Features:
Provide shortcodes for placing the download button for your files wherever you prefer on your site
Provide a download count next to all files
Organizing files into a specific section in the admin panel
Ability to name and categorize all files so users can search them easily
Provide a log system for checking uploads and downloads
Ability to manage and upload files locally or from remote devices
Random Reviews:
This plugin is perfect! I really appreciate you! I hope it will be maintained in the future.

Thanks for providing this plugin. It is exactly what I was looking for–simple and efficient. Furthermore, the support is excellent. I had an issue (my fault) after moving from preproduction to production, and the support was both timely and helpful. Thanks for offering this plugin.
Google Drive plugin for WordPress
Use-your-Drive may not seem like a WordPress download manager from its name, but that's precisely what it does. Moreover, the plugin brings a unique capability to the table, sometimes found in other plugins but is not yet perfected.
Let's say your business is to sell software. Throughout the course of the development of your product, your team shares pictures, documents, and even audio files. With the Use-your-Drive plugin, team members will be directed to the WordPress site rather than a third-party tool.
Using the Use-your-Drive plugin, your WordPress website is linked to your Google Drive account. With this link, you can upload various kinds of files to Google Drive, which you can then display on your site or make available as download buttons.
Users can access and edit any files assigned to them by the administrator. You also benefit from managing and uploading these files via your Google Drive account.
Uploads are made through Google Drive or WordPress. Using the powerful search tool, the user can quickly locate the correct folders while previewing documents and images online. A unique photo gallery can be presented, or thumbnail images are displayed for all folders.
💵 You can purchase this fully documented plugin for a $11.63.
Key Features:
Provide vital tools for streaming online contents
Provide history logs and useful graphs used for checking downloads
Ability to share specific folders with only particular groups
Providing an organized admin panel for connecting to Google Drive
Provide share links for your files in a safe manner, and you can share them with specific groups
Random Reviews:
The User-your-Drive plugin is a great plugin for user uploads, sync with GDrive, customizations, quality, and, above all, support. The developer has been extremely responsive and even provided me with pointers and configuration help to customize to my needs. I'd highly recommend this plugin and the author to anyone.
Group File Access For WordPress

Groups File Access WordPress plugin can apply for users who are authorized to download files can use the. Users with restricted group members have access to all other files.
While most of the other WordPress download manager options on this list offer this functionality, this one focuses more on protecting the files on your website and restricting who can access specific content.
If the security of your WordPress website is your top priority, we recommend Groups File Access over alternatives.
When your WordPress site has this plugin installed, it becomes a platform for creating exclusive groups to share files and connect only with the people you choose.
Among the supported types of content are video, documents, and images with restriction settings available in each kind. As a bonus, the plugin has embedded protected streaming, so your content cannot be stolen.
In light of the fact that you may need to share files between multiple WordPress sites, multisite support is noteworthy. It's also lovely that the Groups File Access plugin provides a file management area for relocating folders, deleting some, and adding more.
The imports continue to be conducted through FTP, but bulk imports are now possible.
💵 You can purchase this well-documented plugin for $29.00.
Key Features:
Providing automatic flexible shortcodes to create a frontend download area
Ability to send automated notifications for authorized users who have access to download files
Improve WordPress file security by including file access restrictions
Provide restricted access for authorized user groups to download files
Ability to set a limit number for downloads per user
Turbocharged File Management For WordPress
WP File Download is only available as a premium extension, but it is essential to know that this plugin is constantly updated every month. Plugins with solid developer support are hard to find.
You might want to take a look at this one instead. You can also choose from a variety of languages.
Premium users of this plugin receive six months of premium support and the option of upgrading every six months. If you'd like to use more add-ons and site licenses, you'll also find a few other pricing plans.
You can choose from four themes included with the plugin, which give you more creative control over how the system looks.
With a clean interface, drag and drop functionality, beautiful thumbnails, and a powerful file manager that is intuitive yet powerful, this file manager is powerful yet simple to use.
You can restrict who can download files and change them if you wish, which you can even see on your website. Most download managers do not support Gutenberg either, which might surprise you.
In other words, it doesn't necessarily mean they will destroy Gutenberg, but rather that they don't have any drag and drop tools integrated with Gutenberg. But the WP File Download plugin has the capability.
This plugin includes two dedicated frontend blocks which allow the loading of WordPress files. Besides integrating with popular file storage services like Google Drive and Dropbox, it is also nice to know that the plugin is open source.
💵 Support from this plugin support team helps you accomplish your dream job, and you can get 12 months of support with just the plugin purchase. It costs $29.00.
Key Features:
Provide a single master file, made available in multiple categories
Files are automatically updated (or replaced) once they are updated (or replaced)
The option to download several files at once, depending on a user's preference
An ability to include title, description, and URL of remote files and make them available for downloadAbility to create a file repository per user or group
Toward a conclusion
We reviewed the best WordPress download manager plugins in this article. Choose the right plugin, and then enhance your site in a proper manner.
📌 Note: We strongly suggest checking our list of expertly selected modern WordPress hosting providers to enhance your website's performance. You may also wish to consult our list of modern WordPress security plugins to enhance your website's security.
Thank you for reading this collection of the best Download manager WordPress plugins. I hope you have found a fabulous new theme for your website.
In addition, if you enjoyed this post, please leave a comment. Do you wish to support us? Share this post.