Are you looking for the best inventory management plugin for your WooCommerce store? 
Keeping track of your inventory isn't always easy, especially when you're running a busy online store. You can, however, let the plugin handle the heavy lifting for you so that your customers always have the products they need.
Here we are going to take a look at some of the top WordPress plugins for WooCommerce inventory management and see which one is going to work best for a business just like yours. Plus these plugins are compatible with the best WordPress themes.
In fact, WooCommerce powers 28% of all online stores. It's powerful, versatile, and highly customizable, so businesses of all sizes can benefit from it. But with great power comes great responsibility, and managing your store's inventory is one of the most important tasks you must undertake.
As a result, there is no shortage of plugins that can help you manage your inventory more efficiently while ensuring that you are easily able to find what your customers require in the future as well.
Here are some of the best inventory management plugins for WooCommerce that you can choose from. The following article will discuss a few of them to provide you with tips and advice on how to find the best plugin for your WooCommerce store so that you can maximize the investment you make. 
Consequently, let's get started and find out what plugin is best for your WooCommerce store to maximize your investment!
📌 Note: If you would like to improve your store's appearance and functionality, we suggest you use a modern WooCommerce theme that has features you need as well as a beautiful design. You may also wish to check out our article on the advanced WooCommerce plugins for additional information about advanced plugins for your store.
WooCommerce Inventory Synchronized With External Inventory

Stock Synchronization for WooCommerce plugin lets you synchronize WooCommerce inventory levels with CSV files. It can also be used to manually update stocks.
A product inventory plugin that imports inventory information and prices from multiple vendors, tests new fees, adjusts existing fees, and can combine with other vendors' plugins.
As an added feature of the application, data updates are carried out hourly, every day, twice a day, throughout the year.
Furthermore, it can back up files via FTP as well as Dropbox. Like WPML, this plugin can also be used with Google Drive and Spreadsheets so that it can be used in the same manner.
External file handliStock Synchronization for WooCommerce offers several options for selecting the correct delimiters to sync and manage large CSV files efficiently.
The delimiters include tab characters, semicolons, and commas, among others.ng simplifies the optimization of your website from a speed perspective.
Key Features:
Showcase synced products on the report page
Products are supported on a limitless basis
Easily edit stock quantities on the report
A notification email will be sent to you
Real-time synchronization of changes in stock quantities
Processes carried out in the background
A total of two to five quantity fields can be added
Using smart logging to track your business activities
WooCommerce's Most Powerful Stock Management Solution
Users of WooCommerce can now manage their inventory on their website in a streamlined manner with the help of ATUM Inventory Management.
Using this plugin, you can efficiently and effectively manage your shop's inventory while maintaining complete confidentiality at the same time. With a visual representation of your store's inventory status on a dashboard, it allows you to view a variety of statistics related to the stock level in.
It is necessary to customize the widgets in plugin dashboards in order to communicate directly with your users. As a plugin creator, you can create a dashboard that provides documentation on your plugins, links to the plugin's support section, and statistics about your business to communicate directly with your users.
A touchpad or mouse wheel can control all WooCommerce products thanks to ATUM support. The overview displays product IDs and SKUs so users can quickly identify WooCommerce inventory.
There is an option on the main stock page to add purchase prices to products, and you can filter the product lists and supplier columns by the name of the supplier in the list. It is possible to edit the sale price of each product, including the sale date range, but bulk editing cannot be done.
With ATUM, you can manage your WooCommerce stock at the product level and your stock control center in bulk, making managing your supplies more efficient. Furthermore, you can export purchase orders as PDF files to facilitate the management of bulk quantities of inventory.
Key Features:
Decimal quantities are possible in eCommerce stores
Search and filter by supplier name for advanced results
Materials and parts can be set up in the Bill of Materials
A PDF export option for purchase orders
Covering promo sales and lost sales with widgets
Changing SKUs on the fly without editing product data
Keep your filter settings after reloading
Each product has multiple storage locations
an Advanced Inventory Management Feature for WooCommerce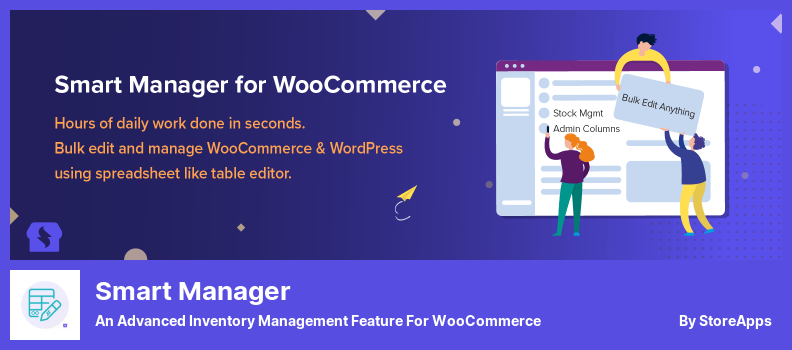 Thanks to its one-screen user interface, Smart Manager makes managing your WooCommerce inventory easy and convenient. Create dashboards, and manage products, coupons, blogs, and orders from one convenient location.
It allows you to choose an existing dashboard, customize it without leaving your spreadsheet, and view detailed inventory information that belongs to your business – all thanks to the WooCommerce inventory reports plugin.
You can edit records directly from the grid, update inventory images, edit coupon expiration dates, change the order information, and modify coupons in real-time. By installing this plugin, you can do all of these activities at the same time without saving your modifications.
You will be notified in real-time whether your changes have been saved by the WooCommerce inventory management plugin through live previews and intelligent notifications.
It is a plugin with many uses, from adding coupons, orders, and new products in real-time, to navigating organically by infinite scrolling – everything can be done with the plugin.
It is possible to modify all the post-type fields by using Smart Manager. This includes the price or category fields, managing tax classes, modifying tax statuses, changing product descriptions, or changing product SKUs.
Upon clicking on the button to display variations of variable products, you will be able to modify the product variation. The Smart Manager Dashboard can now edit post types through columns, dates, and search filters. Users can also delete or move posts, coupons, orders, and products to the trash.
Key Features:
Dropdown menus let users jump to specific posts
Workflow optimization with personal dashboards
Premium features such as bulk editing
Customer status updates via email
Orders are updated with transactional notes
Search features with advanced functionality
Scrolling infinitely on one screen
Support for the modification of coupons and orders
Getting a real-time preview of your customization
an Easy Point-of-sale Interface for WooCommerce Stores
WooCommerce POS lets users take orders at points of sale for WooCommerce products. You can also access your data from anywhere thanks to a powerful cloud database.
As the premium version of the app has a great number of additional features as compared to the free version, you might not be able to make full use of all of the features that are available within the premium version since the free version does not have as many as the premium version does.
With this WooCommerce inventory API plugin, you can count your physical inventory with an attached QR code scanner. The scanner updates your stock details directly to WooCommerce.
Consequently, WooCommerce POS makes it easy to track lots of products and services, manage attributes, and export and import all your data anytime you like.
You can transfer inventory from one online store to another through this WooCommerce inventory management plugin at any time to keep track of stock levels on multiple sites.
Its ability to unify inventory look-up across your selling channels allows you to quickly transfer stock between stores, warehouses, and more in a single step.
There's a barcode designer built right into the WooCommerce Point of Sale application that lets you create and print barcodes that work with practically all modern barcode systems. Also, you can print personalized mailing labels.
The purpose of this plugin is to enable you to create WooCommerce inventory counts that can be used as reference files by taking snapshots of your inventory files for specific locations and using those snapshots for reference analysis.
With WooCommerce POS, you can choose between spot counts, selective counts, and complete counts, so you can choose the type of count that will work best for you.
Key Features:
Points management in

loyalty programs
Frontend manager
Management of stock and inventory
A feature for advanced search is available
A management system for purchase orders
WordPress Website Management for Managing Products
You can manage your site's product inventory effortlessly with the WP Inventory Manager plugin, which is available in both a free and paid version.
You can import and export ledger reserve carts, manage inventory, and bulk items, search for items, control your users, and receive notifications when quantities are low in the premium version.
Using WooCommerce bulk stock management, you will be able to keep track of your bulk stock inventory, make bulk edits and see how much stock you have. The premium license offers several advantages, but the most important of these is the custom add-ons that can be added.
With WP Inventory Manager's advanced search, you can browse your inventory fast and easily. You can even create search filters so users can choose the attributes they care about.
Inventory can be managed for your warehouses and shops in WordPress Inventory Manager with the Location Manager feature. In this feature, you can pick a priority list of warehouses where you reserve inventory. Another warehouse location could have different product quantities, for instance.
A difference between the WordPress Inventory Manager and most WordPress themes is that it offers you the flexibility of creating different types of products for your site, specifying item attributes as per your preferences, and even customizing the way the categories are displayed that way if you find it necessary.
In WordPress Inventory, you can bulk update inventory items at once, allowing you to update a large number of things simultaneously.
Users can search for items using any field, change areas for each item at any time, import and export lists from external CSV files, and add or remove any field they want.
Key Features:
Adding bulk items to the database
An advanced search feature is available
Labels that can be fully customized
Templating system for easier customization
Multiple-category support is available
Access the database more easily with separate tables
Place your order in the cart
Enhanced user control through advanced features
an Effective Plugin for Managing Stocks in WooCommerce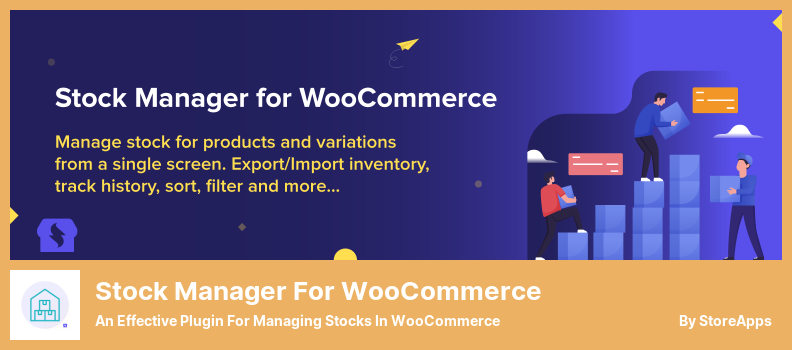 There are several free and free-of-charge WooCommerce plugins available for managing quantities, product variables, as well as stock levels all from one place. StoreApps is the developer and manufacturer of the free plugin, which also has a premium version with additional features.
This WooCommerce Stock Manager makes managing products and inventory quick and easy, with a familiar interface.
As a result of using it, you will able to see all of your product information in one place and can customize each product and variation based on the specific parameters it has.
There are a variety of variations based on the stocks that are currently available as well as the weight of the product. You can also view the items that are both in and out of stock.
With WooCommerce Stock Manager, it is possible to filter products using several criteria, which include stock status, stock management category, and product type – all of which can be adjusted for different scenarios.
You can sort the products based on their SKUs and names as well as import and export everything from your shop's inventory as a CSV file for further editing besides sorting them by SKU and name.
Key Features:
CSV export support

for stock data

A product name-based sorting and ID-based filter
An easy and quick retail point-of-sale system
Data can be imported and exported from a store
Setting how many products per page to display
Checking the historical stock status of a product
Manage product and order information efficiently and effectively
Easily Assign Low Stock Warnings to All Your Products/categories
WooCommerce Out of Stock Manager (WCOSM) is an out-of-stock management plugin for WooCommerce. Besides sending you an email notification when the stock levels in your categories and product sets are low, it also sends your customers a notification when the stock levels in your categories and product sets are low.
In the custom value configurator, threshold rules can be set for categories, products, and variations. Low warning values are assigned according to the thresholds. A default warning value can also be set up if a product does not meet these custom value rules.
The WCOSM plugin allows you to create, edit, and publish your products automatically. This saves you time and increases your productivity. Widgets embedded directly within your WordPress dashboard allow you to customize how your products are managed.
You can edit the text that appears on product pages, including the text under Custom Stock Level names and above them because WooCommerce inventory management plugins include several features that let you do that.
WCOSM's email notification system lets you know when various parameters on your website are met. For example, you'll get a notification when a particular stock level is reached in your store.
Administrators will automatically receive email notifications as it is the default configuration for the system. You can however add additional recipients at any time if more recipients are needed.
If you would like to translate WCOSM with WPML, you simply need to choose a language from the plugin's language selector and then translate each text within WCOSM after choosing a language.
Key Features:
Sorting and filtering of products based on their names and IDs
Notifications via email when stock levels are low
For stock data export, CSV files are supported
Lots of Widgets on the Dashboard
For stock information, you can customize the text on each page
an End-to-end Solution for Multichannel Sellers Plugin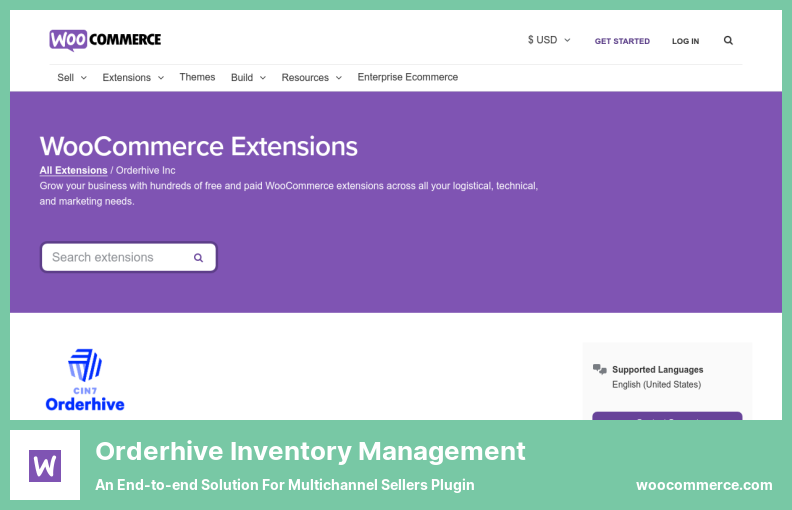 There are many systems you can use to manage your inventory but Orderhive is one of them. It is designed to provide an end-to-end solution for multichannel sellers who don't want to switch platforms. By using Orderhive it's possible to manage multiple channels with a single interface.
There is no need to switch between different applications when you can integrate multiple Ecwid channels with Orderhive from one platform, and track orders, cancel orders, confirm shipments, and cancel orders all from one platform, without you having to switch between different programs.
Multiple warehouses can be managed easily using it because it allows for flexible stock policies, stock transfers, and the integration of your accounting software. Orders can be tracked by order numbers and receive real-time updates regarding their status.
Using this plugin, you will be able to control your inventory virtually from anywhere in the world and monitor your product quality at any time, as the service is SaaS-based, so the user will be able to be sure that the information is accurate as they add more data.
Regarding inventory management tools, Orderhive allows you to scan all your bar codes, enabling you to carry out all your inventory activities. To make your business successful and happy, you should install this plugin.
Key Features:
A barcode system is used to identify products
Mapping multichannel distribution networks
A bundle of products can be configured
Tracking inventory in real-time with real-time analytics
Inventory and Order Management Plugin for WooCommerce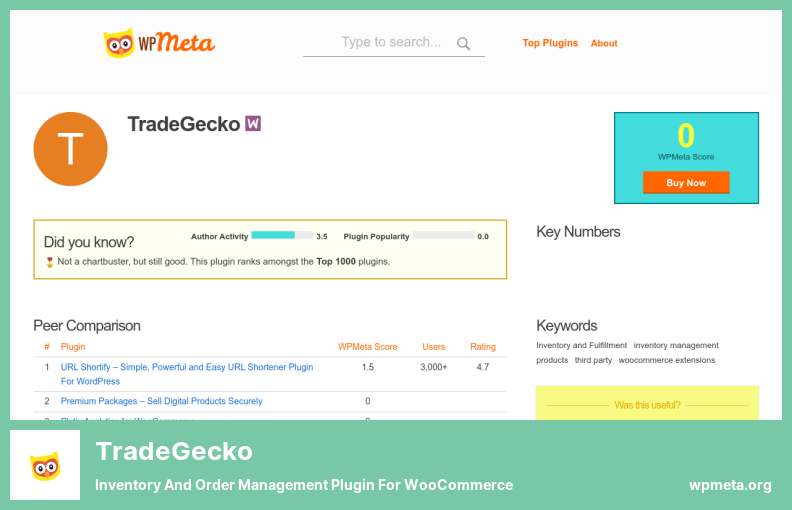 TradeGecko is one of WooCommerce's most popular inventory and order management tools and one of the most popular platforms for building multi-channel stores on the web.
Combined with WooCommerce, it will allow users to integrate seamlessly their creativity and passion with their business operations in order to balance both.
With TradeGecko, you have complete control over your stock levels – TradeGecko does not just make adjustments when new stock is received but also provides you with real-time monitoring of your supply.
TradeGecko will send you an email whenever a new order is placed for any item in your store. There should be no time limits on orders or products for managing your store with TradeGecko.
You can print invoices and monitor inventory levels remotely using the iPhone, iPad, and Apple Watch apps providing you with access from anywhere, anytime, and on any device.
With TradeGecko, you'll be able to start your own wholesale business with all the tools you'll need to be successful including the ability to develop your wholesale prices.However complex the software's back end is, it still manages to stay really simple to use.
With this software, you'll be more reliable and stable because it reduces human error. Having WooCommerce on your website means your business stays focused.
With two or more WooCommerce stores, you will be able to sell products through more than one channel at the same time. If you have a few WooCommerce stores, you will be able to distribute inventory between them having one integrated store.
Key Features:
Multi-location service
Optimizing the inventory management process
Controlling the inventory of goods in the warehouse
Integrating with the accounting system
A world-class support service at your fingertips
Last Words
Here are the top WooCommerce inventory management plugins so you can find out what makes your e-commerce store run more smoothly, like managing stock levels, staying on top of sales, and updating customers in real-time.
In the BetterStudio blog, we aim to compile article collections covering a broad range of topics, ranging from SEO to web design, so we hope that there will be something for everyone to find interesting within the articles we publish, so please check back often.
For staying up-to-date with all BetterStudio tutorials and news, please follow us on Facebook and Twitter. We're always happy to provide valuable resources and tips to help you improve your site and succeed with your business online.
I hope that you have found this article useful and informative. If you should have any questions regarding the information in this article, or if you would like to speak directly with me, please do not hesitate to contact me. It is likely someone who can answer your questions. I provide my sincere gratitude for reading this article.!