Is there a good WordPress plugin for a WooCommerce Customer and Order Export?
This article aims to give you a few tips and tricks on choosing the best WooCommerce Customer and Order Export plugin for your WordPress site. All the best WordPress plugins listed here are comprehensive, easy to use, and work with all of the top WordPress themes available for WordPress.
All the plugins listed below are for the WooCommerce Customer and Order Export plugins. However, these WordPress plugins also included plugins for exporting WooCommerce orders, exporting WooCommerce customers to CSVs or XMLs, importing WooCommerce orders from CSV files, or exporting WooCommerce coupons.
📌 Note: You might benefit from reading our article about advanced plugins for WooCommerce and powerful WooCommerce themes to find out how to select a theme that will both enhance the appearance and functionality of your WooCommerce store.
Check out 2022's best WordPress plugins for WooCommerce Customers and Order Exports:
Export Customers, Orders, & Coupons from WooCommerce Manually
The WooCommerce Customer / Order / Coupon Export plugin is an excellent option for those who plan to export WooCommerce orders regularly and create several automated exports. Data can then be exported via HTTP POST to email or via FTP.
Using the export feature, you can export orders, customers, coupons, and custom fields that you have constructed in your store.
The Export Orders feature allows you to export orders that exclude refunds and specify particular order statuses. Also, you can specify the start and end dates for the export.
As an added convenience, the plugin provides the ability to automate data migration over FTP, HTTP POST, or by email.
Furthermore, this WooCommerce customer and order export plugin do not only provide the option of exporting orders. This WooCommerce coupon exporter can also be used to export your client list, coupon codes, and any other information stored within your system.
💵 Get free updates when you purchase this plugin for $79.
Key Features:
Manually FTP, Email, or HTTP POST export
Export records automatically & scheduled exports
Manage bulk exports based on different parameters
You don't have to interrupt your work to export
Asynchronous exports allow you to work on other things simultaneously
Automate a recurring export schedule
Ensure the right formatting of the files
#1 Plugin to Import & Export WordPress Users & WooCommerce Customers
With the WordPress User Import Export plugin, you can easily import and export user information about your WordPress site, saving you time and effort when entering such information manually.
As well as the migration of users to your WordPress website, it also allows you to migrate your customers to your WooCommerce website if you have one.
Using the WordPress User Import Export plugin, you can export WooCommerce customers to CSV or XML users for both WordPress and WooCommerce.
It is possible to export and import WooCommerce orders from CSV files and batch import users and customers. Passwords are preserved during migration due to the functionality provided by the CSV file import and export feature.
During the migration process, the migration process can be automated based on roles and email addresses or even on a date range for users. Field mapping and transformation can also be performed during the migration process.
💵 You can choose between a Pro version for $69 or a Free version.
Key Features:
Export specific users based on their usernames or email
Make bulk changes when importing customers
Bulk Update Existing Users
Import/Export of Custom Meta Data
Existing/Custom Password Migration
Export WooCommerce guests
Scheduled Import/Export using multiple FTP/URL
Random Reviews:
Keep up the great work, guys.

I did not want to have to reset passwords for all users after working for a couple of months on a new site. This allowed me to move everyone quickly and easily.

Exporting users is made very easy with this plugin.
Hassle-free Import Export of Orders, Coupons, & Subscriptions Data
Order, Coupon, Subscription Export Import for WooCommerce plugin allows you to export your order subscriptions and coupons to CSV or XML files to simplify the checkout process with WooCommerce.
With its bulk ordering capability, it allows the bulk updating of orders, as well as merged orders, at the same time, which makes it one of the easiest tools to use.
It is also possible to create templates for exporting orders, in the same way each time, including any additional information relevant to the order, such as images, categories, custom metadata, etc.
Moreover, the tool is equipped with a debugging log to assist with identifying and resolving any issues that may arise during the use of the tool.
Exporting subscription orders and coupons to an FTP server allows you to schedule them for regular delivery. Simply specify the time and interval between sending them.
💵 The $69 plugin includes 12 months of support.
Key Features:
Export orders from Stamps.com, UPS, FedEx, and Endicia
Multiple export options
Debug log & Detailed history
Support different file format
Compatible with third-party WooCommerce plugins
Export and download coupon data in CSV and XML formats
Bulk modification of data using Import rules etc
Export WooCommerce Orders to CSV, Excel, and XML
The WP All Export plugin allows you to export all order information from your site in the form of Excel, CSV, or XML.
The exporter offers a variety of filtering options so that you can find all the data you want at once with just a few clicks.
The plugin offers support for customer information, order items, tax and shipping rates, custom data, and coupons.
An additional benefit is that the plugin features an intuitive drag-and-drop interface that simplifies the entire process, even for those without technical skills. In addition, the plugin can export data automatically based on your preference.
Additionally, it provides many benefits, including the fact that it can be used by beginners as well as experts, allowing them to manipulate data very finely.
Several types of information about a customer may be exported, including payment type, payment status, items purchased, taxes, shipping types, and special offers.
💵 The plugin has all the features you need for $149.
Key Features:
Flexible for developer-level customization
Drag and drop interface available
Provides exports of all WooCommerce orders data
Advanced filtering options to sort out order data
Manipulate date on the go using custom code
Recurring export automates the process
Integrate easily with multiple tools like Zapier, Dropbox
Export large amounts of orders
Easily Export WooCommerce Order Data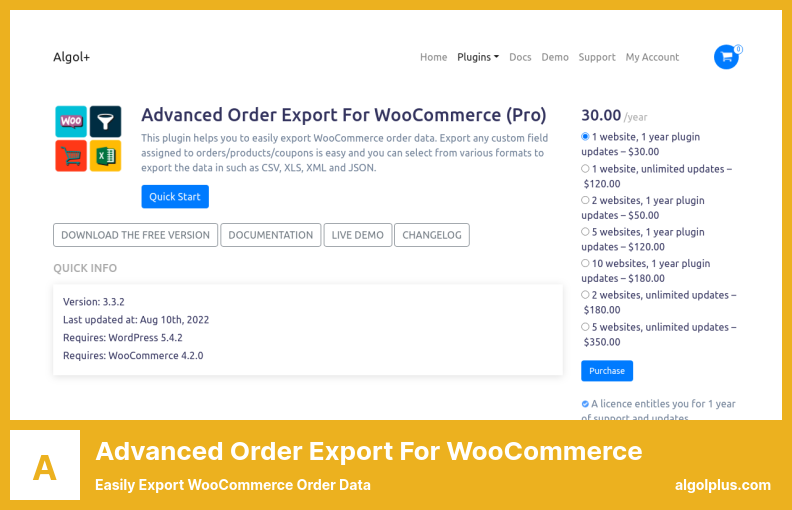 Advanced Order Export For WooCommerce plugin allows you to export orders that are attached to a custom field as CSV, XLS, XML, and JSON files.
By using this plugin, you will be able to export all custom fields assigned to orders in WooCommerce custom fields, terms, etc.
Furthermore, this plugin can rename labels, rearrange columns, and export any custom fields or terms within WooCommerce custom fields or terms.
When you export orders in bulk, you can use powerful filters to filter the output by marking the items you wish to filter.
Using this plugin, you can export orders for drop shipping companies, update your accounting system, analyze your order schedule, etc.
XLS, CSV, TSV, XML, and JSON formats are all available for exporting the data, and they contain information about orders, customer details, product attributes, coupons, etc.
💵 There is a $30 on this plugin that includes updates and support for 12 months.
Key Features:
Export in XLS, CSV, TSV, PDF document, HTML, XML and JSON formats
Send orders to third-party drop shippers by export
Customize exports to include order summary
Capable of exporting custom fields
Easily Rename labels
Apply powerful filters
Export WooCommerce custom fields or terms for products/orders
Easily Export & Import Products, Categories, Customers, Coupons
By installing the WooExim plugin, you can import and export data. This can be used to import and export WooCommerce products, orders, customers, coupons, etc.
As an alternative, a CSV file can be used to manage basic categories, coupons, and custom fields. Data imports and exports are both extremely simple.
Furthermore, when the plugin is activated, it automatically creates scheduled exports of products, customers, and coupons in a matter of seconds.
Aside from that, it allows you to schedule your exports by specifying the intervals at which exports will be done according to your needs.
Additionally, several filter options are available to facilitate the selection and export of products selectively and accurately.
As part of the Wooexim plugin, a CSV file is automatically created for every export based on the export intervals that are specified by you.
💵 With full documentation and 7-24 support, there are no worries whatsoever. You can get this plugin for the price of $39.
Key Features:
Import and Export Preview
Saves all your exported data in one location
Specify intervals for automatic exports
Supports up to 10 languages
You can edit the field name for the export file header
Support custom fields and attributes
All WooCommerce products are supported
Download export archives at any time
WooCommerce Coupon Exporter WordPress Plugin
WooCommerce Simply Orders Export provides a good example of a free WooCommerce order export plugin with many features and great functionality.
Due to the ease of configuration of the plugin, installing and configuring it in your WooCommerce store is a simple process.
The contents of an export file include a number of items, including information such as customer product orders and other information.
The distinguishing feature of this plugin from similar free plugins is the interface's simplicity and ease of use, which sets it apart.
The plugin's settings page also offers extensive options for customizing the plugin, such as which data to export with hook statements and which features to enable.
It is possible to customize WooCommerce stores in a number of ways, allowing store owners to have complete control over their stores.
With this plugin, you can export selected orders as CSV files. You can select which order fields you wish to export.
💵 It is now available for FREE download and installation.
Key Features:
Very simplified and clean UI
Reorder fields available
Exports orders between a certain duration
Item quantities, product names, and variations exported
Set a start and end date for the export process
Customize the plugin capability
Easy to install and setup
Very lightweight code included
Random Reviews:
I have used this simple little plugin for several years to extract weekly order information that I then use to generate labels. Despite its simplicity, it delivers a mighty job that does not require unnecessary over-complication. I find it easy to use, and it saves me hours. Support is also excellent.

My client even purchased this plugin but then deleted it. Now, they are trying to download it again, and this stupid website says you don't have permission to download that.
Finally, let me sum up by saying
We tried to provide you with an overview of the best WordPress WooCommerce Customer and Order Export plugins. Nearly anyone with a website can use these plugins.
📌 Note: We strongly suggest checking our list of expertly selected modern WordPress hosting providers to enhance your website's performance. You may also wish to consult our list of modern WordPress security plugins to enhance your website's security.
Here, we hope you find information to help you summon the best themes for your website.
Let us know if we have missed a better setting in the comments. We would love to add them. If you enjoyed the article, please share it on Facebook and Twitter.