Are you a WordPress website owner in need of an efficient order management system for your WooCommerce shop? Look no further!
In this blog post, we will be discussing the five best WooCommerce order management plugins, both free and pro options, to help streamline your online business and enhance your customer experience.
Now, you might be wondering, "Why do I need a WooCommerce order management plugin?" Well, without a proper system in place, managing and processing orders can become a cumbersome task.
It can lead to mistakes, delays, and unhappy customers. That's where these plugins come in handy. They provide you with tools and features to effectively manage your orders, keep track of inventory, and ensure smooth fulfillment.
In this article, we will explore the top five WooCommerce order management plugins, providing you with all the essential information you need to make an informed decision.
We'll discuss their key features, pricing options, and compatibility with your WordPress website. So, let's dive right in and discover the perfect order management solution for your WooCommerce store!
Best Order Management Plugins for WooCommerce
If you are looking to streamline your WooCommerce order management, look no further! In this article, we'll introduce you to the best order management plugins for WooCommerce, both free and pro versions.
These plugins will not only make your life easier but also improve your customer experience and boost your sales. So, let's dive in and discover the top solutions that can take your online store to the next level!
An Oder Management Plugin for WooCommerce
WooCommerce After The Order is a powerful order management plugin that brings a whole new level of efficiency to your WordPress website. With this plugin, you can say goodbye to errors and hello increase customer satisfaction and sales.
One of the standout features is the ability to include messages in order notifications and on-order dashboards. This means that important information about products or store announcements can be automatically communicated to your customers, ensuring that they have all the necessary details at their fingertips.
But the benefits don't stop there. This plugin also offers a wealth of useful information about your purchases, making it easier for you to manage and track orders.
From specific product notes to store-wide reminders, you'll have all the tools you need to ensure smooth order processing. And speaking of order processing, this plugin allows you to add various levels of notes to keep things running smoothly.
Whether you need to leave a simple reminder or provide detailed instructions, you can easily do so with this plugin. Plus, the plugin sends emails to store managers for review, ensuring that everyone is aware of any important notices.
With WooCommerce After The Order, you'll have peace of mind knowing that your orders are being managed efficiently and accurately. So why wait? Give your WordPress website the order management upgrade it deserves with this powerful plugin.
Key Features:
Dashboard shop and product notes appear when the order is examined
Improves customer service by providing relevant information
Displays store and product notes for easy reference
Allows for order-specific notes or notes for specific products
Reduces errors and increases order fulfillment accuracy
Includes product notes and store information in email notifications
The Best Order, Coupons, and Subscription Import WordPress Plugin
Order Export & Order Import for WooCommerce is a plugin that makes it easy to manage and transfer order data in your WooCommerce shop. With its detailed documentation, installation, and setup are a breeze. You can also use this plugin to handle subscriptions and manage plugin settings.
One of the key features of this plugin is its ability to migrate your existing shop from another eCommerce platform to WooCommerce. This means you can seamlessly transfer all your order data without any hassle. Additionally, you can also move coupon data between different WooCommerce plugins.
Exporting order details is a breeze with this plugin, as it supports both CSV and XML formats. You can easily integrate it into your online ordering system, thanks to its compatibility with several carrier formats. The user interface is smooth and Ajax-enabled, providing a seamless experience for managing your orders.
Customizability is another standout feature of this plugin. You can customize export and import filters according to your specific needs. Plus, it is compatible with popular WooCommerce plugins, expanding its functionality even further.
For those using the YITH WooCommerce Order Tracking plugin, you'll be happy to know that this plugin is fully compatible with it. This means you can easily track and manage your orders without any compatibility issues.
Key Features:
Schedule imports and exports via cron jobs
Customizable export and import filters
Compatible with popular plugins, including subscriptions
Supports both CSV and XML file formats
Smooth and Ajax-enabled user interface
Merge or update additional information to orders
Easily Export WooCommerce Order Data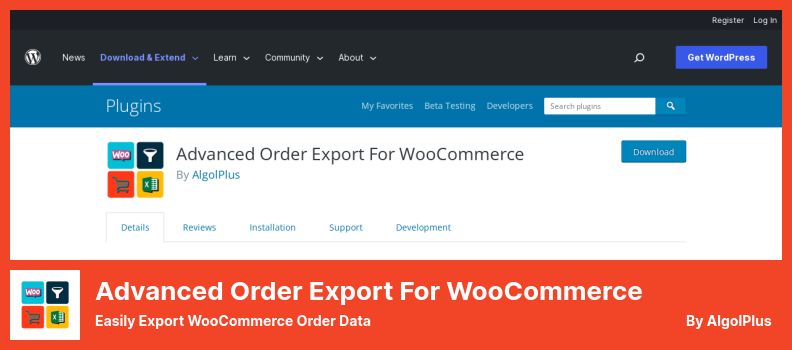 Advanced Order Export For WooCommerce is a highly sought-after plugin that revolutionizes the process of exporting WooCommerce orders. With this plugin, you can seamlessly export not only the orders themselves but also any custom fields associated with them.
It has gained immense popularity in the WordPress repository for its functionality and ease of use. The bulk order export feature of this plugin ensures that you can export multiple orders effortlessly, without encountering any hassles along the way.
The plugin streamlines the entire process, making it smooth and efficient. No longer will you have to spend hours manually exporting individual orders – with this plugin, it's done in a breeze.
One of the standout features of this plugin is the ability to rename labels and rearrange columns in your exported reports. This gives you full control over how your data is presented, allowing you to customize it to meet your specific needs.
You can easily modify the labels to match your branding or rearrange the columns to prioritize the information that matters most to you. When exporting your data, you have the option to select which sections you want to include in the report.
This level of flexibility ensures that you only export the information that is relevant to you, streamlining your data management process. Whether you need to export in CSV, XLS, XML, or JSON format, this plugin has got you covered.
In addition to exporting orders and custom fields, this plugin also supports the export of terms and conditions from a WooCommerce order. This means that you can ensure that all the necessary legal information is included in your export, providing your customers with a comprehensive view of their orders.
With its extensive range of features and user-friendly interface, Advanced Order Export For WooCommerce is the go-to plugin for efficient and customizable order exports.
It simplifies the process, saves you time, and empowers you with full control over your export options. Say goodbye to manual exporting and embrace the convenience and efficiency offered by this exceptional plugin.
Key Features:
Easy label renaming
Customizable order summary exports
Convenient column reordering
Powerful filters for selective data export
Wide range of file format support
Export of custom fields
Create, Edit, & Delete Completely Custom Order Statuses
WooCommerce Order Status Manager allows you to add custom order statuses to your WooCommerce store, improving transparency and customer satisfaction in the order management process. You can easily create new order statuses and edit existing ones to suit your specific needs.
One of the key features of this plugin is the drag-and-drop reordering of order statuses. This allows you to prioritize and organize your order statuses in a way that makes sense for your business. Additionally, the inclusion of custom statuses in shop reports provides valuable insights and analytics.
With this plugin, you can also create new order statuses and customize their icons. This helps to visually distinguish different types of orders and makes it easier for you and your customers to identify the status of each order.
Another useful feature is the ability to send new order emails based on custom order statuses. This allows you to tailor the communication with your customers based on the specific status of their order, keeping them well-informed throughout the process.
The plugin also enables you to change WooCommerce's default order statuses, giving you more flexibility and control over your order management system. You can easily update order statuses in bulk through bulk actions and order actions, saving you time and effort.
For your clients' convenience, you can provide custom order status descriptions. This helps them understand the meaning behind each status, reducing confusion and improving their overall experience.
Lastly, the WooCommerce Order Status Manager allows for the safe deletion of custom statuses without impacting the related orders. This ensures that you can make changes to your order statuses without any negative consequences.
Manage Your Order Statuses in An Advanced Way
YITH WooCommerce Custom Order Status is a powerful plugin that enhances your WooCommerce order management capabilities. With this plugin, you can improve the order page and provide additional information to make the process more intuitive for your customers.
It also allows you to override WooCommerce's default order statuses and customize them according to your needs. One of the key benefits is that it enables you to incorporate bulk actions and order actions into your fulfillment process effortlessly.
This means that you can perform multiple actions on orders simultaneously without any difficulties. The plugin also provides labels and icons that help you identify the different order statuses as they progress.
This enhances the responsiveness and customer-friendliness of your WooCommerce store, allowing you to provide a seamless shopping experience for your customers.
With the plugin, you have a wide range of options and features to manage your orders effectively. You can create unlimited custom order statuses, customize emails for each status, and even set up email notifications to receive alerts when order statuses change.
In addition to these features, the plugin is WPML compatible, making it easy to translate your custom order statuses for international customers. It also offers multi-site licenses, allowing you to use the plugin on multiple websites without any additional cost.
Key Features:
Creates unlimited custom order statuses
Labels and icons for easy identification of order statuses
WPML is compatible with international customers
Bulk actions and order actions for efficient fulfillment
Customizable emails for each order status
Email notifications for changes in order statuses
Frequently Asked Questions
What are WooCommerce order management plugins?
WooCommerce order management plugins are tools that help streamline and simplify the process of managing and organizing orders on your WooCommerce-powered online store.
These plugins provide features like order tracking, inventory management, order status updates, and more, allowing you to efficiently handle and fulfill customer orders.
Why should I use WooCommerce order management plugins?
Using WooCommerce order management plugins can greatly enhance the efficiency and effectiveness of your online store's order management process.
These plugins offer a range of features and functionalities that can save you time, reduce errors, and improve customer satisfaction.

With these tools, you can easily track and manage orders, update order statuses, handle inventory, and streamline your fulfillment process, ultimately leading to a smoother and more successful online business.
What are the advantages of using pro WooCommerce order management plugins?
Pro WooCommerce order management plugins typically offer more advanced features, customization options, and integrations compared to their free counterparts.

These plugins are often developed and supported by dedicated teams, ensuring regular updates, bug fixes, and ongoing support. Additionally, pro plugins may provide priority customer support, extensive reporting and analytics, and advanced inventory management capabilities.

They are an excellent choice for businesses looking to scale, optimize their order management workflow, and offer a superior customer experience.
Conclusion
To recap, in this article, we discussed the five best WooCommerce order management plugins, both free and pro. We looked at their features, benefits, and how they can help streamline your online store's order management process.
If you found this article helpful and want to learn more about WordPress and WooCommerce, we highly recommend checking out the BetterStudio blog. They have a wealth of tutorials and resources that can help you optimize your website and improve your online business.
Don't forget to follow BetterStudio on Facebook and Twitter to stay updated with the latest tutorials, tips, and tricks. They regularly share valuable insights and news that can benefit your WordPress website.
Thank you for taking the time to read this article. If you have any questions or are facing any problems related to the information discussed in this article, please feel free to leave a comment below. We're here to help and would love to assist you in any way we can.