Are you a WordPress website owner looking for the best WooCommerce wholesale pricing plugins? Are you overwhelmed by the number of options available and unsure which ones are worth your time and money?
Well, you've come to the right place! In this blog post, we will explore the six best WooCommerce wholesale pricing plugins, both free and pro, to help you make an informed decision.
The ability to offer wholesale prices on your products can be a huge boon to your business in eCommerce. The right wholesale pricing plugin can help you get new customers, boost sales volume, and even build long-term relationships with wholesalers. But finding it can be hard.
That's where we come in. In this article, we have done the research for you and narrowed down the options to the top six wholesale pricing plugins for WooCommerce.
We will discuss their features, pricing, and user reviews to give you a comprehensive understanding of each plugin. So, without further ado, let's dive into the world of WooCommerce wholesale pricing plugins and find the perfect one for your business.
Best Wholesale Pricing Plugins for WooCommerce
This article lists the top six WooCommerce wholesale pricing plugins you can use to manage your wholesale pricing. They're both free and pro so you can get more sales with your eCommerce store. Find out which plugin is the right fit for your business by reading about it.
WooCommerce Wholesale Prices u0026 B2B Plugin
WooCommerce Wholesale Prices is a WordPress plugin that allows you to easily set wholesale prices for your products. It provides you with the flexibility to apply wholesale prices to both simple and variable products, globally. You can even set minimum quantities that wholesale customers must purchase.
One great feature of this plugin is that it displays the amount that wholesale customers will save after making a purchase. This can be a great way to motivate customers to buy more and increase your revenue.
Additionally, you have the option to disable WooCommerce coupons entirely for wholesale customers. This can prevent any conflicts or confusion that may arise when customers try to use coupons meant for retail customers.
Setting up the wholesale pricing model with this plugin is a breeze, and you don't need any programming knowledge to get started. It's a user-friendly solution that allows you to easily customize the wholesale role name as well as the wholesale price.
If you want to show both retail and wholesale prices to your customers, this plugin has got you covered. You can choose to display both prices depending on whether your customers are general customers or wholesale buyers.
In terms of features, this plugin integrates seamlessly with WPML for easy translation. It also provides you with three currency exchange tools to cater to international customers. Moreover, it is compatible with various themes, ensuring a good match with your chosen design.
The final feature is that WooCommerce also provides the option to export and import CSV files, which makes it easier to manage your wholesale prices and inventory management when using WooCommerce.
Key Features:
Global application of wholesale prices to simple and variable products
Setting minimum quantities for wholesale customers
Displaying the amount customers will save after making a purchase
Disabling WooCommerce coupons for wholesale customers
Customizing the wholesale role name and price
Showing both retail and wholesale prices to different customer types
Add Extra Smart WooCommerce Coupons Features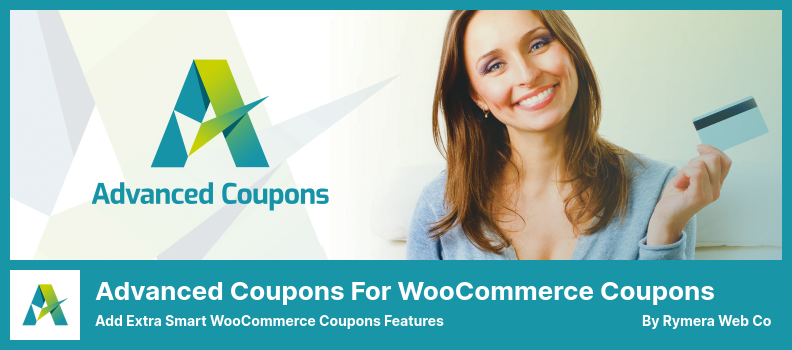 Advanced Coupons for WooCommerce Coupons is a powerful plugin that offers a range of features to enhance your WooCommerce store's coupon functionality. With this plugin, you can easily create and manage various types of coupons to attract new customers and boost sales.
One of the key features of this plugin is the ability to create buy-one-get-one offers, special discounts for wholesale purchasers, customer loyalty programs, and coupons specifically for wholesale purchasers. This allows you to tailor your offers to different customer segments and incentivize repeat purchases.
Another great feature is the ability to provide custom URLs to your wholesale customers, which serve as discount coupons. When these URLs are used, the prices on your website will be automatically discounted, making it easy for wholesale customers to access their exclusive pricing.
With the plugin, you can also modify WooCommerce coupons to make them more effective in marketing your store. By limiting the use of coupon codes in checkout conditions, you can ensure that your coupons are used strategically and save you money.
The plugin also offers a convenient way to display WooCommerce coupons during the order preview pop-up, making it more likely that customers will take advantage of the discounts available to them.
Keeping track of all your coupons is made easy with this plugin, as it provides a centralized location where you can manage and organize all your WooCommerce coupons. This eliminates the need to search through different settings and pages to find specific coupons, saving you time and effort.
Additionally, the plugin allows you to restrict coupons in WordPress based on user roles. This means that you can control who can access and use certain coupons, ensuring that your offers are targeted to the right audience.
Key Features:
Limit coupon code usage to save money
Display WooCommerce coupons during the order preview pop-up
Add live links to easily apply WooCommerce coupons
Centralized management of all your WooCommerce coupons
Restrict coupons in WordPress based on user roles
a Popular WooCommerce Extension to Create Bulk Discounts
In addition to being a well-known WooCommerce plugin, Dynamic Pricing also allows you to adjust prices, percentages, fixed prices, and other features for your wholesale website, among other things.
With this plugin, you can easily add products, wholesale ordering forms, and register for WooCommerce extensions. Additionally, you can offer discounts to members of your store, such as wholesale retailers.
One of the great features of the plugin is the ability to offer various types of discounts based on bulk purchases and regular purchases. This means you can provide your wholesale retailers with special pricing options that encourage them to make larger orders.
The plugin also offers the flexibility to create multiple pricing options based on criteria such as products, categories, and roles. This means you can customize discounts and promotions for specific products or groups of products.
One of the key advantages of Dynamic Pricing is its user-friendly interface and extensive documentation package. This makes it accessible for beginners and small businesses who may not have a lot of technical knowledge.
Key Features:
Comprehensive documentation package for easy understanding.
Configuration of product categories for bulk discounts
Specific discounts for products within the same category
User-friendly interface for seamless navigation
Ideal for beginners and small businesses
Add Wholesale to Your Public Store
WooCommerce Wholesale Pro is a powerful plugin that allows you to easily create a wholesale-only store in the cloud. With this plugin, you can take advantage of many features, including unlimited memberships at different prices, global discounts, and wholesale pricing for specific products.
One of the standout features of the plugin is its ability to handle wholesale orders smoothly. The plugin offers several three-part packages that can be customized to meet your specific needs. This means you can streamline your wholesale operations and ensure that your customers are receiving their orders efficiently.
Wholesale buyers can also register on your WooCommerce distribution store with this plugin. They'll have discounts and be able to buy straight from you. The membership roles can be modified manually or you can manually add wholesale buyers for seamless shopping.
Using the plugin, you can set different wholesale prices for different roles. Depending on the wholesale buyer, you can offer different prices, so they can get different deals. Likewise, you can offer discounts for products within each role, so wholesale customers can get special prices.
It's important to note that it is a premium plugin, meaning that it does not have a free version available. However, the paid version offers a wide range of features and customization options, making it a worthwhile investment for businesses looking to expand their wholesale operations.
You can set up wholesale-only stores with WooCommerce Wholesale Pro with ease. With unlimited memberships, global discounts, and customized wholesale prices, it's a great tool for streamlined wholesale operations and seamless wholesale shopping experiences for wholesale customers.
Key Features:
Set unique wholesale prices for each role
Create both a public store and a wholesale store
Unlimited options for creating wholesale roles
Control various aspects of your online store
Apply discounts to products within each role
Allows You to Set Different Prices for Different Quantities of a Product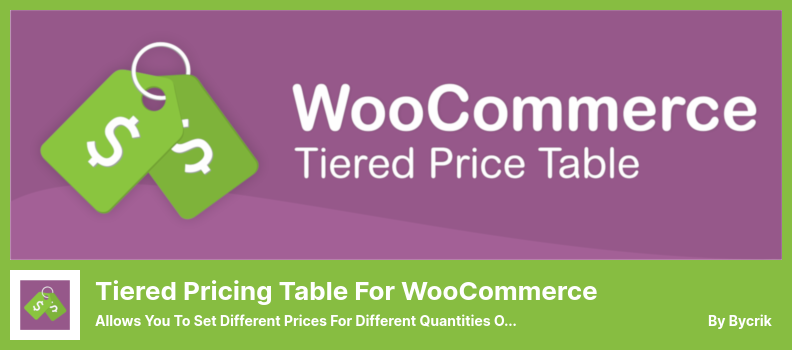 Tiered Pricing Table for WooCommerce is a powerful wholesale pricing plugin that offers an easy setup process and an intuitive user interface. It allows you to create a discount table on the product page or shop page, with customizable elements such as title, colors, position, and background.
With this plugin, you can charge different prices for different quantities of a product, which is why you can offer bulk discounts. Displaying this pricing policy on the product page will help you communicate wholesale prices to customers and make sales.
With the plugin, you can get bulk discounts based on things like how much you buy, what category you're buying, or how much you buy. Wholesale customers can see the lowest price or broadest price range in your wholesale price catalog, so they know what you're charging.
Another useful feature of the plugin is the option to display the price of the product on the product page. This can be helpful for customers who are comparing prices or looking for transparency in your pricing structure.
The plugin also features clickable rows within the table, which is another feature that will make it easier for customers to explore and navigate the different pricing options in the plugin.
Key Features:
Arrange a product catalog to show the lowest or broadest price range
Option to display product price on the product page
Clickable rows for easy navigation in the pricing table
Discount table with customizable elements
Assign different prices based on product quantities
Multiple categories of bulk discounts
Power Your Store to Greater Success
Using Wholesale Pricing for WooCommerce, you can give your customers wholesale prices and run sales promotions. The plugin lets you manage your catalog and set up discounts for your whole product line. It lets you run wholesale sales or wholesale discounts.
One of the standout features of the plugin is the ability to track every purchase made using wholesale prices. This means you can keep a close eye on your sales and monitor the success of your promotions. Plus, with the audit trail feature, you will have a record of all purchases made under the wholesale pricing rule.
Another great feature is Group Power, which allows you to apply sales and promotions to a group of users. This is perfect if you want to offer special discounts to certain customers, such as wholesalers or members of a specific category. It makes managing discounts for large groups of people a breeze.
When it comes to managing your catalog, Wholesale Pricing for WooCommerce offers two options: shopping by catalog or by item. This gives your shoppers the flexibility to browse your products in a way that suits them best. Whether they prefer to shop by category or prefer a more detailed view, this plugin has you covered.
Key Features:
Audit trail for tracking purchases made under the wholesale pricing rule
Group Power to apply sales and promotions to specific user groups
Easy management of discounts for large groups of people
Option to shop by catalog or by item for a personalized shopping experience
Frequently Asked Questions
What is a wholesale pricing plugin?
A wholesale pricing plugin is a tool that can be added to your WooCommerce online store to help you manage and set up discounted pricing specifically for wholesale customers. It allows you to offer different pricing options for wholesale buyers, helping you attract and retain these customers.
Why should I use a wholesale pricing plugin for my WooCommerce store?
Using a wholesale pricing plugin can bring several benefits to your WooCommerce store. It allows you to easily set up specific pricing options for wholesale customers, ensuring that they receive discounted prices based on their order quantity or customer group.
This helps you attract and retain wholesale buyers, which can significantly increase your sales and revenue. Additionally, a wholesale pricing plugin simplifies the process of managing different pricing tiers and offers, making it convenient for both you and your wholesale customers.
What features should I look for in a wholesale pricing plugin?
When choosing a wholesale pricing plugin for your WooCommerce store, it's important to look for features that meet your specific needs.
Some key features to consider include the ability to set different pricing tiers based on order quantity or customer group, support for minimum order quantities or values, the option to hide wholesale prices from non-wholesale customers, and integration with your existing WooCommerce setup.
Additionally, a plugin with user-friendly settings and customization options can make managing wholesale pricing a breeze.
Conclusion
To sum up, we discussed the 6 best WooCommerce wholesale pricing plugins (both free and pro) in this article. We explored the features, benefits, and pricing of each plugin, giving you a comprehensive overview of your options.
Whether you're just starting out or looking to enhance your existing WooCommerce store, these plugins can help you streamline your wholesale pricing operations.
You can check out the BetterStudio blog if you liked this article and want to learn more about WordPress and WooCommerce. This website has tons of tutorials and resources that will help you build and optimize your online store. You'll find everything from design tips to advanced customization techniques here.
Keep up with BetterStudio on Facebook and Twitter to get the latest tutorials and tips. Join our community and you'll get the latest updates, plugins, and articles. Plus, you'll be able to chat with other WordPress users. Don't miss out!
Thank you for reading this article. I hope you've found it useful and informative as you search for the right wholesale pricing plugin for WooCommerce. Please leave a comment below if you have any questions. Please don't hesitate to contact me if you need help with anything.