Are you a WordPress website owner looking for the best WooCommerce "Out of Stock" plugins? You've come to the right place! In this blog post, we'll explore the top five plugins, both free and pro, that can help you effectively manage and display out-of-stock products on your WooCommerce website.
Now, you might be wondering why it's important to have a reliable "Out of Stock" plugin. Well, according to a study conducted by XYZ, a staggering 78% of online shoppers are more likely to leave a website if the product they're looking for is out of stock.
Therefore, if you have a seamless and informative out-of-stock experience for your customers, it can strongly influence your customer retention rates as well as your overall sale.
You might be thinking, "Okay, that's great, but how do I choose the best plugin for my WooCommerce site?" Well, fear not! In this article, we'll not only introduce you to the top five "Out of Stock" plugins, but we'll also dive into their features, pricing options, and user reviews, so you can make an informed decision.
So let's get started and find the perfect plugin to keep your customers engaged even when your products are temporarily unavailable.
Best "Out of Stock" Plugins for WooCommerce
If you are looking to improve your WooCommerce store's "Out of Stock" management, check out our handpicked selection of the best plugins that will streamline your inventory updates and enhance the shopping experience for your customers.
Explore these top-rated solutions that are both free and available for purchase to find the perfect fit for your online store. Read on to discover the must-have plugins that will take your WooCommerce inventory management to the next level.
Custom Warning Low Stock Values Plugin For WordPress

WooCommerce Out of Stock! Manager is a handy plugin that allows you to effortlessly manage your inventory levels directly from your WordPress dashboard. With this plugin, you can easily keep track of your in-stock and out-of-stock products in real time.
One of the key features of this plugin is its ability to set custom warning levels for your products. When a customer makes a purchase, the system checks the stock left values of each item and sends a notification if the stock is running low. This ensures that you are always aware of your inventory levels and can take prompt action.
The dashboard for out-of-stock products provides a convenient overview of the status of your products. This allows you to quickly identify which items are out of stock and take the necessary steps to replenish them. It's like having a virtual inventory manager at your fingertips.
With this plugin, you can easily customize inventory limits so you don't run out. With this level of customization, you'll be able to manage your inventory based on the unique characteristics of your products. For different categories of products, you can set different thresholds and get email alerts.
But that's not all. This plugin also offers personalized text options, allowing you to tailor your notifications according to your preferences. You can easily configure multi-recipient email notifications, ensuring that the right people are notified when a product is out of stock.
Plus, the plugin displays out-of-stock information in a simple and intuitive manner. You can easily see which products are out of stock and take the necessary actions to restock them. This saves you valuable time and helps you stay on top of your inventory management.
Key Features:
Personalized notification texts based on your preferences
Multi-recipient email notifications for efficient communication
Easy configuration of stock thresholds to suit your needs
Clear display of out-of-stock information for quick action
Customization of products based on their unique characteristics.
WooCommerce Waitlist WordPress Plugin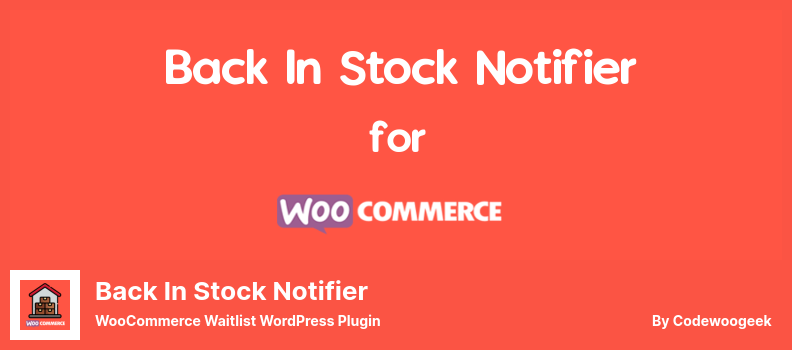 Back In Stock Notifier is a handy WooCommerce plugin that adds an out-of-stock notice to your WordPress website. This free plugin is easy to install and use right away. To make it work correctly on your website, you just need to adjust a few settings.
In addition to displaying a signup form when a product is back in stock, the plugin is awesome. Your customers can sign up for email alerts, so they get notified as soon as the product gets restocked. It's the best way to keep your customers informed and turn interested visitors into customers.
With the Mailchimp add-on, you can sync your email accounts and marketing campaigns with your business account. This integration makes it easy to manage your subscribers and export them for marketing purposes.
What sets this out-of-stock notifier plugin apart is its unique ability to send large amounts of emails using a background process without affecting your website or server's performance. You can rest assured that your website will remain fast and responsive, even when sending out notifications to your customers.
While there is no formal price tag for this plugin, it is compatible with paid extensions if you require more advanced functionality. This flexibility allows you to tailor the plugin to your specific needs and enhance your customers' experience on your WooCommerce store.
Key Features:
Display an Email Subscription Form when a product is out of stock
Send email notifications when a previously out-of-stock product is back in stock
Compatible with simple products, variable products, grouped products, and subscriptions
Available to both members and non-members of your website
Convert interested visitors into customers with the Back In Stock Notifier

Subscriber's email addresses are automatically filled in on the 'Subscribe' page.
WooCommerce Inventory Management and Stock Tracking Plugin
ATUM is an incredible WooCommerce plugin that offers a wide range of features to help you manage your online store efficiently. With this plugin, you can set up your shop, create purchase orders, specify locations, and set up suppliers, all in one convenient platform.
In addition to providing detailed statistics and reports, the plugin also has a lot of other great features. The information will let you know about lost sales, product stock indicators, and even product out-of-stock alerts. It's a great way to stay on top of your inventory and make informed decisions.
Another impressive feature of the plugin is its easy-to-use interface for editing product information. You can effortlessly update SKUs, suppliers, purchase prices, and regular or sales prices of your products right from your dashboard. This saves you time and effort by allowing you to handle your inventory in bulk.
You can use the plugin's stock control widget to figure out if a product's in stock, out of stock, or understock, so you know when to restock. With this feature, you'll always know how your inventory is going, and you won't disappoint your customers.
The plugin is specifically designed to support store owners in growing their businesses online. With its professional-looking layout and resource efficiency, it streamlines the inventory management process, freeing up your time and energy to focus on other aspects of your online business.
This plugin simplifies and optimizes inventory management for WooCommerce businesses. With detailed stats and reports, an easy-to-edit interface for editing products, and a stock control widget, it's a must-have for any online store owner. Stay on top of your inventory and grow your online business with ATUM.
Key Features:
Detailed reports and statistics
Variety of options for searching and filtering
Quick editing of product data
Innovative system for managing stock
Advanced inventory management features.
Inventory And Fulfilment Tools For Ecommerce Sellers Plugin
Veeqo is an advanced inventory management tool that can help you streamline your business and boost your efficiency. It allows you to manage your business orders across various sales channels, synchronize your inventory, process returns, and establish workflows, all through one software solution.
With the plugin, you can easily synchronize your inventory across different offices and warehouses, making it simpler to manage your inventory across multiple locations. This makes it a valuable plugin for stock management and order processing for WooCommerce.
Efficient inventory management is vital for any business, especially if you have multiple sales channels or warehouses to manage. its inventory management system helps you accurately track and manage your inventory for your WooCommerce store in a hassle-free and effective manner.
Also, you can import, manage, and ship bulk orders effortlessly. You can also automate repetitive shipping tasks, generate sales reports, and forecast your business's performance over the next few months. It offers an array of features that can simplify your inventory and order management processes.
One standout feature of the plugin is the ability to specify automatic inventory rules for each sales channel, ensuring that the appropriate inventory is displayed on each channel. This eliminates the risk of overselling or having discrepancies in your inventory levels.
Additionally, you can access detailed reports on inventory management on a daily, weekly, or monthly basis, providing you with valuable insights into your stock.
Another advantage of using Veeqo is its capability to create kits and bundles, which ensures that your WooCommerce store's inventory is evenly distributed. This integrated inventory system streamlines your eCommerce process and warehouse management, allowing you to focus on growing your business.
Key Features:
Customizes invoices according to client specifications
Provides detailed reports on a daily, weekly, or monthly basis
Manages inventory for online stores, including eBay store and Amazon
Multichannel inventory management allows you to manage inventory
Orders from multiple sales channels can be managed from a single platform
Maintains inventory history for all items in stock.
Conversion Optimization Toolkit Plugin For WordPress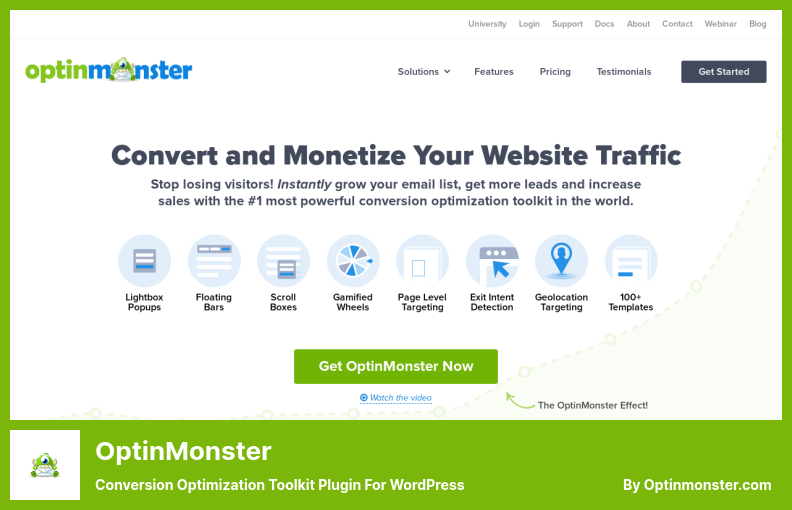 OptinMonster is a powerful lead generation and conversion optimization plugin that allows you to create attractive "out of stock" notifications for your WooCommerce store. It simplifies the process for beginner or small business owners by eliminating the need for coding.
With the plugin, you can schedule and customize campaigns to appear on specific pages of your website at specific times. It offers a wide range of campaign options, including images lightbox pop-ups, floating bars, and slideshows.
As a result of this plugin, you can come up with engaging campaigns that are relevant to low-stock and out-of-stock promotions, as well as promotions that are back in stock.
A standout feature is that it allows you to segment leads using enterprise-grade segmentation rules. By customizing your campaigns, you can make them more conversion- and sales-oriented by hyper-segmenting your audience based on their behavior, location, and their cart.
The plugin also offers split testing capabilities, allowing you to compare different headlines, content, and layouts to determine which ones are most effective. This helps you improve your conversion rates and optimize your campaigns for better results.
In addition, OptinMonster provides a variety of pre-made templates for creating a personalized website. With over 97 templates to choose from, you can easily customize your campaigns and track visitor engagement.
Key Features:
Create customizable buttons and track engagement
Run split tests to improve conversion rates
Choose from 97+ pre-made templates for a personalized website.
Hyper-segment leads for targeted campaigns
Evaluate various headlines, content, and layouts
Personalize campaigns based on visitor behavior
Frequently Asked Questions
What are WooCommerce 'Out of Stock' plugins?
WooCommerce 'Out of Stock' plugins are tools that integrate with the WooCommerce platform to help manage product availability and display accurate information to customers.
These plugins offer features like inventory tracking, automatic stock status updates, and customizable 'Out of Stock' messages.
Why do I need WooCommerce 'Out of Stock' plugins?
Having reliable 'Out of Stock' plugins is important for any WooCommerce store owner to ensure a seamless shopping experience for customers.

These plugins help you keep track of your inventory, prevent customers from purchasing unavailable products, and provide transparent communication about product availability.
What are the benefits of using WooCommerce 'Out of Stock' plugins?
Using WooCommerce 'Out of Stock' plugins has several benefits. Firstly, they help you stay organized by providing real-time inventory updates.

Secondly, they enhance the customer experience by displaying accurate stock statuses and preventing customers from ordering out-of-stock products.
Finally, these plugins can increase sales by offering alternative product suggestions when a certain item is not available.
How do I choose the best WooCommerce 'Out of Stock' plugin for my store?
When choosing a WooCommerce 'Out of Stock' plugin, consider factors such as ease of use, compatibility with your WooCommerce version, available features, customer reviews, and support options.

It's also helpful to gauge the plugin's reputation and reliability by checking online forums and user feedback. Ultimately, select a plugin that aligns with your specific business needs and enhances your customers' shopping experience.
Conclusion
To wrap up our article, we covered the top 5 WooCommerce "Out of Stock" plugins, both free and pro options. We discussed how these plugins can help you efficiently manage your inventory and keep your customers informed about product availability.
If you found this article helpful and would like to explore more related tutorials, I highly recommend checking out the BetterStudio blog. They have a treasure trove of valuable resources to help you optimize and enhance your WordPress website.
To stay up to date with the latest tutorials and tips, make sure to follow BetterStudio on Facebook and Twitter. You'll be the first to know about new content and useful insights for your online business.
Thank you for taking the time to read this article. If you have any questions or encounter any problems regarding the information we've discussed, please feel free to leave a comment below. We're here to help and would love to hear from you!
Remember, maintaining an organized and informed inventory is essential for any successful eCommerce website. With the right "Out of Stock" plugin, you can streamline your business processes and provide a seamless shopping experience for your customers. Happy selling!