Trying to find the best WordPress WooCommerce Out of Stock Notification plugin for your site?
Our WooCommerce Out of Stock Notification plugin collection caters to all WooCommerce plugin requirements, thereby saving you time and money. All the plugins are mobile-friendly and are optimized for speed. As a final point, all plugins work perfectly with all popular WordPress themes.
These best WordPress plugins are for WooCommerce Out of Stock Notification. However, you can use them also for Out of Stock Manager, Out of Stock Email Notification, WooCommerce Stock Management, WooCommerce Inventory Management, and WooCommerce Out of Stock Email Alert.
📌 Note: In order to improve the appearance and functionality of your store, we recommend that you use a modern WooCommerce theme with both features and a nice design. You may also want to read our article on advanced plugins for WooCommerce to learn more.
Are you looking for the best plugin for WooCommerce Out of Stock Notification in 2022? Let's get started:
Custom Warning Low Stock Values Plugin For WordPress

WooCommerce Out of Stock Manager plugin will allow you to easily manage the inventory levels on your WordPress website. You can set the limits on the product inventories for any items that you wish, and once the limit is reached, you will be notified that the product is out of stock.
In addition to the ability to customize, this application allows for the possibility of setting different thresholds for different categories of products and giving different levels of out-of-stock email alerts for WooCommerce according to those categories.
In order to manage your inventory right from your WordPress dashboard panel, it is now possible for you to access the out of stock manager directly from your dashboard.
A dashboard for their out-of-stock products lets you see their status in real-time. This allows you to keep track of both in-stock and out-of-stock products at your fingertips at all times.
WCOSM helps the shop admin to speed up the editing and monitoring of the products under custom low levels (or all inventory manageable items) adding a widget directly to the WordPress Dashboard.
When ordering an item through WCOSM, the system checks the stock left values of each item purchased. If a custom warning level has been set by the Shop administrator for one (or more) of the items, the system checks the stock left values.
💵 You can get this plugin for a fee of $19.00.
Key Features:
Personalized texts based on your preferences
Multi-recipient notifications are possible via email
Easily configure stock thresholds to suit your needs
Displaying out of stock information in a simple manner
Customization of products based on product characteristics
Random Reviews:
Simple to use. Increases productivity tremendously.

This plugin has superb support! Reporting a problem was dealt with immediately!
WooCommerce Waitlist WordPress Plugin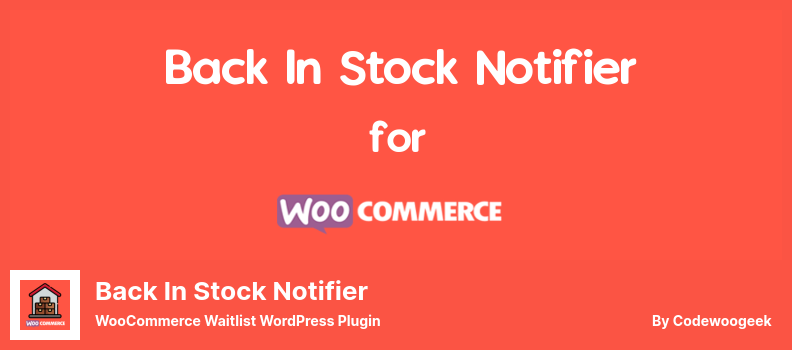 The Back In Stock Notifier plugin adds an out-of-stock notice to a WordPress website. This plugin is free and it can be installed and used immediately. A few settings are necessary to make it operate correctly on your website.
The Back in Stock Notifier is a plugin that permits customers to sign up to receive an out-of-stock email notification whenever a product finishes in the store, then again when it becomes restocked they will be notified by email.
When a product that has been out of stock becomes available, the Back in Stock Notifier plugin automatically displays a signup form.
With this WooCommerce out of stock notifier plugin, your customers will receive an out of stock Email alert whenever your store is out of specific merchandise.
Various options can be selected with respect to the form and the emails that are sent to members and guests, like making the form, and the email alerts, visible only to members or to both members and guests.
In addition to allowing you to send large amounts of email using a background process, this plugin is particularly unique since it will not affect the performance of your website or server.
There is no formal price tag for this extension, but if you require more functionality, it is able to be integrated with paid extensions.
You are able to sync your email accounts and marketing campaigns with your business account via the Mailchimp add-on. Additionally, you may export subscribers from your business account using the export extension.
💵 You can download the plugin for free.
Key Features:
In case of out of stock, the Email Subscription Form is displayed
Compatible with simple products, variable products, grouped products, simple and variable subscriptions
Available to both members and non-members
Utilize the Back In Stock Notifier to convert interested visitors into customers
Send an email notification when the product is back in stock
Subscribers' email addresses are automatically filled in on the 'Subscribe' page
Using Google reCAPTCHA to verify subscriptions
For each Product, a duplicate Email Id is checked and thus the same Email Id will not appear twice in product notification lists
Random Reviews:
Good support for a free plugin. Works as expected!

Worked very well and was easy to use

You have an excellent support team that answers all your questions. Thanks!
WooCommerce Inventory Management and Stock Tracking Plugin
The ATUM WooCommerce inventory management plugin can help you keep track of every product that you have in stock, and you will be able to control the amount of stock at any time.
With this plugin, you can easily edit the SKUs, suppliers, purchase prices, and regular or sales prices of your products from your dashboard in bulk. You will find an easy-to-use interface to handle the inventory of your WooCommerce store.
You can also set up your shops, create purchase orders, specify your locations, and set up your suppliers, in addition to creating manual or automated exports of any data stored in your store.
Moreover, the plugin also provides users with detailed statistics and reports, including information on lost sales, product-stock indicator data, and product-out-of-stock alerts for WooCommerce products.
A few more features of the stock control widget are that it helps to identify whether a product is in stock, under stock, or out of stock within WooCommerce.
Our objective is to accompany store owners to the top with our add-ons, so they will have a professional looking layout, and due to the simplistic layout, they will be able to resource efficiency.
Since store owners are required to focus their energies on increasing their businesses online, this plugin was designed to help you to do so with this amazing addon.
💵 Plugin ATUM costs $Free, and it's free!
Key Features:
A variety of options are available for searching and filtering
Allows for quick editing of product data
Reports and statistics about the inventory management process are provided
Providing an innovative system for managing stock
Includes advanced inventory management features
Random Reviews:
The plugin I'm using really helps me out. The purchase price and supplier SKU are also really great. I really recommend it.

This plugin has already been used on many sites and all my customers are delighted with it. Also, the support is excellent. Have you tried the multi inventory addon? It compliments this plugin even more.
Inventory And Fulfilment Tools For Ecommerce Sellers Plugin
With Veeqo, an advanced inventory management tool, inventory can be synchronized across offices and warehouses, making it easier to manage across locations. This is another useful plugin for stock management and order processing for WooCommerce.
The WooCommerce inventory plugin ensures that your WooCommerce store's inventory is evenly distributed by creating kits and bundles. An integrated inventory system streamlines the e-commerce process and warehouse.
Using the Veeqo system, you are able to specify an automatic inventory rule that determines which inventory will be displayed on each sales channel. You can review detailed reports on inventory management every day, every week, and every month.
The inventory management system of Veeqo can help manage the inventory of your WooCommerce store in an easy and effective manner.
In order to manage your inventory efficiently, you will need software that tracks inventory accurately across multiple sales channels or warehouses, no matter how many channels or warehouses you manage.
Your business orders can be managed across every channel through which you sell, inventory can be synchronized, returns can be processed, and workflows can be established — all through a single software solution.
With this application, you will be able to import, manage, and ship bulk orders, automate repetitive shipping, generate sales, pick, and inventory reports, and do a forecast of how well your business will do over the next few months.
💵 There are 12 months of free support from this awesome team. You can purchase this plugin at $120.00.
Key Features:
Customizes invoices in accordance with the client's specifications
Provides detailed reports that may be accessed on a daily, monthly, or weekly basis
Manages inventory for online stores, such as eBay and Amazon stores
Manage inventory across multiple channels with Multichannel inventory management
From a single platform, management of orders from multiple sales channels is possible
Maintains inventory history for all items in inventory
Conversion Optimization Toolkit Plugin For WordPress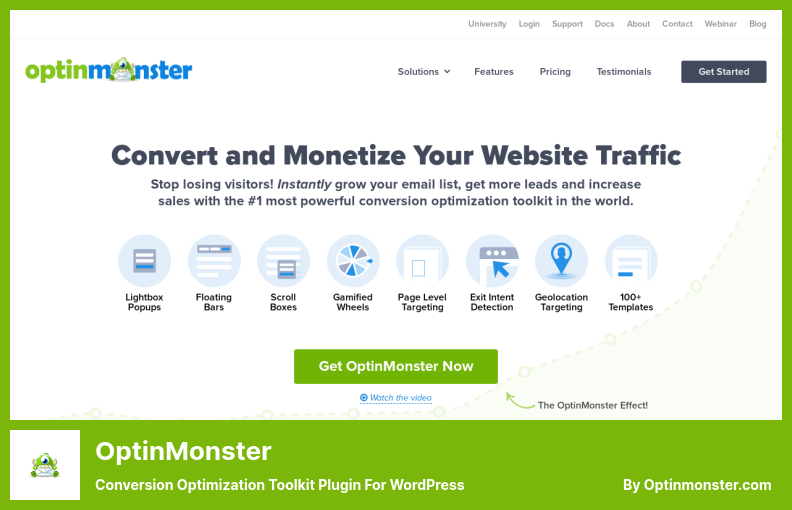 OptinMonster lead generation and conversion optimization plugin lets you create beautiful 'out of stock' notifications to let your customers know when products are no longer available.
A plugin that allows you to create beautiful 'out of stock' notifications for your WordPress store that integrates seamlessly with your WooCommerce store can be seen here.
With OptinMonster, you can launch a variety of campaigns to communicate with your prospects: images lightbox pop-ups, floating bars, and slideshows with a scrolling input box.
This will provide you with a first-hand experience of the OptinMonster tool since it allows you to create a variety of campaigns for low stock, out-of-stock, and back-in-stock promotions.
It's possible for these campaigns to be scheduled at specific times or dates, as well as be scheduled to appear on any particular page from the site you would like them to appear on.
Furthermore, OptinMonster provides several different advertising areas and options for you to reach your target audience based on a number of factors such as their location, products in their cart, and abandoned carts.
As a beginner or small business owner, this plugin is particularly appealing because of its simplicity and ability to be used without ever needing to change any code.
The Inventory Management plugin does not simply function as an inventory management system but is also one of the most powerful tools available for displaying out-of-stock alerts on WooCommerce websites.
💵 The cost is $9.00/M with 12 months of support.
Key Features:
Use the enterprise-grade segmentation rules to hyper-segment your leads
Various headlines, content, and layouts can be evaluated in order to determine which is the most effective
Make your campaigns more conversion- and sales-oriented by personalizing them based on the behavior of your visitors
Create a button that sends traffic to important pages on your site, customizes actions, and tracks engagement
Run split tests in order to determine which pages convert best, so you can improve your conversion rates
Create a personalized website by choosing one of 97+ pre-made templates
We're almost finished, so let's wrap it up
A list of the best WooCommerce Out of Stock Notification WordPress plugins for WordPress in 2022 is presented in this post. Everyone can create an imaginative website with a ready-made plugin in just a few hours.
📌 Note: We strongly suggest you read our articles about the best WordPress blog themes and the best WordPress plugins for bloggers.
Let us know what you think about this article.
Also, if you feel that we have missed any WooCommerce Out of Stock Notification plugin, please let us know in the comments section. If you enjoyed reading this list, then please share it with your friends and Facebook followers.