Are you a WordPress website owner looking to add some fun and engagement to your site? Well, you've come to the right place! In this blog post, we'll be exploring the seven best WordPress gamification plugins available, both free and pro versions, to help you take your website to the next level.
Now, you might be wondering, what exactly is gamification and why should I even consider using it on my website? Gamification is the process of incorporating game-like elements into a non-game setting, such as a website, to increase user engagement and motivation.
With gamification, you can encourage your visitors to interact with your content, participate in challenges, earn rewards, and ultimately, spend more time on your site. In this article, we'll be discussing the seven best WordPress gamification plugins that can help you achieve these goals.
We'll delve into the features, benefits, and pricing options of each plugin, giving you all the information you need to make an informed decision for your website. So, let's jump right in and explore the exciting world of gamification for WordPress!
Best Gamification Plugins for WordPress
If you are looking to add an extra element of fun and engagement to your WordPress website, look no further! In this section, we'll be highlighting the best gamification plugins for WordPress that are sure to level up your website's user experience.
So, grab your virtual dice, and let's dive into these exciting options! Don't miss out on discovering how these plugins can bring a whole new level of interactivity to your site.
The Easiest Way to gamify Your WordPress Website
GamiPress is a WordPress Gamification plugin that allows you to easily gamify any part of your website. With this plugin, you can create a loyalty program, recognize and reward employees, and engage your visitors.
One of the great features of the plugin is its flexibility. It offers a number of options to help you organize your requirements, display accomplishments, and evaluate your employees. You can set up social sharing, allow users to earn points and achievements, and even assign ranks. It also automatically awards points based on assigned time limits.
One potential downside of the plugin is its price. Compared to other plugins on this list, like RafflePress, the starter package can be a bit expensive. However, if you're looking for a comprehensive gamification solution, it might be worth the investment.
One of the key benefits of using the plugin is the ability to gamify your content. Visitors can earn badges and awards for contributing to your website, helping to increase engagement and encourage participation.
It also integrates seamlessly with popular plugins such as BuddyPress, LearnDash, Gravity, and bbPress forum. This means you can easily extend the functionality of your website and enhance the gamification experience for your users.
Another useful feature of GamiPress is its points management system. You can offer rewards to visitors for participating in specific activities on your website, giving them different achievements based on their actions. This helps to incentivize user engagement and can be a powerful tool for increasing conversions.
Key Features:
Data centralization on site
Achievement and rank types
Time-bound specifications
Powerful add-ons included
Open badges compatible
Templates system for easy customization
Top Rated WordPress Points Management System
myCred is a powerful WordPress plugin that allows you to implement rewards and gamification programs on your website. You can create customer loyalty programs, and ranking systems, and even incorporate different advertisement options. It's like having the WooCommerce Gamification extension but with additional features.
One of the key features of it is the ability to view the history of changes, such as additions and subtractions of points, in a log. It provides valuable information about your badges, statistics, accountability, and ranks. It's a great way to keep track of user engagement and progress.
Integration is a breeze with this plugin. You can easily integrate popular plugins like BuddyPress Community and Jetpack into your WordPress website. This allows you to expand the functionality of your site and offer even more rewards and incentives to your users.
Earning rewards with it is simple. Users can earn points, ranks, and badges, giving them multiple ways to engage with your site. The plugin also utilizes artificial intelligence to create and manage a wide range of digital rewards and ranks. It's a powerful tool that takes care of the backend aspects of gamification for you.
In addition to tracking and managing points, it offers a variety of other features. You can export user data, including point balances, in various formats. It supports multisite setups, making it easy to implement gamification across multiple sites. And if you need to import or export setup settings, it has you covered with JSON format support.
Checking points, ranks, and badges on the front end is a breeze with this plugin. Users can easily see their progress and achievements, keeping them motivated and engaged. The plugin is also bootstrap-ready, ensuring a seamless and responsive experience for your users.
With this plugin, you can easily implement rewards and gamification programs on your WordPress website. It's a comprehensive plugin that offers a range of features to engage and motivate your users. Take your website to the next level with myCred!
Key Features:
Multisite support

for managing gamification across multiple sites

Export user data and point balances
Import or export setup settings in JSON format
Ability to import badges with ID/Title/Slug
Supports various features like points, ranks, and badges
Easy front-end access for users to check their progress
Points Management & Gamification Plugin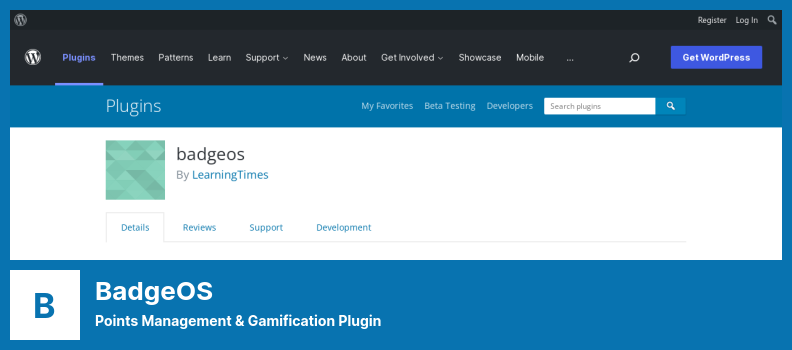 BadgeOS is a gamification plugin for WordPress that allows website owners to create and customize achievements and badges. Users can earn achievements, points, and ranks by completing specific tasks or demonstrating knowledge. It offers unlimited achievements, the ability to design badges, and the option to share them.
One of the key features of it is its customization options. Users have the freedom to tailor the plugin to their specific needs, as many of its features can be customized. This means you can create an unlimited number of achievements and badges, giving you plenty of options to engage your website visitors.
Another standout feature of the plugin is its comprehensive set of tools for determining whether a requirement has been met. This ensures that your users are accurately rewarded for their accomplishments.
The plugin also includes features like automatic submission approval and automatic approval of reviewed entries, making it a highly useful tool for managing your gamification system.
With this plugin, website owners can empower their users to showcase their skills and accomplish tasks. Users can earn badges and use them to enhance their own education and personal development.
The plugin also includes features like the ability to comment on specific posts, award points to the author when a user visits a post or page, and social media integrations for sharing achievements.
Some other notable features include the availability of shortcodes, an open support ticket system, the ability to deduct achievements from points, and extensibility through add-ons. It also includes features like nominations and reviews, allowing for a more interactive and engaging gamification experience.
Activating User Loyalty & Engagement Pluign
Captain Up is a WordPress plugin that helps website owners leverage behavioral economics insights and industry best practices to achieve their key performance indicators. This plugin offers customizable features, social tools, and in-app communication abilities.
One of the standout features of the plugin is the ability for users to design their own badges and share them on social media. This not only encourages engagement but also helps to create a vibrant community around your website.
With this plugin, you can also create rewards for your users and add widgets to display activity data. This allows you to reward and incentivize user engagement, ultimately maximizing their satisfaction and interaction with your website.
In addition to these features, Captain Up offers user behavior analytics, customized pop-ups, and support for mobile and tablet devices. This ensures that you have deep insights and statistics on user activity across different devices, helping you make data-driven decisions for your website.
Key Features:
Multilingual support is provided 
User behavior analytics
Turn visitors into an active community
Deep insights and statistics
Reward users for unlimited actions
Bulk messaging is possible
Gamified Optin Email Marketing Tool for WordPress
WP Optin Wheel is a loyalty program plugin that allows your website visitors to spin a wheel of fortune and win coupons or other prizes, which can help boost your sales and grow your email list.
This WordPress plugin offers holiday themes such as Christmas and Halloween, as well as the ability to create multiple wheels. It is also GDPR-compliant and supports multiple languages.
One of the standout features of the plugin is its predefined themes that can be easily customized to suit your branding. These themes add an engaging element to your website and allow you to track your wins and losses separately.
The plugin allows visitors to spin a virtual wheel for a chance to win a prize. However, in order to participate, visitors are required to enter their email address.
For those looking to incorporate gaming into their email marketing campaigns, the plugin is a great option. It creates excitement among customers by giving them the chance to win a discount coupon. Plus, it integrates seamlessly with WooCommerce, allowing you to make use of their coupon system.
With the plugin, you have full control over where and when the wheel is displayed on your site. You can choose to show it on specific pages or posts, ensuring that it reaches the right audience. It also offers the ability to customize email templates, so you can deliver a personalized experience to your visitors.
If you're a professional developer, you'll appreciate how developer-friendly this plugin is. It supports Facebook Messenger integration, allowing you to engage with your audience through another channel. Additionally, WP Optin Wheel provides the option to replay the wheel, giving users another chance to win.
Key Features:
Compatible with any language
Integrated with WooCommerce coupons
Separate log file for wins/losses
Customizable display options
Custom email templates
Flexible display on specific pages/posts
A Cost-effective Method to Increase Website Loyalty
KingSumo Giveaways is a convenient and user-friendly WordPress plugin that allows you to easily incorporate gamification into your website. With just a few simple steps, you can have this plugin up and running in no time, ready to promote your giveaways.
One of the standout features of the plugin is its affordability. This plugin provides a low-cost, yet reliable solution for those seeking a gamification solution for their website. It has gained popularity among businesses, online sites, and bloggers hosting giveaways on their WordPress blogs.
One downside to be aware of is that the plugin lacks the flexibility to create contests from scratch. However, this small drawback is outweighed by its other robust features.
Using this plugin, you have the ability to schedule your giveaways to run on a daily, weekly, or monthly basis. This allows you to plan and organize your contests ahead of time, ensuring a smooth and seamless experience for your audience.
KingSumo Giveaways is also well-supported, meaning you can rely on prompt assistance and updates. By encouraging users to share your contests, you can see a significant increase in email subscribers, as the plugin motivates audiences to spread the word about your giveaways.
Key Features:
Scheduled start and end dates for your giveaways
Versatility to give away whatever prizes you desire
Optimization by MIT engineers for maximum performance
Easy sharing capabilities for visitors, encouraging participation
The Most Powerful WordPress Giveaway Plugin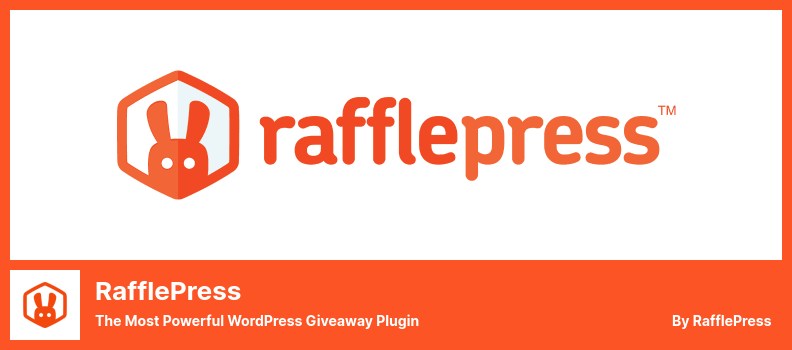 RafflePress is a WordPress plugin that allows you to easily create contests and giveaways to help market your business. You can offer your users the opportunity to receive something in exchange for spreading the word about your business. This not only increases your online presence but also helps to engage your audience.
One of the key features of the plugin is that it allows you to create contests and giveaways without the need for a developer. This means that even if you don't have any coding experience, you can still create professional-looking contests and giveaways. This is great news for small business owners who are looking to save time and money.
In addition to creating contests and giveaways, it also allows you to encourage your visitors to subscribe to your newsletter, follow you on social media, and view your videos. This is a great way to build your audience and increase your engagement. You can easily set up these actions and reward your users accordingly.
Unlike other plugins that only offer one prize for one action, it utilizes a point system. This means that users can be rewarded for doing multiple actions, which in turn increases your business' visibility. This is a great way to incentivize your audience and encourage them to take more actions.
Another great feature of it is its drag and drop builder. This makes it incredibly easy to design and customize your contests and giveaways. You can choose from a range of pre-built templates that are responsive and mobile-friendly, ensuring that your contests and giveaways look great on any device.
The plugin provides several features to help run successful contests and giveaways. These features include custom blocks for the Gutenberg editor, social media integrations, automated landing pages, support for shortcodes, marketing and CRM integrations, and analytics for tracking and retargeting visitors.
Key Features:
Automated landing pages for seamless user experience
Supports shortcodes for added functionality
Marketing and CRM integrations for better campaign management
Custom blocks for Gutenberg editor
Social media integrations for easy sharing
Analytics for tracking and retargeting visitors for maximum effectiveness
Frequently Asked Questions
What are gamification plugins?
Gamification plugins are plugins for WordPress websites that allow you to add game-like elements and mechanics to your site. These plugins can help engage your audience and make their experience more interactive and enjoyable.
Why should I use gamification plugins on my WordPress site?
Using gamification plugins on your WordPress site can have several benefits. They can increase user engagement and retention, encourage user participation and interaction, and create a more memorable and fun experience for your visitors.

Gamification can also help drive desired behaviors, such as increasing user activity or encouraging social sharing.
Do these gamification plugins work with any WordPress theme?
Yes, these gamification plugins are designed to work with any WordPress theme. They are developed to be compatible with the core features and functionality of WordPress, ensuring a seamless integration and consistent experience across different themes.

Whether you're using a free theme or a premium one, you can still leverage the benefits of gamification to enhance your site.
Conclusion
In conclusion, we have explored the top seven WordPress gamification plugins, both free and pro, that can help enhance user engagement and add a fun element to your website. From leaderboards to badges, these plugins offer a range of features to make your website more interactive and enjoyable for your visitors.
To delve deeper into this topic and find more related tutorials, I encourage you to visit the BetterStudio blog. Our blog offers a wealth of resources and insights on WordPress and website optimization, allowing you to continuously improve your website's performance.
Stay connected with us on Facebook and Twitter to stay up-to-date with the latest tutorials and tips from BetterStudio. By following us on social media, you can ensure that you never miss out on valuable information to enhance your WordPress experience.
Thank you for taking the time to read this article. If you have any questions or encounter any problems while implementing these gamification plugins on your WordPress website, please feel free to leave a comment below. We are here to help and engage with our readers, and we look forward to assisting you in any way we can.