Have you been struggling to track your website's traffic and conversions on Facebook? Are you looking for a solution to integrate your WordPress website with Facebook Pixel? If yes, then this blog post is for you!
In this post, we will be discussing the 7 best WordPress Facebook Pixel plugins for 2023, both free and paid. These plugins will help you track your website's performance on Facebook and optimize it for better results.
Facebook Pixel is a tracking code that you can add to your website to track user behavior, conversions, and other metrics. It allows you to target specific audiences on Facebook based on their actions on your website. According to a recent study, businesses using Facebook Pixel saw an average increase of 20% in conversion rates.
So, if you want to take advantage of Facebook Pixel for your website, keep reading to discover the top WordPress plugins that can help you achieve your goals.
Best Facebook Pixel (Meta Pixel) Plugins for WordPress 🏆
Let's explore some of the best plugins available to help you optimize your website. These plugins can help you track your audience's behavior, create custom audiences, and measure the effectiveness of your ad campaigns.
Keep reading to discover our top picks for Facebook Pixel (Meta Pixel) plugins for WordPress.
Smart Pixel (TAG) Manager For WordPress
PixelYourSite is a Facebook plugin that simplifies the process of creating a Facebook Pixel on any site with just a single click. This plugin automatically tracks all essential activities on your site and sends them to all configured pixels, including search, form submission, and WordPress comments.
The plugin also allows you to add Google Analytics to your website, which is an essential tool for analyzing and measuring the success of a site.
Additionally, it enables you to manage your Meta Pixel (Facebook Pixel) plugin, implement Facebook Conversion API on your site, and add your Google Analytics Universal or GA4 with just one plugin. You can also add any other script to your website if necessary using the Head & Footer feature.
PixelYourSite offers a signal event feature that enables you to track important events. Custom conversion or audience can also be tracked by these signal events. Furthermore, it provides secure access to customer information, such as name, address, phone number, and email, to increase the conversion rate.
Conversion Pixel Manager Plugin
Pixel Cat is a top-performing Facebook Pixel plugin for WordPress that enables users to add a Facebook pixel to their site easily. With its time delay setting feature, you can delete visitors by running a Facebook Pixel event, and it also allows you to select standard Facebook Pixel events without any coding.
This plugin provides several options for targeting specific audiences based on your predefined strategies for your Facebook campaigns and analyzing their conversion after seeing the ad.
Additionally, Pixel Cat – Conversion Pixel Manager tracks and sends you events such as reading posts, product visits, and more, which allow you to re-target advertising campaigns.
One of the highlights of Pixel Cat is its numerous event, segmentation, and customization options, making it one of the best Facebook Pixel plugins available.
Overall, this nifty product makes it easy to add a Facebook pixel to your website, track important events, and re-target advertising campaigns, all while requiring little effort on your part.
Key Features:
Provide WooCommerce Event Tracking, and WooCommerce Product Feed features for creating dynamic product ads and highly effective custom audiences
Create custom events to track your site behavior more closely
Let you set up Facebook Pixel for easy digital downloads with one click
Helps you create dynamic Facebook pixel events for WordPress
Facebook Pixel In Header And Footer For WordPress
Insert Headers and Footers is a simple yet powerful WordPress plugin that allows you to add various codes, including Facebook pixels, Google Analytics, CSS, HTML, and JavaScript, into the header and footer of your website. With this plugin, you don't have to go through the hassle of editing theme files to insert scripts on your site.
The plugin comes with an easy-to-use interface that lets you insert your code in three different locations: header, body, and footer. This means you can add any script or code without any technical knowledge or expertise.
One of the significant benefits of using "Insert Headers and Footers" is that it enables you to add various types of codes to your site, not just Facebook pixels. You can add CSS codes to customize the look and feel of your website or JavaScript to add interactive elements.
Another great thing about this plugin is that it's incredibly user-friendly. You don't need any coding skills to use it, and it doesn't require any complicated configurations. All you have to do is copy the code and paste it into the appropriate field.
Key Features:
Enter the Facebook pixel code on your WordPress website
Easy to use and insert script
Insert header code and/or footer code
Add Google Analytics code to any theme
Add custom CSS to your WordPress themes
Enter any code or script, including HTML and Javascript
Facebook API For WordPress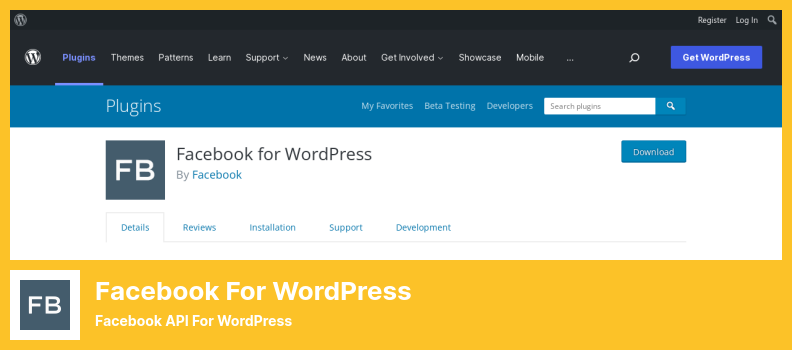 Facebook for WordPress is an incredibly secure and useful plugin that enables eCommerce sites to access Facebook Pixel. Its primary function is to track user engagement on Facebook and monitor their activity on your website. This plugin lets you track when users view content, shop, add items to their cart, or even complete a purchase.
Facebook for WordPress supports Conversion API, which means you can submit events and analyze visitor activity. By sending events directly from your page server with the Conversion API, you can expand your audience and retarget them with advertising campaigns.
The plugin is compatible with essential WordPress plugins like Ninja Forms, Caldera Forms, MailChimp for WordPress, Formidable Forms, Gravity Forms, and Easy Digital Downloads. It also has built-in support for popular plugins like WooCommerce.
With Facebook for WordPress, you can gain valuable insight into your visitors in a safe and secure way. This information can help you better understand your audience and optimize your conversion process to turn visitors into loyal customers.
Key Features:
Tracking your customers to be your trusted customers
Increase your conversion website rate
Adding more contacts to your list while sending events from your page server
Compatible with the most of famous WordPress Plugins
Monitoring every step of the visitors
Facebook Pixel WooCommerce Plugin
Facebook for WooCommerce is a plugin that enables you to connect your online store with Facebook and Instagram. Its main purpose is to help you set up an online store on Facebook or Instagram and customize its appearance. With this amazing plugin, you can track your customers' data as well as optimize your marketing strategy.
One of the unique features of this plugin is its ability to let you run advertising campaigns on Facebook or Instagram to get more traffic. You can also measure the performance of these advertising campaigns through the Conversion API.
This allows you to see which posts are generating the most response from your knowledgeable audience, and where they're accessing them from.
Facebook for WooCommerce is one of the easier plugins to set up. It covers all the essential functions in the free version and all the specialized roles in the professional version (such as dynamic remarketing events).
Developers will appreciate the filters for flexible customization, making it a great choice for those who want to create an online store on Facebook or Instagram.
Key Features:
Helping your business to grow so fast
Ability to create your own store on Facebook or Instagram
Provide accurate data for your business
Integrating eCommerce store to your Facebook account
Provide lots of filters, so you can customize your WordPress website so easily
Header, Body And Footer Builder For WordPress
Tag Manager is a free-to-use WordPress plugin that allows you to add Facebook Pixel code to your website with ease. You can place your pixel in the header, body, or footer of your website using this plugin.
In addition to Facebook Pixel, Tag Manager also supports other services such as Google Tag Manager, Google Analytics, and Google Adsense. This makes it a versatile tool for enhancing your marketing and sales efforts.
One of the standout features of this plugin is its user-friendly interface, which allows you to customize how it works based on your preferences. It's also lightweight and fast, ensuring that it won't slow down your website.
If you're looking for a simple yet powerful way to add Facebook pixels to your WordPress website and grow your business through advertising campaigns, then Tag Manager is an excellent choice. Plus, since it's completely free to download and use, there's no reason not to give it a try today!
Key Features:
Ability to delete some pages based on user role
Ability to delete or add page code with the page ID
The ability to insert multiple codes per section of your site
Provide many features for creating powerful advertising campaigns
Increase your capacity to grow your business
Facebook tracking Pixel For WordPress
Remarketable is a plugin that allows you to add Facebook pixel standard events to each page or post. What that means is you can easily track the behavior of your site visitors and better understand their needs.
This powerful tool lets you implement set-and-forget marketing features at the site level with just one click. All you have to do is copy the Facebook Pixel ID and paste it into the plugin's settings, and you're ready to go.
The Remarketable plugin provides a simple way to add Facebook Dynamic product ads without any extra cost. You can also track which terms your customers search more, giving you valuable insights into what they're looking for on your site.
With this information, you can make informed decisions on how to grow your business, increase website traffic, and ultimately gain trusted customers.
One of the best things about Remarketable is its strong support team. They are always there to help you solve any issues related to the plugin whenever you encounter them. You can rely on them to ensure that you have the most up-to-date information and access to all the latest features.
Key Features:
Tags and categories can be tracked individually or automatically
The duration of the visitors' page view will be automatically added to the ViewContent event
Track the title of every post or page viewed via the ViewContent event
Ability to add the Facebook Pixel to every page within minutes
Automatically sending the search term that a user uses when searching on your site
FAQ
What is a Facebook Pixel?
A Facebook Pixel is a tracking code that you can add to your website, which enables you to track the actions users take on your site and generate insights about their behavior. It allows you to optimize your Facebook ads for more conversions, and it provides valuable data to help you understand your audience better.
Why do I need a WordPress Facebook Pixel Plugin?
While you can manually add the Facebook Pixel code to your website, using a plugin can make the process much easier and more efficient.

A WordPress Facebook Pixel Plugin allows you to easily integrate the pixel code into your site and to customize its settings without having to write any code or hire a developer. It can save you time and effort while providing you with valuable insights about your website visitors.
What are some features to look for in a good Facebook pixel plugin?
Some features to look for in a good Facebook pixel plugin include compatibility with the latest version of WordPress, support for both free and paid versions of the Facebook pixel, easy installation and setup, and the ability to track custom events and conversions.
Conclusion
In conclusion, we have explored the 7 best Facebook Pixel plugins for WordPress in 2023. We have covered both free and paid options that can help you improve your website's performance and ultimately drive more conversions.
We hope this article has been helpful in guiding you towards choosing the right plugin for your needs.
If you found this article useful, we encourage you to check out BetterStudio's blog for more related tutorials to help you optimize your WordPress website. You can also follow us on Facebook and Twitter to stay up-to-date with our latest tips and tricks.
Thank you for reading this article. If you have any questions or issues related to the content we discussed, please feel free to leave a comment below. Our team is always here to help you with any queries you may have.