Are you tired of manually sifting through categories on your WordPress website? Look no further as we present to you the 9 Best Ajax Category Filter WordPress Plugins 2023 (Free & Paid).
If you're wondering why you need to consider incorporating Ajax Category Filter Plugins on your site, let us tell you – it enhances the user experience, increases website engagement, and reduces bounce rates.
Using data from various sources and our own experience, we have compiled a list of the most efficient Ajax Category Filter Plugins to help streamline the WordPress category filtering process.
In this article, we will delve into the specifics of each plugin, highlighting its features, strengths, and weaknesses, to provide you with enough knowledge to decide which is the best Ajax Category Filter Plugin to use on your WordPress website.
Best Ajax Category Filter Plugins for WordPress
If you need to streamline the search process on your WordPress site, look no further than the best Ajax category filter plugins. Our handpicked selection of the top nine plugins, both free and paid, will help you simplify your navigation menu and enhance your visitors' experience.
Discover these game-changing plugins by checking out the list below.
A Fantastic AJAX Products Filter Plugin for WordPress
Advanced AJAX Product Filters is a powerful and versatile plugin that helps you filter your WooCommerce products in so many ways.
From checkboxes and single checks to radio buttons, collapsed options, and tags, this plugin has it all. It also takes into consideration every aspect of the design, from color schemes to images, to filter settings.
The plugin offers unlimited filter options and pagination buttons, helping you move between pages quickly. With the AJAX technology, filters can be moved around the page to speed up the viewing of results. One of the best things about it is that it filters products without page reload, making the website's loading time faster.
This plugin makes it possible to customize every aspect of the product filter by adding custom CSS, dropdown menus, and toggling between showing or hiding attributes. Whether you want to filter by post status or price, or by category dropdown and subcategory, this plugin has you covered. It also works perfectly with custom widget areas.
To sum it up, Advanced AJAX Product Filters is the perfect plugin for anyone who wants to manage their WooCommerce products with ease, speed, and accuracy. It has all the features to make your product filtering experience much more enjoyable and productive.
Key Features:
Supports multilingual sites with ease.
Checkbox inclusion of price ranges.
The ''Update Button' widget shows the number of products you have before you update.
Perfectly works with a custom widget area.
Customizes the product filter by adding custom CSS.
Toggle between showing or hiding attributes.
Scroll themes allow filtering the height of the box.
WordPress Plugin for AJAX Category Filter
Product Filter by WooBeWoo is a powerful WordPress plugin that allows you to filter posts and products based on different categories. This plugin offers the ability to add multiple filters to limit search results to materials that are appropriate for your clients. You can also add widgets or shortcodes to filter endless pages.
One of the most interesting features of the plugin is its use of Ajax to perform a search. This process speeds up the filtering process and allows users to select multiple filter options at one time.
With just a few clicks, you can create a filter and customize it to meet your specific needs. It also provides a live preview option that displays the immediate results after making changes.
The plugin includes the capability to create filters for the Elementor page builder. These filters can be applied to your website, allowing you to filter posts by Elementor. If you're unfamiliar with Elementor, you can still use widgets or shortcodes.
One point to note is that the premium version of this plugin is a bit pricey compared to other plugins on the list. However, the features offered in the premium version justify its cost, especially if you're looking to seriously boost your website's filtering capabilities.
To summarize, Product Filter by WooBeWoo is an incredible plugin that offers extensive filtering capabilities for your website. Its live preview option, ability to use Elementor page builder, and use of Ajax to speed up the filtering process, are some of the key attributes for this plugin.
Key Features:
Allows filtering by popularity, price, star ratings, latest, alphabetical order, and more.
Variations display on the front end
Easy to add new product filters
Works on different devices flawlessly
Customization of price filter in terms of color and symbol placement
Filter Post & Category Plugin for WordPress
Search & Filter is an intuitive WordPress plugin that simplifies searching through posts by categories and parameters. It allows archived posts, custom posts, and product parameters to be searched for faster access to desired results.
Using Ajax, users can easily display results and create custom search fields. With the drag-and-drop feature, you can create an unlimited number of customizable category filters. In addition, you can choose to display search fields as checkboxes, drop-down lists, multiple-choice lists, or radio buttons.
This plugin provides an exceptional search experience, where tags, categories, taxonomies, and post type and date can be searched, including some combined searches. It is perfect for use on blogs, news sites, property websites, online shops, and much more.
The Search & Filter plugin is compatible with both WooCommerce and WP eCommerce, allowing you to use it on your online shop too. The plugin also offers jQuery range sliders, auto-counting fields, and widgets and shortcodes to embed the tool anywhere on your website.
Key Features:
Compatible with WP eCommerce and WooCommerce
Widget and shortcode integration
jQuery range slider
Customizable search fields
Display search results without reloading the page
Easy to use drag and drop feature for creating search filters
Auto-counting fields for dynamic adjustments
WooCommerce Products Filter Plugin for WordPress
WOOF is a WordPress plugin that allows users to filter posts by topic, utilizing an ajax filter to make the search process seamless.
The plugin features various attributes such as categories, taxonomies, attributes, product tags, and prices, which can be displayed using checkboxes, dropdown lists, or any other method of choice. This tool can be used in integration with all popular WooCommerce themes, making filtering products on your site a breeze.
One notable feature of WOOF is the ability to create custom templates that allow users to filter products based on their metadata or create custom templates. Additionally, the tool lets you display and filter products based on clicking specific selections by embedding filters into blog posts and pages.
Dynamic product counts provide a sneak peek of the number of products a customer will find relevant to their search. The search data functionality helps you understand customers' interests and preferences. With infinite scrolling, your customers can enjoy browsing as many products as they like.
The product filters are readily available to customers, making it easy to quickly find what they need. The SKU feature allows search for products with a unique identifier. The step-by-step filtering feature acts as a product wizard for customers, simplifying the filtering process.
Key Features:
. Dynamic product counts
Search data functionality
Infinite scrolling
Available product filters
Search by SKU
Step-by-step filter
Custom templates for filtering
Display and filtering of products by selection
Integration with popular WooCommerce themes
Option to choose display methods for filters.
Post Category & Filter Plugin for WordPress
YITH WooCommerce Ajax Product Filter is an excellent option for anyone seeking a WordPress plugin with unlimited filters. This easy-to-use plugin allows your clients to create as many filter sets as they like, even for particular categories.
You can add filters to any part of your website, including shop pages, custom pages, widgets, and shortcodes. Plus, it's capable of filtering posts by category and tag.
One of the plugin's most useful features is that your customers can easily find products by searching various criteria such as categories, tags, and so on. They can find what they are looking for quickly, which is probably the most critical aspect of any online shop.
The plugin's user-friendly interface makes it easy for beginners to customize filter areas. Additionally, the plugin offers a Gutenberg block that allows you to create presets without limits. The premium subscription comes with some additional features, such as the ability to work with bicolor and manage permalinks.
The only downside of this plugin is that it does not support language filtering, unlike the Filter Everything plugin.
Key Features:
Show the price range with unlimited ranges
Ability to reset the position of product/filter areas

Customize the colors and styles of filter areas

Price slider
Four available layout types
Display sorting for products on the page
Adaptive filtering
Choose to show or hide the count of items
Hide or display specific terms.
WooCoomerce Product & WordPress Filter Plugin
Filter Everything is a WordPress plugin that provides a systematic approach to filtering your website content. With an unlimited number of filters for each post type, this plugin is capable of helping you create a filter set that allows you to filter by any parameter you specify, including built-in fields.
In addition to sliding ranges, checkboxes, and dropdown menus, you can also turn any filter into a dropdown menu option. This plugin has no compatibility with Elementor in the free version, so we recommend using Blog, Posts, and Category Filter for Elementor instead if you need this feature for free.
Moreover, the plugin has advanced filter settings, including URL variable names, a front-end view, and a number of options and exclusions. It also provides enhanced SEO plugin compatibility and options for filtering pages, hierarchical structure tooltips, and supports any language for filtering.
This plugin is fully compatible with WordPress page builders, just like Product Filter by WooBeWoo plugin, and works with many popular WordPress themes and plugins.
Key Features:
Supports any language for filtering
Enhanced SEO plugins compatibility and options for filtering pages
Mobile-ready
Collapse or expand the filter
Filters any custom WP queries
Works with many popular WordPress themes & plugins
Automatic scrolling to the top of the page
Full compatibility with WordPress page builders
Advanced filter settings including URL variable names, front-end view, and options and exclusions.
WordPress Plugin for Filter Posts By Category
Annasta WooCommerce Product Filters is a WordPress plugin that simplifies filtering posts and pages by offering dozens of powerful filters, including custom categories with additional attributes and filtering options.
Users can easily filter by price range with sliders and radio buttons or exclude unnecessary filter items. The plugin also includes a taxonomy filter to let customers search for products based on taxonomies.
Additionally, users can create custom product finder pages with dynamic product count displays and automatically complete keyword searches.
The plugin also offers collapsible hierarchical filter toggles and modern-looking customizable checkbox icons. It allows users to limit displaying results of products marked as featured and filter on-sale items.
One major disadvantage is that the plugin does not offer analytics for filters, unlike the Category Ajax Filter plugin.
Key Features:
Easy exclusion of unneeded filter items.
Support of URL or Ajax product sorting.
Creation of product finder pages.
Modern and customizable checkbox icons.
Dynamic product count display.
Limit showing results of featured products.
Automatic keyword search completion.
On-sale filter.
Collapsible hierarchical filter toggle.
Taxonomy filter for WooCommerce.
Category & Post Filter WordPress Plugin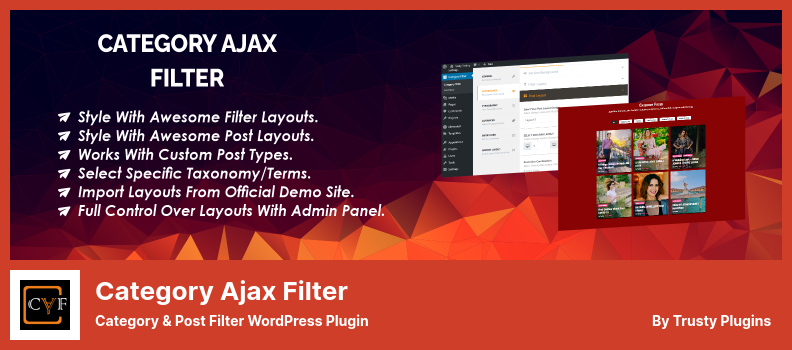 Category Ajax Filter is a remarkable WordPress plugin that filters posts and pages on your website with ease. All you need to do is add a shortcode to filter any part of your website.
The plugin uses AJAX to filter posts in a variety of pre-designed layouts. It has several language strings that can be modified or translated for user preferences.
One of the key attributes of this plugin is its customizable feature set. It offers filters, colors, layouts, font sizes, and numerous features that can be adjusted to meet individual needs.
Additionally, users can customize search filter settings by choosing their preferred color scheme. After setting up the search filter, users can embed the shortcode into any post or page to display results.
With Category Ajax Filter, users can enjoy various features like an imported and customizable layout, multiple checkbox filter layouts, and a Google fonts list. The plugin also provides analytics to track clicks on filters, and users can enable or disable any filter as per their requirements.
Moreover, the plugin allows users to create their own WP query to filter posts (using the Filter Everything plugin) and to load more posts.
Key Features:
Search field that filters posts
Customizable and imported layout
Multiple checkbox filter layouts
Google fonts list
Customizable search filter settings
Embeddable shortcode to display results
Analytics to track clicks on filters
Enable/disable filters according to the requirement
Option to create WP query to filter posts
Load more posts.
WordPress Plugin for Advanced Filter of Any Post Type
JetSmartFilters is an advanced WordPress plugin that allows you to filter your products by category. It features a faceted search system with multiple filters, including rating filters, visual filters, radio filters, and more. Users can create hierarchical filters and use any filter type on any post, page or theme.
One of the key features of JetSmartFilters is the Indexer, which enables customers to find the products they want with just one click. The Map Listing integration and dynamic filtering option are also great tools for creating an efficient and effective search system.
With JetSmartFilters, you can filter by categories, sub-categories, attributes, tags, taxonomies & price, and the plugin will automatically count the total number of products after applying the filter.
Plus, product filters can be shown on any page using a custom shortcode, and there's no need to refresh the page to load more relevant products.
Key Features:
Indexer feature for

quick product searches
Map Listing integration
Faceted search system with multiple filters
Hierarchical filter creation
Dynamic filtering option
Custom shortcode placement on any page
Automatic product count after applying filter
Filters for categories, sub-categories, attributes, tags, taxonomies & price
No page refresh needed for a more efficient search experience
Frequently Asked Questions
What are Ajax Category Filter WordPress plugins?
Ajax Category Filter WordPress plugins help to sort and filter posts or products on a website based on pre-defined categories. These plugins use Ajax technology to display filtered results in real-time, without the need for page reloads.
Why should I use Ajax Category Filter plugins on my WordPress site?
Ajax Category Filter plugins can improve user experience on a website by making it easier and faster to find the right content. They help users to quickly navigate to specific categories or sub-categories without having to manually search or scroll through pages of content. This can lead to increased engagement and conversions on the website.
How can I install and set up Ajax Category Filter plugins on my WordPress site?
Installing and setting up Ajax Category Filter plugins on your WordPress site is simple and usually involves downloading the plugin from the WordPress plugin repository and activating it on your site.

Once activated, you can customize the plugin settings and add the filter to your desired pages or widgets using shortcodes or widget options. It's important to follow the plugin documentation or contact the plugin support team for any specific installation or configuration instructions.
Conclusion
In conclusion, we discussed the best Ajax Category Filter WordPress plugins for 2023, both free and paid options. We highlighted the features and benefits of each plugin and provided our top picks.
If you're interested in learning more about WordPress plugins, we highly recommend checking out the BetterStudio blog for more related tutorials and resources.
Don't forget to follow us on Facebook and Twitter to stay updated on the latest tutorials and news.
Thank you for reading our article! If you have any questions or encounter any problems, please feel free to ask in the comment section below. We're here to help!