What are the best WordPress plugins for WooCommerce Upsell and Cross-Sell websites in 2022?
There are many best WordPress plugins for WooCommerce Upsell & Cross-Sell out there. In this article, we will showcase some of the best of them. These plugins support the latest WordPress themes.
We have selected the best plugins for WooCommerce Upsell & Cross-Sell. This selection also contains plugins applicable to WooCommerce Upsell On Checkout Page.
📌 Note: You might benefit from reading our article about advanced plugins for WooCommerce and powerful WooCommerce themes to find out how to select a theme that will both enhance the appearance and functionality of your WooCommerce store.
Let's check out some of the best WordPress plugins for WooCommerce upsells & cross-sells in 2022:
The Smartest Way to Sell WooCommerce Product Bundles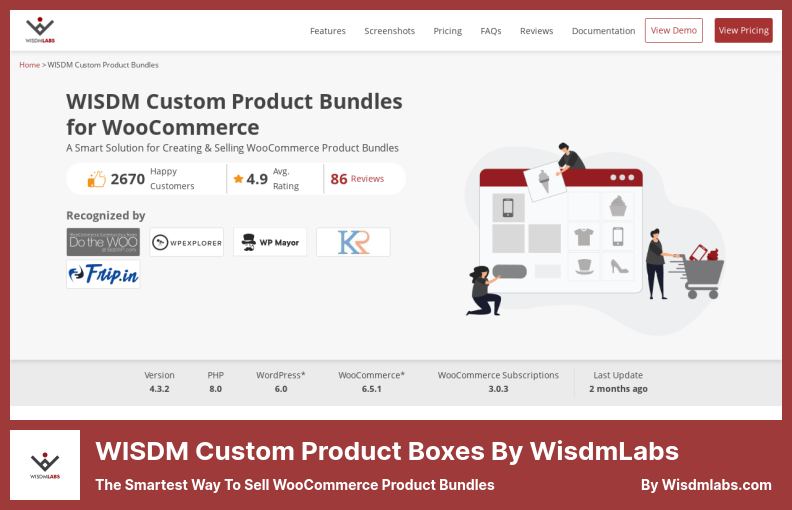 You can easily create packaged product bundles and kits using the WISDM Custom Product Boxes plugin, which is ideal for cross-selling. While making your product bundles and kits, integrating the plugin with WISDM Custom Product Boxes is a breeze.
It is very effective to combine your best-selling products with your low-selling products and offer them as a bundle at a lower price. This is an excellent way to increase sales by offering a bundle at a lower price.
By purchasing these products together, you are most likely to generate more sales than purchasing them separately. Customers perceive bundles as more value-added and cost-effective than buying them individually.
Moreover, one of the best features of the add-on is that it allows your customers to mix and match bundles to create their packages according to their needs.
As an alternative, you might consider offering partially-filled bundles to your customers as a way of cross-selling your products and giving them the confidence to make purchases from your company in the future.
💵 Irrespective of whether you are a novice or a developer, the WISDM Custom Product Bundles for WooCommerce plugin will be helpful to you. You can purchase the plugin for $80.00.
Key Features:
Set up bundle subscriptions

to earn recurring revenue

Customize product bundle pricing to fit your needs
Adapt your bundles' colors and styles to your store
Prepare pre-made kits and bundles to simplify customers' decisions
Create pre-built bundles with simple or variable products
Provide customers with convenience checkout for partially filled bundles
Providing customers with the option to mix and match to create their bundles
Popups and Discounts for WooCommerce Upsells and Cross-sells

Boost Sales for WooCommerce may be less popular than some other plugins listed here. Still, it is equally effective in upselling and cross-selling.
With this add-on, when your customers add products to their shopping cart, you can display upsell popups to them. This will increase the average cart value of the products added to the cart, and you will increase the chances that your customers will buy from you.
As a result of the above, I would like to emphasize that this plugin stands out from the rest because it displays a discount bar at the bottom of your cart page. This will encourage your customers to leave their carts empty to save money.
If you wish to increase your revenue further, you can display cross-sell popups on the product cart and checkout pages to maximize your gain. The cross-sell popups can be displayed whenever you desire to maximize their effectiveness.
💵 The Price of the WooCommerce Boost Sales plugin is $32.00.
Key Features:
Bundles can appear under the Add to Cart button or the description tab.
Create a customized popup message for cross-selling bundles
Quickly configure upsell popup products
Build product bundles and sell at discounts through cross-selling popups
Create upsell popups with developments in the same category or frequently bought together
Provide customers with a discount bar to let them know how much to spend
Random Reviews:
Support team helped fix a bug

This is a potent and easy-to-use tool.

The plugin works very well, and the support is excellent!
Increase Sales By Suggesting Items Purchased Through The WooCommerce Plugin
YITH WooCommerce Frequently Bought Together plugin is extremely easy to use, which is why it is so popular. It has a thumbnail image and title below the 'Add to Cart button so the customer can decide which item to add.
In addition to offering the option to display either related products, upsells, cross-sells, or even custom products if necessary, this plugin has the handy feature of allowing you to specify what additional products you want to be displayed.
Thus, you are in complete control of whether or not you wish to run WooCommerce cross-sell and upsell campaigns at any given time.
The Free version allows you to set unlimited numbers of suggested products for each item in your store, customize the title of the 'Frequently Purchased Together' section, and customize the text and color of the 'Add to Cart button.
💵 Support time for 12 months is available by only taking the plugin for $69.99.
Key Features:
Select a random product display or show all products
Show up-selling products where you want
Image size for recommended products
Offer discounts to encourage more purchases
Access linked products quickly from a handy list
Easily customize the 'Frequently bought together section
Increase Revenue Using WooCommerce Cross-sell Plugin
Iconic Sales Booster for WooCommerce is an excellent plugin that allows you to display recommended products after checkout and on the product page. It displays advertisements after checkout for your products to be promoted during the checkout process.
You can select the products you wish to recommend with the product editor page. If your store is large, choosing which products to recommend may take some time. However, if your store is smaller, it will give you maximum control over cross-selling.
A frequently bought-together section can be easily added to your product pages. You can also offer discounts to your customers if you choose. The plugin will display a popup reminder if a customer forgets to add an item to the cart.
With this WooCommerce Upsell On Checkout Page plugin, you can create promotional offers that will appear on the checkout and product pages. It is also possible to add promotional items during checkout and cross-sell after purchase.
💵 You'll get all the advanced features of the Iconic Sales Booster for WooCommerce plugin plus 12 months of support with $79.00.
Key Features:
Offer a discount to make your products irresistible
Adapt the sales text's style and position to fit seamlessly with your checkout
Create a sales message that appeals to your target market
Create an offer text that appeals to customers and suits you to maximize sales
Maximize sales by offering products based on the cart contents
Increase customer order value by adding cross-sell products below the 'Add to cart button
Create Unlimited Upsell Funnels WooCommerce Plugin
The One-Click Upsell Funnel for WooCommerce plugin can be used to increase revenue collection and average order value by creating post-purchase offers after customers make purchases on your website.
It is possible to create sales funnels using this plugin to offer customers hiking boots and hiking backpacks as upsells when they purchase hiking backpacks. The discount is based on their purchase of hiking boots.
If the customer rejects this offer, the system will present a water bottle as a down-sell with a more significant discount. Ultimately, the customer will purchase a hiking backpack and a water bottle instead of just a backpack alone.
The One-Click Upsell Funnel plugin allows you to create unlimited funnels and track their performance with funnel reports, allowing you to identify which funnels are effective and which are not. Sandbox mode will enable you to preview your funnels before publishing them.
In addition to creating sales funnels, this application also allows customers to purchase products after they purchase without having to reenter their credit card information.
💵 $29.00 includes 12 months of support.
Key Features:
Easily create offers without having to know any coding skills
Offer upsells and cross-sells in unlimited funnels
Create detailed offer layouts for your products
Supports WooCommerce Upsell and Order Bump Offers payment gateways
Increase sales and order value if customers skip the first funnel for a specific product
Track every funnel with a single report
Customer relationships can be improved by personalizing service
Installing and maintaining the plugin takes only minutes
A Marketing Platform That Leverages and Automates Social Proof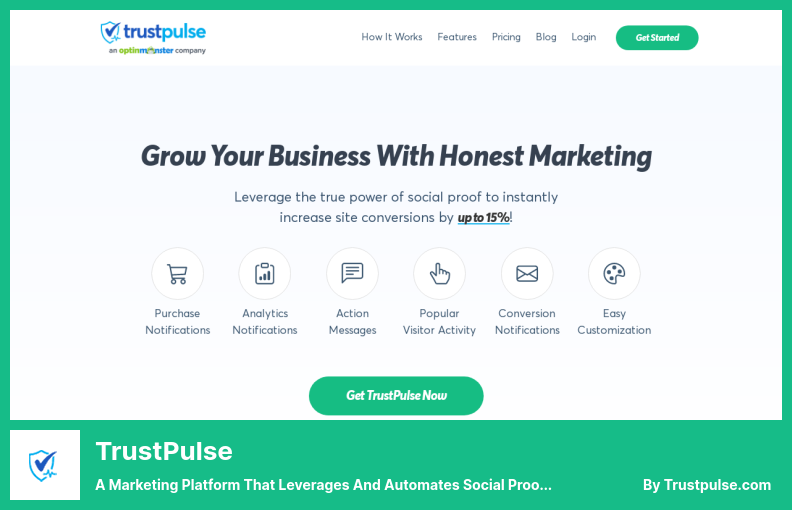 With TrustPulse, you can increase sales by displaying more social proof on your WooCommerce store. You will not need to write any code since it seamlessly integrates with WooCommerce. You will also learn more about your customers to create more successful sales campaigns.
The plugin increases customer engagement by displaying real-time purchase information and personalized welcome messages to enhance the overall customer experience. Such statements give users the feeling that they will not miss out on any of the latest promotions.
Using this tool, you can display popular visitor activities and purchase notifications on your website. You can customize the style of the notices to match your site's aesthetics.
The main benefit of TrustPulse is that you can access all of your sales campaign analytics through your WordPress dashboard. It also integrates with Google Analytics.
💵 It is possible for you to stay up to date with the plugin by taking out the theme for a low price, such as $5/m.
Key Features:
Identify the right audience and display social proof
Real-time purchase tracking, signups, etc
Increase conversions immediately
Set up notifications in five minutes
Verify customer activity instantly
Create your own or customize out-of-the-box
Product Suggestions and Discounts On Smart Orders WooCommerce Plugin

The WooCommerce Checkout Upsell Funnel plugin may appear to be an upselling plugin. However, it is a cross-selling plugin.
Customers can be prompted to purchase a more oversized item before they click on the order button by displaying additional products on the checkout page. Additionally, you can offer fixed or percentage discounts on the promoted items to encourage them to purchase more.
Several options are available, including displaying the additional products within a certain period and selecting the products that appear in these promotions.
The site can also display a popup preview on the checkout page and a link to the 'order suggestion' page, which will show the recommended product. An additional feature is the display of a countdown timer, which will further increase sales.
In this plugin, you will find some basic features for modifying the appearance of your website that is easy to use and configure.
💵 $30.00 only, offers All Features + 12 Months of Support + All Plugins + 1 Year Lifetime Updates.
Key Features:
Offer suggestions during checkout or redirect customers to the 'order suggestion' page.
Customer clicks on place order to display order suggestion popup
Display suggested products on certain days of the week
WooCommerce offers many types of suggestions on the Checkout page
Customers will be directed to this page when clicking place order with this option
Random Reviews:
It's a fantastic system. Their support is excellent. I highly recommend it to everyone.

It's a nice plugin, and we get excellent support! I'd highly recommend it!
One-click Post-purchase Upsell and Cross-sell Offers Plugin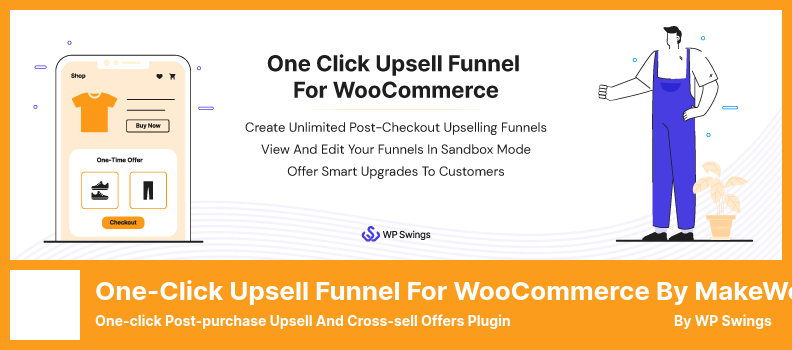 With One-Click Upsell Funnel for WooCommerce by MakeWebBetter, customers can choose from a variety of post-purchase services during the checkout process of their WooCommerce store. The plugin is incredibly intuitive to use, and users are not required to have any programming skills.
It provides you with the ability to create unlimited funnels. It offers every funnel, as well as view an view of each funnel, enabling you to design more effective campaigns in the future.
Using a Google Analytics and Facebook Pixel tracking platform, you can track everything your upsell funnel collects and set up multi-upsells and cross-sell triggers based on the customer's email address.
💵 We don't charge for this. It's free.
Key Features:
Offer upsells and cross-sells in unlimited funnels
Incorporate an upgrade into the purchase
Track every funnel with a single report
Facebook Pixel and Google Analytics upsell funnel data
Set up a global funnel regardless of products or categories
Based on order email, show exclusive offers
Random Reviews:
Support is also fantastic! The support agent stayed with me for the duration of the session, guiding me through every step.

Mayank was beneficial when I had trouble setting up the plugin with some of my products.
Sales Funnel Builder to Increase Conversions & Maximize Profits Plugin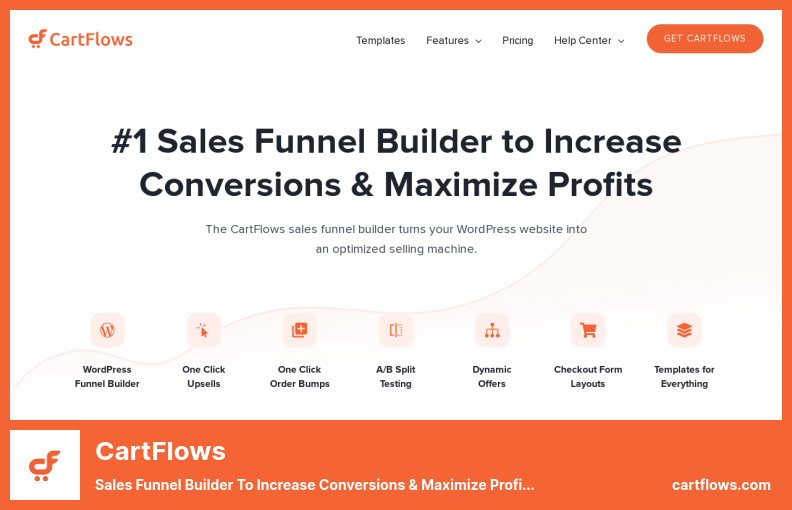 Using CartFlows by WooCommerce, you can create complete sales funnels for your store. This powerful plugin reduces abandoned carts, implements upsells, bumps orders, and optimizes your checkout page to increase sales and conversions.
The plugin includes drag-and-drop funnel builders and templates that will make it easy for you to build your own sales funnels. With one-click upsells, you can encourage a higher average order value by presenting relevant or targeted products at the checkout page.
A/B testing tools, a simple setup tool, and upsell templates are available in CartFlows, allowing you to add cross-selling and recurring order bumps for your customers easily.
Furthermore, as well as CartFlows, another program designed to reduce abandoned carts, the company also offers email tools, automatic follow-ups, coupons, and other incentives to encourage customers to complete their shopping.
💵 Besides the plugin for $239.00, you also get a wide variety of additional services.
Key Features:
Recovery of abandoned carts and revenue maximization
Identify opportunities based on funnel performance insights
Create a high-converting sales funnel in minutes
A one-click upsell increases the average order value
Reduce cart abandonment by fully controlling the checkout page
Upsells and bumps become dynamic offers that entice buyers to purchase
As a final note, let me conclude
This concludes our review of the best WooCommerce Upsell & Cross-Sell plugins. The plugins we've selected are modern, easy to use, and can enhance your site.
📌 Note: You may find our posts on the powerful WordPress blog themes of 2022 and the best WordPress blog plugins for improving your blog and boosting its subscribers and SEO.
Thank you for reading. I hope it was helpful.
You can leave a comment or ask questions about the showcased plugins if you have any.