Are you looking for a WordPress Content Marketing plugin?
It is in this post that we will demonstrate the best WordPress plugins for Content Marketing. You can use them to set up your website today without having to hunt for and find a large list of plugins. We chose plugins that were mobile-friendly and speed optimized, as well as fully integrated with all the top WordPress themes.
In addition, all of the following plugins are for Content Marketing. Are you looking for a content marketing plugin that doesn't seem the same as the exact Content Marketing plugin? Furthermore, these plugins can be used for wordpress content management and WordPress digital marketing plugins. If you want to take your site to the next level, choose a plugin to enhance it.
Let's take a look at the best WordPress plugins for Content Marketing in 2022:
Word Press Plugin to Increase Your Search Engine Ranking
To build influential blogs with relevant results, you will need Yoast SEO's master content marketing plugin. Once you enter your keywords, the plugin optimizes your title heading and meta description based on your keywords.
Using the insights tool, you can find synonyms and phrases associated with those topics most relevant to your content.
With the help of readability analysis, you will be able to create content that is both human and search-engine-friendly. Additionally, Google Preview will allow you to see the order in which your listings appear in search engines.
As soon as you have finished writing an article, you can even add internal links automatically. To reduce bounce rates and enhance site performance, you should always provide a redirected page whenever your links are lost or changed.
Assigning roles within your team also allows you to delegate SEO tasks. Advanced XML sitemaps automatically provide structured data to Google, allowing your website to be better indexed when individuals conduct searches.
You can use the website's free version to improve your technical SEO. However, a premium membership is necessary to access more advanced features.
💵 For Lite, it is free. Premium, it has a price. It costs $69.30.
Key Features:
By integrating Schema.org, you will improve your chances of getting rich results

Optimizing your site structure with advanced XML sitemaps

Search engines and users can always follow site breadcrumbs
Innovative data management in WordPress leads to Faster loading times

SEO snippets and title templates for better branding

Meta tags and canonical URLs automated for technical SEO
Random Reviews:
There is no doubt that WordPress's Yoast SEO plugin is the best.

Thank you for creating this SEO plugin that is the best on the market.

The Yoast SEO plugin is the best solution for On-page SEO. I have used it for the last two years and am satisfied with its performance.
WordPress Social Media Auto-poster and Scheduler Plugin
With FS Poster, WordPress bloggers and marketers can quickly increase their social media presence on 15 social networks.
It has been running since 2011 and is popular among WordPress users. Multiple social media accounts, groups, and pages can be configured and shared simultaneously.
As soon as your blogs are published, you can schedule them for automatic posting by selecting a date and time at which they will appear. Bulk posting allows you to schedule unlimited posts by specifying the order and posting intervals.
In addition to increasing your traffic on your site, increasing the number of posts will also improve your search engine rankings. The WordPress category and tag system allow you to include your tags in post descriptions easily.
The social media scheduler will also enable you to create customized messages for each platform. Additionally, you can connect to all platforms via proxy connections regardless of your physical location.
FS Poster's URL customization feature can also be beneficial if you schedule a large number of posts at the same time. Some platforms may count those posts as duplicates and even block them if scheduled too frequently.
In addition, you can use this feature to optimize these slugs for your keywords. Additionally, the program allows monitoring scheduled posts, viewing social media KPIs and comparing them by platform. There are a few additional features that may be added to the program.
💵 There is a price for this advanced plugin, which is $31.00.
Key Features:
Increase brand awareness with auto-posters and schedulers
Optimized posts for SEO with social media scheduler
Scheduled posts are used to measure each network and account
Automate social media posting using WordPress
Keep your social media posting schedule up-to-date
Utilize social media auto-posting software to boost traffic and rankings
WordPress Plugin for a Convenient Monthly View of Your Content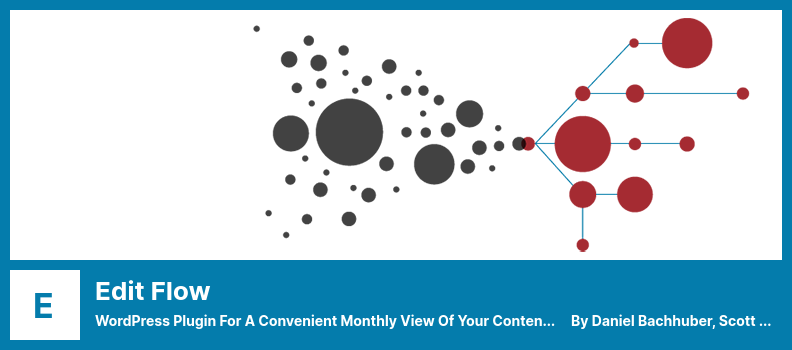 Edit Flow is among the most popular WordPress plugins used for editing tasks. Over ten thousand people have used it. Content marketers can utilize these plugins to collaborate on their content marketing strategies. These plugins include several features that make this easier.
Additionally, users can drag and drop the statuses to determine what order the content creation process should take based on the stage of the content creation process.
In addition to the default Draft status provided by WordPress, users can create custom statuses such as Pitch Ready to publish.
It is possible to assign tasks and set essential details about your posts with editorial metadata to assist you in keeping track of them.
Many fields, including dates, numbers, and text, can be created to help you keep track of things. WordPress administrators and team members cannot view these fields, which will not appear in the post.
Edit Flow is among the top WordPress plugins I recommend for content marketing. It allows writers to comment on each other's work, thereby reducing the number of e-mails between writers. Subscribers are notified of content creation and missed comments through notifications.
It is effortless to manage your content workflows with calendars, whether you use them weekly or monthly.
You can filter the calendar view according to post status categories and users. You will be prompted to save your filters after you leave the calendar view, which is an excellent feature.
💵 We will provide all these features in the plugin, which is free.
Key Features:
Manage your content workflows with calendars
Check out your content budget for the next few months
Plan your workflow stage-by-stage
Sort users according to departments or functions
Maintain a record of the vital information
Detailed content statistics month-by-month
Editors and writers can discuss privately in the admin
Random Reviews:
Our college newspaper has used EditFlow for several decades, and we are grateful that it continues to improve.

Great plugin with a logical interface. But there are two huge drawbacks:
Delivers Vibrant Content for Your WordPress Site
MyCurator provides articles from other sources relevant to the article's topic yet offers various suggestions. In terms of content marketing tools for WordPress users, the WordPress plugin is among the best available.
It takes a few tests before the plugin can produce similar high-quality content while weeding out spam. By voting up or down on curated lists, the plugin's Machine Learning engine can be used to train the plugin.
With WordPress's content marketing plugin, users can find content and customize RSS Google alerts, Twitter alerts, and other RSS feeds tailored to their preferences. Users can also search for content based on keywords or other parameters.
Using this plugin, you can create posts in your blog's native language and curate content in any language. Videos can be embedded from YouTube and other websites, and multiple articles can be saved. You will be able to curate content while you're browsing the web.
It is available in three pricing tiers, including a free option for individual users. Suppose your blog covers a wide range of topics. In that case, you should subscribe to the monthly plan to collect content from unlimited sources.
💵 It's a Free plugin for download and all future updates.
Key Features:
Daily articles are delivered to you from your sources
Web spam can be weeded out by AI classification up to 90%
Filtered content based on your keywords
Pop up full articles for review in a readable page format after choosing articles
Customize your RSS Twitter and Google Alert sources
Create posts in your native language
Random Reviews:
Despite its great features and easy-to-use nature, MyCurator would be even better if it had the following:

It's a great plugin that can help you find quality content through RSS feeds, Google Alerts, Twitter, and many other options—highly recommended!
An Easy to Use Web Push Notification Plugin for Your Website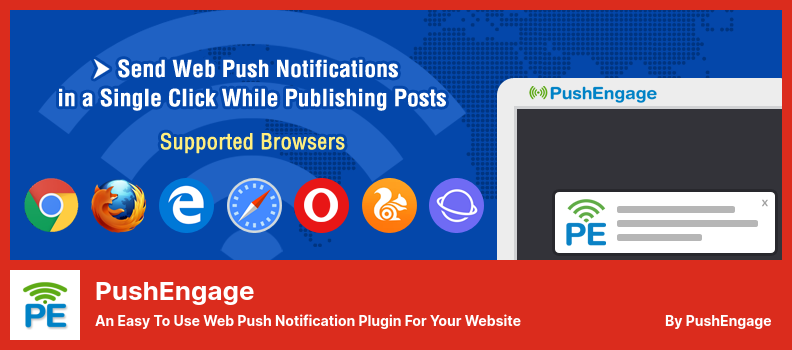 In PushEngage, you can be familiar with the specifics of each browser or device to set up web push notifications. PushEngage is an integrated content marketing platform that allows you to track visitors to your written content that is compatible with all browsers and devices.
Your WordPress content marketing plugin will automatically notify subscribers when new content is published if you enable targeted push notifications. You can re-engage previous website visitors when the reader subscribes to your statements.
If you send offline notifications, you can be sure that your push notifications will be received as soon as the device returns to the internet. You can choose to send them at any time. They will be automatically received after the device returns to the internet.
The notifications can also promote evergreen content, such as blog posts and unique campaigns that will be around for a while. Additionally, trigger notifications can be set up by the user's past actions and segmented based on the user's interests and information.
As part of the plugin, you can test various notification parameters and determine the most effective. Additionally, the plugin includes notification analytics, one of the most advanced features available today.
Using this method, you can determine the most active hours of the day and tailor your campaigns accordingly.
💵 Price: $8.00 for Premium, free for Lite.
Key Features:
Choose from

7 opt-in subscription types
Automatically notify visitors when they subscribe.
Support for multiple browsers is available
Providing both HTTP and HTTPS support
Create segments based on parameters such as browser geo-interest
Random Reviews:
Using the plugin, I increased traffic to my site, and it was easy to install.

It asks me to enter my credit card information while signing up.
Traffic Increasing to Your Website and Monetizing It
Using OptinMonster's ads on your website will exponentially increase your mailing list by generating Internet leads. In any business, OptinMonster helps you build email marketing campaigns to increase your sales and convert more web traffic into loyal customers.
It is straightforward to create spectacular popups and lead-generation forms using this drag-and-drop builder. It features a powerful drag-and-drop feature which gives you the highest conversion rate.
The development of OptinMonster resulted in more than 50 pre-built templates supporting six types of campaigns, such as lightbox popups, scroll boxes, gamified wheels, floating bars, etc.
OptinMonster offers powerful targeting tools to assist you in ensuring that your campaigns are reaching the correct audience. It allows you to track where your campaigns are coming from while ensuring that you get the right people at the right time.
It is possible to keep your campaign fresh every time a visitor returns to your website using OptinMonster's Onsite Retargeting feature. OptinMonster's Exit-Intent feature can be utilized to recapture interest from departing visitors.
These examples illustrate how OptinMonster's technology can be used to create popup campaigns customized to the specific actions taken by certain individuals.
💵 There is a complete manual and 24×7 support, so you have no worries. You can get this plugin for only $19.00.
Key Features:
gives you the highest conversion rate
Make data-driven decisions through A/B testing.
Helps you build email marketing campaigns
Build high-converting campaigns with this powerful, yet easy-to-use tool
Identify the best conversion pages through split tests
Easy integration with many marketing tools
Drive traffic to your most important pages
Standard Interface for Popular Content Creation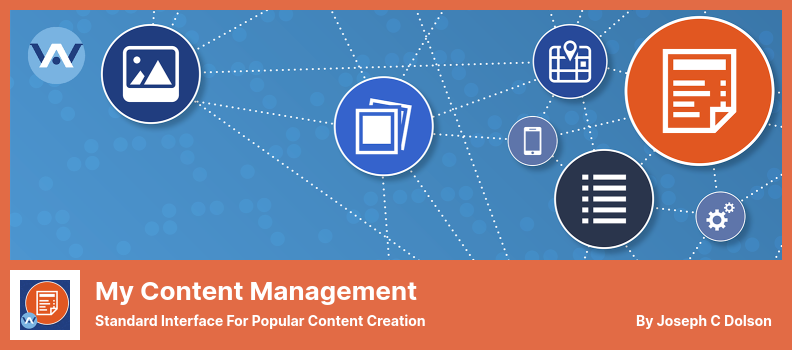 A plugin called 'My Content Management' allows you to create posts with custom taxonomies and common field types when necessary. It provides an easy-to-use interface for creating posts with custom content types.
Several post types and field groups are available in the system in addition to default types and field groups. In addition to creating custom post types and field groups, you can edit the existing types and field groups within the system.
This WordPress Content Management plugin has no default stylings, so you will not encounter conflicts with your theme or plug-ins.
While the default HTML can be used, it can also be replaced entirely by utilizing the template system provided or by creating templates to display these particular types of content.
💵 It's Free with all the features and possibilities listed above!
Key Features:
Organize your folders however you want
Manage the types of posts you can organize
Reorganize folders by dragging and dropping
Make folders for posts and pages
Create folders quickly by dragging and dropping
Random Reviews:
This design and feature appeal to me.
Live Chat On Your WordPress Website, The Fastest and Easiest Way
WP-Chatbot plugin allows you to add live chat to your WordPress website and make your chatbot your first point of contact for any visitors to your site. One exciting aspect of the plugin is that it allows a human agent to take over any chat at any time.
It is estimated that businesses will save $8 billion by 2020 by implementing chatbots for customer service.
When you implement a 24/7 chatbot for your business and customers, you can lower support costs and increase conversion rates. This eliminates the uncertainty shoppers experience and provides an effective sales lead generation tool for your business.
It takes just a few clicks to automate Facebook Messenger on your website, thanks to the one-click plugin.
The MobileMonkey WordPress digital marketing plugin lets customers quickly contact you directly from your website. This makes it convenient for your customers.
WordPress chatbot plugins can be customized based on your needs. All communications from your website, Facebook page, and other social media outlets can be consolidated into one email inbox.
💵 For FREE, you can download and install it.
Key Features:
Unified inbox for Facebook Messenger chat and native web chat
Keep messenger chats going when users leave your site
Adds live chat to WordPress websites
Maintains continuous customer support even without a staff member
Easy and quick integration with Facebook Business
Random Reviews:
Creating my Facebook account, ticking permissions, and that's it. Impossible to configure or set up.

I'll keep it simple: nothing works. Registration, Q&A, saving… Nothing to save my time, and now I want my money back.
Finally, let me conclude
Content Marketing plugins such as those listed above are the best around. After a few hours, you can have a fantastic website with these plugins.
📌 Note: Additionally, you may find our list of top WordPress security plugins useful for enhancing the security of your website. We also recommend you look at our expertly selected WordPress hosting providers.
Thanks for sharing this resource. I hope it has been useful.
Please feel free to leave a comment if you have any questions. You can follow us on Facebook and Twitter to stay up to date with our newest articles.