Are you a WordPress website designer in search of the perfect theme for a journalist's website? Look no further!
In this blog post, we will explore the 12 best WordPress journalist themes for 2023, helping you find the perfect design that combines functionality and style.
Now, let's dive into the world of WordPress journalist themes.
With the fast-paced and ever-evolving field of journalism, it's important to have a website that reflects the professionalism and authenticity of your work.
These themes are not only visually appealing but also optimized for performance, user experience, and search engine visibility.
Starting off, we'll explore themes that offer sleek and minimalist designs, perfect for those who prefer a clean and professional look.
These themes prioritize readability and ease of navigation, allowing your content to shine. Whether you're a freelance journalist, an investigative reporter, or a news organization, these themes offer a range of features and customization options to suit your needs.
Let's get started!
Best Journalists Themes For WordPress
Looking to take your journalism website to the next level? Look no further than these top-rated WordPress journalist themes for 2023.
From sleek and modern designs to user-friendly features, these themes are perfect for showcasing your articles and captivating your readers.
Don't miss out on the opportunity to elevate your online presence – explore the best journalist themes for WordPress in this article and start creating an unforgettable website today.
Blog for Writers and Journalists WordPress Theme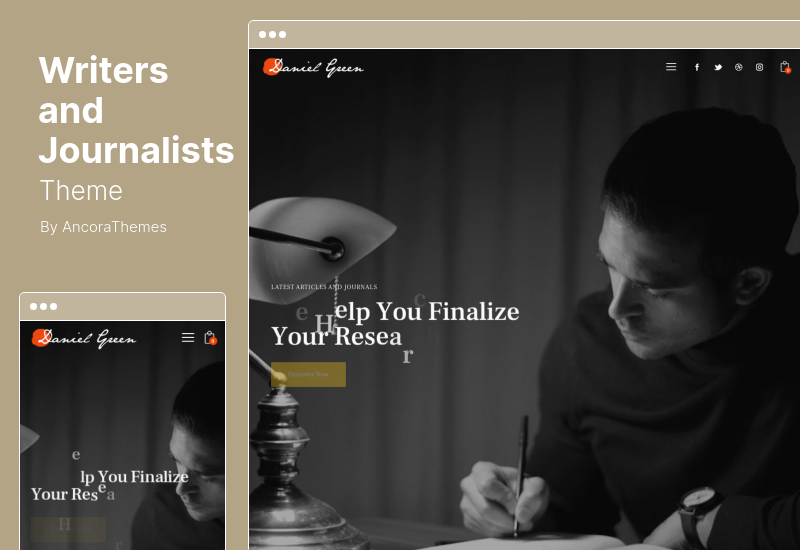 The Writers and Journalists Blog is a specifically designed WordPress theme catered to writers, journalists, and bloggers. With its modern look and functionality, this theme is perfect for showcasing your writing talents and professional work.
With the inclusion of various plugins such as Revolution Slider, Beautiful Events Calendar, Elegro Crypto Payments, WooCommerce, Mailchimp, and Elementor page builder, you have the flexibility to customize your website as you wish.
The Writers and Journalists Blog theme provides a seamless user experience with user menus and main menus readily available.
Whether you prefer a boxed or full-width layout, Writers and Journalists Blog has got you covered. You can choose the layout that best suits your needs and style, ensuring that your website stands out from the rest.
Key Features:
Developed using the latest HTML5 and CSS3 technologies for a modern and responsive design.
Options panel for custom themes, allowing you to personalize your website.
User menus and main menus are available for easy navigation.
Customize the header and footer layout effortlessly with Elementor.
Increase engagement with views, likes, and sharing buttons on each post.

Choose between a boxed or full-width layout for a stunning website design.
Belletrist is a versatile WordPress theme designed specifically for writers, bloggers, and book authors.
It's perfect for creating engaging and inspiring websites for various niches, including fashion, literature, and bookstores.
With Belletrist, you can easily share your ideas and inspire your audience through its beautifully designed blog templates.
Whether you want to post book reviews, ask for feedback from your readers, or showcase your literary awards, this theme has got you covered.
You can even offer your books for download from popular platforms like Google Play and Apple's iTunes store.
Additionally, the Belletrist theme offers custom shortcodes that can be used in multiple ways, giving you even more flexibility in adding interactive elements to your site.
Book Selling WordPress Theme for Writers
Odrin is an attractive, modern, and meticulously designed WordPress theme for writers.
It offers page-flipping effects, WooCommerce integrations, multiple shortcodes, and pre-built templates, making it the perfect choice for authors.
Whether you're a bookseller, publisher, or individual author, Odrin provides an excellent theme for creating a beautiful website.
This WordPress theme is not only suitable for business and marketing websites but also for ebook platforms.
Odrin is ideal for authors with audiobooks or digital books, as well as for websites with multiple authors or landing pages for upcoming books.
With its versatile features, Odrin can serve as a template for individual authors looking to showcase their work.
Key Features:
Mailchimp newsletter widget for easy email list integration.
Featured book shortcode to showcase your best-selling titles.

Shortcodes for

block quotations

to highlight impactful quotes from your books.

Shortcode for Book Images for visually appealing book displays.
Popular Posts widget to showcase your most popular content.
Full-width page options for creating visually striking layouts.
WordPress Blog Theme For Writers
RibTun is a Creative Blog WordPress theme that caters to various niches, including fashion, food, hipster, and travel blogs.
This theme offers CSS text animation effects to enhance the visual appeal of your writing and comes with a fully customizable design.
With RibTun, you have the freedom to choose from a wide range of fonts to make your website both attractive and easy to read.
One of the standout features of the RibTun WordPress theme is its focus on providing a platform for writing and blogging professionals to publish visually appealing content, whether it includes images or not.
RibTun is designed with readability in mind, ensuring that your content is easy on the eyes for your readers.
Additionally, the theme is optimized to ensure that your images look stunning on any device, even those with retina displays.
Key Features:
Full-width,

grid layout

, and classical layout options

Unlimited color choices for a unique and eye-catching website
Highly readable design for a comfortable reading experience
Optimal display of images on devices with retina screens
Detailed and well-written documentation for easy theme setup and customization
Customizable design with CSS text animation effects
WordPress Theme for Book Writers Authors
Leona is a WordPress theme designed specifically for writers, with a focus on promoting the work of short story authors, essayists, novelists, and short story writers.
It offers an immersive experience that creates an environment for readers to be fully engaged in the story. Whether you're a writer from any genre, Leona is one of the best WordPress themes you'll come across.
Leona's design is modern and minimalist, offering a clean and professional look for your website. Its attractive call-to-action button encourages sales and allows you to showcase your newest work.
The drag-and-drop interface makes it simple to arrange and optimize your content.
Key Features:
Ample opportunities to showcase your newest work.
An attractive call-to-action button to encourage sales.
Modern and minimalist design for an elegant look.
Option to offer free samples of your chapters.
Compatibility with WordPress page builder plugins.
User-friendly drag-and-drop interface for easy customization.
Writing Personal Blog WordPress Theme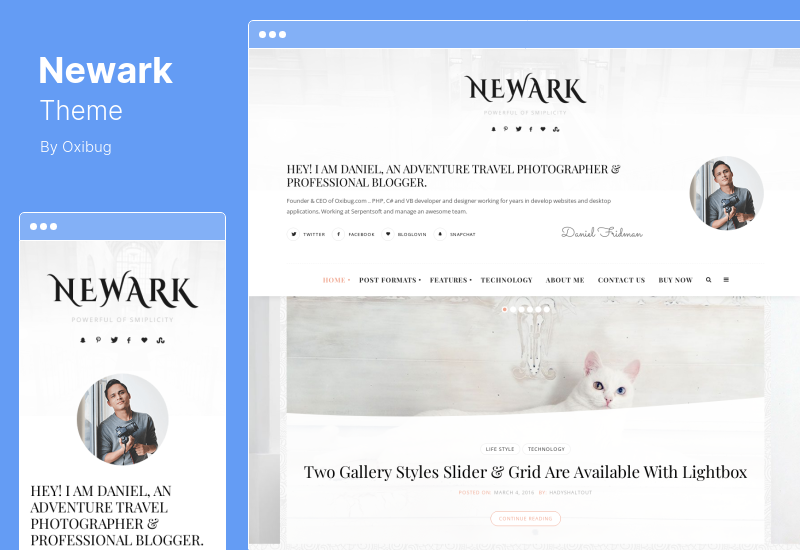 Newark is a Writing and Personal Blog WordPress theme that caters to bloggers and professional writers.
With its range of features, it has become a popular choice for those looking to create a clean and readable blog that can be accessed on any device.
Another great attribute of Newark is its AJAX feature. With this, you can effortlessly change the colors of your theme without the need for a complete page reload.
Additionally, Newark offers the option to display the most recent posts, keeping your audience up to date with your latest articles.
Newark provides everything you need to build an engaging online presence.
Key Features:
Live customizer for instant changes.
AJAX feature for easy color customization.
Fully responsive design for optimal viewing on any device.
75 social icons to personalize your blog.
Customizable styling and coloring for your blog articles.
Display of most recent posts for simple navigation.
Writing, Content, Blog Magazine Theme for WordPress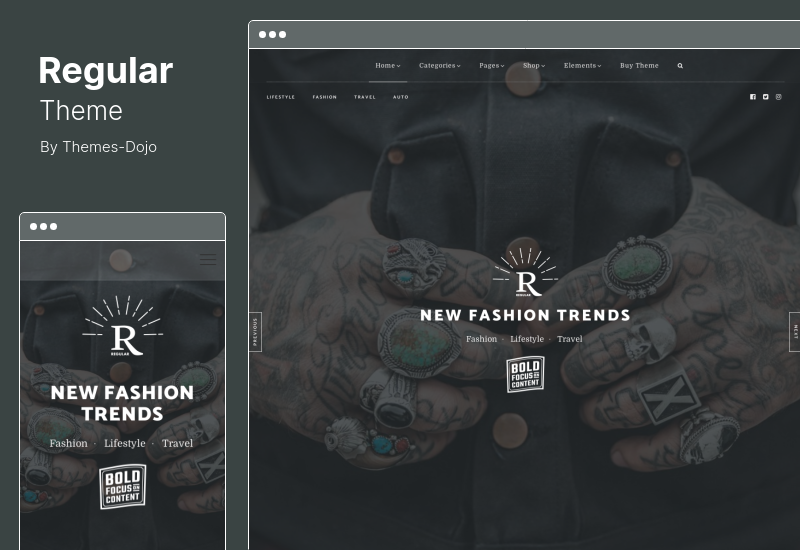 Regular is a WordPress theme that is perfect for creative content creators such as bloggers, storytellers, and online magazines. It boasts a bold and innovative design that allows you to showcase your content in style.
Regular offers over 700 fonts from the Google Web Fonts library, allowing you to choose the perfect typography for your website.
Another advantage of Regular is that it looks fantastic on high-resolution retina displays. This ensures that your website will always look sharp and professional, no matter what device your visitors are using.
When it comes to individual product detail pages, Regular has a distinctive design for each page, giving your products a unique and visually appealing presentation.
Key Features:
Regular updates and excellent customer support.
Wide range of add-ons and extensions are available for further customization.
Seamless integration with the WooCommerce plugin.
Access to over 700 fonts from the Google Web Fonts library.
Stunning visuals on retina displays.
Responsive design for optimal viewing on all devices.
Minimalist AJAX WooCommerce Theme
Savoy is a popular WordPress theme that is loved by many for its simplicity, ease of use, and attractive design. It is especially great for those who want to create e-commerce, portfolio, and touch websites.
This theme has been a top choice in the minimalist category on ThemeForest for a while now, and its popularity continues to grow.
Whether you're showcasing products or displaying your portfolio, this theme will make your content shine.
One of the standout features of Savoy is its ability to design multiple layouts for a single product.
Savoy offers a full-screen product gallery with zoom and pan capabilities. This allows your customers to get a closer look at your products and examine the details.
Key Features:
Easy management of product catalogs with adjustable columns and multiple layouts.
Fully AJAX-enabled shop for a seamless shopping experience.
Customizable header options for a personalized appearance.
Full-screen product gallery with zoom and pan capabilities for a detailed view.
Supports WooCommerce for e-commerce functionality.
Simple and easy to use.
Responsive Modern Minimalistic Blog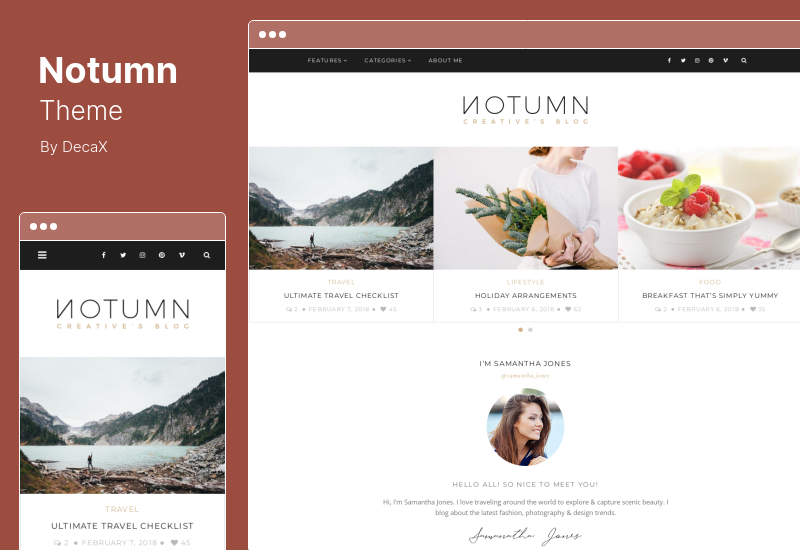 Notumn is a Responsive Modern Minimalistic Blog WordPress theme perfect for fashion, food, photography, and travel websites.
With this theme, you don't need any coding knowledge as it offers a user-friendly interface and custom shortcodes that allow bloggers to create their own unique blogs without any constraints.
Notumn provides the option to showcase both featured and popular posts, giving your readers a visually appealing experience.
You can easily customize your site and see the changes in real time, enabling you to find the perfect look for your brand or niche.
Another handy feature of Notumn is the Social Sharing button. With this button available on both posts and pages, you can encourage your readers to share your content with just a click.
Key Features:
Full-screen lightbox with heavy functionality
Real-time customization and preview of changes
Social Sharing button on posts and pages for easy sharing
Option to display both featured and popular posts
Responsive design for optimal viewing on all devices
Optimized for improved loading speeds
Personal Blog Theme for Authors Publishers
Johannes is a versatile WordPress theme designed for authors and publishers. With its modern and creative design, it's perfect for personal blogs, magazine websites, and more.
One of the standout features of Johannes is its impressive star rating of 485 on ThemeForest, proving its popularity and quality among users.
Johannes follows the latest trends in web design, ensuring your blog looks sleek and up-to-date.
Whether you're a travel blogger, fashion enthusiast, or foodie, this theme offers solutions for a variety of niches.
Johannes is also optimized for speed, ensuring your visitors have a seamless browsing experience.
Additionally, Johannes is SEO-ready, meaning your content will rank higher in search engine results, leading to increased visibility and traffic.
Key Features:
Performance optimized for fast loading times.
SEO-ready for better search engine visibility.
Built-in translations

for easy internationalization.

Provides solutions for various niches.
RTL support for right-to-left language websites.
Designed with the latest web design trends in mind.
Full compatibility with the WordPress 5 block editor.
WordPress Theme for Authors Publishers
Auteur is a WordPress theme designed specifically for authors and publishers.
It offers four homepage layouts, 10 blog layouts, and extensive customization options, making it ideal for showcasing books, bookstores, reviewers, WooCommerce, and websites.
With Auteur, you have access to a wide range of theme options, allowing you to select the one that best suits your needs.
There are also numerous predesigned interior pages available, making it quick and easy to set up your website.
If you're looking to sell books, Auteur has you covered with its integration of WooCommerce. This feature allows you to create a seamless shopping experience for your customers, making it easy for them to browse and purchase your books.
Key Features:
Support for both single-author and multi-author websites
Advanced options for headers and footers for a unique look
Integration with Mailchimp for email marketing
Wide range of theme options for customization
Predesigned interior pages for showcasing content
Seamless integration with WooCommerce for online book sales
Beautiful WordPress Theme for Authors
Bookory is a powerful WordPress theme designed for creating online bookstores.
It is perfect for publishing houses, publishers, bookstore owners, writers, and authors who want to showcase and sell their print and digital books, magazines, and other media products.
The Bookory theme is lightweight and flexible, making it user-friendly for both beginners and experienced website designers.
You don't need any coding expertise to use Bookory, as it comes with a range of customizable options and settings.
With Bookory, you can provide a smooth and efficient user experience, ensuring that your customers can browse and purchase books without any frustrations.
Key Features:
High site performance and fast page load times.
Built-in book review feature.
Full-resolution and retina display compatibility.
Easy customization options for your dream bookstore.
No coding expertise needed.
Several ready-to-use interior pages are available.
Frequently Asked Questions
What are the key features to consider when choosing a WordPress journalist theme?
When choosing a WordPress journalist theme, it's important to consider features such as a clean and professional design, customizable layout options, mobile responsiveness, SEO optimization, compatibility with popular plugins, social media integration, easy navigation, and support for multimedia content like images and videos.
How do I choose the best WordPress journalist theme?
When selecting a WordPress journalist theme, there are a few factors to consider.

Firstly, focus on the design and layout to ensure it aligns with your brand and content style. Look for themes that offer customization options to match your personal preferences.

Additionally, consider the theme's responsiveness and mobile-friendliness to ensure your website looks great on all devices.

It's also important to choose a theme with good support and regular updates to guarantee compatibility with the latest WordPress version.

Finally, read user reviews and ratings to get an idea of the theme's performance and user experience.
What are the benefits of using WordPress journalist themes?
WordPress journalist themes offer several benefits for journalists and bloggers.

These themes are specifically designed to meet the needs of journalists, providing a professional and organized layout for presenting news and articles.

They often come with customizable options to suit individual preferences and branding.

Additionally, WordPress journalist themes offer user-friendly interfaces, making it easy for journalists to update and manage their content.

They are also optimized for search engines, helping to improve visibility and attract a larger audience.
Conclusion
In conclusion, we've explored the top 12 WordPress journalist themes for 2023, showcasing their unique features and benefits.
These themes are designed to help journalists and news organizations create visually appealing and user-friendly websites to effectively communicate their stories.
If you're looking for more in-depth tutorials and insights on WordPress themes, check out the BetterStudio blog. The blog regularly publishes helpful articles, guides, and reviews to assist you in creating a professional and engaging website.
To stay updated with the latest tutorials and tips, make sure to follow BetterStudio on Facebook and Twitter.
If you have any questions or problems related to the themes discussed in this post, please don't hesitate to leave a comment in the section below.