Are you looking for one of the best WordPress plugins for Multiple Author Blogs?
This article will help you choose the best WordPress Multiple Authors plugin that suits your preconditions. All the WordPress plugins listed here come with out-of-the-box features and capabilities. Also these plugins are compatible with all WordPress themes.
We hand-picked these Multiple Authors plugins to help you in deciding on a usable plugin. Although you can also use these plugins for Author Bio Box plugins, Multi-Author Management, Multi-Author Blogs, Multi-Author Posts, and Quest Posts.
You can use this plugin for your needs also having a good blogging WordPress theme makes your job easier because many of the WordPress themes like the Publisher theme have many features for multi-author blogs as well as exclusive features for blogs and news sites.
You may also wish to review our article on the best WordPress plugins for bloggers if you wish to add advanced features to your blog.
So, here are the best WordPress plugins for Multiple Authors in 2022
WordPress Co-Authors Multiple Authors and Guest Authors
PublishPress Authors plugin is one of the best plugins for managing multiple authors on WordPress websites. This plugin allows you to show an author box at the end of your posts.
With this plugin, you can add multiple Co-Authors to your posts. In this case, you will see all the site's authors, and you can choose Co-Authors from them.
With this plugin, you will be able to display the box of your website authors using several options on your website. You can use this plugin and add them to your posts using shortcodes, a widget, or a block in the Gutenberg editor.
This plugin comes with all the features that you need to build beautiful authors' profiles.
In the PublishPress Authors plugin, when you write a blog post on your website, you'll see a box in the right sidebar. You can choose an author from all the authors on your website in this box and assign the author to the box.
The plugin gives you multiple options to display the authors' box. You can set the authors' box at the bottom of your content, in a widget or a block, or using shortcodes.
With this plugin, you can create guest authors who don't need an account on your website. You can also select and display Guest Authors in precisely the same way as registered users.
You can display the author profiles in five default ways on your website. You can show them in a simple list, boxed, centered, inline or inline with avatars.
💵 Lite version is free, Pro version is $69 .
Key Features:
You can assign multiple authors to your posts. Readers of your posts can see the authors box in the right sidebar
You can display your author's profile in several ways through the plugin. You can display authors' profiles below posts, in the sidebar, or elsewhere
You will be able to add guest authors to your website. Guest writers do not need to create an account on your website
Ability to create dedicated fields for authors' profiles. You can add text, links, WYSIWYG, and more to the author's profile
It is possible to add dedicated layouts to the authors' profiles and create beautiful layouts using the plugin
Random Reviews:
I'm happy with it. No issues at all.

The support is great.

Authors by PublishPress works nicely right out of the box. It was also important for us to be able to use it with WordPress SEO by Yoast, which it does seamlessly. Another big plus is that the developers are very conscientious and responsive. When I pointed out a couple of bugs, they actually (gasp!) listened and eventually fixed them. Wow!
Author Box, Guest Author & Co-Author Plugin
Suppose you are looking to give your authors credibility. In that case, Molongui Authorship is one of the best plugins to help you give your authors more credibility.
Molongui Authorship also has useful features such as schema markup, author meta tags, and attributes for external links that improve your website SEO.
By installing this plugin, an author box below your posts will automatically display. You can also customize the author box according to your needs and desires.
With Molongui Authorship, you can assign posts to multiple authors and proper credit to everyone involved.
By using Molongui Authorship, you can easily add a guest author or a contributor to a post on your website without creating a user account for them.
You can even choose whether to show the author box above or below your content and customize colors, sizes, effects, shapes, and other styles to make it look attractive.
💵 This plugin charges $29 , and also it has a Free version for download.
Key Features:
Create an author box for your authors
You can customize the author box
Your visitors can search content by author-name
Third-party shortcodes support in the author box content
You can choose different layouts for the author box
Support popular social networks
The plugin is designed responsively and works very well on desktop, laptop, tablet, and mobile screens
RTL support
Random Reviews:
Some basic features essential to the concept of the plugin are locked out of free version so you basically are required to buy premium for this to work as advertised. The local avatar feature remains undocumented and presumably does not work. This topic was modified 5 months, 1 week ago by

Highly recommend plugin if you have multiple authors on your site. Fantastic support, they solved an issue in a couple of hours! Excellent!

I don't know where to start, both the plugin itself and the support are great. I highly recommend it!
Post/Article Author Section Plugin for WordPress
Ultimate Author Box Plugin is a professional author box plugin for your WordPress site. This plugin, the author introduction section, highlights and popularizes the content of your site.
It is one of the best plugins for displaying site authors and is fully compatible with GDPR. This plugin is a great way to display site authors and gives credibility and identity to your authors. You can also add your authors' social network links to the author's box.
You will also be able to place the author's box anywhere on the page you like. This plugin has more than 19 pre-designed templates, and you can use them to make the writer's box more attractive.
The plugin is fully responsive and works well with all devices. Also, you do not need any coding knowledge to work with this plugin. You can use this plugin on your website via shortcode or widget without any problems.
You can add an author box to the content of your post, use shortcodes, or use the author box widget to display author posts.
You can also add tabs to your author box that include your author posts, social feeds, shortcodes, widgets, and more.
💵 No fees are associated with the plugin.
Key Features:
You have the option to add an author to your posts
You can customize the author box, and you can place it anywhere in the post you like
You can put your authors' social network links in the author box. By clicking on the author box, users can see these links and some brief and useful information about the authors
The plugin has a lot of pre-designed and responsive templates and works well on all devices
The plugin can add a contact form to the author box
User-friendly and very interactive user interface
Random Reviews:
Works great out of the box and is seamless with our themes.

Very good plugin, and a 5 star support. Without doubt, I will buy them again. I am extremely grateful.

great plugin and the seller helps a lot with adding a lot of features where we asked for
Multiple Co-Authors Plugin for WordPress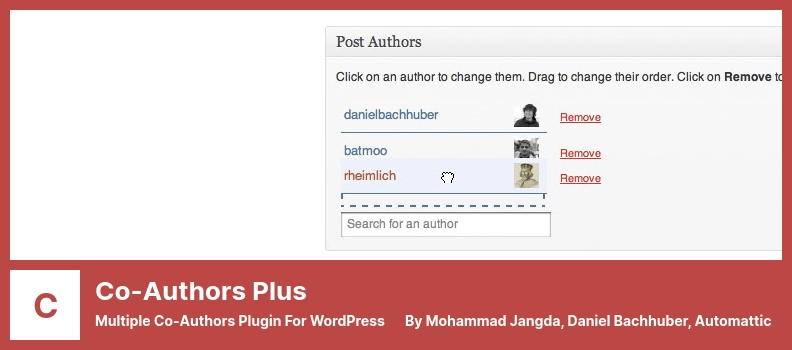 By Co-Authors Plus, you can assign multiple bylines to posts, pages, and custom posts. In this plugin, co-authored posts appear on a co-author's archive page and in their feed. Co-authors can modify the posts they are associated with.
If the writer has Contributor permissions, they can only edit posts that aren't published. All co-authored posts appear on a "co-author archive page" as well as the author's feed.
Using Co-Authors Plus's UI, you can add multiple authors to a post, page, or custom post type. You can also change the order of your co-authors by drag and drop.
The co-Authors Plus plugin allows you to assign bylines without creating WordPress user accounts. Additionally, you can override the existing WordPress account meta by mapping a guest author to a WordPress user.
💵 Using this plugin is free. You can download it for free.
Key Features:
Without creating a WordPress user account, you may add writers as bylines
You can use its template tags on the frontend to list co-authors anywhere you'd typically list the author
Easy to use
Disadvantage: May experience compatibility issues with custom taxonomy authors
Disadvantage: You may need to make some minor changes to your theme to display those bylines on the site
Random Reviews:
The plugin works as described.

The print links function is not printing

THe plugin works perfectly, but I found a conflict with another plugin which uses the same taxonomy name "author". It would be better to change the taxonomy name with a more specific one or give the possibility to apply a filter to the taxonomy name
WordPress Editorial Calendar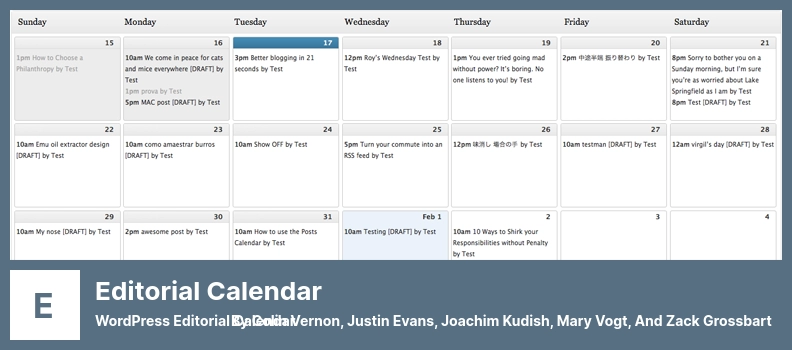 Editorial Calendar is one of the oldest content calendars in the world of WordPress. You can download and use this plugin for free. By installing Editorial Calendar, a calendar was added to your WordPress website. You can use it to view your new content.
With this plugin, you can view all scheduled and published posts on the website dashboard. This plugin has a drag-and-drop feature that you can define schedules for your content easily.
One exciting feature of the plugin is that it shows the unscheduled drafts on your website in a small sidebar. From there, you can add your drafts to the calendar by dragging and dropping them to schedule them. You can also drag your scheduled posts to the sidebar to unscheduled them.
💵 You can start using this plugin for Free.
Key Features:
Manage posts from multiple authors
Have a drag-and-drop interface for the easy rearranging of your blogs
It has a new draft drawer feature to edit and manage drafts quickly
It has a calendar view of all your articles and their respective status in your WordPress Admin Dashboard
The plugin allows you to view scheduled posts and change their order with Drag and Drop
You can use custom CSS to change post colors or styles in the calendar
Random Reviews:
If you need a post-management plugin, Editorial Calendar is the greatest choice.

Hi I very like this plugin. work as i wish. and I have seen .php .js code file and comment, I like because explanation so polite. This topic was modified 1 year, 3 months ago by

Honestly, this is now a must-have plugin for me.
User Roles, Editor Features, Admin Menus
The PublishPress Capabilities plugin, formerly Capability Manager Enhanced, lets you control all permissions on a WordPress site.
You can customize all user roles on your site, from administrators and editors to authors, contributors, subscribers, and custom roles. Each role can have the exact permissions your site needs.
PublishPress Capabilities not only lets you change existing roles, but you can also create new ones. These roles can be added to sites individually or as a whole multimedia network.
Each time you change your site permissions, the plugin backs them up so that you can restore them if something goes wrong. You can use these backups to transfer your roles and permissions from one site to another.
💵 It costs $69 for the Premium version of this plugin. You can also download the Free version.
Key Features:
User permissions control: The PublishPress Capabilities plugin lets you control all permissions on your WordPress site. You can customize all user roles on your site, from admin to subscribers
The ability for each type of post: No matter what type of post is on your site, Capabilities PublishPress lets you apply and assign different types of capabilities to each type of post
Custom status permissions: If you install the PublishPress plugin, you can create and configure custom statuses. PublishPress Capabilities Pro lets you decide which user roles are capable of posting to any situation
Ability to categorize: The PublishPress Capabilities plugin lets you add additional permissions to your site categories. This feature includes default categories and tags but also applies to other categories. For example, in WooCommerce, you can use custom permissions to product categories, product tags, and shipping classes
Create or copy user roles: Using PublishPress, you can create or duplicate any existing WordPress user role. These roles can be set exactly like the default WordPress roles. New roles can be added to sites individually or the entire multimedia network
Media Library Permissions Support: PublishPress Capabilities enable you to decide who can upload, edit, and delete files from your site media library
Support for WooCommerce Licenses: The PublishPress Capability plugin has special support for WooCommerce classification. With PublishPress, you can control permissions on WooCommerce products, orders, and coupons
WordPress Multisite Support: This plugin lets you control permissions on one site or your entire network. You can sync changes to your multimedia network each time you update permissions in PublishPress Capabilities
Random Reviews:
perfect

Any change with this plugin is not reversible. You can't restore default settings.

🙂 Quality work & awesome support!
User Role Editor WordPress Plugin
The User Role Editor plugin lets you easily edit and manage the roles and access of your website users.
You have to activate the necessary features from the various options and click the update button to save the changes.
You can add new features and set permissions per user. You can create new user roles, change their capabilities and access to suit your needs, edit existing user roles, and customize anything related to the user role.
If there is no user to whom you assign existing user roles, you can disable user roles to use later.
💵 The Pro version of this plugin costs $29 compared to the Lite version's $0.
Key Features:
You can restrict the management menu items for each role
You can control the selected widgets and sidebar for each user
Display Widgets and sidebars based on selected roles
You can restrict access to sections such as dashboards, posts, tabs, custom post types, and more for each role
You can restrict access to plugins for different roles
Ability to restrict access to content for selected roles using shortcodes
You can specify which widgets to display for which user roles
Control users' access to edit posts, tabs, custom post types, use of posts and tabs, view authors, and list of IDs
Random Reviews:
This does exactly what you would expect it does. Works great. We needed to hire an overseas developer for our site, but worried about giving them 100% admin rights, so with this we created a 'Developer' role and took away about 10 admin capabilities. Too easy.

I personally think the lack of permission control is lacking in WordPress core but this plugin fixes this perfectly! Highly recommended.

Put in a little effort nutting in through, and you have a perfect accompaniment to making Navigation Menus that ONLY appear to visitors, and ONLY appear to those logged in, and ONLY to those with certain roles, etc. Don't be limited to Subscriber, Author, Contributor roles, etc … create more meaningful ones.
WordPress Pre-Publish Checklist Plugin
Pre-Publish Checklist is a plugin that makes sure your page or post is ready to go live by creating a checklist for posts.
Publishing an incomplete post always has troubles, and both the website owner and the users are dissatisfied. The Pre-Publish Checklist plugin allows you to create a checklist for any post you want to publish on your website. You can create a checklist with all the essential tasks and prioritize those tasks. By doing this, you can do all the necessary work before the post is published and make sure that the post is complete.
You can select the message displayed to users when clicking on the publish button without completing everything mentioned in the checklist.
You can create a checklist under the checklist tab in the plugin settings and select the post types you wish to apply to the checklist.
This plugin is a helpful plugin that lets you monitor whether your website's posts, pages, and custom post types are complete.
💵 You don't need to pay. It is a Free plugin.
Key Features:
You can create a dedicated checklist for your posts
The plugin uses different checklists for different posts and categories
This plugin is a tool for measuring progress and shows you how much progress a checklist has made
This plugin is easy to use and user-friendly
This tool works well on all devices and is fully responsive
Random Reviews:
This plugin very useful. simple and powerful for workflow

Thought about developing this myself and found this one. Does what it's built for, awesome! One thing that would make it top notch: A description to each Checklist-Item that appears by hovering or clicking a little questionmark next to each item! That would be dope!

Team Brainstorm Force as always innovating! the best!
Plugin to List WordPress Authors Avatars
Author Avatars List is a plugin that makes it easy to display user avatars' lists and group them by user roles on your website. The plugin allows you to insert single avatars for your users into a post or page. This capability is great for displaying an image of someone you are talking about.
This plugin uses built-in WordPress functions to retrieve user information and get avatars.
By adding a widget, you can insert avatar lists into your sidebar. You also can insert avatar lists into posts/pages by using a shortcode.
The plugin also provides Custom Block for use with the Gutenberg editor (WordPress New Editor).
With the Author Avatars List plugin, you can only show specific user groups and/or hide certain users. Also, you can change the sort order of users or display them in random order.
💵 A professional made this plugin and published it as a Free plugin.
Key Features:
You can display an avatar for your users
Ability to retrieve user information
Having Gutenberg Block for using in the Gutenberg editor
Ability to adjust the size of user avatars
You can determine group users on your website
Ability to insert user avatars by using the shortcode
The plugin supports users from Co-Author Plus, Ultimate Member, BBPress, and BuddyPress
Random Reviews:
Love it

Works like a charm for me. Lots of options to filter and sort avatars on page.

Thank you for a good job! This topic was modified 5 years, 1 month ago by
Simple Private Note for Authors
By using the User Notes plugin, you can add a text editor area to each user profile in the dashboard to keep private notes about each user.
The notes that User Notes generate are only visible to the administrator.
These notes can be helpful as a reminder tool. For example, if an author does not meet the deadline for submitting a post, you can note that the author did not meet the deadline.
This plugin is especially handy for websites that have many members. In this circumstance, you need some special information about users, and this plugin can be very helpful in this condition.
All you have to do is download it for free from the WordPress repository and enable it to use this plugin on your website. You do not need additional settings to use different parts of the plugin and easily use it.
User Notes plugin is open-source software, and many people contributed to plugin development.
💵 This plugin is Free and lets you free support.
Key Features:
The website owner can write private notes about users and authors
The notes are only visible to the admin
Ability to generate notes for the users without opening their profile
Ability to add public and private notes for users
Ability to save the note as a draft
Random Reviews:
This is GREAT plugin! But I'd love it even more if you could add note from user list (like Plugin Notes Plus which is super quick) rather than open up the profile page. But I'm not complaining – thanks for this 🙂 This topic was modified 5 months, 3 weeks ago by epgb101.

Thanks for the plugin. Simply adds a box to the user profile to add private notes. No frills or fuss!

Este es un plugin bastante útil. Para sitios de varios niveles de usuario y con participación en el sitio. Buena idea del creador. El plugin funciona bien y es muy liviano, sólo es un archivo .php. No tiene archivo .po para traducirlo así que hay que modificar tres o cuatro textos en el php. Gracias.
Simple Emailt Notification for Authors
WP Email Users Plugin enables you to send Emails to various groups of users in different formats like images and rich text. Admin can have a WYSIWYG editor available for typing emails and a lot of new features as follows.
This plugin can send all kinds of emails to site users. For example, images and videos can be used in email. One of the most important advantages of the plugin is the ability to automatically send emails to users after subscribing or publishing a new post.
One of the most important features of the plugin is the support of shortcodes in the text of messages sent to users.
Another feature can display [first-name], last name [last-name], email [user-email], site title [site-title] and other user information in the email text.
💵 This plugin is Free.
Key Features:
Ability to send newsletters and emails in text or HTML format
Text editor support for easier writing of email text
Ability to set email sending via SMTP or PHP mail function
Ability to search between users to send emails to desired members
Support for shortcodes of user name and user email in the text to send targeted emails
Ability to import and export mailing lists in CSV format
Ability to send emails to users after joining the site
Ability to send email to the user after changing the member user role
Ability to send email to users after changing the password to the site
Ability to send emails to members after publishing a new post on the site
Random Reviews:
Envía un mensaje de email a todos los suscriptores del Blog. Si ya tiene instalado el SMTP, no requiere. El diseño de plantilla email html es adecuado.

Awful – sends emails to all the users when it chooses. Interface doesn't make any sense at all. PLEASE AVOID. This topic was modified 4 months, 3 weeks ago by

It does not work. Don't waste your time
Final Words
In this text, we evaluate many Multiple Author WordPress plugins. In just a few hours, everyone can build an elegant site with a ready plugin.
Hope you found this applicable. You may also want to see our expert picks of the best WordPress hosting for your blog.
In closing, if things are still not comprehensible, you can ask your question in the comments section below. If you like this list, then please share it with your friends and Facebook followers.