Do you find it frustrating to search for the right WordPress plugin for Table of Contents?
Here you will find the best Table of Contents plugins for WordPress with some of the best features and options. These plugins are also capable of supporting WordPress themes.
Here's a collection of WordPress plugins by us specifically for Table of Contents. This collection also includes a Table of Contents Widget, Lightweight Table of Contents, Floating Table of Contents, and many other related plugins.
Best Table of Contents Plugins for WordPress 📙
Add a header to begin generating the table of contents
Let's check the top Table of Contents WordPress plugins in 2022:
A User Friendly, Featured Focused Plugin
Integrating easily with Classic, Gutenberg, Divi, Elementor, WPBakery Page Builder, and Visual Composer, the Easy Table of Contents plugin has been downloaded over 200,000 times and is rated 4.5 stars on WordPress.org.
Using this plugin, you can add a table of contents to your posts, pages, and custom post types in simply a few clicks. The plugin is both user-friendly and features oriented.
Also, the TOCs are highly customizable. Users can assign themes to their TOCs, and if none of the existing themes match their style, there is the option to create a custom theme by customizing the border, background, and link colors.
Additionally, you have the option of making your TOC hierarchical or not, in which case lower priority headings will appear underneath higher priority headings, and you can format your bullets as numerals, letters, or neither. However, this plugin is only a fork of the excellent Table of Contents Plus.
---
💵 Free plugin!
Key Features:
Automatically generate a lightweight table of contents for your posts, pages, and custom post types by parsing its contents for headers
You may enable this option for pages and/or posts. Custom post types may also benefit from this setting
The table of contents may be automatically inserted into the page based on the post type selected
The Rank Math plugin is supported
the tag is supported
Compatible with Classic Editor, Gutenberg, Divi builder, Elementor, WPBakery Page Builder, Visual Composer, and Gutenberg
Random Reviews:
Best for SEO and user friendliness

Thank you for offering this solution.

A very useful extension that meets its purpose the proposed settings are sufficient for most needs One enhancement would be to have a new option for the table of contents position when scrolling.
A Powerful Yet User Friendly Plugin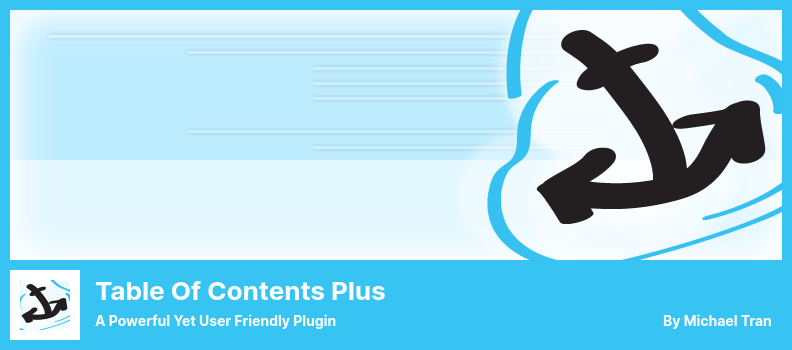 You can create a dynamic sitemap that contains listings of all pages and categories on your site using Table of Contents Plus.
This plugin, like Easy Table of Contents, provides a table of contents and a powerful but easy-to-use, context-specific address bar that automatically extracts the content of long pages and custom post types.
This table of contents template has been developed specifically for Wikipedia. As a result, the table of contents appears before the first heading on the page, allowing the author to introduce or summarize other content before the table of contents.
It also uses a simple numbering scheme that is not affected by any CSS changes.
The plugin is most useful for content management systems optimized for the use of this plugin. However, bloggers also make use of the same functionality when composing long-form articles.
---
💵 You can download this plugin now for Free.
Key Features:
Providing advanced options to power users so they can further customize their behavior
You can override default behavior using shortcodes on a specific page, as well as special exclusions
Exclude undesired level headings, such as h5 and h6, from inclusion
Enables the inclusion of a CSS file but disables its output
The minimum number of headings required to display an index
There is an administration options panel on which you can modify settings such as the position of the display
Random Reviews:
No table of contents displayed.

The best TOC plugin for WordPress. Better than most paid plugins.

I can not tell you how handy this plugin is. It's amazing how the developer continues to improve it without charging for it. A huge benefit to long posts.
Table of Contents Block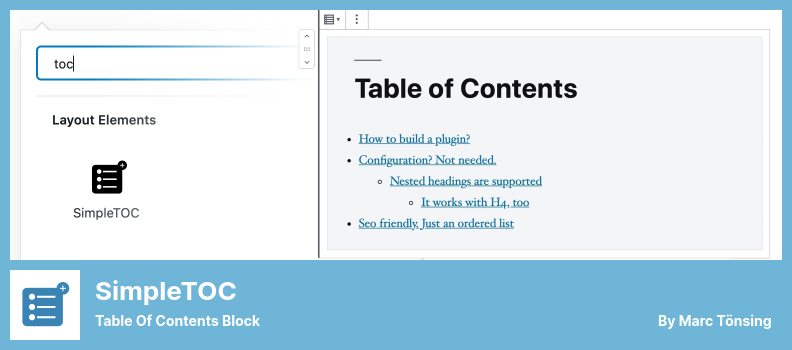 SimpleTOC allows you to easily add a table of contents (TOC) block to your posts and pages. The TOC is a nested list of links that point to headings within the paragraphs. To install, simply add a block and search for 'Simple TOC' or 'TOC.'
You may remove specific headings from the generated table by adding a 'simple TOC-hidden' CSS class to each heading block. You may also hide the 'Table of Contents' headline and set a maximum display depth in the blocks' sidebar section.
The Easy-Table-of-Contents plugin fork from https://github.com/pdewouters/gutentoc and uses the Easy-Table-of-Contents code from: https://github.com/shazahm1/Easy-Table-of-Contents to provide easy table-of-contents functionality.
---
💵 The price of SimpleTOC plugin is It is free!
Key Features:
For SEO purposes, remove the h2 heading from the TOC block and replace it with your own
You can style SimpleTOC with Gutenberg's native styling options for groups
The maximum depth of a heading may be set
The design is optimized for Gutenberg
Column block layout support is provided
No JavaScript or CSS was added
Your theme inherits its style
HTML output should be as minimal and as valid as possible
Create reusable styled groups for future posts by converting the styled group into a reusable block
Select between a sorted or unsorted HTML list
Random Reviews:
I Like it since its not adding extra js, css file. Simple is the best. But i really dont like the block editor. Can you make a shortcode so that i could easily add it to classic editor. It's painful for me to switch block editor to add toc :((

Awesome, super-fast and super-lightweight, just how I like it. To adjust typography, spacing, etc, I put it in a GenerateBlocks container … simple.

The software is easy to use. However, the language pack does not work. In any case, we can replace 'table of contents' with CSS. It would be nice if an anchor could be linked when creating an internal link in a page, product, article, etc.
Creates Seo-friendly Table Of Contents
You can use the LuckyWP Table of Contents plugin to create an SEO-friendly table of contents for your posts, pages, or custom post types. What's more, the plugin is incredibly customizable.
The plugin automatically inserts a table of contents for you (customize which post types are displayed as a table of contents and in what position). The table of contents code is ready for inclusion in Google snippets on the result page.
The plugin will automatically insert a table of contents into your posts if you allow it (by clicking the 'Auto Insert Table of Contents' option in the plugin settings). In addition to this, you can select which post types will be automatically populated with tables of contents. However, this plugin must be developed.
---
💵 The price of this modern plugin is Free!
Key Features:
Shortcodes, Gutenberg blocks, and widgets can all be inserted
A table of contents may have a certain depth of headings
You may customize the appearance, including the width, the float, the title font size, and the colors
It is possible to view hierarchically or linearly
There are two numerical items: decimal and Roman numbers arranged in order or nested
Tables of contents are displayed if a minimum number of headings is set
Select headings according to level or text
The button can be found on the classic editor's toolbar
'Common Blocks' can be created using the Gutenberg block
Random Reviews:
You did a good job with the plugin

The table of content plugin I use works for me, while others don't. It's still functioning despite the few new WordPress releases, and I hope it will be updated once it's needed.

This plugin worked great for me. It sorted out an issue I was having with Easy Table of Contents which conflicted with the CM Tooltip Glossary plugin. Now everything works perfectly. Thank you.
Adds A Seo-friendly Table Of Contents
Using the Joli Table of Contents plugin, like the LuckyWP Table of Contents plugin, you can include an SEO-friendly table of contents within every post or page of your website, which will make it more valuable to users and search engines.
Performance-friendly features of the plugin prevent scripts and styles from being loaded when the contents table is not intended to be displayed.
Within the free version of this plugin, you are able to insert the table of contents within selected post types and position it within the body of the content. Alternatively, you can use a shortcode to insert the table of contents manually.
In the free version, you will be able to show headings at custom depths (from h2-14), and you will be able to customize the CSS icons for expanding and collapsing buttons (four free icons, 20 in the pro version).
Also, you will be able to display the table of contents only if there are at least 2 headings in the content. However, many of the most useful features of this plugin are provided in the pro version.
---
💵 Premium versions of the Joli Table Of Contents plugin cost $29, but the free version is free.
Key Features:
Additional Themes are available
The TOC can be forced to be enabled or disabled per post
The optional numbering prefix
The view can be hierarchical (the amount of space available is customizable) or flat
A floating table of contents widget that displays the section currently being viewed
Disable headings per text/class is available
A custom post type is supported
Random Reviews:
Thanks for your reply I would have liked to have better settings in RTL.

The best Table of Contents plugin. Highly configurable, beautiful, and responsive.

My goodness, this theme is beautiful, easy to customize, and blends in well with your theme.
The Easiest Way To Add A Table Of Contents
By using the Heroic Table of Contents plugin, you can add the Table of Contents to any page on your site. An index or content section allows readers to easily locate information on a site.
This plugin automatically identifies headings within a page, offers four different appearances, and can be displayed in two different forms.
It automatically creates a table of contents containing a list of all headings (h1, h2, h3, etc.) in your articles, so your readers can easily navigate the content and find the information they are looking for.
We do not impose a limit on the number of tables you may create. Tables of contents can be added to any article as many times as desired. Tables of contents at the end of each section are extremely useful for articles covering a wide area.
---
💵 It's Free with all the features and settings described above!
Key Features:
Hiding and relabeling headings without affecting the original content is acceptable
Contents sections can be added to web pages in a matter of seconds
The section of content can be expanded and collapsed
Table of Contents can be customized by selecting which headings to display
The contents section may be positioned in any location
You can select from four different pre-designed Table of Contents templates
Random Reviews:
i don't know why my review has been deleted, but this is a very bad plugin*br

Excellent block for Gutenberg.

This is a great plugin that we are using on some websites and it does the job without problems. Thanks for making it. This topic was modified 8 months, 2 weeks ago by *.
Allows Users To Generate A Table Of Contents
The CM Table Of Contents plugin will enable you to create a table of contents on your WordPress website, making it easier for users to navigate. Each table of contents section can be assigned a header and an accompanying class.
This WordPress table of contents plugin allows users to add a table of contents to any WordPress post or page. Users can customize the shortcodes using the plugin to create content-specific indexes using a table of contents.
In addition to the plugin's ability to build a multilevel table of contents, the plugin also allows users to create content-specific indexes with shortcodes. Sections and headers of your table of contents can be determined based on the content of your post or page.
---
💵 Downloading the plugin is free.
Key Features:
The TOC can be defined according to tags, classes, and ids
Defining the TOC by using unique tags for each entry or page
The TOC is automatically created for all pages on the site
Ability to style the navigation table font size and support multiple pages in the table of contents
TOC will be collapsed when the page is uploaded
Utilize a shortcode to place the TOC at any point on the post or on the page
It is possible to define a table of contents by using tags
The heading for the Table of Contents can be revised
Random Reviews:
However, on a couple of posts, it stops the display of all images when it is turned on… I haven't found the code combination that causes this.

Works straight out of the box – just install and click on the tickbox bottom of each page. Don't even need to bother with the shortcode unless you want to move the table. Definitely recommend this plugin. Don't just move on because it hasn't got five stars either!

Every tinpot plugin author draws you in with good spiel only to learn that it's quite limited in the free version. These people are draining the life out of the internet dollar by dollar.
Setting Dynamic Page Overview Made Easy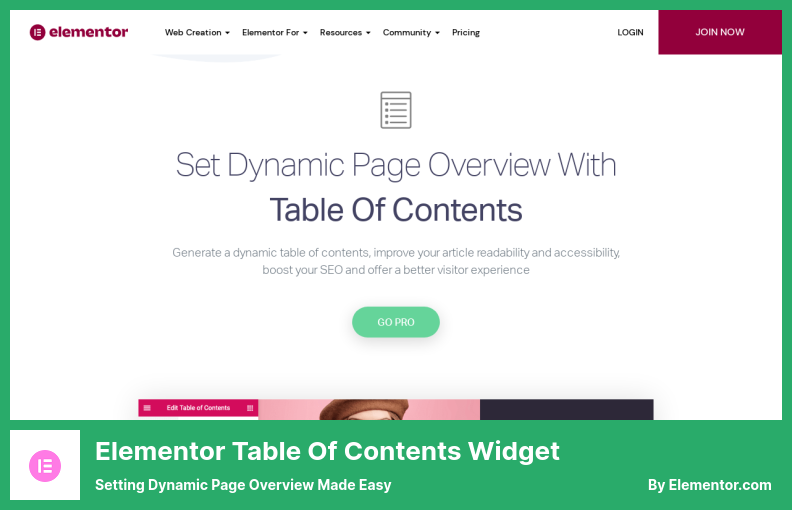 Elementor Pro version comes with an officially supported table of contents block called Elementor Table of Contents Widget. If you are an Elementor user, upgrading to the pro version is strongly recommended.
To access this widget, you will need Elementor Pro 2.8. If you have not yet upgraded to that version, it would be good to do so now.
This would be an excellent option if you are interested in using a table of contents plugin, but will only use it on a few pages.
This widget allows you to specify a heading tag for your widget title and choose which heading tags you want to include in your content and whether you wish the contents of your contents to appear as a number list or as bullets.
---
💵 This WordPress plugin costs $49 and includes a one-year subscription for updates.
Key Features:
The ability to select which heading tags should appear in the table of contents
Optimization for mobile devices and tablets
Offers sticky highlights
The ability to choose the list style
Enables you to decide where and when the widget will appear
Provides rich snippets for search engine optimization
Provides a flexible design
We've reached the end of the road
With this post, we helped you find an array of WordPress plugins that can help you improve your Table of Contents. However, these plugins will improve everything else about your site.
We hope this article helped you find the best WordPress plugin for the Table of Contents. Please take a few minutes to review our posts highlighting the best WordPress blog themes and the best WordPress plugins for your blog, which are regularly used, voted, and shared by our readers.
Comment and let us know which Table of Contents plugin you choose. We ask you to share this post on your social accounts. Please share this content on Facebook and Twitter with your friends if you find it helpful and seamless.