Are you a WordPress website owner looking to enhance your site's functionality with the help of Google services?
If so, you've come to the right place! In this blog post, we will explore the best WordPress plugins that integrate seamlessly with various Google services, providing you with a multitude of features and benefits.
Now, you may be wondering, why I need Google Services plugins for my WordPress website. Well, let me tell you!
With these plugins, you can easily connect your site to popular Google services like Google Analytics, Google Search Console, Google Maps, and more.
By utilizing these services, you can gain valuable insights into your website's performance, optimize your site for search engines, add interactive maps to your pages, and even monetize your content through Google AdSense.
In this article, we will introduce you to the top WordPress plugins for Google services and provide you with useful statistics and facts about each plugin. So get ready to supercharge your WordPress website with the power of Google services!
Best Google Services Plugins for WordPress
Looking to enhance your WordPress website with the power of Google services? Look no further!
In this article, we'll be sharing the best Google services plugins for WordPress that can take your website to the next level. So, if you're ready to supercharge your website's functionality and user experience, keep reading!
a Powerful & Easy-to-use Analytics Solution WordPress Plugin
The MonsterInsights WordPress plugin ranks among the top Google Services plugins. It has seamless integration with Google Analytics and an easy installation process.
In addition, MonsterInsights also provides several tools to track website performance directly from the WordPress dashboard.
After installing the plugin into your website, you will be guided through the setup wizard in the MonsterInsights dashboard in WordPress' admin area.
Your WordPress dashboard provides real-time information about your website's visitors, and you can identify and correct any issues that may arise.
With MonsterInsight's Behavior Report, you can quickly determine how visitors found your website, what keywords they searched for, who referred them, and what they clicked on.
MonsterInsight plugin helps you establish new collaborations and determine which areas of your business need more attention.
The MonsterInsights system allows you to track affiliates, post them to your site, provide them with downloads, analyze demographics, and much more.
Additionally, the software integrates with WooCommerce, allowing you to track your online store activity.
Directly Embed Google Drive Files Into Your Blog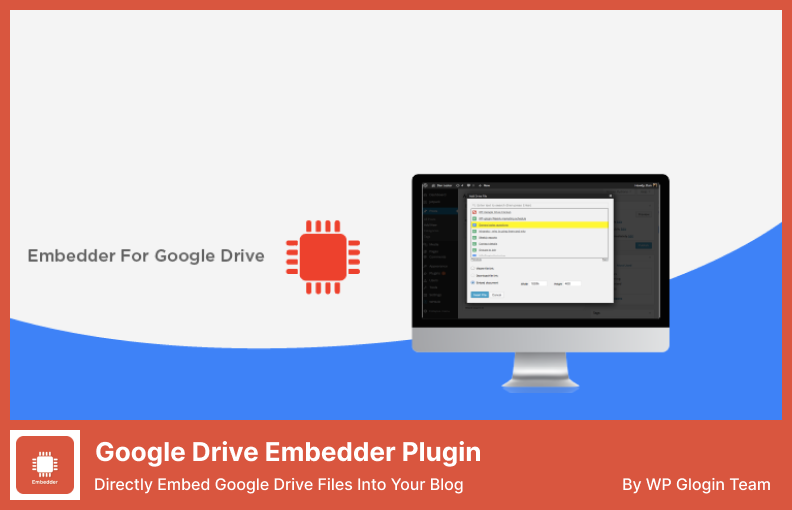 The Google Drive Embedder WordPress plugin allows you to embed files from your Google Drive directly into your blog posts or web pages.
Besides supporting editing and viewing Google Docs and PDF documents, the application also supports viewing videos and images and editing and viewing Word documents.
Integrating Google Drive directly into WordPress websites lets users access records and folders through their sites. With this Google plugin, photos can also get embedded into web pages.
The Google Drive Cloud Key is mainly used to embed PDF files into WordPress blogs. It lets you embed a file to your website and open or download it in a new tab.
There are a few ways in which you can manage and control who has access to the contents of your Google Drive. You can set it up so logged-out users or specific users can't access the files.
Key Features:
Files such as PDFs, images, zip files, etc., can be displayed
You will have access to Google Drive easily through a pop-up box
Files in ICAL or XML format can be embedded
Provides links to download the files
An easy-to-use interface with drag-and-drop functions
Using less space in WordPress to store files
Embed posts and pages directly
Analytics, Search Console, AdSense, Speed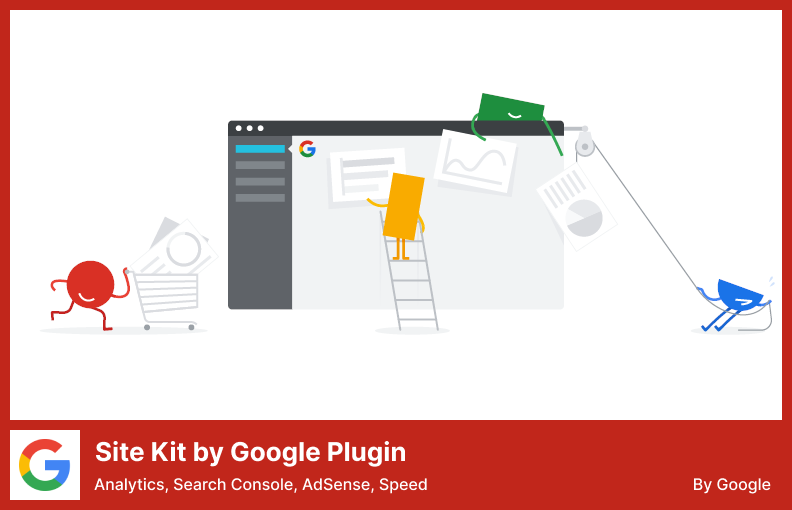 Site Kit by Google is a powerful WordPress plugin that brings together multiple Google tools in one convenient package. With its easy setup and quick access to features, this plugin is a must-have for any website owner looking to improve their site's visibility and success on the internet.
One of the standout features of Site Kit is the easy-to-understand stats directly on your WordPress dashboard. Instead of having to navigate through different platforms and interfaces, you can now view all your important Google stats in one place.
This includes official stats from multiple Google tools, giving you a comprehensive overview of your site's performance.
Setting up multiple Google tools can be a daunting task, especially if you're not familiar with coding. But with Site Kit, that's no longer a problem.
The plugin offers a quick setup for multiple Google tools without requiring you to edit the source code of your site. This means you can start benefiting from Google's services without any technical hassle.
Site Kit also provides detailed metrics for your entire site and individual posts. This allows you to track the performance of your site as a whole and identify areas for improvement.
Key Features:
Metrics for your entire site and individual posts
Official stats from multiple Google tools in one dashboard
Quick setup for multiple Google tools without coding
Easy-to-manage, granular permissions across WordPress and Google products
Easy-to-understand stats on your WordPress dashboard
Easily Integrate Google Business Reviews Into Your WordPress Website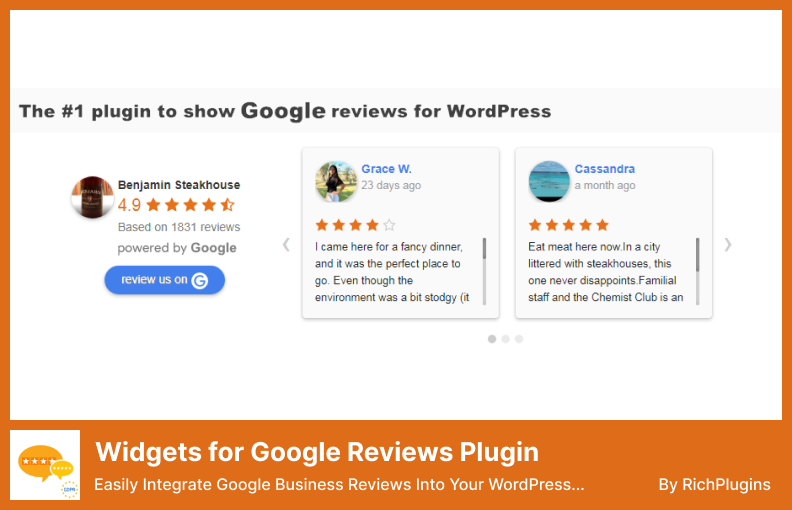 Widgets for Google Reviews is a WordPress plugin that seamlessly integrates Google Reviews and Ratings into your website. It is compatible with mobile devices and modern web browsers, and it offers both light and dark themes for a sleek look.
With the free version of the plugin, you can display Google Reviews on your blog. But if you want access to more features, you can opt for the premium version.
One of the key benefits of using this plugin is that it helps attract and retain customers by increasing their confidence and trust. By showcasing positive reviews and ratings, you can give potential customers the assurance they need to choose your business.
The plugin allows you to display up to five Google Business reviews per location. Each review is trimmed with a read more button, allowing visitors to easily access the full review if they're interested.
But it doesn't just stop at Google reviews. Widgets for Google Reviews plugin also provides the option to mix reviews from other platforms like Facebook and Yelp. This means that you can showcase a wide range of testimonials, providing a well-rounded view of your business's reputation.
If you opt for the Business version of the plugin, you'll also have access to detailed statistics about your website traffic.
Key Features:
Automatically update all Google ratings and reviews
Hide long reviews with a 'read more' link
With a 'review us on G' button, you can Collect new Google Reviews
Add paginations to the reviews list
Show or hide the reviews and the rating badge
Put your picture of your business on Google
Variety of widgets
Google Places integration
an Easy-to-use WordPress Plugin for Creating Google Maps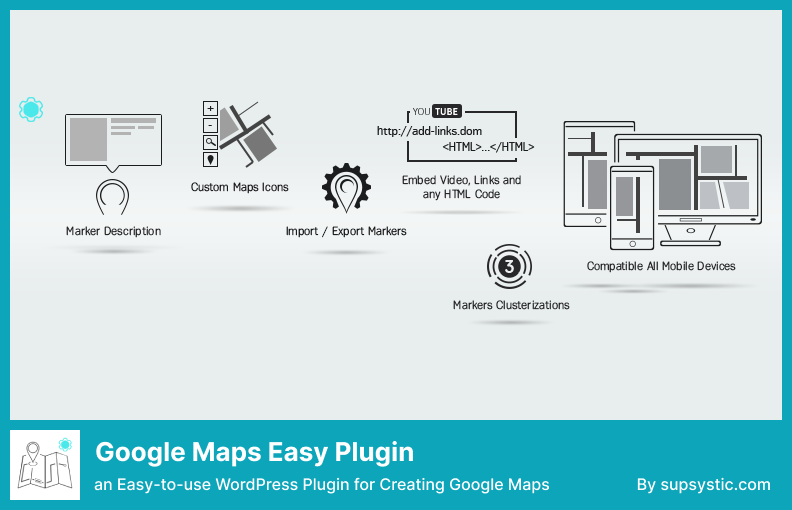 Using Google Maps Easy, you can display your company's location on Google Maps and make your website accessible to your customers.
It contains a set of shortcodes for adding mobile-friendly maps to WordPress sites and PHP code for embedding them.
With its free version, you can access many features, including customizing maps with traffic, transit, and bicycle layers.
It also has a wide range of map themes, a large selection of marker styles, markers clustering, and the ability to insert text and multimedia into location descriptions.
Google Maps has become very popular among WordPress users, especially since businesses and venues can display their correct addresses on their contact forms.
With all of this information, it is possible to create an attractive and visually appealing map. Polygons can be used to identify distinct regions on the map.
The premium version also has several additional features, including removing restrictions on the number of markers appearing on a map and expanding the range of marker options.
It also has supporting categories for markers, adding styles, shapes, and a heatmap layer to the maps and enabling the importation and exportation of markers.
Key Features:
An interactive map with social sharing buttons
Importing and exporting markers and maps from Google
A map with sliders that can be scrolled horizontally and vertically
Tags with media description, Text images, video email
Add a map to your website using a shortcode or PHP code
Unlimited map markers and locations on the map
Routes and steps that alternate to the main route
Easy to Use Website Translation WordPress Plugin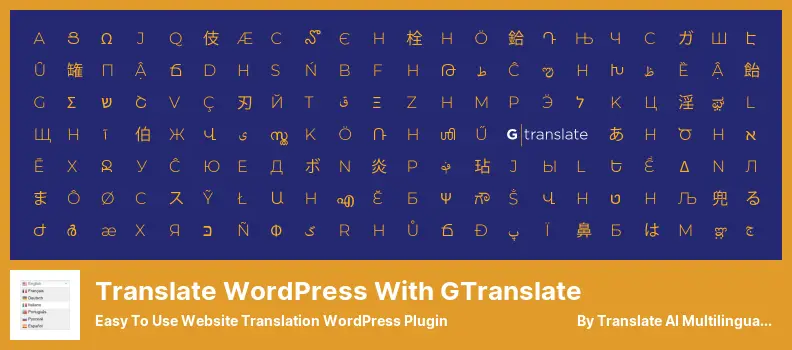 Translate WordPress with GTranslate is a powerful plugin that allows you to easily translate your website into over 100 languages using the trusted Google Translate tool.
With support for 99% of translation languages worldwide, you can ensure that your website reaches a global audience.
One of the key benefits of using Translate WordPress is its cloud-based translation approach. This means that the translations are done on Google's servers, so they don't slow down your website or affect its performance. Your visitors will have a seamless browsing experience, with translations happening in the background.
Another great feature of this plugin is its ability to automatically switch to the appropriate language based on the browser language.
This means that when a visitor lands on your website, it will automatically display the content in their preferred language. This is especially useful for websites that cater to international audiences.
If you have an e-commerce site, Translate WordPress integrates seamlessly with WooCommerce, making it easy to translate your product pages and reach international customers.
This means that you can expand your customer base and increase your sales by catering to customers from different parts of the world.
Key Features:
Ability to remove the top frame from Google after the translation
Instantly translate a website as you browse it
Category and tag translations are now available
Integration of Google Analytics with your website
Translate pages and posts to other languages
Translation of widgets and menus
Adding a mouse-over effect to your website
Favorite Font From a Dropdown List for Your WordPress Website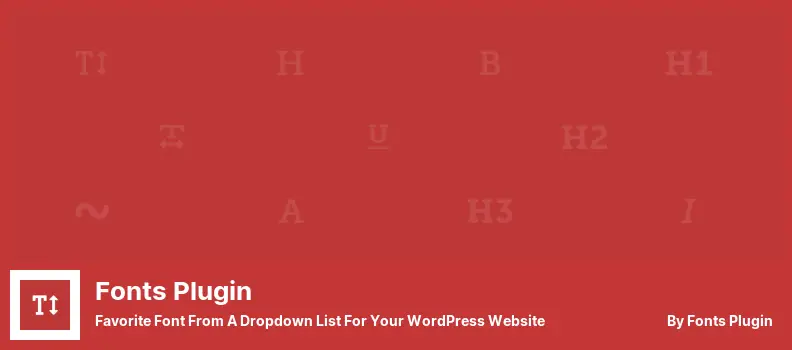 Fonts Plugin is a fantastic tool that allows you to easily customize the fonts on your WordPress website. With a premium subscription, you can use this plugin on up to three WordPress sites, which is perfect for those who use WordPress multisite.
One of the standout features of this plugin is its integration with Google Fonts. These fonts are the perfect foundation for customizing your website and giving it a unique and professional look. You can choose from a wide range of fonts to find the perfect fit for your brand.
The plugin also includes a Live Customizer feature, which is a game-changer when it comes to designing your website.
With this feature, you can preview how your website will look with different fonts before you publish it. This allows you to experiment and find the perfect combination that matches your vision.
Another great feature of Fonts Plugin is the ability to use different fonts in different parts of your website.
This means you can have a specific font for your headers and a different font for your page content. This level of customization allows you to achieve a consistent and polished appearance throughout your site.
Key Features:
A live preview of the customizer
Support for WooCommerce is available
One-click updates with an easy-to-use interface
Google Fonts with over 1000 fonts
Host Google Fonts on your own server
Adding custom fonts to your website
Frequently Asked Questions
Why should I use Google Services Plugins on my WordPress site?
Google Services Plugins provide several benefits for your WordPress site. By integrating Google Maps, you can easily display maps and directions on your website, making it convenient for visitors to find your location.

Google Analytics helps you track website traffic, user behavior, and other valuable data to improve your site's performance.

Google reCAPTCHA adds an extra layer of security by verifying if users are human or bots. Additionally, integrating Google Fonts allows you to enhance your website's typography and design.
How can a Google Analytics plugin enhance my WordPress website?
A Google Analytics plugin can enhance your WordPress website by providing valuable insights into your website's performance.

It allows you to track important metrics like number of visitors, popular pages, bounce rate, conversion rates, and more.

With this data, you can make informed decisions to improve your website's user experience, target your audience better, and optimize your content and marketing strategies.
Conclusion
To sum up, in this article we explored some of the best WordPress plugins for integrating Google services into your website. We discussed the features and benefits of each plugin, helping you make an informed decision for your specific needs.
But our journey doesn't end here! If you're hungry for more tutorials and insights, be sure to check out the BetterStudio blog. We regularly update our blog with helpful articles to assist you in optimizing your WordPress website.
Want to stay updated with the latest tutorials and tips? Don't forget to follow BetterStudio on Facebook and Twitter. By following us on social media, you'll be the first to know about new plugins, updates, and exclusive offers.
We sincerely thank you for taking the time to read our article. Your support means a lot to us. If you have any questions or encounter any problems while implementing the plugins we discussed, feel free to leave a comment in the section below. We're here to help you out!
Happy WordPressing!
– The BetterStudio Team