Are you looking for the best WordPress Google Review plugins? But not sure which plugin is the best possible fit for you?
As a result, to help you choose the best WordPress plugin that will suit your needs, we have provided a list of the best Google Reviews WordPress plugins.
We excluded plugins that were not mobile-friendly or speed-optimized. They can be used for the purpose of increasing social proof for your site and we make sure these plugins are working properly with all WordPress themes.
In conclusion, all of the plugins listed below are for Google Review. You are searching for a Google Review-related plugin, but it is not the exact Google Review plugin?
Last but not least, these plugins can be used for WordPress Reviews, Business Reviews, Google Review Slider, Google Reviews Widget, Facebook Reviews, TrustPilot Reviews, and Yelp Reviews. choose a plugin for your website that will transform it.
Now let's take a look at the best Google Reviews WordPress plugins in 2022:
Simple Google Reviews Widget for WordPress
The first plugin on our list of Google reviews plugins for WordPress is the Google Reviews Widget, with over 80,000 active installations. This plugin displays user reviews on your website's sidebar.
The plugin will automatically trim long reviews by reducing the use of the Google Place API and storing them in WordPress.
This free plugin updates reviews automatically, and it's fully compatible with the Gutenberg editor and the Elementor page builder. Long reviews will come with a Call to Action and redirect readers to a new page where they can see the entire review.
The premium version of this plugin is called Business Reviews, and it offers more features. In the business version, you can merge reviews, even if they are from other platforms such as Facebook and Yelp.
Furthermore, you can sort reviews based on recent, oldest, rating, striped and random.
💵 You may download the Premium version for $85 or the Lite version for free.
Key Features:
This plugin combines Google, Facebook feed, and Yelp reviews from multiple business locations into one feed. It shows the sum of the ratings for each
Having the option to hide low-rated reviews helps maintain a high opinion of your business among your users
The ability to create your own rating template for developers and webmasters
Make it as easy as possible for your visitors to write reviews directly on your WordPress site to increase the number of Google, Facebook, and Yelp reviews
The plugin renders reviews directly in HTML, and they are indexed by search engines. The search engines love new content on your site, which you can add via reviews
Random Reviews:
Very straight forward, not complicated. Recommended!

Top*

Thanks for making the Plugin work flawlessly. Randy, Fort Lauderdale, Florida
Best WordPress Plugin To Showcase Google Places / Business Reviews
Everest Google Places Reviews is another excellent Google review plugin for WordPress that can be integrated with shortcodes and widgets. Essentially, these reviews are based on 5-star ratings, which can be manipulated using sliders, lists, etc.
You can choose from five different layouts that come with this premium plugin; in addition, all of them are fully responsive. This means that they can be viewed on mobile devices, as well as on desktops and laptops.
There will also be a 'Rate Us' button on the website so new users can rate and give feedback about the website to help improve your conversion rate.
In addition, you may also hide the profile picture of users who have already written reviews and limit the number of words that can be used in a review.
💵 It will cost you $18 . You will have access to 24-hour support for 1 year.
Key Features:
You can create an unlimited number of Google Business Places
10 Review Templates already available
With the option to display only 5-star reviews
There are five attractive pre-designed layouts for floating reviews (floating off-canvas)
The number of user reviews can be set up to 5 using the Google Places API
Google Reviews Slider for WordPress
The next plugin we wish to present is WP Google Review Slider, enhancing your website's search engine optimization.
By default, Google limits the number of reviews you can add to your website to 5. However, they will be refreshed every day, and if there are any new reviews, they will replace the old ones.
In addition, you can configure the plugin to only display the highest ranking. Also, customization isn't limited to that. You can change the text color, background, or even display or hide the date of the reviews.
For the output of the slider on your website, you can use either a shortcode, widget, or PHP template function. Alternatively, you may use a shortcode, widget, or PHP template function to avoid posting negative reviews.
You can unlock more features like multiple languages, locations, and a social media counter by upgrading to the premium version. Furthermore, you can download all Google reviews from different locations and create an overall review slider.
Besides, you can manually add reviews and summarize a review for a WooCommerce product, or you can use a WooCommerce review plugin.
💵 If you have Lite, it is free. If you have Premium, you must pay.
Key Features:
There are template options such as showing/hiding rating stars, showing/hiding dates, border-radius, and background-color
You could create a cool slider with your Google Places reviews like an image slider
Just decide which reviews to display based on their rating
You can create multiple templates that will be used for your posts, pages, and widgets
It is possible to display multiple Google Places reviews per row or even have more than one row
Random Reviews:
The author was very helpful with my questions and even added a fix on an updated version straight away! Very impressed

This plug in is wonderful for our small business. Customers can see our reviews right on our website! Thank You! MB

Works as advertised. Great way to gain customer confidence.
Google Reviews and Rating For WordPress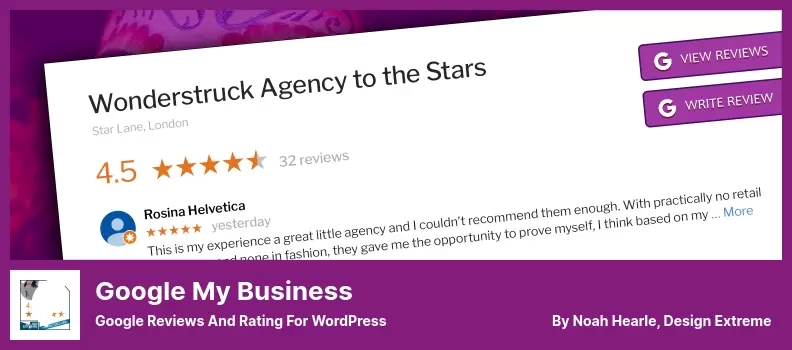 We recommend the Google My Business plugin if you want to add your Google Business reviews to your website. The plugin will collect the data that you need based on your Google Place ID and display a well-formed list or block of reviews on your website.
The data may even include links and Google maps listings, which will be added as well. You don't need to know anything about programming to use this plugin, and it works perfectly with shortcodes and widgets.
Besides, you can customize the appearance and customize its template, text, date, and other elements as well. In addition, it comes with more than 20 pre-designed layouts that you can use based on your taste.
💵 You don't need to pay. It's a Free plugin.
Key Features:
Column customization, custom ordering within review items, avatar hiding/overwriting, date formatting, and more
Support for structured data (Schema.org) that helps search engines present business and review data clearly
You can set up a list of customer reviews with ratings, lengths, offset, limit, sorting, language, and individual reviews that can be selected
RTL language and styles supported
Review management and selective hiding supported
Random Reviews:
Having tried numerous plugins of this kind, I have chosen the one that is easy to set up and that works perfectly. The support service is also very helpful! This is a top notch plugin!

I use this plug-in when importing reviews from Google into web pages. On top of that, it is well supported. Five stars, just because I cannot give six. This topic was modified 1 week, 4 days ago by Inky.

This is the best plugin for google reviews that I've found even after paying.
WordPress Support for Google Reviews & Ratings
WordPress Google Reviews & Ratings is the next plugin on our list, which enables you to show up to five reviews of Google places on your site.
Whenever new reviews are available on a page, an automatic fetching feature will replace the old ones with the new ones.
Reviews may be posted on your website by visitors and customers. The reviews can either be used to convince potential customers to purchase from you or to discourage them from doing so. Moreover, as mentioned previously, honest customer reviews on your website contribute to building customer trust.  
You can also add many features to it with widgets and shortcodes, which makes it fully customizable. It keeps Google Reviews accessible on any screen or device, thanks to its responsive design. In addition, you can add a show or hide the see all reviews button.
💵 Get full documentation and 12 months of support time with purchasing the plugin for $34 .
Key Features:
The Write a Review Button on your website allows your customers to leave their comments
Improve your brand awareness by leaving a good impression on your customers and audiences
Due to their limitations, Google will only allow retrieving the five most helpful reviews through API requests
It allows customers and their loyalties to be convinced by user reviews
This saves you time by showing you positive testimonials, ratings, and reviews
WordPress Support for Google Places Reviews
One of the best reviews anyone can get is a Google Review, and it's essential for any website. Google Places Reviews plugin allows you to integrate these reviews into your website. They can be displayed on your website via widgets.
If you use this plugin, you can easily add reviews and testimonials left by previous customers to your website, which can help your website's Google ranking.
These plugins are designed to improve your website's ranking on search engines such as Google and Bing. Since the application has high SEO enhancement techniques, it ensures that a large number of local clients will find you when you use this plugin.
As a result, you will have an improved conversion rate and sales thanks to the Google Places Reviews Pro plugin. This plugin comes with several shortcodes that you can use to make changes to it as you see fit.
💵 Price is $39 .
Key Features:
You can increase your brand's fame, boost sales, and ultimately grow your company's revenue
It can bring your bright side to your targeted audience's attention in a professional way
Boost loyalty and affinity of your customers, and gain their undivided loyalty and trust more effectively
You can save your time in showing positive reviews, ratings, and testimonials by using this plugin
It allows you to have your customers say what they think on your website
You can leave a good impression on your audience and spread brand awareness throughout the world
Over 60 Highly Customizable Elementor Essential Addons
Elementor Premium Addons allow you to customize your Elementor page builder with over 50 addons and widgets. These customizations can all be done without any programming knowledge. You will end up with a website that looks great.
It is one of the most widely used Google reviews plugins for WordPress, with over 500,000 active installations. Besides, this plugin is compatible with WPML, and you can even use it for WordPress Multisite.
The free version of this plugin only supports testimonials, and it can be customized to display user reviews in a carousel. However, in the premium version, you get Google reviews, Facebook reviews, and Yelp reviews.
Also, you can use Google Maps Widget, Blog Widget, Carousel Widget, and Persons Widget in the free version. However, advanced widgets like Widget Tabs and Content Switcher are only available in the premium version.
💵 A Lite version is free, and a Pro version is $39 .
Key Features:
A widget that lets you display the reviews you have received on Facebook. It is the only Facebook reviews widget available in Elementor
Widget to show your business's latest Google Reviews inside Elementor Page Builder
Display Yelp Reviews on your website pages with this handy plugin
Several elements can be enabled and disabled so you don't overload your site with code you won't use, which enhances performance
ACF fields, Woocommerce products, and user roles can be dynamically shown/hidden based on many factors, including location and browser
Random Reviews:
There is so much great information in these widgets, and the support is also fantastic.

It's a great tool to start being creative, to be more creative with your website design. Support is excellent; fast and very helpful.

I've been using the free version for years. Just bought the Pro. The plugin is always uo to date. Support reactive
WordPress Support for Google Places Reviews
The last Google reviews plugin for WordPress on our list is Google Places Reviews. Google Places Reviews currently has more than 5000 active installations and provides a wide range of features through its widgets.
Users of this plugin can leave reviews about the products or services you offer. It is extremely useful for restaurants, online businesses, review sites, and real estate.
As explained above, reviews can increase and build trust between your brand and visitors, which will improve coAs discussed above, reviews can enhance and build trust between your brand and visitors, ultimately resulting in improved conversion rates. The free version of this plugin allows for up to three reviews. Upon purchasing the premium version, you can add up to five Google reviews to your website.  
Moreover, there are many pleasing layouts to choose from based on your personal taste.
💵 Pro version is free, Lite version is $.
Key Features:
Show up to three reviews per location with Google Business Reviews
Utilize the power of Google search to look up businesses in your area using Google Places Autocomplete
Easy integration with your website design with beautiful widget themes that fit light and dark color schemes
Information about the business, including its name and website
Supported and developed by an expert development team in San Diego, California
Random Reviews:
Who needs to do this? We should just add the short-code and the key to the page.

This plugin didn't work for Google Reviews and the other one available got me more trouble than anything I could expect. This topic was modified 3 years, 2 months ago by RAIMUNDOS54. This topic was modified 3 years, 2 months ago by RAIMUNDOS54. This topic was modified 3 years, 2 months ago by

The plugin I tried didn't allow slider views, but the support was very helpful. Matt even made me an instructional video. Worth giving it a try if you require this type of widget.
Conclusion
In this article, we strived to give you all the necessary information about the best WordPress Google Reviews plugins. If you like to make your website better, you are in the right place. Simply select one of these plugins.
This article is designed to be useful to you. In addition, we recommend you read our article on the best WordPress blogging themes.
If you have questions or concerns about the matter above, please do not hesitate to send a comment. Feel free to impress out to us or tag us in a share on Twitter or Facebook.