Have you ever wondered how to add a question-and-answer functionality to your WordPress website? Well, look no further! In this blog post, we will be exploring the six best WordPress question-and-answer plugins, both free and pro, that will allow you to easily integrate this feature into your site.
Nowadays, user engagement and interaction are crucial for the success of a website. Adding a question and answer section can not only enhance user experience but also provide valuable information to your visitors.
According to a study conducted by HubSpot, websites with interactive features, such as a Q&A section, have a 21% higher conversion rate compared to those without.
In this article, we will be diving into the top six question-and-answer plugins available for WordPress. Whether you're a beginner or an advanced user, there's something for everyone. So, let's get started and find the perfect plugin to meet your needs!
Best Question & Answer Plugins for WordPress
If you are looking to add a question-and-answer feature to your WordPress website, look no further! In this section, we'll be exploring the best question-and-answer plugins available for WordPress.
Discover how these plugins can enhance your website and engage your visitors in interactive discussions. Check out the following products and find the perfect solution for your site's needs.
Question and Answer Plugin for WordPress
AnsPress is a powerful WordPress plugin that serves as a complete Q&A solution for your website. With features like voting, social media integration, and automatic deletion of defense articles, this plugin has everything you need to create a robust question-and-answer community.
One of the standout features of the plugin is its price—it's completely free! That's right, you can enjoy all the benefits of this plugin without spending a dime. Plus, it's an open-source project, which means regular updates are available to ensure you always have the latest features and security fixes.
If you're looking to create a discussion forum or FAQ list on your website, this plugin is the perfect choice. It offers a user-friendly interface similar to CM Answers but with the added bonus of free access to all the core features and add-ons.
With this plugin, you have the flexibility to customize your forum to match your website's branding. From changing the design elements to adding your own personal touch, this plugin gives you the opportunity to create a Q&A section that truly reflects your unique style.
In addition to its customization options, it also provides a FAQ section, making it easy for users to find the answers they're looking for. You can also integrate a bug-tracking system and an internal discussion board, further enhancing the functionality of your website.
Key Features:
All add-ons are completely free
Users can answer questions and establish reputations
Simple submission of new questions
Email notifications to keep users informed
Ability to add tags and categories to questions
The Ultimate Questions & Answer Plugin for WordPress
WP-Answers is a WordPress plugin that allows you to effortlessly create a vibrant question-and-answer forum or section on your website. It provides an engaging and interactive platform for your users to ask questions, share knowledge, and get valuable answers.
One of the standout features of the plugin is its mobile-friendly design. No matter what device your visitors are using, the Q&A section will look stunning and be easy to navigate. This ensures a seamless user experience and encourages increased engagement.
The plugin also offers integration with popular social media platforms like Facebook and Instagram. This means that users can log in using their existing social media accounts, eliminating the need for them to create new profiles. This feature not only saves time but also adds a touch of professionalism to your website.
The plugin shares some similarities with renowned platforms like Reddit style but offers a simpler interface. It is designed to make the Q&A experience more streamlined and intuitive for users. Additionally, the plugin boasts built-in spam moderation tools to keep your forum clean and spam-free.
Another notable feature is the use of gamification. It allows you to reward users for providing helpful answers. This incentivizes active participation and encourages users to contribute more to the community. You can even incorporate a leaderboard to showcase the top contributors and foster healthy competition.
The plugin also stands out by automatically pulling content from Yahoo Answers. This means that your Q&A section will have a steady stream of questions and answers, even if your community is still growing. It provides a wealth of content for users to engage with right from the start.
In summary, WP-Answers is a powerful WordPress plugin that lets you make a question-and-answer section that's interactive and dynamic. A comprehensive solution for nurturing a vibrant community of knowledge sharing, it's mobile-friendly, social media-involved, spam-moderated, and gamified.
Key Features:
Voting buttons for user engagement
Automatic content import from Yahoo Answers
Rewards system for answering questions
Integration with Stack Exchange
Simpler interface reminiscent of Reddit
Built-in spam moderation tools
Q&A Forum Plugin for WordPress
Sabai Discuss is a WordPress question-and-answer plugin that allows you to create a forum on your website. With its convenient features, you can create profiles, question pages, and category pages to organize your discussions.
One of the standout features of the plugin is the ability to create specialized forums for members only. This means you can create a secure space for your community to interact and share valuable insights.
Another useful feature is the user reputation system, which allows you to reward helpful posts and remove the credibility of spam posts. This helps maintain the quality of your forum and ensures that users are engaged in meaningful discussions.
The plugin also includes a voting system, similar to WP-Answers, which allows users to upvote the best answers and bring them to the top of the page. This ensures that the most helpful responses are easily accessible to other users.
The plugin also offers the option to create both internal and external question-and-answer pages. This means you can choose whether you want the discussions to take place exclusively on your website or if you want to integrate external sources.
Additionally, the plugin allows you to create specific forums only for special members. This is a great feature if you want to create exclusive discussions for a particular group of users.
With the plugin, you can easily sort and filter questions to prioritize what's most important to you. This allows for efficient navigation and ensures that you can quickly find the information you need.
Similar to the AnsPress plugin, the plugin also provides the ability to filter out spam or bad answers. This ensures that your forum remains a high-quality platform where users can find reliable information.
In terms of pricing, it's worth noting that Sabai Discuss is a premium plugin, meaning you will have to pay to use it. While this may be a disadvantage for some users, the features and functionality it offers can make it worth the investment.
Key Features:
Public and password-protected Q&As
Create your own answering lists
Voting system for best answers
Create category pages for easy organization
Internal and external Q&As supported
Exclusive forums for special members
Streamlined Discussion Plugin for WordPress
bbPress is a WordPress plugin that allows you to easily create forums and question boards on your website. It comes equipped with various widgets that simplify the process of setting up a forum. Additionally, you can import posts from other forums into bbPress.
One of the key features of bbPress is its ability to scale smoothly with your website's growth. As your forum posts, users, and overall traffic increase, it will adapt accordingly, ensuring a seamless user experience. This plugin aims to make your site look like a lean and efficient forum.
Developed by Automattic, the plugin offers a user-friendly interface that allows you to manage your forums directly from your WordPress dashboard. This seamless integration eliminates any extra steps and ensures a smooth user experience.
While the plugin is free to use, it's important to note that it does not integrate with popular social media platforms like Twitter and Facebook. If social media integration is a crucial aspect of your forum, you might want to consider the WP-Answers plugin instead.
One of the standout features of the plugin is its compatibility with any theme. This means that no matter what theme you choose for your website, bbPress will seamlessly integrate and maintain a consistent look and feel.
Powerful Questions & Answers Discussion Boards for WordPress
CM Answers is a WordPress plugin that allows you to create a responsive question-and-answer board on your website. With its user-friendly dashboard, you can easily sort and manage the Q&A pages and even automate the approval process.
One of the standout features of the plugin is its ability to generate pages of Q&As based on factors like votes, views, or responses. This helps you showcase the most popular or relevant questions and answers to your audience.
The plugin also notifies administrators via email whenever new questions or answers are posted, ensuring that you stay on top of the discussions happening on your website.
While it does not support the Akismet spam protection plugin, it offers other useful features to enhance the user experience. Users can mark answers as private, allowing for more personalized and confidential communication. The plugin also provides language translation options, making it accessible to a wider audience.
CM Answers also includes a demo template that can be customized to match your website's design. Additionally, users have the option to post questions and answers anonymously in the pro version, ensuring privacy for those who prefer it.
Key Features:
Option to display views count and answers count
The ability for visitors to mark answers as private
Language translation support for Russian and German
Creation of a public page for user-generated questions and answers
Voting system for users to show their preference for a question
Anonymous posting of questions and answers
WordPress Plugin for Discussion & Question and Answers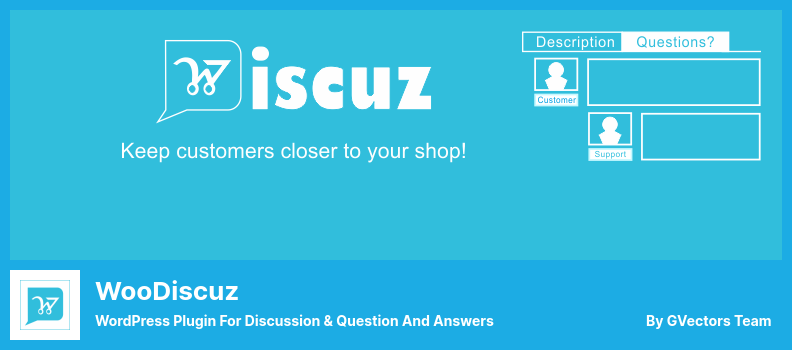 WooDiscuz is an amazing WordPress plugin that allows you to create stunning forums and question boards without spending any money. It adds a new tab called 'Discussion' to your website, specifically designed to manage all the comments generated by your WooCommerce products.
With this plugin, your customers can ask questions about your products before making a purchase. The best part is that WooCommerce and WordPress are fully compatible with the plugin, ensuring seamless integration.
One of the key advantages of the plugin is its high customization options. You can change the title of the 'Discussion' tab to whatever you prefer, giving you full control over the branding of your forum.
Aside from this, the plugin is compatible with BuddyPress and integrates seamlessly with the plugins that enhance the profile pages in WordPress, making the overall user experience better.
The plugin offers a range of impressive features. It provides different pagination options, including Ajax, ensuring a smooth and responsive interface for your users.
The plugin also incorporates a smart voting system, allowing users to express their opinions and engage in discussions easily. Another great feature is the option to form new discussion threads, encouraging more interaction among your community.
Social media integration is another standout feature of the plugin. It enables users to share products on Twitter effortlessly, expanding their reach and potential customer base. Furthermore, administrators and comment authors can receive notifications about new comments, keeping everyone informed and engaged.
One of the best things about the plugin is that it is completely free. You can access all of these fantastic features without spending a single penny, making it an excellent choice for WordPress website owners on a budget.
The plugin also comes with anti-spam features, minimizing the annoyance of spam comments and ensuring a clean and enjoyable discussion environment for your users.
Key Features:
Different pagination options with Ajax
Smart voting system for user engagement
Option to form new discussion threads
Social media integration for easy product sharing on Twitter
Notifications for admins and comment authors
Completely free with anti-spam features
Frequently Asked Questions
What features should I look for in a WordPress question-and-answer plugin?
The best WordPress question-and-answer plugin has an easy-to-use interface, customizable design options, spam protection, voting, moderation, email notifications, social media integration, and compatibility with other popular WordPress plugins and themes.
Can I integrate these plugins with my existing WordPress theme?
Yes, most of these question-and-answer plugins are designed to seamlessly integrate with any WordPress theme. However, it's always a good idea to check the compatibility of the plugin with your chosen theme before installation.
What are the advantages of using question-and-answer plugins on a WordPress site?
Question-and-answer plugins offer several advantages for WordPress site owners. Firstly, they promote user engagement and interaction by providing a platform for users to ask questions and get answers from the community.
This helps build a sense of community and encourages visitors to spend more time on your site. Additionally, question-and-answer plugins can improve your site's SEO by generating user-generated content and increasing the number of indexed pages.
They also help establish you as an authority in your niche, as users turn to you for answers. Overall, these plugins enhance user experience, boost engagement, and contribute to the growth and success of your WordPress site.
Can WordPress question-and-answer plugins be customized to match my site's design?
Yes! One of the great things about WordPress question-and-answer plugins is their flexibility and customization options. Most plugins come with built-in styling options that allow you to match the plugin's appearance to your site's design and branding.
You can usually customize elements like colors, fonts, and button styles to create a cohesive look. Some plugins even offer advanced customization options through CSS or template files, giving you complete control over the design.
With the right customization, your question and answer section can seamlessly blend with the rest of your WordPress site and provide a consistent user experience.
Conclusion
In conclusion, we've explored the top six WordPress question and answer plugins, both free and premium options, that can enhance the functionality and user engagement on your WordPress website.
These plugins enable you to create interactive question and answer sections, which can drastically improve user experience and provide valuable information to your audience.
If you want to dive deeper into WordPress tutorials, tips, and tricks, don't forget to check out the BetterStudio blog. We have a wealth of resources to help you navigate the ins and outs of WordPress and make the most out of your website.
To stay up-to-date with the latest tutorials and insights, be sure to follow BetterStudio on Facebook and Twitter. We regularly share valuable content and updates that can empower you to take your WordPress journey to the next level.
Lastly, we want to express our gratitude for taking the time to read this article. If you have any questions or encounter any issues related to the topics discussed in this article, please don't hesitate to reach out. Leave a comment below, and our team or fellow readers will be more than happy to assist you. Happy WordPressing!