Are you searching for the best WordPress Question & Answer plugins? But not sure which plugin is the best possible fit for you?
So, to assist you in selecting the best plugin that fits all your preconditions and requirements, we present you with the best WordPress plugins for Question & Answer. These plugins help you establish your online presence in the super-competitive playing field by providing features and design aesthetics. We also make sure that the plugins work well with all the latest WordPress themes.
We accumulated plugins that are the absolute best fit for the Question & Answer. Although this plugin listing is loaded with plugins associated with Q&A, Discussion, Question Bank, Answer Key, and FAQ usages.
Best Question & Answer Plugins for WordPress 🥇
Now let's have a look at the best Question & Answer WordPress plugins in 2022:
Question and Answer Plugin for WordPress
The AnsPress Question & Answer WordPress plugin is the best option if you think about a completely free discussion plugin.
With this plugin, you are provided with a FAQ section, which is primarily focused on the integration of a Q&A section on your website.
There is no charge for this plugin. It features a similar interface to CM Answers, but you get the core plugin and all of its add-ons for free.
Additionally, the plugin is equipped with several useful features, including voting and social media integration. It can also automatically delete defense articles. Furthermore, it is an open-source project, which means regular updates are available.
Furthermore, this plugin allows the creation of question and answer sites as well as the integration of a bug tracking system and an internal discussion board.
It is not uncommon for website owners to create FAQ lists and customer support pages on their websites using the FAQ & Customer Service plugin.
AnsPress offers a wide assortment of customization features that give you the opportunity to put your own personal stamp on the look and feel of your forum.
💵 No charge is associated with this plugin.
Key Features:
All of the add-ons are completely free
Provides users with the ability to answer questions
Establish user reputations
Submit new questions
Offers a wide assortment of customization features
Sending out email notifications
Add tags and categories to questions
Filtering out bad words
Random Reviews:
The plugin makes a Q&A functionality that works, although it has a few issues – It is designed to be 'developer friendly' not 'user friendly' – The look is like something from 1998 – You cannot disable VOTE or COMMENT – confusing who can answer a question and who can make a comment

Everything about this app is excellent: code, functions, and performance
The Ultimate Questions & Answer Plugin for WordPress
With the WP-Answers Q&A plugin for WordPress, you can quickly and easily create an engaging forum or question and answer section on your WordPress website.
In this plugin, you can integrate Facebook and Instagram so that your users can log in using their social media accounts instead of having to create new accounts. This feature alone will contribute to increasing the professional appeal of your website.
You cannot receive email notifications from WP-Answers. If you want this capability a lot, you might consider using the Anspress plugin instead. The use of gamification can also be effective for encouraging users to contribute more to forums by providing rewards for the answers they provide.
It is also mobile-friendly, so no matter what device you are viewing it on, your Q&A section looks great. If you're trying to find something more polished than Reddit, then WP-Answers might be a good solution for you.
💵 When you purchase this plugin for $34, you will get 12 months of free support.
Key Features:
Responsive, no matter what device is used to visit your website
Reminiscent of Reddit but with a simpler
Built-in spam moderation tools
Voting buttons (just like AnsPress)
Automatically pull content from yahoo answers
Give rewards to users for providing answers
Share a leaderboard
Facebook & Instagram integration
Works very similar to the Yahoo answers website
Q&A Forum Plugin for WordPress
The Sabai Discuss WordPress Question Bank plugin provides you with the opportunity to create any type of forum with convenient features.
In addition to specialized forums for members only, as well as a number of answering lists for specific categories, you are able to set up your own answering lists.
There is only a premium version of this plugin, and you will have to pay for it if you want to use it (as with the WP-Answers plugin). That is the biggest disadvantage of this plugin.
A user reputation system is included in the plugin (like AnsPress), which can be used to reward useful posts and remove the credibility of spam posts. You can create a secure forum for members only, for example. This plugin makes it possible for you to do so.
Aside from creating a profile page, you will also have the opportunity to create a question page, as well as a category page that lists the categories in which your questions are classified.
💵 With Sabai Discuss plugin $24, you are given: All Features, 12 months of support time, All contain plugins, and 1 year of updates.
Key Features:
Public and password-protected Q&As
Your own answering lists are set up
A voting system is included for sending the best answers to the top of the page (like WP-Answers)
Create category page
Create internal and external Q&As
Create particular forums only for special members
Sort and filter questions to see what's most important to you
Filter out the spam or the bad answers (as with the AnsPress plugin)
Reward useful posts and answers
Questions and answers can be created in multiple formats
Random Reviews:
Great job as always, good luck with sales!

It's a very useful community plugin I've seen.

As always, efficient and fast with Kazu! How about adding a few field management functions?
Streamlined Discussion Plugin for WordPress
The bbPress WordPress plugin helps you create forums and questions board that are entirely compatible with every theme.
This plugin, developed by Automattic, makes it possible for users to manage forums directly from their WordPress dashboard. In addition to its ease of use and seamless integration, this is one of the best WordPress forum plugins around.
Also, it will scale smoothly with your website's growth, as many forum posts, users, and overall traffic increase. The plugin has the goal of making your site look like a lean forum. It is free to use.
The plugin is equipped with a variety of widgets that make creating a forum easy. Posts from other forums can also be imported into this forum.
However, you need to be aware that the bbPress plugin does not integrate with Twitter and Facebook (unlike the WP-Answers plugin).
💵 No fees are associated with this plugin. It is free to use.
Key Features:
Developed by Automattic
Step-by-step instructions walk you through the installation
Lightweight and easy-to-use
Provides multisite support
Support of Akismet spam protection
Edits, sticky posts, and deletions are available for authorized users
Edit the code yourself (open-source)
Allow your visitors to create content individually
Comes fully integrated with one central account
A visual editor is included for certain customizations
Random Reviews:
Works well simple and fast and easy to get a nice design with a built-in BBP style pack plug-in

bbPress is powerful and integrates well with BuddyPress. I highly recommend it!

As is, the forum looks very raw and does not adhere to the active theme. Also, various artifacts have been produced that the developer refused to even look at.
Powerful Questions & Answers Discussion Boards for WordPress
CM Answers is another WordPress plugin with which you can create entirely responsive question and answer boards on your website.
Administrators are able to moderate discussions from their dashboard by performing multiple actions. As a result, the system can automatically generate pages of Q&As and provide you with settings according to the number of votes, views, or responses received.
By using WordPress's dashboard, you can sort question and answer key pages and automate the approval process.
There is also an option to purchase a premium version with extra features, such as a text editor on the front end, access control, category and comment support, as well as multiple attachments.
The administrator will also be notified via email when new questions and answers are posted, and users will also receive such notifications when answers to their own questions are posted.
Unfortunately, this plugin does not support the Akismet spam protection plugin, which is a significant disadvantage.
💵 The Pro version is for sale at about $39, and the Lite version is free.
Key Features:
Option to display views count and answers count
Marking an answer as private is an option that visitors can use
Allows language translation to languages like Russian & German
A public page is created for users that have questions and answers
Users can provide votes to the question
Questions and answers can be posted anonymously (in the pro version)
Includes a demo template that can be customized
Discussion forums are moderated by the dashboard
Random Reviews:
Support is excellent and plugins work flawlessly

In trying to approve a new post, I receive the following error message: Fatal error: The allowed memory size of 268435456 bytes exhausted (tried to allocate 72 bytes) in /home/theonlin/public_html/blog/wp-includes/functions.php on line 3309

Great and fast support! Good component. Work as described.
WordPress Plugin for Discussion & Question and Answers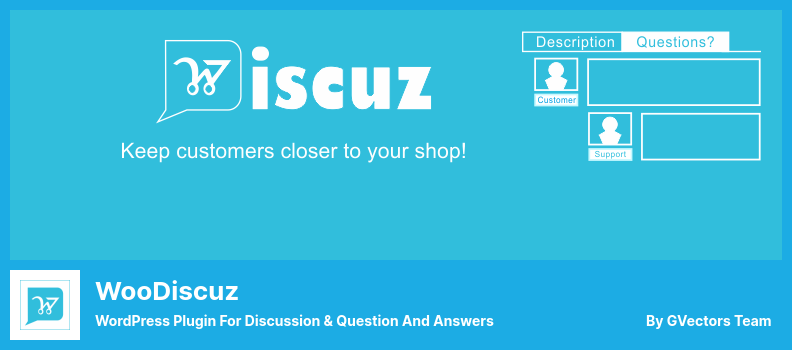 With the WooDiscuz WordPress plugin, you are able to create beautiful forums and question boards without paying a single penny. An additional tab has been added to the plugin, called 'Discussion,' for the purpose of holding all comments generated by WooCommerce products.
One of the advantages of this plugin is that it is customizable, for instance, by allowing the tab title to be changed from 'Discussion' to whatever you wish.
Customers can ask questions regarding your products before buying them through this feature. WooCommerce and WordPress are fully compatible with this tool. You can also engage your customers through the display of detailed descriptions, reviews, and discussion threads.
Aside from BuddyPress compatibility, it will also be possible to use its avatar system to enhance all aspects of the user experience. It will also integrate with other WordPress profile plugins as well.
💵 There is no charge for this plugin.
Key Features:
Different pagination options, including Ajax
Provides a simple, responsive interface
Contains a smart voting system
Option to allow forming a new discussion thread
Sharing products on Twitter is facilitated by social media integration
Admins and comment authors can be notified of new comments
Completely free
Consists of anti-spam features
The tab title can be changed to whatever you wish
Random Reviews:
Customers send questions through contact forms without linking to the product they want support for, but this plugin helps to investigate which product they want support for.

Although it's a good idea and I required precisely its functions myself, it's not even possible to send email notifications with this plugin. And the CSS… Well… At least it was easy to de-uglyfy it.
These are my final words
It was the list of the best WordPress plugins for you in 2022. If you're an advanced webmaster, you can use them to boost your website's design and features.
📌 Note: If you are interested in reading more about the best security plugins and best hosting for WordPress, you may also want to read our articles.
Those are all the tools from our side. I hope you enjoyed the list of the Best Question & Answer WordPress plugins.
We would love to hear from you in the comments section. If you enjoyed this article, please share it on Facebook and Twitter.