Have you ever wondered how many people are reading your blog posts? Are you curious about which topics are most popular on your website? If you're a WordPress website owner, then you'll want to make use of post views tracker plugins. But with so many options available, how do you know which ones are the best?
In this article, we'll be sharing our top 5 picks for the best WordPress post views tracker plugins. From free options to paid pro versions, we've got you covered.
There are several plugins that you can use to keep track of how many views your blog posts are getting, so that you can adapt your content strategy in accordance with their results.
Whether you're a new blogger or a seasoned pro, tracking your post views is an essential part of growing your website. In this article, we'll be exploring the features of each plugin, and the pros and cons of using them.
So let's dive in and find the perfect post views tracker plugin for your WordPress website.
Best WordPress Plugins for Post Views Tracker
If you're looking to keep tabs on your blog's post views and track the performance of your content, then you'll want to take a look at some of the best WordPress post views tracker plugins available.
In this article, we've gathered together five of the top free and pro plugins that can help you do just that. So, whether you're a blogger, content marketer, or website owner, be sure to check out the following products and see which one suits your needs best.
A Simple, Fast and Reliable Way to Display How Many Times a Post Had Been Viewed
Post Views Counter is a WordPress plugin that displays a counter showing the number of views each post has received. It makes use of the latest technology to track your website's traffic.
The plugin allows you to filter posts by the number of views they have received, exclude views from bots, logged-in users, and team members, and you can filter posts by the number of comments.
If you have multiple administrators on your website, you can also restrict the way post views are displayed based on their roles in the WordPress admin area. You can collect post views using multiple methods such as PHP, JavaScript, AJAX, and REST API.
Moreover, the plugin includes a post views widget in the WordPress dashboard for monitoring post performance. Additionally, you can manually set the number of views for each individual post.
Key Features:
Compliance with GDPR for the Cookie Notice plugin.
Exclude views from logged-in users, bots, and team members.
Simple one-click import of WP-PostView data.
Sortable admin columns.
Object cache implementation option.
Intervals for counting and modifying REST API endpoints.
Properly Setup Google Analytics Tracking Features Without Writing Any Code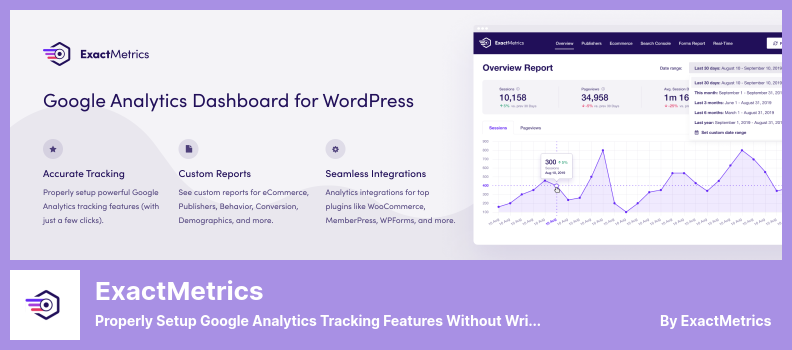 ExactMetrics is a plugin that connects Google Analytics to WordPress, providing a visitor counter for even the newest bloggers. It is perfect for improving site performance by offering detailed traffic data that allows bloggers to make adjust post content and engage a broader audience.
With the plugin, users can monitor user engagement in real-time, tracking analytics beyond basic scripts. This sophisticated plugin simplifies the monitoring process, providing detailed analysis and optimization for every post and page.
Through the plugin, bloggers can perform A/B testing with Google Optimize, as well as track downloads, emails, and affiliate links. The plugin also monitors transactions conducted through eCommerce, providing a comprehensive understanding of site performance.
Key Features:
A/B testing

is included

Detailed analysis and optimization for each post and page
Transaction monitoring is provided
Tracking for emails, downloads, and affiliate links.
A Beautifull, Simple Way to See How Many People Have Visited a Page or Post
Page View Count is a plugin that counts the total number of views on your WordPress posts and pages. It is developed by A3REV Software and is compatible with WordPress 5.9+ and Classic Editor plugin, as well as Gutenberg Block.
The only downside is that it may double or triple the views count when the page loads in the browser, in which case you need to take immediate action.
With the plugin, you can display a counter on your blog to show how many views each post or page has received. You also have the option to choose whether or not to display page views on individual posts or pages.
Additionally, it offers a widget to indicate page views, making it easy for visitors to your site to see the popularity of individual posts and pages. Best of all, it's completely free.
How does it work? Adding counters is effortless with shortcodes and there's no coding necessary. You can customize the color and size of the icon to fit your site's branding.
The plugin will display both the number of views per day and the total number of views. If you're selling products on WooCommerce, the plugin can enable or disable page views for custom post types.
Key Features:
Shortcodes are available for adding counters
The color and size of the icon can be customized
The number of views per day and the total number of views will be displayed
The ability to enable or disable page views for WooCommerce custom post types
No coding is necessary to modify the options and settings.
An All-in-One Tool for Customizing Your Page Visits From The Website's Backend
Advanced Page Visit Counter is a plugin that adds a unique views counter to your WordPress website both on the front-end and back-end. This all-in-one solution offers practical features to customize your site's aspects such as page visits. It is effortless to use even without programming knowledge.
Not only does Advanced Page Visit Counter allow you to keep track of visitors, but it also offers detailed analytics and high-resolution images for an in-depth analysis of user behavior.
By using this plugin, you will be able to exclude specific IP addresses from your page view count and to reset or delete all the information that has been collected from visitors permanently.
With this plugin, detailed reports are available for specific countries, months, weeks, top referrers, and weekly trends. You can visualize your visit statistics in the form of charts and diagrams.
Key Features:
Exclude specific users' IP addresses from page view counts
Reset/Delete permanently collected data from your visitors
Detailed reports are provided.
Visual representation of visit statistics in charts and diagrams
Customize aspects of your site such as page visits
Accurate statistics and high-resolution images.
Enhanced eCommerce Tracking for WordPress
MonsterInsights is a WordPress plugin for displaying post views stats. Its primary purpose is to analyze the most popular posts on your website and optimize them to increase traffic.
With this plugin, you get direct access to Google Analytics charts and information from your WordPress dashboard. The free version has a limitation: the ability to view statistics for each type of content is not available.
However, subscribing to the premium version gives you unlimited access to the tracking tools. It can track eCommerce sales, author views, and search results in just a few clicks. The plugin doesn't require code changes and is compatible with all popular themes.
With MonsterInsights, you can activate all the features of Google Analytics without the assistance of a WordPress developer. It even enables you to customize visitor reports based on country, gender, or device type.
Key Features:
Provides several store statistics, including sales and conversion rates
Offers an in-depth understanding of your online store's visitor behavior
Compatible with the Easy Digital Downloads plugin
Reports are customized so that only relevant information is displayed.
Frequently Asked Questions
What are post views tracker plugins?
Post views tracker plugins for WordPress are tools that allow website owners to track and display the number of views each post on their site receives. This can be useful for understanding which content is most popular with visitors and helps to guide future content creation.
Are all post views tracker plugins free?
No, not all post views tracker plugins are free. While there are several free options available, some plugins offer more advanced features and functionality that require a paid subscription.
It's important to carefully evaluate the needs of your website and determine which plugin is the best fit for your budget and requirements.
Why should website owners use post views tracker plugins?
Post views tracker plugins are useful tools for website owners because they provide valuable insights into which content is resonating with visitors. By tracking post views, website owners can better understand which pieces of content are driving traffic and engagement.

This information can be used to inform future content creation and marketing strategies, helping to grow and optimize the website over time.
Conclusion
In conclusion, we have discussed the top five post views tracker plugins for WordPress, both free and pro versions. These plugins are essential for tracking post views, visitor engagement, and optimizing your website for better performance.
If you wish to explore more WordPress-related tutorials, we suggest you check out BetterStudio's blog, where you can find the latest tips and tricks for your website's optimization.
Additionally, follow us on Facebook and Twitter to stay updated with our latest tutorials and news. We hope you found this article helpful and informative.
If you have any questions or feedback, please feel free to leave a comment in the section below. Thank you for reading.