Are you a restaurant owner looking to enhance your WordPress website? Or maybe you're just curious about the best plugins available for restaurant websites? Either way, you've come to the right place!
In this blog post, we will explore the eight best restaurant WordPress plugins, both free and pro. We'll discuss their features, benefits, and how they can help take your website to the next level.
It might make you wonder why you need plugins for your restaurant website, but here's a stat to prove it. Did you know that 80% of consumers look up restaurants online before making a decision? Having a visually appealing, user-friendly website makes a big difference in bringing in new customers.
With the right plugins, you can optimize your website for better performance, showcase your menus and specials, offer online reservations and ordering, and even integrate with popular review platforms like Yelp.
In this article, we'll dive into the top eight plugins that can enhance your restaurant website and help you stand out from the crowd. From easy-to-use menu builders to reservation management tools, we'll cover a range of options that cater to different needs and budgets.
So, whether you're a small café or a fine dining establishment, these plugins will help you create a memorable online presence that keeps customers coming back for more. Let's get started!
Best Restaurant Plugins for WordPress
If you are looking to enhance your restaurant's website with some powerful plugins, look no further! In this article, we've curated a list of the eight best restaurant WordPress plugins, both free and pro, that are sure to take your website to the next level.
Without further ado, let's dive in and see if these WordPress plugins are so fantastic that they will revolutionize your online presence in a matter of days.
Restaurant Orders Online WordPress Plugin
Orderable is a plugin that allows users to have a seamless experience on their mobile devices when accessing a WordPress website. It ensures that the website looks great on all devices and provides a smooth ordering process regardless of the device being used.
Designed for beginners, this plugin makes it easy to set up an online restaurant ordering system. The checkout process lets users customize their delivery fees and choose their payment methods. We've improved the checkout process so local pickups and deliveries are easier.
One of the great advantages of using the plugin is that it gives restaurants and retailers complete control over their revenue, eliminating the need to pay steep fees to third-party ordering websites.
Additionally, this plugin allows users to accept online orders for free. Customers can choose the time they want their order to arrive, based on the delivery or pickup availability set by the business.
The plugin offers several features that make it an ideal solution for business owners. It has a seamless ordering process, allowing customers to customize their dishes with toppings, organize their orders, or add sides using the product add-on feature.
Furthermore, the lunch menus feature allows businesses to choose when their products or categories will be displayed in their store, adding flexibility to their offerings. Users can also schedule their orders during the holiday season to receive them when they are available.
As soon as an order is placed, users will receive immediate notifications and can easily update the order's status. Additionally, Orderable suggests additional menu items, side dishes, or sauces with each item added to a customer's basket.
Key Features:
Easy setup and customization of a complete checkout process
Control over revenue without third-party fees

Customization options for menu items and

order management
Ability to accept online orders for free
Optimized checkout process for local pickups and deliveries
Product add-ons feature for customizing dishes
WordPress Restaurant Booking Plugin
Five Star Restaurant Reservations is a fantastic WordPress plugin that streamlines the booking process for restaurants. Once a booking is completed, customers have the option to provide their phone number, making communication even easier.
This plugin offers a range of functions, including the ability to accept or reject reservations and send confirmation emails. It also allows for reservations to be made within a specific time frame, perfect for managing a restaurant's availability.
For smaller businesses, the features in the free version are likely to be sufficient. However, larger organizations may benefit from upgrading to the Premium version, which automates and simplifies the booking procedure.
One standout feature of the plugin is the ability to include special requests or comments from customers when making a reservation. This allows restaurants to accommodate dietary restrictions or any other specific needs.
Additionally, the plugin offers options to enable automatic email signatures and booking confirmations, making it even more convenient for both the restaurant and the customer.
Studies have shown that the plugin is a highly popular choice among restaurant owners looking to increase their online bookings. It offers the flexibility to place reservations anywhere on your website using Gutenberg blocks and shortcodes.
One of the best aspects of this plugin is its customization options. Restaurant owners can easily tailor the reservation form to their preferences, ensuring it seamlessly integrates with their website's aesthetic.
Another great feature is the automatic email notification, which informs the restaurant owner whether a reservation has been approved or rejected. This eliminates the need for constant manual checking and provides peace of mind.
The plugin also comes with extensive configuration options, such as setting a maximum number of reservations and defining reservation validity dates. It offers support and maintenance for a six-month period, ensuring any issues that arise can be promptly resolved.
Finally, customers receive an email confirmation when their booking is made, providing them with reassurance and avoiding any potential misunderstandings. Additionally, restaurant owners can access the admin panel to make any necessary changes or implement booking bans based on customer behavior.
Key Features:
Customized restaurant reservation form creation
Email notification for confirmation or rejection of requests
Instant confirmation or rejection of bookings
Email notification for restaurant owners upon booking requests
Easy integration with Gutenberg blocks or shortcodes
A simple addition of a reservation form to any webpage
Delivery and Restaurant Reservation Plugin For WordPress
WPCafe is a responsive WordPress plugin that offers a variety of features for restaurant owners. It includes a reservation system, menu customization options, and integration with WooCommerce for online ordering and delivery.
One of the standout features of the plugin is the reservation system. It allows customers to book and cancel appointments directly from the front end of your website. This feature not only streamlines the booking process but also helps you attract more customers to your restaurant.
The plugin also offers the ability to create different menus for different restaurants. This is particularly useful if you have multiple locations or if you offer different types of cuisine. The menus can be easily edited and customized to match your restaurant theme.
With WooCommerce compatibility, it makes it easy to sell your food online. The plugin includes a mini cart that can be customized with different icons and colors, making it convenient for customers to order your delicious dishes.
In terms of design, the plugin offers a selection of food menus to choose from. You can select the design that best suits your restaurant theme, helping you create a cohesive and visually appealing website.
Another notable feature is the ability to set the booking process based on the location of your restaurant. This ensures that customers can easily find and book a table at the right location.
Key Features:
The easy-to-edit form that lets you make reservations directly from the front end
Select the design that best suits your restaurant theme from our selection of food menus
Using a reservation system will help you gain more customers
The booking process will occur based on the location of your restaurant
Establish different menus for your different restaurants
The WPCafe mini cart, which can be customized with different icons, colors, and more, allows your customers to conveniently order your food
With WooCommerce compatibility, the selling process can be simplified
All-in-One Solution Resturant Reservations WordPress Plugin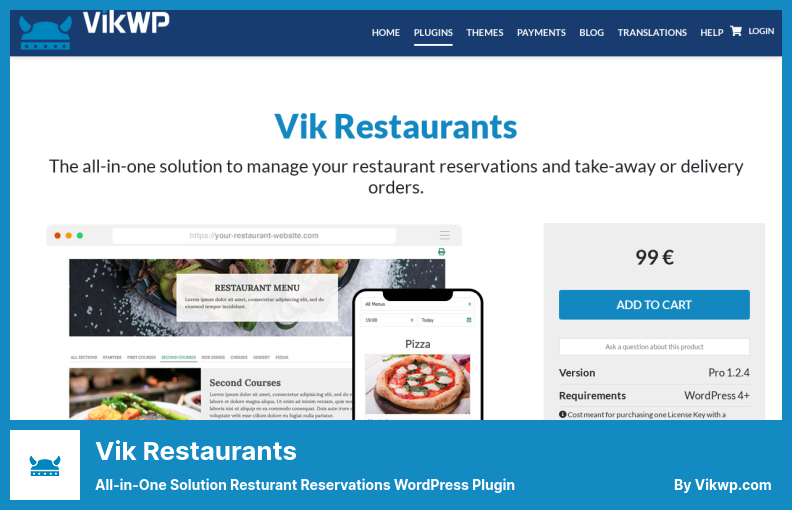 Using Vik Restaurants, owners of restaurants can streamline their operations and offer their customers an optimized experience by providing a seamless service to their patrons in one place.
With this plugin, clients can easily book online and manage their hours of operation, while also having the option for manual reservations and offline booking. Integrated payment gateways and SMS notifications add functionality to the system, while customized menus, products, and delivery areas allow for maximum flexibility.
One of the standout features of the plugin is its real-time seat and table map, which provides operators with a comprehensive overview of reservations and allows for easy management of customer and delivery information. The plugin also offers a private frontend area for operators to customize their websites to their specific needs.
With upgrades and support provided for one year, restaurant owners can rest easy knowing that they will be able to receive reservations directly from their website and manage their deliveries without being charged commissions by third-party portals.
The plugin also includes menu options, delivery restrictions, and coupon codes for added convenience and customization. Booking and order notifications are received via email, and the service is available in multiple languages, making it accessible to a wider audience.
Key Features:
Display intuitive icons for food attributes, such as

Spicy or Vegetarian
Offer both pickup and delivery options to your customers
Highlight active deals with the VikRestaurants Take-Away widget
Easily manage and customize deals for specific days of the week
Define and restrict delivery areas using an interactive map
Allow customers to customize their meals with variations and toppings
Restaurant Menu Online Plugin For WordPress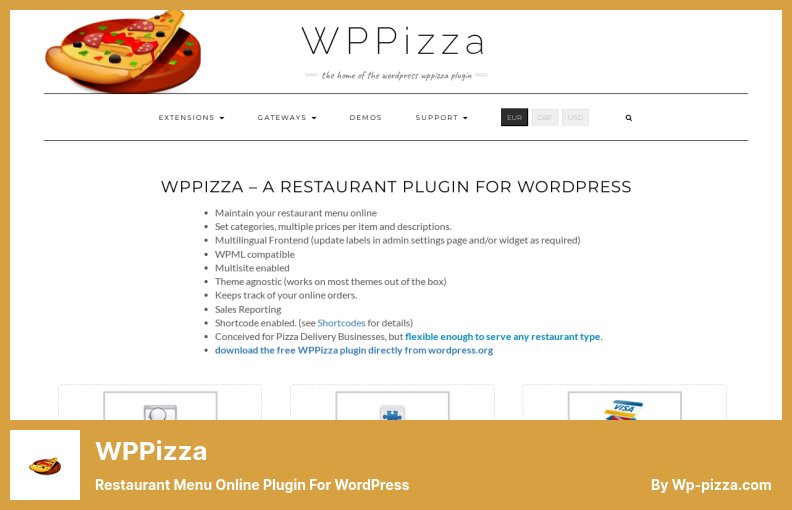 A versatile WordPress plugin, WPPizza is perfect for restaurants but especially good for restaurants that don't make pizza. It offers a range of extensions that can be used to enhance the plugin's functionality for specific purposes. But if you want all these features, it will get expensive.
One of the standout features of the plugin is its attractive and customizable online menus. With this plugin, you can create visually appealing menus that will entice your customers to place online orders.
Using the plugin, you can also manage financial aspects such as tax rates, gratuities, and discounts, which makes it an all-in-one service that makes it convenient for you to manage multiple financial aspects all in one place.
It offers additional features to streamline your restaurant's operations. You can set up alerts to inform customers about their orders, customize your business hours, and choose from a variety of financial options, including credit card and cash acceptance, tip collection, and different tax brackets.
The Pro version takes it even further by allowing you to add other ingredients, like toppings, and fully integrate an online payment gateway with Zip Code integration, so you can accept online payments from anywhere.
Key Features:
Customizable multilingual frontend and widget layout
Categorize items with individual prices and descriptions
Designed to work seamlessly with any restaurant website
Create and update your online menu effortlessly
Compatible with most WordPress themes
Keeps a record of your online orders
Stellar WordPress Restaurant Menu Plugin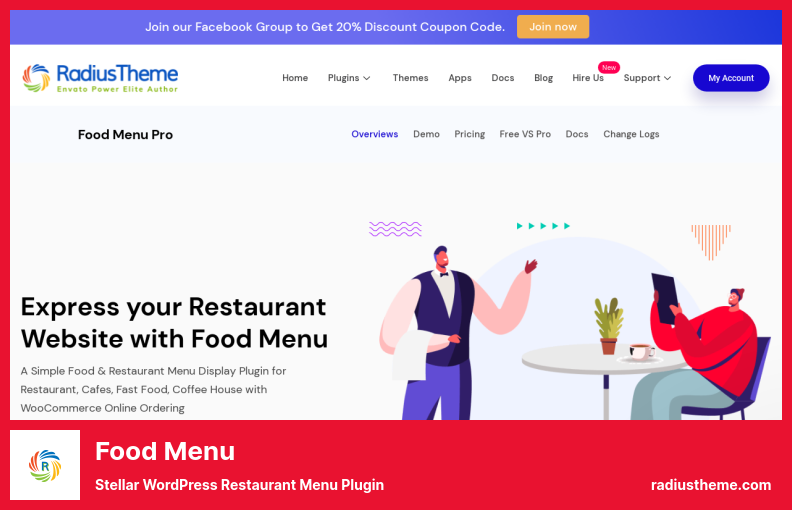 With the Food Menu WordPress plugin, restaurant, and bar owners can easily display their food and beverage menus on their websites in an easy and convenient manner.
The plugin offers a user-friendly interface that allows menus to be showcased within posts, pages, widgets, templates, and even on WooCommerce, making it convenient for customers to place takeout or delivery orders online.
One of the standout features of the plugin is its flexibility in displaying menus. Users can choose how many menus they want to display on a page and adjust the size of images to fit their specific needs. This customization option allows for a visually appealing and organized presentation of the menu items.
You can sort and categorize menu items in many different ways. Users can choose based on the ID number, title, item date, price, or any other criteria. The nutrition information can also be displayed to give customers transparency about the ingredients.
For those looking for a localized theme, the plugin provides the ability to choose the currency of the theme and offers shortcodes, custom meta fields, and CSS files to truly customize the plugin to fit your specific needs.
It also includes grid-based layouts such as Isotope, which allows you to search and filter results based on your needs in order to organize the results in a way that is most convenient for you.
Key Features:
Grid is even and Masonry for all grids
Customized display of various menus on a page
Well-organized categories layout
Grid generator for unlimited cells
Modify overlays by changing color and opacity
Preview layouts in shortcode settings
Food Menus Online Management Plugin
Easy Restaurant Menu Upload is a restaurant menu plugin for WooCommerce that simplifies the process of uploading and managing PDF menus on your WordPress website. With this plugin, you and your authorized employees can easily upload food and drink menus to your site.
The plugin offers a user-friendly interface and provides guidance for employees to authorize themselves. Once logged in, staff members are automatically redirected to the menu upload page. This plugin can be used on any type of website, making it suitable for restaurants of all kinds.
One of the standout features of this plugin is its flexibility. You can insert menu links anywhere on your website using Gutenberg blocks or shortcodes. This allows you to easily customize the appearance and placement of your menus.
If you opt for the premium add-on, you'll have the ability to create unlimited menus. This is ideal for restaurants with diverse menus or multiple locations. Additionally, the shortcodes provided by the plugin make it easy to modify link text, ensuring your menus blend seamlessly with your website's design.
Key Features:
Upload menus in PDF format for easy accessibility
Menu links can be inserted anywhere on your website
The premium add-on allows for unlimited menus
Shortcodes make it easy to modify the link text
Provides a brief description of the menu uploader
After logging in, you are redirected to the menu upload page
All Kinds of Maps and Store Locator for WordPress

With MapSVG Store Locator for WordPress, you can enhance your listings on your website with interactive maps and store locator functionality that can be accessed from within the WordPress dashboard.
With this plugin, you can easily display popover galleries or detailed galleries that include thumbnails, images, and sliders. This adds visual appeal to your listings and allows visitors to interact with your gallery through a touch-friendly interface.
One of the standout features of the plugin is its filters. Users can sort their results by address, city, store type, or any other field of their choice. They can also select a distance option to find stores that are local to them. This makes it easy for customers to locate the nearest store or branch.
The plugin also offers custom vector maps, clickable shapes, and a listings directory. You can easily add automatic map markers to your listings, further improving the user experience. And thanks to its cross-browser compatibility, the plugin works seamlessly on different web browsers.
Unlike most plugins, this one is flexible and customizable. You can customize the map to match your website's style and branding. There are a ton of map styles, plus containers for menus, filters, and details. The plugin has lots of settings you can customize to make it better for your visitors.
Plugin developers will appreciate the additional editing tools offered by MapSVG Store Locator. You have access to CSS, template, and JS editors, allowing you to extend or customize the plugin even further. This ensures that the plugin can meet the unique needs of your website and business.
Key Features:
Various display options for images, including lightboxes, galleries, and sliders
Ability to show another map when clicking on a specific region
View the apartment floorplans by clicking on any part of the floorplan
Display the child's image and floor plan of the building when clicking on a floor
Contact form with email functionality when clicking on a marker
Toggle the visibility of certain objects by adding controls to the application
Frequently Asked Questions
What are the benefits of using restaurant WordPress plugins?
Using restaurant WordPress plugins can offer several benefits for restaurant owners. These plugins provide various features and functionalities that can enhance the overall online presence of the restaurant.

They can help to create beautiful and user-friendly menus, allow for online reservations and bookings, display customer reviews and testimonials, integrate with popular food delivery platforms, and even implement online ordering systems.

With these plugins, restaurant owners can effectively showcase their offerings, streamline their operations, and provide a seamless online experience for their customers.
Can restaurant WordPress plugins help with online reservations?
Yes, restaurant WordPress plugins can certainly help with online reservations. Many of these plugins offer dedicated reservation management systems that allow customers to book tables or make reservations directly from the restaurant's website.

These plugins often provide customizable reservation forms, integration with popular booking platforms, and email notifications to the restaurant staff.

By offering online reservation capabilities, restaurants can provide convenience to their customers while effectively managing their table availability and providing a seamless booking experience.
Do restaurant WordPress plugins support online ordering?
Yes, restaurant WordPress plugins can support online ordering for restaurants. With these plugins, restaurant owners can easily implement online ordering systems on their websites, allowing customers to place orders for delivery or pickup.

These plugins often provide customizable menus, order customization options, integration with popular payment gateways, and order management features for the restaurant staff.
Online ordering systems can help restaurants expand their reach, increase their revenue, and provide a convenient ordering experience for their customers.
Conclusion
In conclusion, we've covered the top eight restaurants WordPress plugins, both free and pro versions, for enhancing your restaurant website. From reservation systems to menu display options, these plugins will surely take your online presence to the next level.
If you're eager to learn more about WordPress and explore related tutorials, we highly recommend checking out the BetterStudio blog. They provide a wealth of valuable information and insightful tutorials to help you master the art of WordPress.
To stay up to date with the latest tutorials and tips from BetterStudio, be sure to follow them on Facebook and Twitter. This way, you'll never miss out on the newest features or updates.
Thanks for taking the time to read this article. If you run into any issues or have any questions about these plugins, please leave a comment below. We and our fellow readers will be happy to help. Have fun exploring plugins and good luck building your restaurant website!