In search of the best WordPress restaurant plugins?
This section consists of the best WordPress plugins for Restaurant sites available on the internet. These plugins have a wealth of features and we have searched the web for you. These plugins support all of the top WordPress themes.
These WordPress plugins were made purely for Restaurants. We also created them for Online Food Ordering, Restaurant Ordering, WooCommerce Restaurant Menu, Elementor Restaurant Menu, Catering, Store Locator, Food Menu, and Restaurant Reservations.
Let's find the best plugin for Restaurants in 2022:
Restaurant Orders Online WordPress Plugin
Restaurants and retailers who use Orderable take complete control over their revenue instead of paying steep fees to third-party ordering websites and applications. In addition, this plugin allows you to accept online orders for free.
Designed for beginners, Orderable lets you create an online restaurant ordering system quickly and easily. With Orderable, you'll have the ability to create a complete checkout, including setting your delivery fee and adding your desired payment methods.
Furthermore, it is a plugin that allows your users to enjoy a seamless experience on mobile devices so they can access the site seamlessly as they access it on any mobile device.
Several features make it an ideal solution for business owners. It has a seamless ordering process, customized menu customizations, flawless order management as well as custom control of the checkout process.
The site looks great on all devices and provides a seamless ordering process no matter what device you are using.
You can choose the time when you can deliver or accept orders for pickup based on when you can deliver or accept orders for pickup, regardless of how busy you are.
This lets customers choose the time they would like their order to arrive based on when you can deliver or accept orders for pickup.
In order to provide you with a more convenient shopping experience, the new checkout process has been designed to optimize local pickups and deliveries.
💵 This plugin comes with 12 months of free support from this awesome team. You can purchase the plugin for $149.00.
Key Features:
With product add-ons, customers can customize a dish with toppings, organize it, or add a side
Lunch menus offer the convenience of choosing when your products or categories will be displayed in your store
Schedule your orders during the holiday season to only receive them when you are available
As soon as an order is placed, you will receive immediate notifications and will be able to update its status easily
With each item added to a customer's basket, suggest additional menu items, side dishes, or sauces
WordPress Restaurant Booking Plugin
In a recent report, we found that one of the most popular restaurant plugins is Five Star Restaurant Reservations, which can be used to increase online bookings on restaurants' websites.
It provides, among other functions, the ability to accept or reject reservations, send reservation confirmations, and allow reservations for a defined period of time.
You can customize the reservation form to meet your preferences, and it will automatically send an email to let you know whether a reservation has been approved or rejected.
You can place the reservations anywhere on your webpage with Gutenberg blocks and shortcodes.
An email confirmation is sent to the customer when a booking is made. The admin panel can be accessed to make changes Booking bans may be implemented based on customer behavior.
Once a booking is completed, the booking service provider may request that customers provide a phone number during the booking process.
It is likely that small and medium-sized businesses will find the features in this version sufficient, however, larger organizations may benefit from the Premium version, since it automates and streamlines the booking procedure.
You can also include special requests or comments that the user may have, such as accommodating dietary restrictions when submitting a request.
Furthermore, the system includes options that can enable automatic email signatures and booking confirmations, as well as other services that can be used to meet these types of needs.
It comes with comprehensive configuration options, including a maximum number of reservations and reservation validity dates, as well as configuration options for booking pages. Support and maintenance for this system are provided for six months.
💵 A Pro version is available for a $90.00, and there is also a Free version.
Key Features:
Formulate a customized restaurant reservation form
Provide customers with email notification of confirmations or rejections of their request
Get an instant confirmation or rejection of a booking
Whenever you request a booking, you'll be notified in an email
Easily customize the look of your booking form for mobile reservations, on all devices, and on any screen
Use the Gutenberg restaurant booking block or shortcode to easily add your reservation form to any page, or simply choose your reservation page in the settings
Random Reviews:
Excellent tool that provides what is expected. Easy to use.

Love the plugin, very good for reservations on any restaurant website!

Great plugin, with great customer service!
Delivery and Restaurant Reservation Plugin For WordPress
Unless you have WPCafe installed on your site, it cannot help you since it is more than just a reservation management plugin.
It is a full-featured restaurant software solution that includes bookings, menus, pick-up, and delivery as well as online ordering, pick-up, and delivery with WooCommerce compatibility, so if you don't have that on your site, it will not be of assistance.
In addition, the reservation system provides a number of reservation management capabilities, such as the ability to personalize booking forms, manage seating capacities, create booking calendars, send email confirmations, tagging reservations, etc.
Front-end and back-end management of reservations, cancellations, and other functions are also supported.
Customers can book and cancel appointments from the front end of the website. Delivery and takeaway orders can be placed through the website too.
Responsive online menus, Ajax mini-cart with custom options. Shortcodes, Elementor restaurant menu widgets, and Gutenberg blocks are all integrated.
Additionally, the system contains a reservation list which is available via the administrator's panel. There, you can review and print reservation information.
Advanced features, such as the automatic date and time restriction, as well as a scheduling widget, are available.
Using the application, you can place a booking form on your web page in addition to adding additional functions to your menus and menu takeaway system. You will also receive support and updates regarding the application.
💵 Free Lite, for Premium. It costs $33.00.
Key Features:
The easy-to-edit form that lets you make reservations directly from the front end
Select the design that best suits your restaurant theme from our selection of food menus
Using a reservation system will help you gain more customers
The booking process will occur based on the location of your restaurant
Establish different menus for your different restaurants
The WPCafe mini cart, which can be customized with different icons, colors, and more, allows your customers to conveniently order your food
With WooCommerce compatibility, the selling process can be simplified
Random Reviews:
My problem has been resolved. Thanks. This topic was modified 5 months, 1 week ago by stkersln.

one of the worst plugins I have ever experienced. there are no translations available, the English texts are full of spelling errors, backend things don't work or save, what you have entered example: if you enter special characters like ä,ö,ü,ß,',",´,` into the Reply-To Name or email subject, it will be replaced by strange characters or escaped wrong This topic was modified 5 months, 1 week ago by
All-in-One Solution Resturant Reservations WordPress Plugin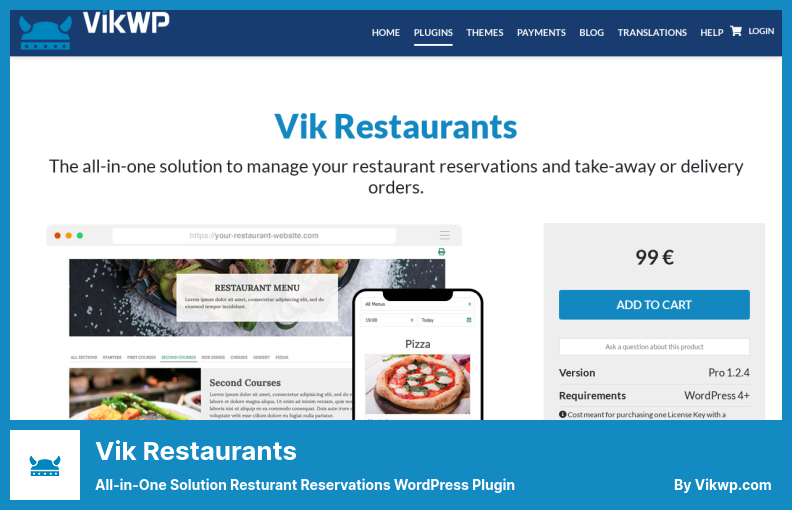 For dine-in and takeaway restaurants that also offer home delivery or takeaway food, Vik Restaurants is an ideal solution for managing table reservations and takeaway/delivery orders.
Using the new booking and catering solution, clients can now book online and manage their hours of operation. It also supports backend manual reservations as well as offline booking.
In addition to takeaway and delivery orders, it includes menu options, delivery restrictions, and coupon codes. Booking and order notifications are received via email. The service is available in several languages.
This online food ordering system manages the bookings and orders from the backend and offers operators a private frontend area. This gives operators more options for customizing.
It also provides a real-time seat and table map for real-time overviews of reservations, as well as customer and delivery management tools.
Integrated payment gateways, SMS notifications for added functionality, customized menus, products, delivery areas, automated discounts, inventory management, and customer reviews are all included in the service.
Upgrades and support are provided for one year. You will be able to receive reservations directly from your website, manage your deliveries yourself, and avoid being charged commissions by third-party portals such as UberEats, JustEat, and Deliveroo.
💵 You can buy the Vik Restaurants plugin with $99.00.
Key Features:
A delivery area can be defined and restricted by drawing polygons or circles on an interactive map
Intuitive icons indicating the characteristics of your food, such as Spicy, Vegetarian, Contains Nuts, etc., can be displayed when attributes are added
With a powerful food ordering system, you can let your customers pick up or have their food delivered
VikRestaurants Take-Away widget highlights the active deals your restaurant has to offer
Some deals are available all week long and others are disabled for some days
The meals can be ordered as singles, with variations, and with custom toppings
Automate the discount process by using smart systems to offer different discounts
Restaurant Menu Online Plugin For WordPress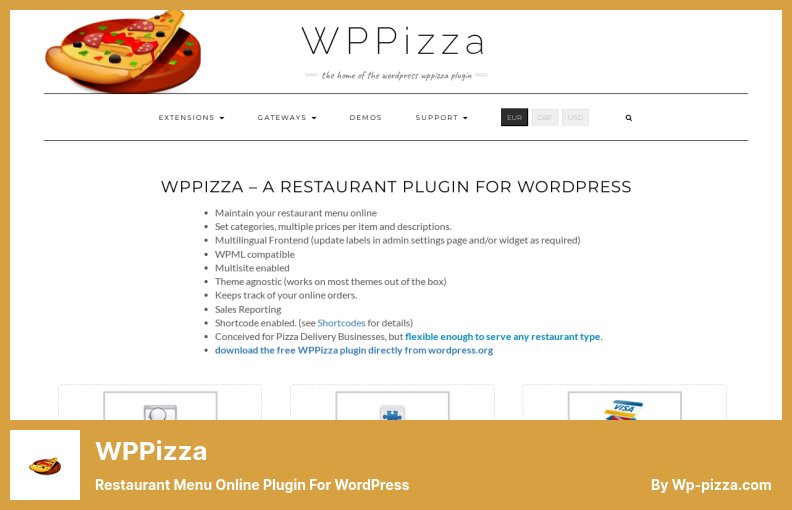 It has also been noted that WPPizza popularity does not extend to restaurants that serve pizza. This is partly due to the fact that WPPizza is adaptable for use by restaurants of other kinds.
If you are interested in creating attractive-looking online menus and taking online orders that look good, this plugin may be what you are looking for Additionally, it gives you the power to manage financial aspects such as tax rates, gratuities, and discounts.
The report extension is available in a variety of different languages, and it has a number of shortcodes that allow you to customize it to fit your needs.
Other features include alerts to customers regarding orders, the ability to customize business hours, and a choice of financial features like credit card and cash acceptance, tip collection, discounting, and the ability to insert different tax brackets.
The Pro version will also allow you to add other ingredients, such as toppings, as well as integrate an online payment gateway fully integrated with Zip Code integration, so you can accept online payments from anywhere.
A plethora of extensions are available in the market that can be used to enhance the functionalities of the plugin for specific purposes. However, the cost of those extensions can escalate quickly if you want all the bells and whistles.
💵 When you buy this plugin for $250.00, you will receive 12 months of support.
Key Features:
Adapt the layout of the multilingual frontend and/or the widget to suit your specific language requirements
Arrange items by category, as well as set prices and descriptions for each one
A pizza delivery truck designed to work with any restaurant
Create, update, and maintain your restaurant's online menu
Even though it is not a theme-specific extension, it works with most themes straight out of the box
Maintain a record of the items you have ordered online
Configure your website as a multi-site environment
Stellar WordPress Restaurant Menu Plugin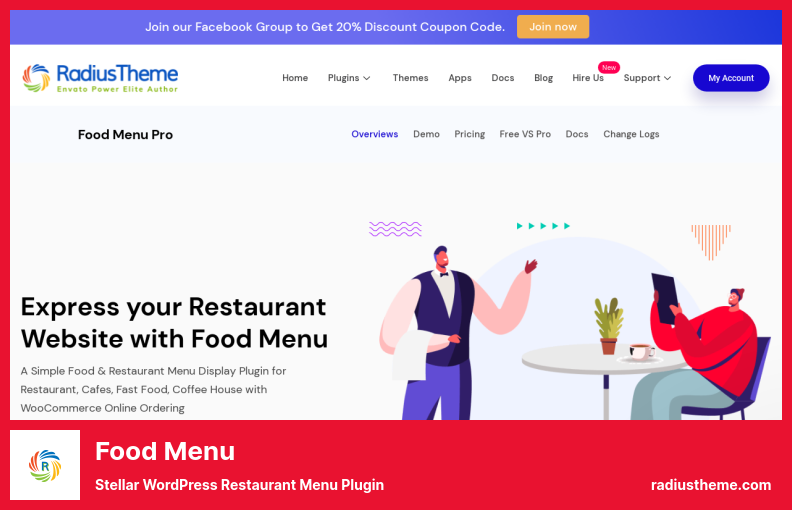 Using Food Menu, restaurants and bars can easily display food and beverage menus on their websites. It can display menus within posts, pages, widgets, templates, and WooCommerce, so customers can place orders for takeout or delivery online.
The following elements will be automatically displayed when the following menu item is selected: titles, descriptions, categories, prices, excerpts, and Dynamic featured images, in a responsive template with automatic populating of list information.
In addition to the ability to choose the currency of the theme, it contains shortcodes, custom meta fields, and CSS files for a truly localized theme. The theme has grid-based layouts such as Isotope, which provides search and filter options for organizing results as needed.
As well as that, the theme has its own unique feature that allows you to select how many menus should be displayed on a page and change the size of the images to meet your needs.
Also included with the theme is the Visual Composer add-on. Additionally, Themeforest's Responsive Theme is fully responsive, and it is compatible with all major browsers. Additionally, it is backed by a 30-day money-back guarantee.
You can select food menu items in the plugin by identification number, title, item date, price, or even by any other criteria that you desire. Ingredients can be dropped into items, and nutritional information can be displayed on the menu, as well.
💵 It doesn't matter if you are a beginner or a programmer. Food Menu plugin is incredible for you. You can purchase it for $21.00.
Key Features:
Grid is even and Masonry for all grids
Various menus can be displayed on a page in a customized way
The categories have been laid out in accordance with the categories
Grid generator for an unlimited number of cells
Overlays can be modified by changing their color and opacity
The layout preview is available in the shortcode settings
With the shortcode generator settings, you have the option of setting the default image
Food Menus Online Management Plugin
The Easy Restaurant Menu Upload software is the best tool you need if you want to upload menus in a quick and easy manner to your website.
Tool for managing food menus that allow members to set up their food menus online in just a few minutes. These tools also allow you to upload menus in other formats, such as PDF documents.
Instead of offering endless features, this restaurant menu plugin for WooCommerce offers you (or your authorized employees) the ability to upload and manage PDF menus. There is nothing more, nothing less, but perhaps that is all you need.
You can upload food and drink menus for your website provided you or your employees have access rights. The menu links are inserted via Gutenberg blocks or shortcodes on the 'Installation' tab.
While employees do not have access to other areas of the backend, they can add menus to your website, including food and beverage menus. Shortcodes can be inserted anywhere on your website.
The uploader page offers a graphical user interface and there is a guidance text for employees to authorize themselves. A menu upload page automatically redirects staff to the menu upload page when they log in. Can be used on any type of website.
💵 FREE!
Key Features:
Anywhere on a page can be used to link to a menu
Unlimited menus are available with the premium add-on
Shortcodes allow you to modify link text easily
Provide a brief description of the menu uploader
After you log in, you will be redirected to the menu upload page
Random Reviews:
This is a great plugin that is very useful for restaurants with changing lunch menus. I would recommend it, as well as the excellent support. Thanks a lot!

I wish I could upload more menus. I would like to be able to upload: Luncheon Menu Dinner Menu Gelato Menu Dessert Menu Wine List If possible, can you expand this menu uploader?
All Kinds of Maps and Store Locator for WordPress

In addition to its many powerful features, this plugin also allows you to create a map that looks great and is easily customizable.
This plugin has thousands of map styles, as well as containers for map menus, filters, and details, as well as numerous settings that can be made available to your visitors.
Filters allow users to sort their results by address, city, store type, or any other field of their choice; and by selecting a distance option, they can determine which stores are local to them. In fact, it is a store locator WordPress plugin for your website.
By adding MapSVG Gallery to your listing, you will be able to display popover galleries or detailed galleries that include thumbnails, images, and sliders. You will also be able to interact with your gallery via a touch-friendly interface.
This is a great way to give your listings a visual boost. Plugin developers are able to further extend or customize the plugin with various editing tools, including template, CSS, and JS editors.
Other notable features of the plugin include custom vector maps, clickable shapes, a listings directory, automatic map markers, and cross-browser compatibility.
💵 In this plugin, you will get all updates and 12 months of support. It costs $49.00.
Key Features:
The child's image, as well as the floor plan of the building, are displayed when you click on one of the floors
The contact form on clicking a marker, with an email to be sent to the 'email_to' field
Images can be displayed as lightboxes , galleries, or sliders in addition to the default WordPress gallery
Upon clicking a specific region on the master map, another map will appear
By clicking on any part of the floorplan you will be able to see the apartment's floorplan
By adding controls to the application, users can toggle the visibility of certain objects
Random Reviews:
Excellent product with a large map of where we worked. Support is excellent as well (I had a problem with my own stupidity and Vyacheslav was able to solve it) very nice guy to deal with

This plugin is awesome. The maps are easy to customize. There is endless flexibility about how they look, and the support is exceptional. We had an issue caused by another plugin, and Roman took care of it quickly.
An overview of what we have discussed
We conclude our look at the best Restaurant plugins. Choose a ready plugin and improve your website. These plugins have a significant impact.
📌 Note: Please take a few minutes to review our posts highlighting the modern WordPress blog themes and the best WordPress plugins for your blog, which are regularly used, voted, and shared by our readers.
Our hope is that we have provided you with enough information.
Would you like to recommend a Restaurant plugin? Please let us know below! If you liked this article, please share it with friends, family, and followers.