Are you looking for the best WordPress plugin for WooCommerce Email Follow Up to use on your site?
We have compiled a list of the best WordPress plugins for WooCommerce Email Follow-Up that will save you time and effort. Moreover, all of the plugins in this roundup have excellent support and are well-featured. They work perfectly with all the top WordPress themes as well.
To help you decide on the best WooCommerce Email Follow Up plugin, we have compiled a list of WooCommerce Email Follow Up plugins. These plugins can also be used for WooCommerce Email Marketing, WooCommerce Reminder Emails, WooCommerce Follow-Up Abandoned Carts and Email Automation for Follow-Ups.
📌 Note: Our article about the best advanced WooCommerce plugins can be of assistance if you are interested in finding a plugin to enhance your store. Also, for choosing a good WooCommerce template, we suggest you read our article about the most popular WooCommerce themes.
Check out our list of the best WordPress WooCommerce Email Follow Up plugins for 2022:
Email Marketing Automation, Newsletters, & SMS WordPress Plugin
Using the Omnisend WooCommerce marketing automation plugin, you can send follow-up emails to customers based on their engagement with your store.
You can engage your audience through Omnisend through various channels, including social media, SMS, phone calls, emails, and email marketing.
The result is that automated workflows can be set up and deployed within minutes instead of taking hours to set up.
Various methods can be used to capture your readers' emails, including forms, landing pages, and other methods. Personalized emails can be sent to your customers if you have the appropriate email addresses and consent.
Using predesigned templates and customizable options, this WooCommerce email follow-up plugin can automate follow-up email campaigns.
When these channels are combined with others, such as SMS and push notifications, you are able to reach an even wider audience.
💵 There is a $20/M for the professional version and a $0 cost for the free or lite version.
Key Features:
An automatic product picker listing is provided
Send Free SMS on any plan
Unique coupon codes are included
24/7 live chat & email support is provided
Features a drag & drop email builder
Ready-made, responsive email templates are available
The sales dashboard is available
A live view of store visitor activity is provided
Product recommender is provided
Easily analyze your campaigns
Random Reviews:
The features are strong, and the customer support is top-notch. I needed some tweaks to make it work with my current setup, and Nikola has been very helpful.

I have used dozens of apps before choosing Omnisend.

Sadly, most email marketing plugins don't work anymore…
WooCommerce Follow Up Abandoned Carts Plugin
With YITH WooCommerce Recover Abandoned Cart plugin, send follow-ups to abandoned carts using WooComerce integration and convert them into sales.
Using the plugin, it is possible to automate the process of sending follow-up emails to prospects who abandoned their shopping carts before making a purchase.
In addition, if the plugin already has the email addresses of members with abandoned carts, it can also notify guests if they entered them during the checkout process.
Additionally, you can make your prospects even more likely to buy the product by sending them a coupon or offer. This WooCommerce plugin sends reminder emails, too.
While it offers these advantages, it does not have a wide range of customization options and only includes support for follow-up emails for abandoned shopping carts.
💵 This package includes all features and plugins, as well as one-year updates for the plugin and it costs $81.61.
Key Features:
Sends abandoned cart customers a coupon
Configurable email automation setting for follow-ups
Predefined email templates can be customized
Automated email sequences are generated based on a set period of time
Sends customers an email and a coupon
Non-registered users can also recover their carts
A list of all abandoned carts is included
Set the time span after which, considering the cart abandoned
WooCommerce Follow-Up Email Plugin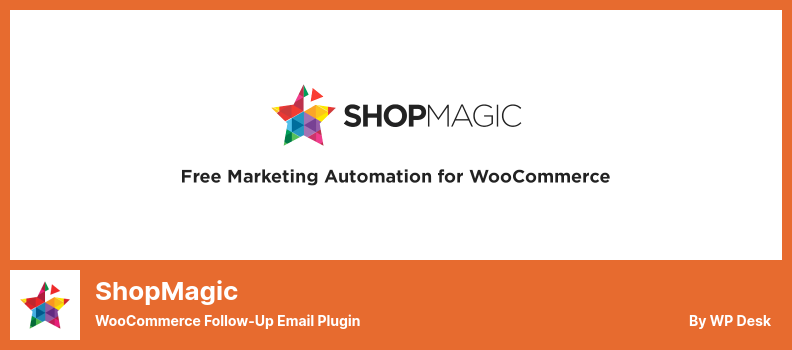 ShopMagic plugin provides an email marketing service that is more generalized for WooCommerce stores of all sizes and types.
This plugin provides several other features, such as follow-up email templates customized for each customer's order status, automated emails based on the customer's order status, and email prioritization.
As a result of the plugin, you will be able to access data regarding your customers and stores and add additional features as required.
A follow-up email campaign can be created using this tool based on the preferences and requirements of the user.
The moment a certain event takes place, a signal is sent out, which triggers the sending of an email. Reminders can also serve as thank you messages in WooCommerce, allowing you to send thank you emails to your customers more efficiently.
💵 The Pro version costs $69, the Lite version is free.
Random Reviews:
This tool is excellent for sending flexible and consistent email addresses based on individual purchases. The support is excellent and fast.

Aftersales made easy. Simple, effective and easy to handle. You can't go wrong with this plugin if you want to follow up on sales.

You can save your business. ShopMagic does exactly what it says it's going to do.
Powerful Marketing Automation for Your WooCommerce Store
The AutomateWoo email marketing automation plugin allows you to set up and track follow-up emails for WooCommerce. AutomateWoo provides the capability to create automated workflows by combining triggers, rules, and actions required to fulfill a task.
With this plugin, you can retarget any customer who has interacted with your brand, not only those who have abandoned their carts.
Besides offering the nice features described above, it also allows you to create customized campaigns according to your company's needs.
In order to trigger an action, a specific condition must be met, such as the completion of a purchase by a customer.
In your campaign setup, you will be able to send messages to your customers based on their actions on your website at specified intervals and according to their preferences.
💵 Plugin purchase is straightforward, and price is $99.
Key Features:
Get more product reviews by offering discounts for reviews
Integrates with Twilio
Target inactive customers with automated emails
Send timed wishlist reminder emails and notify customers
Notify customers before their saved credit or debit card expires
Delight customers with a special WooCommerce birthday email
Send SMS notifications to customers
Generate dynamic, personalized coupons for your customers
Recover the Abandoned Carts & Increase the Sales
Using WooCommerce Recover Abandoned Cart will increase your sales since it allows you to recover abandoned shopping carts efficiently.
You can track both registered and guest customers with WooCommerce, and you will receive notifications when either of these types of patrons abandons their carts.
As a result of this plugin, you are able to track and notify your clients when their clients leave their carts unattended. An additional level of convenience can be achieved by inserting a link to the shopping cart.
The plugin lets customers receive emails with coupons when their carts are abandoned so that they can complete their purchases faster and save money.
This is extremely useful if you do not have any registered members. You may even notify one of your guest members that an item has been added to their shopping cart if you so desire.
💵 Price is $49.
Key Features:
User Click on mail is recorded for you
User Purchase using Cart link from mail is recorded
Multiple mail templates for follow-up are included
Captures Phone Number for Manual follow up
WooCommerce Mail Templates can be used
The manual Mailing Option is included
Works for Simple and Variable Products
Random Reviews:
Installing and configuring this plugin was a breeze, and it behaved exactly as advertised.

You cannot go wrong with this plugin! Everything you could need to recover those carts. Great support. Congrats!
WooCommerce Abandoned Cart Recovery & Order Follow-Up Emails Plugin
The Retainful plugin is a free but powerful tool that can be used to provide assistance to you in recovering cart abandonment when you use it.
When visitors visit your website, the plugin captures their email addresses and automatically sends them an email after a specified period.
With the automation workflow editor, you can create a WordPress account that sends follow-up emails to your clients based on predetermined schedules.
The cart recovery emails will be automatically sent according to a schedule you specify, saving you time and hassle as you will no longer be required to write the emails manually.
Moreover, you will receive notifications when the cart is recovered, and the emails will cease. Additionally, you are able to capture the email addresses of visitors to your site in order to maximize conversions.
💵 Free for the Lite version and $19/M for the Pro version.
Key Features:
Use the workflow editor
Send reminders for incomplete purchases
Include a single-use coupon code
Automatically stop sending follow-up emails
Drag and drop editor is included to personalize email templates easily
Extensive reporting features are offered
Shortcodes are available to insert customer information into emails
Schedule a series of recovery email
Allow shoppers to repurchase the items
Random Reviews:
The retainful solution is a great addition to the e-commerce recovery flow. Further, their customer support team is fantastic!

With this plug-in, you'll save more than you'll ever pay for. It's intuitive, easy to customize, and feature-rich. To top it all off, the customer support has always been superb. We have had Retainful on our website for a couple of years. When all plug-ins were managed this way, life would be much simpler. Replies have been almost instant, solutions have been found and implemented.
Email Marketing Automation & Email Newsletter WooCommerce Plugin
FluentCRM WooCommerce plugin provides numerous features to help you get the most out of your email marketing automation as well as create well-segmented lists of prospects.
WooCommerce Easy Digital Downloads and other popular eCommerce platforms are seamlessly integrated and make email marketing more efficient for WooCommerce merchants.
A purchase trigger and a refund trigger are available in FluentCRM for WooCommerce email automation.
Using FluentCRM, you can increase eCommerce revenues with eye-catching emails that reach your customers at the perfect time. FluentCRM's automated features are particularly beneficial to eCommerce companies.
You can send welcome emails, post-purchase emails, personal emails, and emails regarding specific products and categories.
Furthermore, the plugin includes a purchase history feature that enables the user to view the details of a customer's current order and their previous purchases.
💵 It is free for the Lite version, but $129 for the Pro version.
Key Features:
In-depth analytics

are available to track client activities

Automated email sequences and email campaigns are included
The capability to create segmented contact lists is available
A/B testing and link metrics are included
Email creation is possible in the form of blocks
Send an unlimited number of emails
Provides total revenue and number of orders
Random Reviews:
On the check-out page of an Oxygen Women's Clothing website, the subscribe check box was missing. The WP ManageNinja support team did a fantastic job resolving the issue.

My questions about this plugin are always answered promptly and helpfully.
Automatically Contact Customers After Purchase
Utilize the Follow-Up WordPress plugin for WooCommerce to create and schedule automatic email campaigns. Following up with your customers will result in increased engagement in just a few minutes after using the follow-up emails plugin.
Referral programs can influence customers to make a purchase, follow up on additional purchases, or simply get them back to your store in the future.
The tool also allows you to send targeted follow-up emails to your customers so that you receive sales leads for your WooCommerce store.
This plugin allows you to create an automated drip campaign for your website. It provides you with an easy-to-use interface for creating targeted campaigns.
Through it, users are able to quickly compose emails, group them together, and plan campaigns for following up with the emails on Twitter.
💵 This excellent and completely documented plugin is only $99.
Key Features:
WordPress editor

makes it easy to create your emails

Supports integration with Google Analytics
All templates are fully responsive
Automate drip campaign
Create templates specific to each campaign
Good reporting features is possible to track the efficiency of your campaigns
Create notifications easily
Easily schedule follow-up emails on particular dates and events
Several free email templates are included
Keep track of your audience's conversations
The Best WooCommerce Email Follow-Up WordPress Plugins
We reviewed the best WooCommerce email follow-up plugins in this post updated for 2022. Pick one of these plugins.
📌 Note: We strongly suggest checking our list of expertly selected modern WordPress hosting providers to enhance your website's performance. You may also wish to consult our list of modern WordPress security plugins to enhance your website's security.
We hope you found this article helpful in choosing the best WordPress plugin for WooCommerce Email Follow-Up.
Let us know what you think in the comments. Feel free to share this content on Twitter and Facebook as well.