Do you want to find the best WordPress plugins for email marketing?
First, you have to have a WordPress site with a top-notch plugin. For your ease, we have compiled a list of the best WordPress plugins for Email Marketing in 2022. Moreover, we guarantee that all the top WordPress themes work perfectly with our plugins. They are straightforward, deliver optimum performance, and help scale up your site.
The plugins we chose are the best integrated for Email Marketing. Even so, these plugins will still work with WooCommerce Email Plugin, WooCommerce Email Marketing Platform, WooCommerce Email Marketing Solutions, WooCommerce Email Automation, WooCommerce Email Marketing App, and WooCommerce Newsletter Subscription.
📌 Note: Our article about the best advanced WooCommerce plugins can be of assistance if you are interested in finding a plugin to enhance your store. Also for choosing a good WooCommerce template, we suggest you read our article about the most popular WooCommerce themes.
This is a list of the best Email Marketing WordPress plugins in 2022:
Emails and Newsletters in WordPress
The MailPoet plugin is one of the most popular newsletter extensions for WooCommerce. In addition to automating your emails, this plugin can help you to establish long-term relationships with your customers and retrieve abandoned carts.
In addition to newsletters, you can send promotional emails to subscribers through an easy-to-use email editor available in this WooCommerce newsletter subscription plugin.
Using this email marketing platform for WooCommerce, you can set up automatic newsletter generation or a notification system that sends your subscribers a notification whenever a new blog post is published.
Utilizing the WooCommerce features, you can market your business, sell more products, and serve your customers more effectively.
Furthermore, it is possible to target your emails to customers based on various criteria, such as their country, the number of orders they have placed, how much they have spent, or whether they are subscribers to your newsletters on your website.
💵 The Premium version costs $9/month. You can also download a Free version.
Key Features:
Google Analytics integration is provided
You can create automatic emails to send new post notifications
Emails sent through WooCommerce can be customized
Subscriber lists and subscribers can be managed
You can create and add a newsletter subscription
Random Reviews:
It was a complete headache to configure this plug-in for my current newsletter. Everyone is subscribed to something that is underperforming and requires much time and effort.

Great plugin. Well done, and a 5-star thank you. I appreciate your assistance.
Grow Your Email Lists and Deliver Targeted Offers
If you are starting with email marketing, then a WooCommerce extension can make things easier. The Privy plugin is ideal for small to medium-sized eCommerce stores or those getting started.
There is no doubt that this plugin will be one of the most useful to you as it allows you to create many different email templates, signup forms and send SMS messages to your subscribers.
Furthermore, using the intuitive drag-and-drop user interface and several built-in display types, you can create conversion experiences that integrate seamlessly with your existing brand and website.
Pop-up windows and banners can automatically capture email addresses used in several popular email marketing tools, including Mailchimp, Klaviyo, Bronto, Constant Contact, and many others.
This plugin also includes a feature for basic email automation, which includes welcome emails for new orders and follow-up emails for abandoned carts.
💵 The plugin includes 12 months of support for $15/month.
Key Features:
There are unlimited popups for all plans
Basic email automation workflows are available
A/B testing is available for multiple email campaigns
There is a free shipping bar notification service available
Rules are in place for segmenting and targeting audiences
An Email Marketing Automation Plugin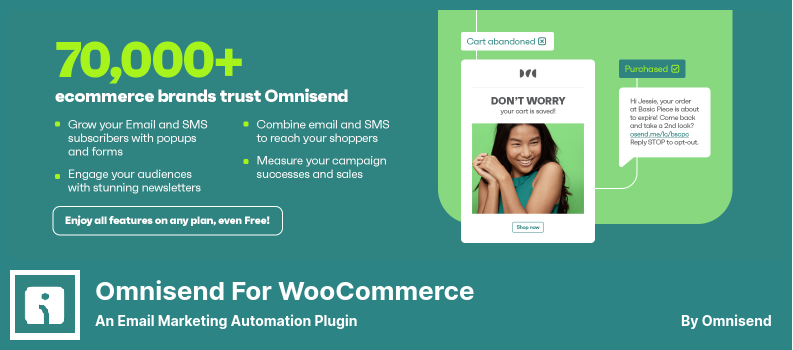 The Omnisend for WooCommerce plugin allows eCommerce merchants to reach their potential customers with tailored emails, SMS, and push notifications based on their specific interests. There are various email marketing solutions for WooCommerce.
This plugin can create email popups and SMS messages in minutes. It contains intuitive builders, prebuilt templates, and wizards to assist you. However, the plugin's automation workflow may be its most appealing feature.
As part of the plugin, you can customize templates and create workflows that trigger messages to your customers when certain events occur. For example, if customers abandon their shopping cart or subscribe to your newsletter, they will be notified automatically.
You can easily integrate the plugin with WooCommerce stores in a few clicks, which allows you to launch your website as soon as possible.
This plugin allows simple pop-ups, signup bars, landing pages, and wheels of fortune to collect email and/or SMS addresses.
💵 Both Free Lite and $16/month Premium versions are available.
Key Features:
You can create email campaigns with a drag-and-drop builder
Users can be segmented by email for better targeting
Automation workflows allow setting up a variety of triggers to boost sales
KPIs, top performers, and more are unified in advanced reporting
All campaigns and workflows can be enhanced with SMS marketing
Random Reviews:
As a whole, I have been thrilled with Omnisend. I love the easy integration with Woocommerce and their great customer support. I am looking forward to building business relationships with Omnisend in the future.

As well as being very reliable in its service, Omnisend has a fantastic customer support team. Kristina, for example, has quickly resolved my issue.
Deliver Stunning Emails and a Whole Lot More
Among the industry's oldest and most prominent email marketing plugins, the Constant Contact plugin has existed for a long time.
This plugin offers several tools that assist eCommerce merchants in engaging their customers across a wide range of channels, including social media since it was developed over three decades ago.
Furthermore, this WooCommerce email marketing plugin includes WooCommerce email automation. This feature is becoming increasingly important to merchants in the current economic climate.
This plugin includes other features that are essential for an effective marketing campaign in addition to segmentation reports.
Furthermore, by using landing pages, SMS, and other features, you can quickly build your customer list and gain insights into your audience that will assist you in optimizing your advertisements.
This plugin allows you to create social ads, monitor the success of your social campaigns, and update or respond to comments, mentions, or messages from a single location.
💵 If you want to use this plugin, you can purchase it for $9.99/month.
Key Features:
There are registration forms and landing pages available for use
Reports are provided so that you can understand your contacts better
User behavior is used to automate marketing
Surveys, polls, and RSVP forms are included
A wide selection of professionally designed email templates is available
The World Largest Marketing Automation Platform
It is estimated that there are hundreds of email marketing plugins for WordPress. Still, MailChimp for WooCommerce is by far the most widely used.
This WooCommerce email plugin does not cater specifically to eCommerce. Still, bloggers, influencers, and other users can benefit from its email extension by promoting blogs and influencer campaigns.
This plugin offers a good range of email marketing and automation that eCommerce merchants can find useful.
There are many features, including abandoned cart workflows, cross-selling and upselling, among others. Furthermore, its user-friendly interface makes it one of the easiest WooCommerce email marketing tools.
This plugin supports the most powerful features of API 3.0, which is critical for users without WooCommerce stores integrated with MailChimp.
In addition to the Mailchimp for WooCommerce integration you already use, you may also run this integration in parallel.
💵 It costs $11/month for the Premium version and is free for the Lite version.
Key Features:
A provides detailed marketing data
Customers can be tracked and segmented based on purchase history
It is possible to create beautiful landing pages
Automation can be set up for marketing purposes
Displaying product recommendations is possible
Random Reviews:
There is no reason for me to use this plugin or Mailchimp.

In the end, we discovered this plugin was responsible for the 26 seconds loading time due to a cookie set in the header… After removing this plugin, the loading time dropped to 0.9 seconds.
A Lead Generation and Email Newsletter Growth Plugin
The AWeber plugin for WooCommerce allows its eCommerce merchants to send automated emails and receive other email marketing features reliably.
With this WooCommerce email marketing app, you can choose from a large collection of pre-made templates for your email communications.
Additionally, this plugin provides standard features such as audience segmentation, email testing, and automated workflows, which are important for email marketing campaigns.
Whether your business has been around for ten years or only recently started, this plugin can simplify marketing.
In addition to adding new functionality to your WordPress site, this plugin allows you to embed landing pages and signup forms.
Through tags and segments, you can keep track of where subscribers have signed up, add them to automation, and send dynamic content or hyper-targeted emails to them.
💵 A Free Lite Version and a Premium Version are available. The Pro version costs $16/month.
Random Reviews:
In my case, forms work fine. Subscribers are added to the list when someone comments, but landing pages connected to a WordPress page always get an error message when trying to process payments. Aweber is connected with Stripe for payment processing. Using WordPress 6.0.2 and PHP 7.4, the Aweber plugin is up-to-date.

There is no reason why this plugin should be given only one star. It has saved my life and my job.
A Powerful Marketing Automation for WooCommerce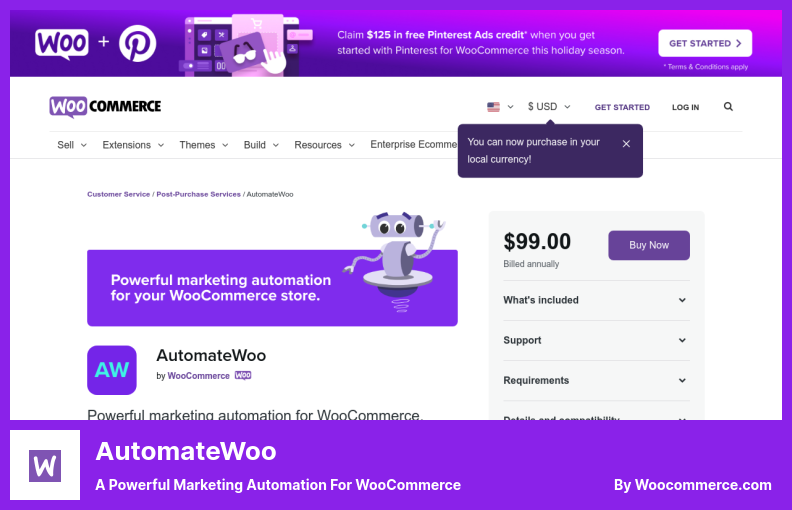 In addition to the standard WooCommerce emails plugin, AutomateWoo offers a wide range of automated marketing tools that help eCommerce businesses convert and retain their customers.
With this plugin, users have access to several pre-built templates designed to make it simple to get started with email marketing and maximize its potential.
This plugin includes features such as abandoned cart product reviews, upsell suggestions, and more that automate your business processes.
Using this plugin, you can send emails based on WooCommerce Bookings events, such as confirmation and completion of bookings.
This plugin allows you to create timed wishlist reminders for your customers and inform them when their desired items are on sale. It works with both YITH Wishlists and WooCommerce Wishlists.
This plugin allows you to schedule emails at different intervals or in response to specific customer interactions, provide incentives, prompt follow-ups with personalized coupons, and track the effectiveness of your marketing campaigns.
💵 A 12-month free support period is provided at the cost of $99.
Key Features:
Coupons can be dynamically customized to increase sales
It is possible to notify customers before their saved credit or debit cards expire
Email marketing campaigns can be used to reach inactive customers
Customers who have abandoned their shopping carts can be reminded
Customers and administrators may be notified via SMS
Let me close with a few words
We discussed the best WordPress Email Marketing plugins. Choose the right plugin, then extend your website to the fullest extent.
📌 Note: Additionally, you may find our list of top WordPress security plugins useful for enhancing the security of your website. We also recommend you look at our expertly selected WordPress hosting providers.
We hope this article helped you find the best WordPress plugin for your Email Marketing website.
Leave a comment or ask a question about the plugins below. Please share this content on your Facebook and Twitter with your friends if it's working for you.