Are you a WordPress website owner looking for the best WooCommerce Ajax product filter plugins? Or maybe you're just curious about what these plugins can do for your website. Well, you've come to the right place!
In this blog post, I will introduce you to the seven best WooCommerce Ajax product filter plugins, both free and pro versions, to help you enhance your website's functionality.
Now, you might wonder why you even need a product filter plugin for your WooCommerce website. Well, let me share some stats with you. According to recent research, 75% of online shoppers believe that product filters are extremely helpful in finding the right products quickly and easily.
Additionally, websites that offer advanced product filtering options have seen a significant increase in customer engagement and conversion rates. So, it's clear that implementing a WooCommerce Ajax product filter plugin can greatly improve the user experience and ultimately boost your online sales.
Without further ado, let's dive into the world of WooCommerce Ajax product filter plugins. In this article, we will not only introduce you to the top seven options available, but also provide insights into their features, functionalities, and user reviews.
By the end of this post, you'll have a clear understanding of which plugin is the best fit for your specific needs. So, let's get started and find the perfect plugin to take your WooCommerce website to the next level!
Best Ajax Product Filter Plugins for WooCommerce
If you are looking to optimize your WooCommerce website for better product filtering, look no further! We've rounded up the seven best Ajax product filter plugins for WooCommerce, both free and pro versions, that will revolutionize the way your visitors shop on your site.
This is an opportunity for you to enhance your customers' browsing experience by adding several products to your website that are listed in this article. Make sure to check them out.
Powerful Filtering System For WordPress Plugin
YITH Woocommerce Ajax Product Filter is a powerful plugin that allows you to enhance the filtering capabilities of your WordPress website. With this plugin, you can provide your customers with an array of options to filter products, such as sales number, publication, alphabetical order, and more.
But it doesn't stop there! The plugin also allows your customers to filter products by size, color, category, price, and other attributes. This means they can easily narrow down their search to find exactly what they're looking for within a short period of time.
By enabling customers to quickly search by their specific needs, this plugin provides a convenient way for them to locate the products they want. This not only improves their shopping experience but also streamlines the checkout process, ultimately leading to increased sales for your business.
Using Ajax is one of the best parts of this plugin. It lets you filter stuff by your preferences in a couple of clicks. Users can find what they're looking for with no hassle with the Ajax-powered product search, whether they're adjusting the price range using a slider or selecting specific attributes or tags.
Additionally, the YITH Woocommerce Ajax Product Filter plugin offers different widget layouts, so you can customize how it looks based on the design of your site. You can also create your own WooCommerce price filter with it, so you'll have total control over how your products are filtered.
Key Features:
Quick product filtering by tags, attributes, and date
Multiple layouts are available for widgets
Easy creation of custom WooCommerce price filters
A slider to control the displayed products when filtering by price
Ajax-powered product search for finding anything you need
Advanced Product Filtering Ability for WooCommerce Shop
Advanced AJAX Product Filters is a powerful WordPress plugin that allows you to easily add multiple filters to your website using just one widget. With this plugin, your customers can filter products based on various attributes such as price, color, tags, and categories.
The best part is that you don't need any coding knowledge to add these filters. The plugin offers a simple drag-and-drop feature, allowing you to apply filters anywhere on your site. It's perfect for both beginners and experienced users.
One of the standout features of this plugin is its flexibility. You can customize the product display and move forward or backward in the shopping process. This means you can provide a seamless and user-friendly experience for your customers.
The plugin is not only easy to use, but it also provides advanced filtering options. It's one of the most popular WooCommerce product filter plugins available. Plus, it's completely free to use, making it a cost-effective option for your online store.
As the name suggests, this plugin uses Ajax-based filters, which means your customers can quickly access the filtered results without refreshing the page. This saves them time and improves their overall shopping experience.
With the plugin, you can provide pagination, sorting capabilities, and Ajax-based filters. Your customers can easily filter products based on tags, and you can create a hierarchical classification of categories using this plugin.
One of the most impressive features of this plugin is its ability to include unlimited filtering options in a single widget. This gives you the freedom to create a tailored and efficient product filtering system for your website.
Key Features:
Pagination, Ajax-based filters, and sorting capabilities
Tag-based product filtering
Hierarchical classification of categories
Unlimited filtering options in a single widget
Attribute, category, and price-based product filtering
Ultimate All in One Filter Plugin for Any Online Store
Product Filter by XforWooCommerce is a simple and easy-to-install plugin that allows you to create powerful product filters for your WooCommerce website. With this plugin, you can customize the filter settings in the administration area to meet your specific requirements.
There's everything you need right from the admin panel, so it's super easy to use. It lets you customize how the filter looks and displays, plus what criteria, items, presets, and so on. You can even make sure your customers have the best filtering experience with smart filters and adaptive filtering.
By using this plugin, your customers will be able to filter products according to any number of criteria, allowing them to find what they're looking for quickly and easily.
Also, the filter presets feature allows you to create filters with flexible layouts and display options, as well as criteria and filter terms. This plugin also includes smart filter analytics and adaptability filters, which help set it apart from its competitors.
In addition to its powerful filtering capabilities, the plugin offers full integration with WooCommerce shortcodes and Visual Composer elements. This means that you can easily use the plugin with other popular WordPress plugins and page builders.
This plugin lets you customize thumbnails, checkboxes, select boxes, and colors to fit your website's design. By using the Filter Preset Manager, you can create filters in minutes. With the range filter, you can pick any taxonomy or any taxonomy with attributes, like numbers, if you're interested in offering a range filter.
Key Features:
Supports Gutenberg product blocks and seamless AJAX filtering
Full integration with WooCommerce shortcodes and Visual Composer elements
Customizable thumbnails, checkboxes, select boxes, and colors
Filter Presets Manager for easy and quick filter creation
Range filter options for taxonomies and attributes
Smart filter analytics for improved filtering experience
Gutenberg Block Styling & Adjusting WordPress Plugin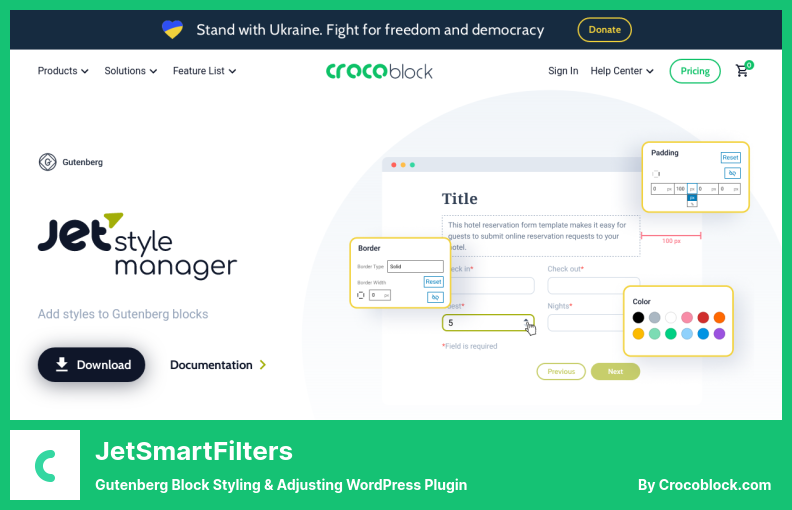 JetSmartFilters is a powerful plugin that allows you to provide your customers with a wide variety of filter options to enhance their shopping experience on your WordPress website. With features like Rating Filter, Visual Filter, Search Filter, and many more, you can create an intuitive and organized website.
One of the standout features of the plugin is the indexer, which helps you display only relevant products to your customers. By enabling the counter option, you can show the number of items in each category, making it easier for customers to navigate and find what they are looking for.
The hierarchical filter hierarchy feature allows you to combine similar filters into one and display relative paths or categories. This makes it convenient for organizing category filters and their subcategories, creating a seamless browsing experience for your customers.
With this plugin, customers will enjoy better shopping experiences as it is an Ajax-based tool that instantly displays filters after clicking on them. This means that they can see the results immediately without having to wait for the page to reload.
One of the great advantages of JetSmartFilters is its integration with Elementor Pro post widgets, allowing you to use multiple filters simultaneously. If you have JetEngine and JetWooBuilder installed on your site, adding and maintaining filters becomes extremely easy, giving you full control over your search functionality.
Key Features:
Merge two listing grids and display search results on Google Maps
A faceted search system allows for specific and relevant options to be displayed
Compatible with Elementor and Gutenberg for building and styling filter structures
Create a filter bar that seamlessly fits into your website's design and settings
Ajax-powered filters ensure smooth on-page operations and enhanced user experience
Active filters can be calibrated to interplay with the main and additional providers
Products Filtration For WooCommerce Plugin
WOOF is a WordPress plugin that revolutionizes the way users navigate and search for products on your website. Embedding a product filter, it allows visitors to easily find exactly what they are looking for. With the inclusion of shortcodes and widgets, you have the flexibility to insert the filter wherever it suits your needs.
In the free version, the plugin offers taxonomy searching, color filters, image filters, meta filters, SKU searches, and labels. But if you're looking for even more advanced filtering tools, the pro version has got you covered.
Furthermore, with features like taxonomy search modules, color filters, name filters, status filters, and more, you can provide a seamless and efficient search experience for your users.
There's something special about this plugin because it's based on AJAX technology, so you can see search results instantly without refreshing your browser. This is useful for WooCommerce themes where the product search function is very important. You'll never have to load endless pages again.
But that's not all! The plugin also allows you to include checkboxes, dropdown menus, and other interactive elements in the search form. This gives you the flexibility to create a customized search experience tailored to your website's specific needs.
Additionally, you can filter WooCommerce products according to the metadata associated with them, which further improves the quality of your search results as well as their relevance and accuracy.
With the extension API, you have the power to create unique extensions for your own projects or for your clients. Whether it's building custom product loop templates or introducing innovative search form extensions, the possibilities are endless.
Key Features:
Create a shopping cart with a products wizard for easy customer purchases
Save search combinations for quick access in the future with just one click
Display a hidden search form as a button, keeping your website clutter-free
Analyze search data to gain insights into customer interests and preferences
Seamless integration with the WooCommerce API for compatibility with other WooCommerce-dependent plugins
Creating Beautiful and Unique Product Grids For WordPress
ProductX is a versatile WordPress plugin that not only helps you showcase your products effectively but also comes with a range of other useful features. It allows you to compare products, view them quickly, create wishlists, and display featured products, among other things.
One of the standout features of the plugin is its use of Ajax technology, which enables you to filter product categories without having to reload the entire page. With just a few clicks, you can create product grids, lists, sliders, categories, and carousels, eliminating the need for multiple plugins.
Another great aspect of the plugin is its flexibility when it comes to positioning the filter on your webpage. You can place it anywhere you like and even customize its appearance by choosing a background color, adding margin and padding, and giving it a button-like look that's visually appealing.
With ProductsX, a free WooCommerce product filter plugin, you can seamlessly add a product filter to your online store. By reducing the number of plugins you use, you can ensure better performance for your website's backend.
Easily Filter Through Products WordPress Plugin
With its intuitive interface and advanced features, the Themify plugin is one of the most recommended plugins for WordPress websites. It has an incredibly simple and intuitive interface that makes it very easy to use.
With the plugin, you have the flexibility to customize where the product filter appears on your site, allowing users to select multiple filters simultaneously. The best part is that you don't need to integrate an additional page builder because Themify has its own built-in page builder functionality.
One of the standout features of the plugin is its comprehensive range of tools for searching, identifying, and displaying products based on their classes, sizes, colors, and prices. Unlike other plugins,
The plugin promises to deliver lightning-fast results, even after applying specific filters. This means your customers won't have to wait around for the results page to load.
The plugin is different because it works with popular page builders like Divi, Elementor, and Themify. Layouts can be arranged horizontally or vertically, so you can display filters the way you want. Besides allowing you to drag and drop elements, you can also create custom forms using various filter combinations.
One of the key advantages of using Themify is its ability to provide real-time results and searches. As users apply filters or enter search criteria, they will see the results immediately, making their shopping experience more efficient and enjoyable.
Key Features:
Compatible with Divi, Elementor, and Themify Builder product modules
Customizable layouts, both horizontally and vertically
Multiple filter combinations for enhanced customization
Easy creation of forms through drag-and-drop functionality
Real-time results and searches for a seamless user experience
Frequently Asked Questions
What are WooCommerce Ajax product filter plugins?
WooCommerce Ajax product filter plugins are tools that help improve the filtering and sorting options on an online store powered by WooCommerce. These plugins use Ajax technology to allow users to filter and sort products without having to reload the entire page.
Why should I use WooCommerce Ajax product filter plugins?
Ajax product filter plugins for WooCommerce can really improve your online store. The plugins make it easy for customers to find products because they have intuitive and responsive filtering options. As a result, customer satisfaction goes up, bounce rates go down, and sales go up.
What are the advantages of using pro-WooCommerce Ajax product filter plugins?
Pro WooCommerce Ajax product filter plugins often provide more advanced features and customization options compared to their free counterparts. They may offer additional filter types, integration with other plugins, and improved performance.

If you require advanced filtering functionality or have specific needs for your online store, investing in a pro plugin might be worth considering.
Conclusion
To wrap up this article, we've explored the seven best WooCommerce Ajax product filter plugins, both free and pro versions. We've discussed the importance of these plugins in enhancing the user experience and improving the efficiency of your online store.
Now that you have a better understanding of these plugins and how they can benefit your WordPress website, we encourage you to visit the BetterStudio blog for more related tutorials and helpful resources.
If you're looking to stay updated with the latest tutorials and insights, be sure to follow BetterStudio on Facebook and Twitter. By doing so, you'll be the first to know about new articles, tips, and tricks that can help you optimize your website and drive success in your online business.
Thank you for taking the time to read this article. It's great to get your support, and if you've got any questions or run into any problems while using this article, don't hesitate to reach out. The team and community at WooCommerce are here to help you and make your experience with product filtering a success.
So don't hesitate to ask, and we look forward to helping you make the most of these WooCommerce Ajax Product Filter Plugins. Happy filtering and happy selling!