What is the best WordPress plugin for WooCommerce Ajax Product Filter?
We compared and tested a variety of the most popular WooCommerce Ajax Product Filter in the best WordPress plugins to provide you with the most extensible plugin for the WooCommerce Ajax Product Filter. We trimmed down the list to only provide you with the best of the best. These plugins are rich in features and they support all of the top WordPress themes.
We hand-selected those WooCommerce Ajax Product Filter plugins to help you choose a useful plugin. These WordPress plugins are also related to Product Filter for WooCommerce and other related plugins.
📌 Note: To improve the look and functionality of your site, you should choose a modern WooCommerce theme that includes the features you need with a beautiful design. Also, for more information on advanced WooCommerce plugins, please refer to our article on the best WooCommerce plugins
In that respect, let's take a look at some of the best WordPress plugins for WooCommerce Ajax Product Filter in 2022:
Powerful Filtering System For WordPress Plugin
With YITH WooCommerce Ajax Product Filter Plugin you'll be able to deliver to your customers the products they want to find within a short span of time. You'll help them find the products they're seeking as quickly as possible.
You can use YITH WooCommerce Ajax Product Filter not only to provide you with an array of options, such as sales number, publication, alphabetical order, and others but also to provide your customers with the ability to filter products by size, color, category, price, etc.
By allowing customers to quickly search by needs, the filtering of products can provide a convenient way for them to locate what they are looking for.
Giving them the ability to quickly locate what they need, it makes it an ingenious technique for your business to assist them in finding what they need, streamline the checkout process, as well as increase sales.
The YITH Woocommerce Ajax Product Filter plugin by YITH provides easy-to-use ajax functionality that lets users filter products based on their specific preferences based on the options they choose.
With this plugin, YITH has created a premium plugin that is incredibly easy to use and has won numerous awards in the industry.
💵 You can buy this plugin at $79.99 and get free support for 12 months.
Key Features:
Quickly filter products according to their tag, attribute, and date
Different layouts are available for widgets
Create your own WooCommerce price filter easily
Provides a slider to adjust how much appears on the screen when the user is using the price filter
AJAX-powered product search lets you find anything you're looking for
Advanced Product Filtering Ability for WooCommerce Shop
Obviously from its name, Advanced Ajax Product Filter is a plugin that provides shoppers with the option to use Ajax based filters enabling users to quickly get access to the results.
This is another good plugin that is very simple to use and extremely powerful. It provides insight to users who are both beginners and experts.
With Advanced Ajax Product Filter, new features can be added to your site even if you are not a developer, so if you do not have the knowledge of coding then you can apply the filter from anywhere on your site using simple drag and drop.
By using only one widget, you are able to add an unlimited amount of filters to your site. In adding the Ajax Product Filter to your shopping cart, you have the option for your customers to filter products based on their price, color, tag, category, etc.
Moreover, you have the flexibility of shortening the product and moving forward or backward in the shopping process.
Although there are several woo-commerce product filters available, Advanced Ajax Product Filter is one of the most popular ones. In addition to offering advanced product filtering features, Advanced Ajax Product Filter is simple to install and free to use.
💵 I am free!
Key Features:
Provide pagination, Ajax-based filters, and sorting capabilities
Users can filter products based on the tags attached to them
Create a hierarchical classification of categories using Ajax Product Filter plugin
Include unlimited filtering options in a single widget
Provide a tool for shoppers to filter products based on attributes, categories, and prices
Random Reviews:
The developers of this excellent plugin deserve our sincerest congratulations. Congratulations for your great work! Totally recommended.

Considering that I am a web developer, I always use this filter plugin for woo-commerce. It would be even better if you could also add the ability to search by product name.
Ultimate All in One Filter Plugin for Any Online Store
This Product Filter by XforWooCommerce features an advanced product filter for WordPress and WooCommerce, allowing you to offer your customers a range of powerful filters that allow you to take full control of your filter plugin and provide them with all the necessary information.
This product filter plugin for WooCommerce allows you to let your customers filter products according to any number of criteria, enabling them to find what they're looking for quickly and easily.
The plugin is simple and easy to install, and you can customize the filter settings in the administration area to meet your specific requirements.
You can create filter presets with flexible layout and display options in addition to criteria and filter terms, and it also features smart filter analytics and adaptability filters that set it apart from its competitors.
Using the admin control panel, you can access all of these features, as well as customize them with a variety of layout and display options. You can also configure different criteria, filter items, filter presets, and more. You will also have the option to use smart filters and adaptive filtering.
💵 With this plugin, you get 12 months of free technical support. The price is $34.00.
Key Features:
Using the Gutenberg product blocks with Product Filter is also supported on WooCommerce
AJAX can also be used for seamless filtering
Provides full integration with WooCommerce shortcodes and Visual Composer elements
Easily customize the thumbnails, checkboxes and select boxes as well as the colors with this powerful filter
Filter Presets Manager allows you to create filters in minutes using the awesome admin interface
A range filter allows you to select a taxonomy or a taxonomy with attributes, including numbers
Random Reviews:
Hi. Your plug-in works perfectly, but I think it needs updating. It does not appear the save button in the admin panel, and the screen is out of resolution. Could you please assist? I will be grateful for your assistance.

As a long-time user of this plugin, it has helped me a great deal in working with clients. Thank you for your wonderful work, continue to improve this plugin and I will be happy to pay more.
Gutenberg Block Styling & Adjusting WordPress Plugin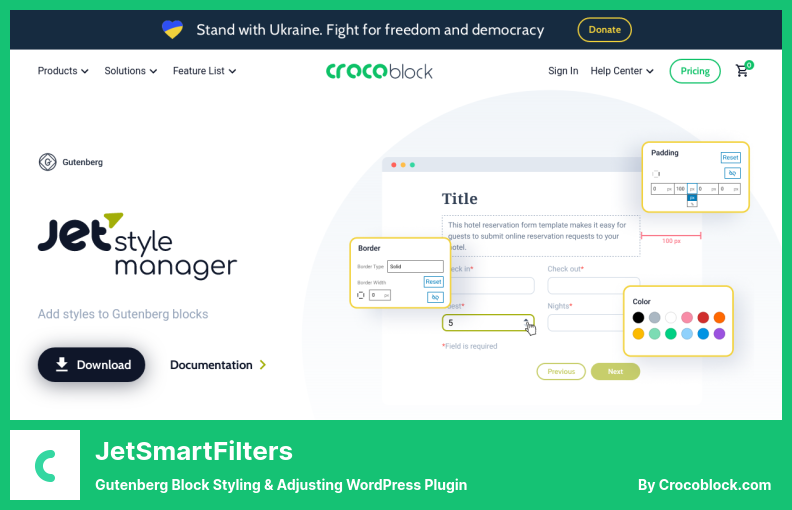 By using JetSmartFillters, you can implement an intuitive website, make it easier for your customers to order products, and make it easier for your staff to organize your products.
In the event you are implementing this pack, you will be able to provide your customers with a wide variety of powerful filter types: Rating Filter, Visual Filter, powerful Search Filter , Radio Filter, Data Range Filter, Check Range Filter, Range Filter, Select Filter, Checkboxes Filter.
Customers will enjoy better shopping experiences as part of JetSmartFilters, which is an Ajax-based tool that helps them see filters immediately, immediately after clicking them.
You are also able to use multiple filters at the same time, as it is fully integrated with Elementor Pro post widgets. Finally, if you have JetEngine and JetWooBuilder on your site, it is extremely easy to add filters and maintain your search functionality.
The indexer can help you display only relevant products, which in turn helps your customers find their products more quickly. Make sure the counter option is set to on in the Indexer settings, which will show the number of items in each category.
A hierarchical filter hierarchy, similar to the one shown above, allows similar filters to be combined into one and allows a relative path/category to be shown. This is convenient in order to organize the category filter and its subcategories.
💵 This plugin was created by a robust author at a cost of $24.00.
Key Features:
Merge two stand-alone listing grids into a solid filtering architecture and display the search results on Google Maps
Display of specific and relevant options is possible through the faceted search system
Using both Elementor and Gutenberg, build and style filter structures
Create a filter bar that fits any website's design and settings
Create any desired search hierarchy by mixing and matching 9 filter types
Create or edit a product filter with minimal effort
Ajax-powered filters reload instantly, so all on-page operations are smooth and the users' experience is enhanced
Calibrate active filters so they interplay with the main and additional providers on the same page
Products Filtration For WooCommerce Plugin
Woof is a plugin that allows you to embed a product filter into your website so that users can easily find precisely what they are looking for. The plugin includes both shortcodes and widgets so that, according to your preferences, the filter can be inserted into various sites.
In addition to taxonomy searching, color filters, image filters, meta filters, SKU searches, and labels in the free version, the pro version is equipped with even more advanced filtering tools, including taxonomy search modules, colors, names, statuses, and more.
Aside from offering a number of the same features as any of the other plugins listed on this page, this plugin also lets you include checkboxes, dropdown menus, etc., into the search form. Additionally, this plugin allows you to filter WooCommerce products based on their metadata.
In WooF themes, the product search function is an integral element, and as a result, it is integrated with AJAX technology, which allows users to view the product search results instantly, without having to refresh their browser.
As a result of using the WOOF extension API for your own project, you will be able to create a number of unusual extensions for your own projects or to introduce to your clients.
For example, with the WOOF extension API and the default extensions, you can build different extensions for the search form or create custom product loop templates as per your own project requirements.
💵 In this WordPress plugin, you receive one year of updates and support. It costs $39.00.
Key Features:
Create a shopping cart using a products wizard to make it easy for customers to choose what they wish to purchase
Gives your site visitors the ability to save search combinations and access them with just one click in the future
A hidden search form is displayed as a button
Analyze search data to learn what your customers are interested in
With the WooCommerce API, other WooCommerce-dependent plugins can coexist and cooperate
Random Reviews:
These capabilities are excellent. I hope that they will continue to be developed and improved for many long years!

The perfect plugin, which works well and is fully customizable in many ways

Good product, easy to use, and great support when I asked questions
Creating Beautiful and Unique Product Grids For WordPress
Through ProductsX, a free product filter plugin for WooCommerce that adds a product filter to online stores, you are able to add a product filter to your online store.
Besides creating product grids, lists, sliders, categories, and carousels, it also provides you with the capability of creating product grids, lists, sliders, categories, and carousels with only a few clicks to eliminate the need for additional plugins.
The fewer plugins you have, the better your website will perform on the backend.
Using Ajax technology, we provide the functionality to filter product categories and enter those categories into the product filter, allowing us to avoid reloading the site to obtain the results. You simply create the product category and select the categories you wish to include in the filter.
It is also possible to position the filter on any part of the page you choose. If desired, the filter position can also have a background color selection, a margin, and padding to give the filter text an attractive button-like appearance.
This extension is not only fantastic for displaying products, but it also offers a number of other excellent features, such as product comparisons, quick views, wishlists, featured products, etc. It is also totally responsive, which means it can display products on any present-day screen size.
💵 Free Lite, Pro Price. It costs $39.00.
Key Features:
Changing the conditions for Builder templates
Create your own shop page using product blocks
An easy way to compare multiple products on one page
Design a template for a single product page
Design the archive page template differently
Random Reviews:
Customer service is great with this plugin. I had a problem of my own and they quickly solved it.

Users' wishes are taken into account and – if possible – implemented as soon as possible. The request for the German or European format of dates was fulfilled in just over a week.
Easily Filter Through Products WordPress Plugin
Themify stands out from the multitudes of various popular product filter plugins, as it provides a comprehensive range of tools for searching, identifying, and displaying products based on their classes, sizes, colors, and prices.
Additionally, you do not need to integrate an additional page builder for your woo-commerce website as the woocommerce page builder is integrated with a drag and drop builder.
Normally, once one has filtered a product by a set of specific characteristics, the results page takes some time to load, however, Themify promises to deliver results much faster than usual.
This allows you to customize where the product filter appears so that users can select multiple product filters at the same time. Additionally, you do not have to integrate an additional page builder because it provides page builder functionality that is self-contained.
According to our experience, Themify is the best product filter plugin for your website, as it has an intuitive interface, advanced features that allow you to use it without any hassles, and is very easy to use.
💵 Free download of this plugin is available.
Key Features:
Designed to be compatible with Divi, Elementor, and Themify Builder product modules
Layouts can be arranged horizontally or vertically
Various Filter combinations consisting of multiple elements
By simply dragging and dropping, you can create forms
Provide results and searches that are displayed in real time
Random Reviews:
You can do this if you are not using elementor, but if you attempt to remove it, elementor breaks and I cannot use it.

Among the five plugins I've tested, this was the easiest to use, looked good right out of the box, and has the most features. Great plugin.
The top WooCommerce Ajax Product Filter plugins!
In this article, we reviewed WordPress WooCommerce Ajax Product Filter plugins for WordPress in 2022. These plugins are useful. They will help you have an extensible site.
📌 Note: Additionally, you may find our list of top WordPress security plugins useful for enhancing the security of your website. We also recommend that you take a look at our expertly selected WordPress hosting providers.
We wish you all the best.
If you have questions or problems about building a website, let us know in the comments! Remember to share this post!