Have you been struggling to find the right slider plugin for your Elementor-powered website? Look no further than our comprehensive list of the 7 Best Elementor Slider Plugins for 2023, featuring both free and pro options.
Our research has shown that sliders can significantly improve user engagement and boost conversion rates. In fact, websites with a slider displayed on their homepage have an average of 34% higher click-through rates compared to those without.
With that in mind, we've tested and reviewed the top Elementor slider plugins to help you make an informed decision.
In this article, we'll cover the best slider plugins for Elementor, including their features, pros, and cons.
Whether you're looking for a simple and lightweight option or a more advanced plugin with custom animations and effects, we've got you covered.
So, without further ado, let's dive into the world of Elementor slider plugins!
7 Best Slider Plugins for Elementor
Looking for the perfect slider plugin for your Elementor website? Look no further than this list of the 7 best options, both free and pro. Don't miss out on discovering the perfect fit for your site – keep reading to learn more!
WordPress Addon for Elementor Slider
Prime Slider is a highly customizable slider plugin for WordPress that offers numerous options to edit subtitles, backgrounds, and social media share buttons.
This plugin is an SEO-friendly tool, which is perfect for use on various websites, including blogs, e-commerce stores, and other applications.
This slider plugin comes with an Event Calendar slider, which allows you to showcase upcoming events prominently on your website. The slider displays the event date and links visitors to pages containing additional information about the event, as well as ticket purchasing options.
If you're running a WooCommerce store, Prime Slider has got you covered with its integrated WooCommerce slides that enable you to exhibit product details and pricing information.
With Prime Slider, you can take advantage of the customizable header and hero sections, each equipped with numerous editing options that allow you to personalize your website's appearance precisely.
In summary, Prime Slider is a fantastic choice if you are looking for a fast, fully customizable, and SEO-friendly slider plugin for WordPress. You can use its powerful features for displaying upcoming events or showcasing products on your WooCommerce store. Plus, the customizable header and hero sections will help you achieve a tailor-made look for your website.
Key Features:
SEO-optimized with breadcrumb link in title
Drag-and-drop page building functionality
RTL-compatible and translation-ready
Highlights most recent blog posts
Highly optimized server and web performance
Quickly build sliders for any website
Elementor slider add-on for WooCommerce
Displays event date on a slider within the event calculator
Provides a slider on the blog to showcase content
Creates visually appealing sliders with ease
The Fastest-growing Elementor Addon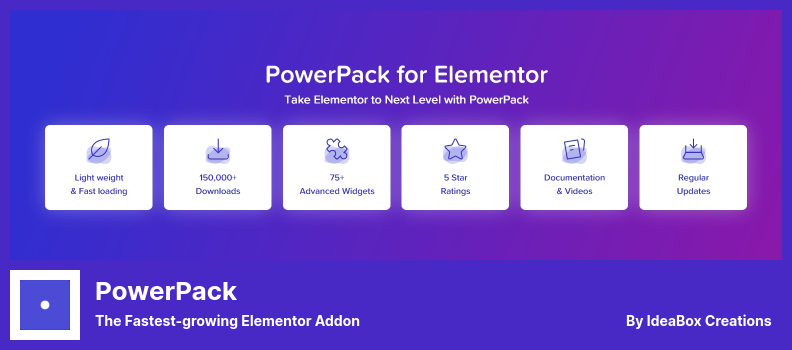 PowerPack is a powerful WordPress plugin that offers an extensive range of widgets to customize your sliders, making it more than just a slider plugin. Among its various slider widgets is the Magazine slider widget, which is perfect for showcasing posts in sliders at the top of your blog.
This plugin allows you to create horizontal, vertical, or split sliders with a range of image slider effects. You can also choose from predefined slider dimensions and templates for mobile-friendly carousel layouts.
PowerPack enables you to create faded sliders using Elementor's drag-and-drop interface, along with sliders featuring the featured image on the left or right bar and many other slider variations.
What makes PowerPack stand out is its regular updates that ensure the highest level of functionality. This guarantees that if you encounter any issues, the expert support team will work hard to resolve them quickly.
Key Features:
Advanced Elementor sliders for innovative designs
Drag-and-drop functionality for ease of use
Featured images displayed on left or right side
Carousel layout option available for image slider
Various video tutorials and documentation available
Slides customizable with desired effects and dimensions
Presentation of cards with sliders for an organized display
Access to a wide range of advanced Elementor sliders
Design in an entirely new way with PowerPack sliders
Easily Add It Using Unique Widget Creator Framework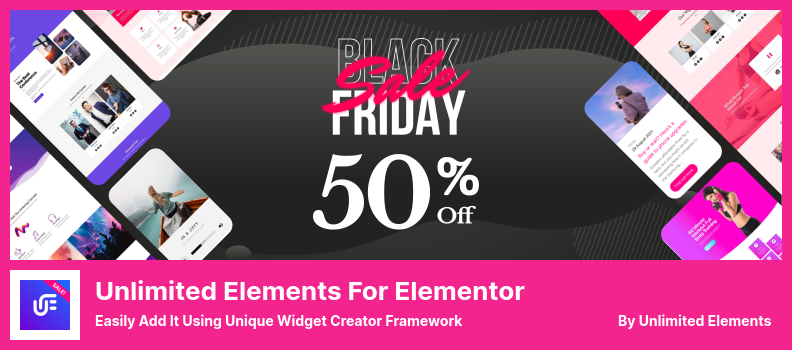 Unlimited Elements for Elementor is an exceptional slider plugin that can help you create a professional-looking website with ease. This plugin comes equipped with over 100 free widgets, giving you ample options to choose from when creating your sliders.
With this plugin, you can easily create simple yet visually appealing sliders that will elevate the look and feel of your website. Whether it's adding image or video sliders or creating a slider with thumbnail navigation, Unlimited Elements for Elementor has got you covered.
One of the highlights of this plugin is its ability to customize testimonial sliders, allowing you to display quotes and images from your most valued clients.
You can also use this slider to showcase your brand's endorsers or your most prominent customers, making it ideal for businesses looking to establish credibility and trust with their audience.
Key Features:
Create post sliders with animation effects
Includes image and video sliders
Thumbnail slider available
Image of slider displayed in Elementor Builder
Extremely easy-to-use interface for creating stunning sliders
Testimonial quote slider to display customer reviews
Multiple slider options for versatile use
Customizable slider settings for unique design
Responsive design for optimal viewing on all devices
Regular updates and support provided
The Most Versatile Posts Addons Plugin for Elementor
Livemesh Addons is a free WordPress plugin for Elementor Page Builder that allows users to create stunning sliders and images to showcase their website. With its dynamic slider and page-building abilities, users can easily design custom grids and carousels in just a few clicks.
What sets Livemesh Addons apart from other slider plugins is its ability to create data-driven grids and carousels with plugins like ACF Pods and Toolkit. Users can even load more videos with the Google Chrome plugin specifically designed for displaying YouTube videos, which can be sorted by Playlist ID, Channel ID, or Video ID.
In addition to creating visually appealing sliders, Livemesh Addons also includes features such as adding captions and thumbnails to images and videos when added to sliders. The plugin offers full customer support, ensuring that users can receive assistance at any stage of the development process.
Overall, Livemesh Addons is an excellent plugin for those looking to add eye-catching sliders and images to their website. With its user-friendly interface and dynamic capabilities, it is worth giving this plugin a try.
Key Features:
Lightbox support for touch/swipe controls
Pinch-out/in and double-tap keyboard navigation
Quick view option for product details display
Customizable display elements
Switch on/off almost all elements
Integrated cache for improved filtering/pagination performance
Direct linking with touch/swipe controls
Modal window display for WooCommerce products
Improved pagination performance
Display grid of WooCommerce products
The Most Powerful WordPress Plugin to Create Sliders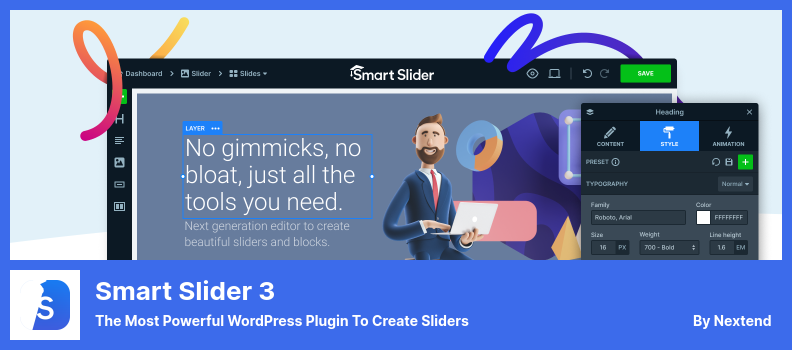 Smart Slider 3 is a WordPress plugin that enables users to create sliders by dragging and dropping elements with ease. With its live editor, designing unique sliders for your website has never been more straightforward.
The Smart Slider 3 allows you to customize every aspect of your slider by changing headings, text, images, buttons, and even videos. It also comes equipped with a slide library featuring pre-made designs available for selection, making the process even simpler.
This WordPress plugin makes it easy to go further with its premium version. However, the free version offers dozens of templates to choose from, allowing you to create great slides just as easily.
With Smart Slider 3, you can create content and canvas sliders, import and export slides, and create custom layouts tailored to your needs. The responsive design feature ensures that your slider looks great on any device, making it a valuable addition to any website.
Key Features:
Import and export sliders
Customizable headers, image buttons, and video
Create content and canvas slides
Multiple slider templates available
Unique layered layouts
Various animation and effect options
Integration with Vimeo videos
Background options for slide presentations
Easy-to-use interface
No coding required
Add Powers to Your Page Builder Using The Easy-to-use Elements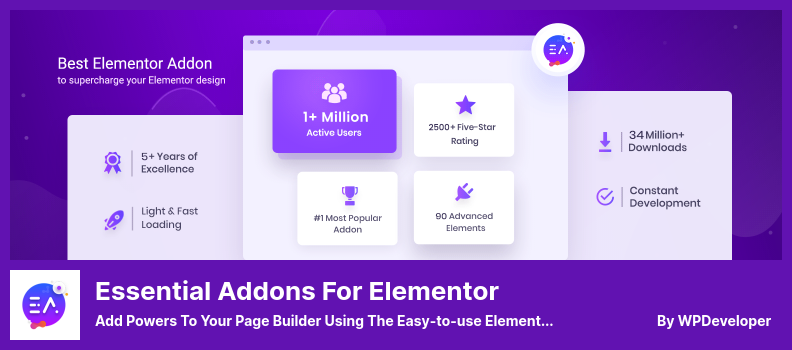 Essential Addons for Elementor is an excellent addon that enhances the functionality of Elementor. It includes a variety of sliders, carousels, and flip boxes with sliding effects, social media carousels, and Woo product sliders that are customizable to meet your requirements.
This plugin provides you with the flexibility to create almost any visual design you can imagine, and it's one of the most popular third-party extensions available for Elementor. In addition, it has the highest number of active users of all third-party extensions.
The slideshow created by Essential Addons for Elementor is compatible with all major browsers, ensuring maximum visibility for your website. The plugin also includes a content ticker that uses slide sway to add a dynamic touch to your website.
Additionally, it can be used to create a testimonial slider that combines creative testimonials and multiple functions into a single plugin.
Key Features:
Insert data table anywhere
Design attractive WooCommerce checkout pages
Protect content with password
Create dynamic custom content slide effect
Add LearnDash courses to Elementor
Customize number of stars
Control alignment with presets
Copy sections between websites
Multiple widgets available
User-friendly interface
Parallax Image & other Free Elementor Widgets for WordPress
Royal Elementor Addons is a plugin that offers an extensive range of features to enhance your website's functionality. With 50+ widgets and 25 Elementor Template Kits, this plugin provides you with all the necessary tools to create beautiful and professional-looking websites quickly.
One of the most significant advantages of this plugin is its Theme Builder, which allows you to create custom headers, footers, and other elements easily. Additionally, the Popup Builder enables you to design popups that can engage your audience and increase conversions.
Moreover, Royal Elementor Addons offers Premade Widget Blocks that help you save time by allowing you to import complete sections into your page with just a few clicks. The Extensions for Elementor included in this plugin provide even more functionality to enhance your website's capabilities.
Another standout feature of this plugin is its ability to create WordPress mega menus with icons and badges. It also supports adding Elementor widgets to the menu, minimizing loading times.
This plugin is versatile enough to create both Ajax multi-level menus and off-canvas menus suitable for mobile devices and desktops.
Key Features:
Includes Sticky Section for creating Sticky Header
Enhances the Parallax effect in Elementor
Provides GDPR Cookie Consent and Compliance Notice
Includes Popup Builder
Applies custom CSS to any section with free custom CSS feature
Uses Menu Badges and Icons to build WordPress mega menu
Includes advanced sliders and carousels
Offers WooCommerce product slider
Allows customization of Elementor's default widgets
Offers responsive design for all devices
FAQ
What are Elementor Slider plugins?
Elementor Slider plugins are software add-ons that enable users to create and customize slideshows on their website using the Elementor page builder. These plugins provide different features, designs, and templates to create attractive and engaging sliders for web pages.
Why should I use an Elementor Slider plugin?
Using an Elementor Slider plugin provides numerous benefits, such as improving the visual appeal and user experience of your website, drawing attention to specific content or products, showcasing images or videos in a dynamic way, and increasing engagement and conversions.
How do I choose the best Elementor Slider plugin?
To select the best Elementor Slider plugin, consider factors like your budget, desired features and functionalities, ease of use, compatibility with your WordPress theme and other plugins, customer reviews and ratings, and level of customer support provided by the plugin developer.
Conclusion
To sum up, we have gone over the 7 best Elementor slider plugins for WordPress websites in 2023. We discussed both free and pro options to give you a range of choices based on your needs and budget.
If you'd like to read more related tutorials and articles, head over to the BetterStudio blog where you can find a wealth of resources and information to help you with your WordPress website.
Make sure to also follow BetterStudio on Facebook and Twitter to stay up-to-date on our latest tutorials and articles.
Thank you for taking the time to read this article. If you have any questions or problems related to this topic, please feel free to leave a comment below. We are always happy to hear from our readers and help in any way we can!