Searching for WooCommerce Product Slider WordPress plugins that will enhance your site?
We will share some of the most popular WordPress plugins for WooCommerce Product Slider in this article so you can find one that fits your needs. The plugins are all clean and well-built. By the end of this post, we hope you have chosen your WooCommerce Product Slider plugin. These plugins are also compatible with all the best WordPress themes.
This plugin works with WooCommerce Product Slider. But you don't need a specific WooCommerce Product Slider plugin? This plugin is also compatible with Carousel Product Sliders, Product Gallery Sliders, and Product Sliders with Categories. Pick the WordPress plugin that fits you and raises your site's game.
📌 Note: Use an advanced WooCommerce theme that provides the features you need with a beautiful design to improve the appearance and functionality of your store. Also, for choosing advanced plugins for your store, check out our article about top WooCommerce plugins.
The following are the top WordPress plugins for WooCommerce Product Slider in 2022 as rated and reviewed:
Show Products in Your Shop
One of the most powerful and easy-to-use slider plugins on the market is YITH WooCommerce Product Slider Carousel, which allows you to create responsive sliders and display products and categories more effectively.
With this plugin, you can create unlimited sliders that can display in different areas of your WooCommerce store, which will significantly improve the appearance and functionality of your store.
In this plugin, filtering product lists using sliders allows you to choose products from different categories based on the criteria you specify.
This plugin enables the creation of sliders that can be viewed across various devices, including mobile phones, tablets, and desktop computers.
A variety of stunning and responsive templates are included in this plugin that will help you get started right away. You can choose from one of the options to quickly create your own shopping cart and make your site look professional.
💵 There is a premium version of this plugin, which costs $49, and a free version, which costs nothing.
Key Features:
It is possible to show or hide the title of the price and the add-to-cart button
There are endless loops for products in the slider
There are stunning templates with three slider layout
You can show products from one or more specific categories
The entrance and exit animations are available with a slider
You can sort your products by name, price, and date
Random Reviews:
Colors in the next>last row would be nice

All sliders with discounts lack the default Sale badge…

As far as I am concerned, it did what I expected, and it did it very straightforwardly. However, it is not responsive.
A Woo Extension to Showcase Products
Using the Product Slider For WooCommerce plugin, you can display your WooCommerce products in an advanced manner. Your WooCommerce store can be displayed with responsive sliders using this plugin, which is easy and quick to use.
It is possible to display multiple sliders simultaneously in this plugin since there are different slider styles and layouts available.
In this plugin there are also image effects included in this plugin, in addition to slider, carousel, ribbon, and lightbox layouts.
Additionally, the layout at the top can be customized, and you can show your products using sliders by the website design.
Once you have installed this plugin, you will have access to over 25 stunning predesigned templates that will assist you in getting started in no time.
This plugin is useful when you wish to add several filtering options to your system; these include taxonomies, categories, search fields, and keywords. Furthermore, the products can also be sorted according to the order in which they were received or their parameters.
💵 The price of this plugin is $22.
Key Features:
You can add catchy call-to-action buttons on the sliders
You can add unlimited sliders to WooCommerce via shortcodes
All popular WordPress themes are supported
Sliders can be enhanced with social sharing buttons
Provides different options for customization
A ribbon can be added to the products that you add to a slider
Random Reviews:
Thank you for your quick response; I appreciate your help!

Your great support is greatly appreciated

I recommend this plug-in, five stars and a bag of chips!
The Best Product Slider Carousel Plugin
With the Product Slider for WooCommerce plugin, you can create stunning carousels showing your most popular products. This plugin will assist you in organizing all WooCommerce products in an organized and professional manner.
Adding the plugin can display a carousel product slider on your website or in your online store, thereby increasing sales and conversions.
You may display product sliders on your site in several ways, including page posts and custom templates. The plugin is supplemented by a shortcode generator, which enables you to customize the slider in various ways.
In addition to its easy-to-use shortcode generator back-end interface, this plugin is an excellent choice for any professional website or shop as it allows you to create a versatile product slider carousel that stands out from the competition right away.
💵 This plugin costs $39, but it is also free to download.
Key Features:
It is possible to show or hide the name of the product
You can control the autoplay speed
You can show/hide product prices
There are three pre-designed ready templates
There is an infinite loop for the slider
You can set a maximum number of products
Random Reviews:
The free version is working fine for now, and I was able to add a carousel to my shop page using the shortcode. It was straightforward, I just pasted it into my theme's shop content area, and there it was!
An Easy and User Friendly Carousel Slider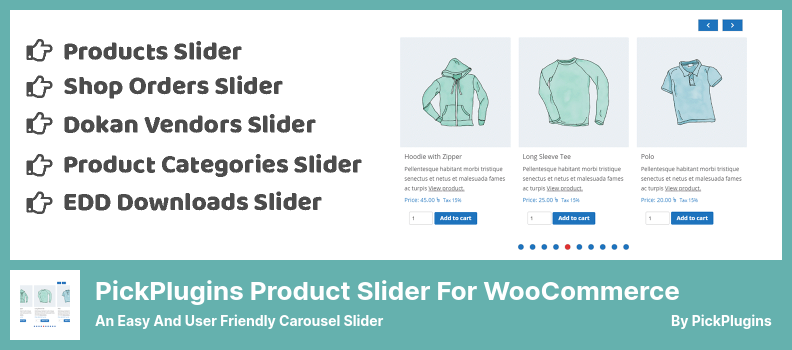 With the PickPlugins Product Slider for WooCommerce plugin, you can create carousels on your WooCommerce store that are easy to use.
Using this plugin, you can create an unlimited number of product sliders on your WooCommerce store and display them anywhere you wish.
With this plugin, you can add sliders to your website in any layout you desire, along with an array of design options. It is also possible to customize slider columns for any device, including devices such as desktop computers, tablets, and smartphones.
Moreover, you have the option to have the slider play automatically when the page is loaded so that your products are displayed immediately after the page is loaded.
This plugin offers additional rewind and loop options, as well as the ability to set the slider to start automatically from the first item that you add; you may also set it to loop continuously so that the slider runs continuously from the first item.
This plugin enables you to display powerful slider navigation so that your consumers may scroll through your products individually or check them out in sequence.
💵 Both a Premium and a Free version of this plugin are available and It costs $19.
Key Features:
You can add products from categories, SKU, tags, top rated
There are unlimited product sliders
You can navigate through the sliders with ease
You can add ribbons for sliders
There are various slider options
There is a powerful product slider module
Random Reviews:
As an update, I decided to use an old plugin version, which works just fine for my application. Not a horrible plugin by any means; the devs contacted me and offered suggestions. I think it will work fine for you as well.
A Product Gallery Slider for WooCommerce
There is no better way to showcase your WooCommerce products than to use a plugin like Product Gallery Slider for WooCommerce.
You can create stunning product galleries for your WooCommerce store with the help of this plugin. It is possible to display an unlimited number of products in sliders simultaneously.
With this plugin's easy settings and configuration options, you can easily configure your sliders to display carousels. Furthermore, sliders can be navigated using the arrow keys provided by this plugin.
In this plugin, a product slider can be configured in WooCommerce to play when it is clicked automatically. This plugin not only allows you to add a video gallery to your store but also enables you to design the videos themselves.
It is also possible to set the plugin to automatically play the video or to manually play it if you prefer. Additionally, this plugin provides a wide range of options for managing sliders that you add.
It is also possible to arrange the gallery horizontally or vertically, and navigation is quite flexible. Additionally, you can disable or enable the settings for thumbnail images in the lightbox.
💵 You can find the Premium version of this plugin for $59, and you can also find a Free version.
Key Features:
Provides the option of adding a

single feature image

for a product

There are several options for auto-playing sliders
Various layout options are available
Powerful navigation support is provided
Provides the ability to add videos to product images and galleries
Random Reviews:
Plugins like this are exactly what my girlfriend has been looking for in the last few weeks. It was easy to set up and configure. Only two small things needed some enhancement, but Niloy fixed them quickly.
Comes With Two Different Themes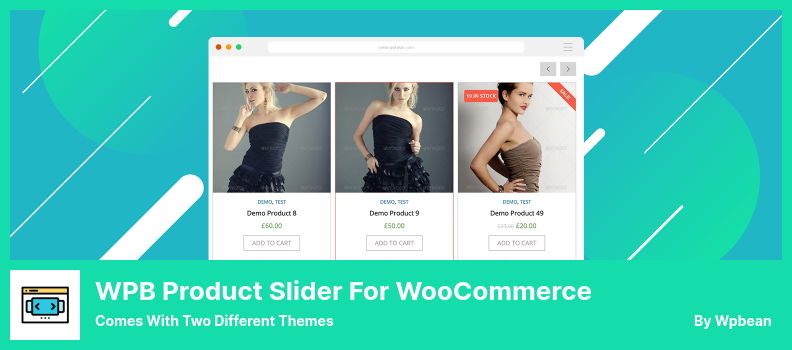 An excellent solution for displaying products in WooCommerce is the WPB Product Slider for WooCommerce plugin, a powerful and feature-rich display tool. The plugin allows you to create stunning product sliders for WooCommerce stores easily.
In addition to the seven slider skins available with this plugin, you can query and include different product sliders. Also, adding multiple sliders and providing them with various layout and display options is easy.
This plugin supports many sliders, including sliders featuring new products, featured products, product sliders with categories, and sliders that are one-offs.
This plugin allows you to customize every aspect of your slider so that it reflects your website design and looks to display your products effectively.
This plugin also provides advanced settings that allow you to customize every aspect of your slider according to your preferences.
💵 Premium version costs $39; a free version is also available.
Key Features:
Animated hover effects are included in the responsive design
There are six different templates available for product sliders
There is an option to remove out-of-stock products from sliders
A settings panel with a variety of slider options is available
You can add product sliders from specific categories
Sliders can be showcased anywhere with powerful shortcodes
Random Reviews:
It's a great plugin that comes with excellent & responsive support! Five stars!

The slider is an excellent addition to a WooCommerce store.

There is a tiny bit of issue that is being taken care of by the team, but I like the variations and featured products.
Help You to Grow Your Online Business
Your WooCommerce-powered store presentation should always be engaging and fastidious about engaging your target audience and conveying your message clearly. The GS Products Slider for WooCommerce plugin can be beneficial to those who want to grow their online businesses.
With this plugin, you will be able to create a 'Digital Signage' that can be used to raise brand awareness, increase exposure, and drive sales for any purpose.
Adding such features to your WooCommerce website does not require any coding knowledge, nor does the process require any artistic ability.
In addition to displaying your products, you can also feature other articles on your website using this plugin for WordPress.
This WordPress plugin displays WooCommerce product sliders as the best solution. This shortcode can be displayed anywhere on your website using shortcodes or shortcode builder. Furthermore, flexibility and power are available in a simple manner through this plugin.
💵 A Premium version of this plugin costs $30, while a Lite version costs nothing.
Key Features:
A Shortcode Generator pop-up appears on the page or post
There is a widget for easy use in sidebar areas
It is possible to adjust the settings in advance
Compatible with all standard WordPress themes
You can add multiple sliders wherever you wish
There are ten different templates for sliders
Random Reviews:
A paid plugin is advertised here. There are no options to generate shortcodes like shown in the video.

Also, support is good. I had some style issues that were solved in a few days.
Finishing up
The article presented the most popular WooCommerce Product Slider WordPress plugins you can find and use for your site. Nevertheless, these plugins are pretty advanced for increasing site performance.
📌 Note: Don't forget to check out our article on the useful WordPress themes for bloggers and our list of the best WordPress hosting companies.
The following list of WooCommerce Product Slider plugins is provided for your convenience. We hope you find this helpful.
Please feel free to ask any questions in the comments section below. Please share this article on Facebook, Twitter, and other social media.