Are you a WordPress website owner looking to enhance the design and visual appeal of your site? Maybe you've heard about parallax scrolling and how it can create stunning visual effects that captivate your visitors.
But you're unsure about which WordPress plugins are the best for achieving this. Well, fret no more! In this blog post, we will explore the 4 best WordPress parallax plugins available, both free and premium, to help you make an informed decision and take your website to new heights.
Now, let's dive into the world of parallax scrolling and how it can revolutionize your website. Parallax scrolling is a technique used in web design where the background image moves at a slower pace than the foreground, creating a sense of depth and immersion.
It offers a visually stunning and dynamic experience for your visitors, making your website more engaging and memorable. Plus, studies have shown that parallax scrolling can increase user engagement and even boost conversion rates. With these plugins, you can easily implement this eye-catching effect on your WordPress site.
In this article, we'll be exploring four of the best WordPress parallax plugins available. From free options that deliver great results to premium plugins with advanced features, we've got you covered.
Whether you're a beginner or an experienced website owner, there's a plugin on this list that will suit your needs. So, without further ado, let's get started and unleash the power of parallax scrolling on your WordPress website.
Best Parallax Plugins for WordPress
If you are looking to add some stunning parallax effects to your WordPress website, look no further! In this article, we'll be discussing the best parallax plugins for WordPress that are available both for free and in their premium versions.
So, let's dive in and discover the perfect plugin to bring your website to life! Don't forget to check out the following products mentioned in this article to find the best fit for your website's needs.
Let You To Use Parallax Backgrounds With Images Videos YouTube And Vimeo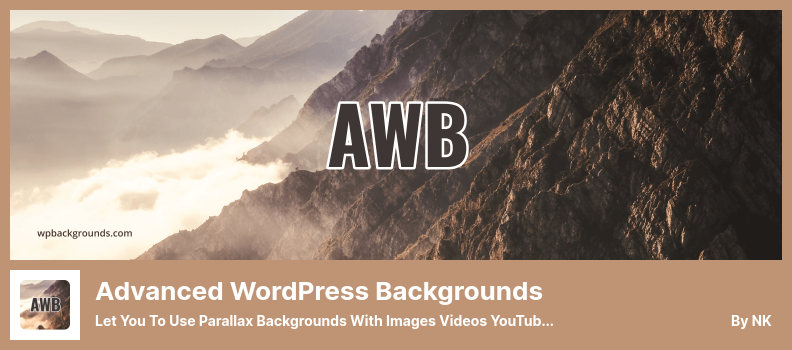 Advanced WordPress Backgrounds is a powerful plugin that allows you to easily change the animated background color of your website without sacrificing speed. With this plugin, you can design and display stunning WordPress backgrounds with parallax effects, creating an immersive and visually appealing experience.
You can even create captivating YouTube wallpapers to enhance your website's visual appeal. One of the standout features of this plugin is its integration with Gutenberg and compatibility with popular page builders.
This means that you can seamlessly incorporate parallax backgrounds into your website design, no matter which builder you prefer. Whether you're a beginner or an experienced developer, you'll find the visual shortcode maker incredibly handy for creating custom shortcodes.
If you prefer a boxed website layout, the plugin has you covered with its stretch option. This allows you to effortlessly fit your parallax backgrounds within the confines of a boxed website, ensuring a cohesive and visually pleasing design.
This plugin also supports a wide range of media types for your parallax backgrounds. You can choose from images, videos, YouTube videos, and Vimeo videos to create dynamic and engaging backgrounds that will capture your visitors' attention.
Advanced WordPress Backgrounds offers granular control over your parallax backgrounds with features such as speed controls, scroll plus scale controls, and scroll plus opacity controls. This allows you to customize the behavior and appearance of your backgrounds to match your aesthetic preferences and create the desired visual impact.
Key Features:
Scroll plus scale controls
Speed controls are included
Scroll plus opacity controls
A Simple Parallax Image Plugin That Uses The Parallax Js Script By Pixelcog
Parallax Image is a WordPress plugin that allows you to easily add parallax scrolling effects to your website. By using the plugin, you can insert your parallax image using the pixelcog parallax.js script, and it will create a visually stunning scrolling effect.
One of the key features of the plugin is that it allows you to overlay text on your parallax image. This means that when the plugin opens and closes between each instance of the [/dd-parallax] code, the overlaid text will appear. This can be a great way to highlight important information or add some extra flair to your website.
Another useful feature of the plugin is that it supports Bootstrap-based WordPress themes and has been tested with various WordPress versions, including 2014, 2015, 2016, and 2017. While it may not work with all parallax themes, it's definitely worth giving it a try to see if it suits your needs.
The plugin also allows you to set the speed at which the parallax effect is applied. This means that you can control how quickly or slowly the background image moves in relation to the foreground content, creating a dynamic and engaging scrolling experience for your visitors.
Additionally, the plugin allows you to specify the height of the parallax window in pixels. This means that you can customize the size of the parallax effect to fit your website's design and layout, ensuring that it looks seamless and professional.
Lastly, the Parallax Image plugin provides a z-index value for elements in fixed positions. This helps to ensure that your parallax image and the content on your website are properly layered and displayed, preventing any overlap or visual issues.
Key Features:
Use the original filename from the media library for images

Select mobile images from Astra parallax images and transform them

Set the speed at which the parallax effect is applied

Customize the height of the parallax window

Provides a z-index value for elements in fixed positions
Ultimate Essential Addon For Elementor Page Builder
Element Pack Lite is a powerful WordPress plugin designed specifically for users of Elementor Page Builder. With its impressive collection of thirty elements, including a standout parallax element, it's the perfect tool for creating stunning and interactive web pages.
One of the standout features is its parallax element. This allows you to engage your visitors with captivating animations and appearances, adding an extra layer of depth and interactivity to your website or blog. The parallax section feature also allows you to create beautiful designs.
Another highlight of the plugin is its advanced accordion design capabilities for the Elementor page builder. This feature allows you to create sleek and stylish accordion designs that can be used to display content in an organized and visually appealing manner.
The plugin also offers advanced features for customizing buttons in the Elementor page builder. With this plugin, you can elevate the look and feel of your buttons, making them more eye-catching and engaging for your visitors.
In addition, Element Pack Lite includes parallax background widgets, which are a fantastic tool for enhancing the appearance of blocks and sections on your website. These widgets allow you to add stunning parallax effects to your backgrounds, creating a truly immersive and visually striking experience for your users.
Key Features:
Customize and enhance buttons with advanced features and options
Decorate blocks and sections with stunning parallax effects
Engage visitors with captivating animations and appearances
Create delicate and visually impressive designs
Take advantage of advanced accordion design capabilities
A Great Way To Create A Captivating Visual Experience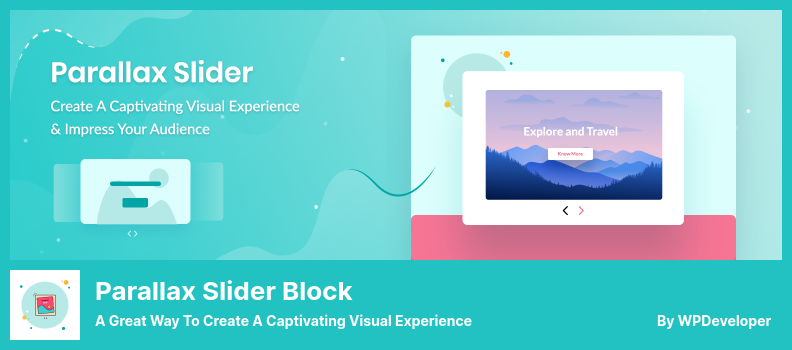 Parallax Slider Block is a WordPress plugin that allows you to add a stunning parallax scrolling effect to your website's slider, without the need for any programming skills. With this plugin, you can easily adjust the images, speed, and effects to match your website design.
This plugin is a game-changer when it comes to capturing your website viewers' attention. By incorporating the parallax scrolling effect, you can create an eye-catching and immersive experience for your visitors. It also reduces the amount of scrolling time required to view full sections.
One of the best things about the plugin is its simplicity. You don't need any programming knowledge to achieve the desired effect. Simply install the plugin, customize the settings, and let it do the rest. It's a hassle-free solution for adding that wow factor to your website.
In addition, it works seamlessly with various themes, ensuring compatibility no matter what design you choose for your website. If you ever run into any issues or have questions, the support team behind this plugin is top-notch and always ready to assist you.
An added bonus of using Parallax Slider Block is the option to enhance the virtual experience for your visitors by incorporating additional elements. This plugin allows you to go beyond just images and truly engage your audience with a dynamic and interactive slider.
Key Features:
Works with various themes for seamless integration
Excellent support team ready to assist you
Enhance the virtual experience with additional elements
Requires no additional resources for instant loading and live editing
Frequently Asked Questions
What are parallax plugins for WordPress?
Parallax plugins for WordPress are tools that allow you to create visually stunning and dynamic effects on your website. They create a sense of depth and movement by making different layers of content move at different speeds as users scroll down the page.
Why should I use parallax plugins on my WordPress site?
Parallax plugins can add an element of interactivity and engagement to your website. They create a memorable user experience and can make your site stand out from the competition. Parallax effects can also help to guide users' attention and highlight important sections of your content.
What are the benefits of using premium parallax plugins?
Premium parallax plugins often come with more advanced features and customization options compared to their free counterparts. They offer a wider range of effects, styles, and templates, allowing you to create more unique and professional-looking parallax designs.

Premium plugins also typically provide better support and updates, ensuring your site remains optimized and compatible with the latest versions of WordPress.
Conclusion
In conclusion, we have discussed the top four WordPress parallax plugins, both free and pro versions, in this article. We explored their features, benefits, and how they can enhance the visual appeal of your WordPress website.
If you're looking for more in-depth tutorials and guides related to this topic, we highly recommend checking out the BetterStudio blog. They have a wealth of information and resources that can help you make the most out of these plugins and improve your website's user experience.
To stay updated with the latest tutorials and tips from BetterStudio, we suggest following them on Facebook and Twitter. This way, you'll never miss out on any valuable insights and updates regarding WordPress plugins and other website optimization techniques.
Thank you so much for taking the time to read this article. We hope you found it helpful and informative. If you have any questions or encounter any problems while implementing these plugins, please feel free to leave a comment below. Our team of fellow readers will be more than happy to assist you and provide solutions to your concerns.
Remember, with the right WordPress parallax plugin, you can take your website to the next level and captivate your audience with stunning visual effects. So don't hesitate to explore the options and unleash your website's full potential.