Have you been searching for the perfect WordPress theme but struggling to find one that suits your needs?
Perhaps you're interested in a professional look inspired by LinkedIn. If that's the case, you're in luck, because in this article, we'll be diving into the best WordPress themes like LinkedIn.
With the current state of the pandemic, more and more people are turning to remote work, and LinkedIn has become a popular platform for professionals to connect and network. It's no wonder why many are curious about replicating its look and feel on their own website.
In this article, we'll explore the top WordPress themes that share similarities with LinkedIn. We'll take a look at each theme's unique features, design, and pricing, so you can make an informed decision about which one is right for you and your website. Let's get started!
Best Themes Like Linkedin For WordPress
If you're looking to create a professional-looking website with a similar design and functionality as LinkedIn, look no further than these top WordPress themes. Don't miss out on our curated list of the best themes like LinkedIn for WordPress.
Social Network and Community BuddyPress WordPress Theme
SocialV is a BuddyPress theme that caters to creating social networking communities. This theme offers responsive and readily available pages with clean code and structured components that make launching a social media-related project quick and easy. With SocialV, you can create any listing page for startups, communities, and businesses with a common interest or vision.
The theme comes equipped with multiple menu styles, a WP story plugin, a live-style customizer, dark/light mode, RTL support, and live chat. The live chat notification bell and professional support feature ensure that you get quick and faster support whenever you need it.
SocialV also guarantees free lifetime updates and includes a child theme that is perfect for customization to suit your preference. To top it all off, the theme doesn't require any coding knowledge and comes with detailed documentation.
Key Features:
Multiple Menu Styles
WP Story Plugin
Live Style Customizer
Professional Support
Free Lifetime Updates
Child Theme Included
Social Network WordPress Theme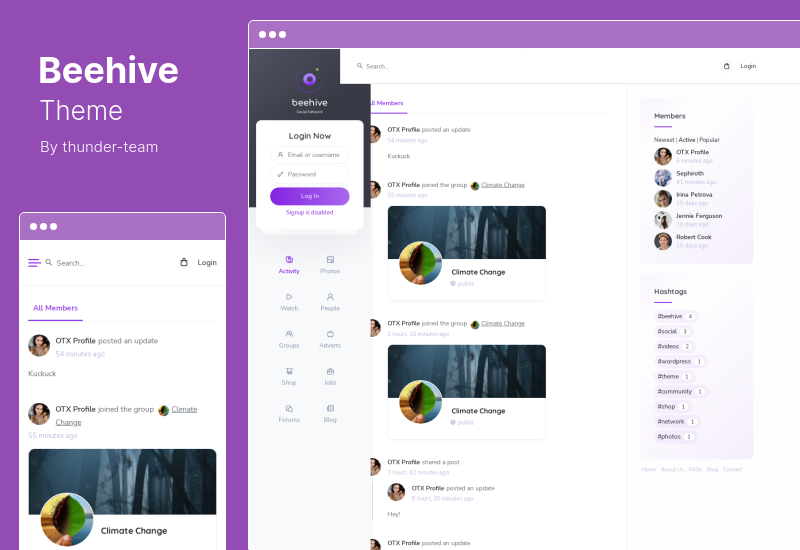 Beehive is an advanced social network theme that enables users to deploy a social network website with ease. The theme comes with advanced social features, Woocommerce shop, a job board, and classifieds. With powerful theme options, users can control their website, choose their own colors, and create unlimited sidebars.
Beehive is fully responsive and looks great on all browsers and devices. Choose your preferred fonts from Google's comprehensive font library. The theme comes with a clean blog, while the Social Articles plugin enables users to post articles on your blog.
It comes with advanced social features, including powerful theme options and unlimited colors which can be easily chosen with color pickers. Create as many sidebars as you need, and offer your users the convenience of an Ajax search form and login.
Key Features:
Elementor page builder for easy page creation.
One-click demo import for a hassle-free setup.
Responsive design for mobile devices.
Powerful theme options for website control.
Unlimited colors with the color picker.
Ajax search form for seamless searching.
Google fonts library for personalized typography.
Clean the blog with the Social Articles plugin.
Private community for a private social network.
Community & Social Network BuddyPress WordPress Theme
MetaFans is a social community WordPress theme that offers an elegant design complete with boxes and a slider to make it easy to access all profile sections such as about, badges, images, quests, and posts. Other community pages, including activity, complete profile settings, members, and groups directory, are also included.
This theme is tailored to help you build a thriving community with full profiles, verification badges, reactions, groups, badges, quests, ranks, credits, and more to come. With MetaFans, you can effortlessly connect with friends, boost your follower count, and enjoy an amazing social profile experience.
Finally, all pages within MetaFans are thoughtfully crafted to ensure they meet your needs. Additionally, the theme comes with demo data to help you get started with a remarkable user experience.
Social Network WordPress Theme
Matebook is a Social Network WordPress Theme that comes with a pre-loaded PeepSo WordPress plugin. It is a free, lightweight, and user-friendly plugin that enables you to effortlessly create a social network or online community.
You can quickly add a social network community, similar to Facebook, to your WordPress site with the PeepSo plugin.
This theme is known for its responsiveness and retina-ready layout, ensuring that the website functions correctly on all mobile devices and computers. You can rest assured of smooth browsing regardless of the device you use. Moreover, the theme is cross-browser compatible (IE11+) and comes with valid HTML5 code.
Matebook is notorious for its focus on the PeepSo WordPress plugin. It's designed specially to be paired with the PeepSo3 plugin; thus, you can expect enhanced functionality with this theme. Alongside that, the theme offers Google fonts, custom SVG icons, sticky menus, and user-friendly documentation.
Key Features:
User-friendly documentation
Excellent support
Responsive and retina-ready layout
Cross-browser compatibility
Designed especially for the PeepSo WordPress plugin
Support many Google fonts
Custom SVG icons
Easy creation of a social network or online community
Intranet, Extranet, Community BuddyPress WordPress Theme
Anesta is an innovative WordPress theme that enhances communication within businesses or communities. With its modern and clean design, it provides easy and user-friendly access to corporate data. It's built for performance and usability, making it a valuable asset for any organization.
Anesta is built with HTML5 and CSS3 code, ensuring that it meets modern web standards. The theme is compatible with popular browsers like Firefox, Safari, and Chrome, which guarantees a smooth user experience.
Slider Revolution and Swiper Slider are included, which allows for easy and engaging presentations. Retina Images Support ensures that images are sharp and clearer on high-resolution display devices.
The Interactive Ajax Search is an innovative feature that enables users to search for information within the website without loading new pages. Anesta is customizable with flexible colors and typography. These features enable you to create a customized, professional look that aligns with your organization's brand.
Key Features:
User and Main menu support
Interactive Ajax Search
Built with HTML5 and CSS3 code
Cross-browser compatibility
Slider Revolution and Swiper Slider included
Retina Images Support
Flexible colors and typography
Modern and clean design
User-friendly access to corporate data
Social Networking WordPress Theme
Cirkle is the best social networking WordPress theme available. Based on BuddyPress, the top plugin for WordPress social networking websites, Cirkle has many features that make it versatile and easy to use. Its design is clean, modern, and perfect for any social networking site.
One of Cirkle's best features is its private messaging system. This feature allows users to communicate with one another without having their messages seen by anyone else. Additionally, the theme includes discussion forums for groups of like-minded users to engage in conversations.
Other notable features of Cirkle include free lifetime updates, a child theme, and a one-click demo importer. Also included are support for all modern browsers, Google Web Font, and support for WPML translation.
Key Features:
Free lifetime updates
One-click demo importer
Child theme included
Support for all modern browsers
Quick and faster support
WPML translation ready (with pot file included)
Google Web Font support
Detailed documentation included
BuddyPress navigation icon menu
WooCommerce integrated
Frequently Asked Questions
What features should I look for in a LinkedIn-style WordPress theme?
When searching for a LinkedIn-style WordPress theme, you should look for features such as social media integration, user profiles, user messaging capabilities, and the ability to create groups and communities.
Is it important for my WordPress theme to be mobile responsive?
Yes, your WordPress theme needs to be mobile responsive because more and more people are accessing the internet from their mobile devices. A mobile responsive theme will ensure that your website looks great and functions well on any device.
Conclusion
In conclusion, we discussed the best WordPress themes that share the same professional look as LinkedIn. We covered a range of themes that cater to different needs and preferences. These themes will help you create a professional website and impress your audience with a sleek design.
If you want to learn more about WordPress themes and related tutorials, check out the BetterStudio blog. We constantly update our blog with informative content to help you create an outstanding website.
In addition, follow BetterStudio on Facebook and Twitter to get the latest updates on tutorials, news, and tips related to WordPress. We are committed to providing you with the best support and resources to help you build a successful website.
Thank you for reading our article, we hope you found it helpful. If you have any questions or face any issues while implementing these themes, please leave a comment below. We will be happy to assist you.