Did you know that nearly ten thousand WordPress themes Like Quora are available? Do you think identifying the one that works best for you is challenging?
⚡️ Looking for a quick answer? We recommend the Publisher theme for WordPress, which is very feature-rich and optimized for Google and have over 100 pre-made demos.
This post will show you the best WordPress themes Like Quora for making a standout site. All the themes are mobile-friendly and speed-optimized to reach a large population of visitors.
We have compiled a list of the best WordPress themes Like Quora to help you choose wisely. These themes can be used for Questions and Answers, Social Questions and Answers, Quora Clone, Quora, Bbpress, Documentation, Infocenter, and Miscellaneous websites.
Best Themes like Quora for WordPress🥇
The following are the top Quora WordPress themes in 2022:
Social Questions and Answers WordPress Theme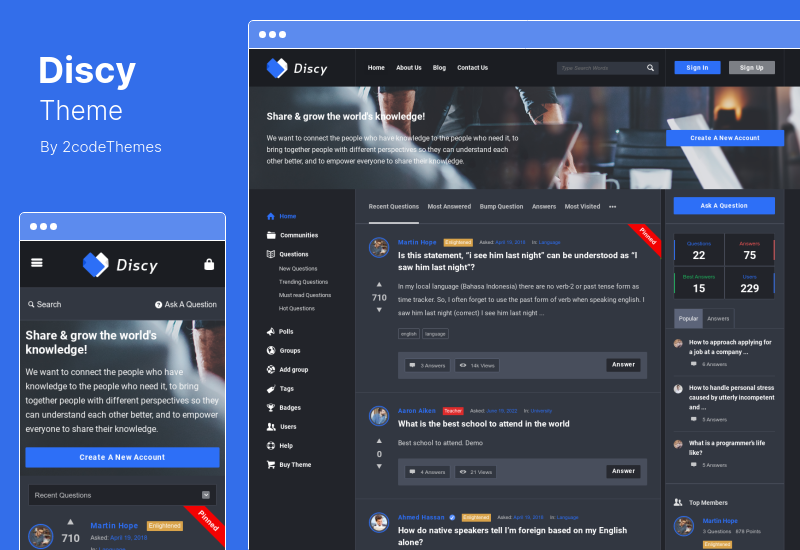 If you plan to build a website where you will ask and answer questions, or if you intend to create a website similar to StackOverflow, Yahoo Answers, or Quora, the Discy theme would be an excellent choice.
Aside from the detailed question and poll pages, it features a unique user interface and a system for awarding user points and badges, among other excellent features.
This theme offers several other features, such as sorting and filtering, different types of pagination, tags, social media sharing, voting, a list of the best answers, and many more, that are easy to integrate with your website.
💵 You can get the plugin and 6 months of support for just $35.
Key Features:
Dark, Light, Colored: Call to Action for Unlogged Users
Post formats include standard, image, gallery, and video
Multiple blog layouts with medium and large images
Fully responsive and retina-ready design
Custom background color/image for posts and pages
Colors, layouts, and right-sidebar and left-sidebar options are all customizable
Random Reviews:
Customer support is the best I have ever experienced with any plugin or software I bought. There was a licensing issue. I guess due to the fact that I had multiple ThemeForest accounts. However, the support was very patient and replied very quickly making everything go smoothly. I'll probably get the mobile app add-on as well. Thank you again.
Questions and Answers WordPress Theme
Explicitly designed to facilitate the posting of questions and answers by online communities on WordPress, Scisco is an excellent solution. It allows you to easily create Q&A networks similar to Stack Overflow, Yahoo Answers, and Quora.
Creating a website with this WordPress theme is as simple as possible because it comes with everything you need to start immediately. The features and designs are all readily available for your use.
Several features are available on this theme, including a job directory, a private messaging system, a user profile system, front-end submission capabilities, and email notifications.
💵 This powerful theme costs $49.
Key Features:
Notifications via emails and web push notifications
The ability to follow questions, answers, and users
A list of featured/closed questions is provided
Questions and answers can be flagged or reported to the moderator
Select the best answer after marking a question as solved
Ask a question, vote, and select the best answer on the front end
Random Reviews:
This is a good template if it has options to modify the header and the sidebar, but it is unbelievable that it cannot be edited by the user.

A good template would be if it had simple options for changing the header and sidebar, but it's incredible that it's not editable by the customizer.
Social Questions and Answers WordPress Theme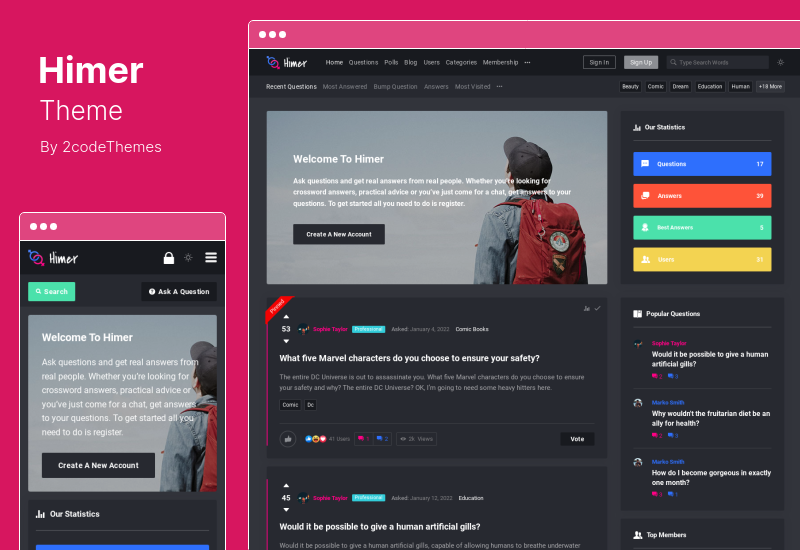 In addition to being beautifully flexible and professional, the Himer WordPress theme is designed to help online communities, niche websites that answer questions, social networks, or any other type of community that deals with social issues.
Using the pre-built demo, you can customize the theme settings to generate your own social questions and answers community website. Its features include a comprehensive question page, an excellent poll page, and a unique login and profile page.
A badge system, a reporting system for the question and answer reports, custom widgets, and Facebook comments. You can build a social network for your members using the member profile, the activity feed, and groups.
💵 For $59 you'll get theme plus updates for 6 months.
Key Features:
Fully responsive and retina-ready design
The RTL is fully supported
A wide variety of sidebars and colors are available
Colors and background images can be customized
Layout options include a right-sidebar, left-sidebar, and full-width
Post formats include standard, image, gallery, and video
Random Reviews:
It's a great theme. You can customize it very well. Support responds within 5 minutes. Very pleased. The developer responds quickly and adds new features. It's the best Q&A service.

The theme is in constant improvement, so you deserve 5 stars. I am eagerly awaiting the next update.
Responsive Questions & Answers WordPress Theme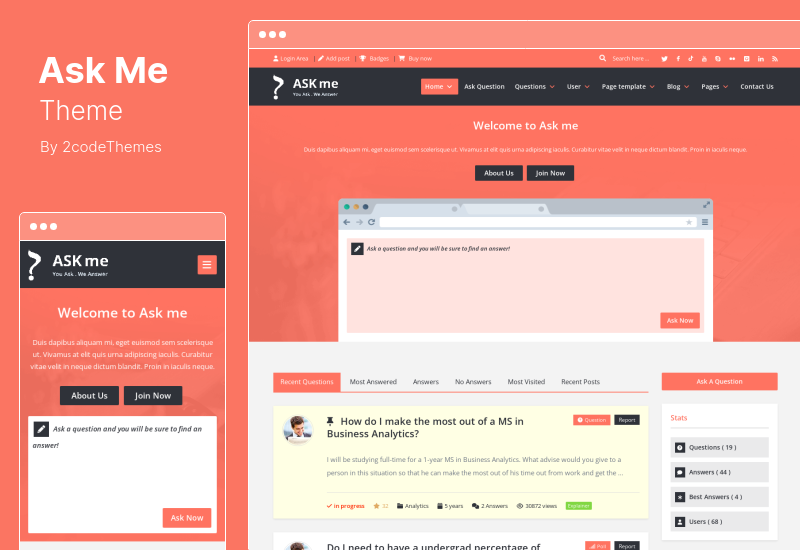 The Ask Me WordPress theme has the same look and feel as Quora, with a flat user interface. You can choose from three portfolio layouts to design your website accordingly. Users have individual profile pages and can earn points by participating in forums.
Those who like a response to a question can mark it as a favorite, enabling other community members to follow the answers as they are posted.
A fully mobile-responsive design allows your community to submit questions on the go, transforming it into a fast-paced online resource that will serve a real purpose. Furthermore, a WooCommerce store builder plugin allows you to add products directly to the site.
💵 The theme and 6 months of support, plus any future updates costs $59.
Key Features:
46-page templates with customizing options
Three different styles of headers in light and dark colors
The HTML5/CSS3 code is valid
Multiple blog layouts with medium and large images
A custom 404 page can be designed
Random Reviews:
You should buy this theme. Don't think about it. He is a very supportive person.

There are lots of features and excellent support with this very customizable Q & A theme.
WordPress bbPress Forum Theme with Social Questions and Answers
The AMA theme is explicitly designed to serve the needs of social question-and-answer websites, such as online communities, niche question-and-answer websites, marketing websites, and developer blogs.
This theme is powered by bbPress, a well-designed, responsive, and feature-rich platform that simplifies your life. It provides various features that will allow you to customize your website to your liking.
In addition, there are several additional features, such as various Forum Subscriptions , Private Replies, Resolved Posts, Closed Support Topics, and Total Views.
💵 For $49 you can get the theme plus 6 months of support.
Key Features:
A collection of amazing Elementor widgets for forums and topics
Supported by bbPress
A fully functional forum page with a flexible header and footer
A responsive framework based on Bootstrap 4
Design with a unique and modern aesthetic
Optimized code for search engines
Knowledge Base / Q&A / FAQ WordPress Theme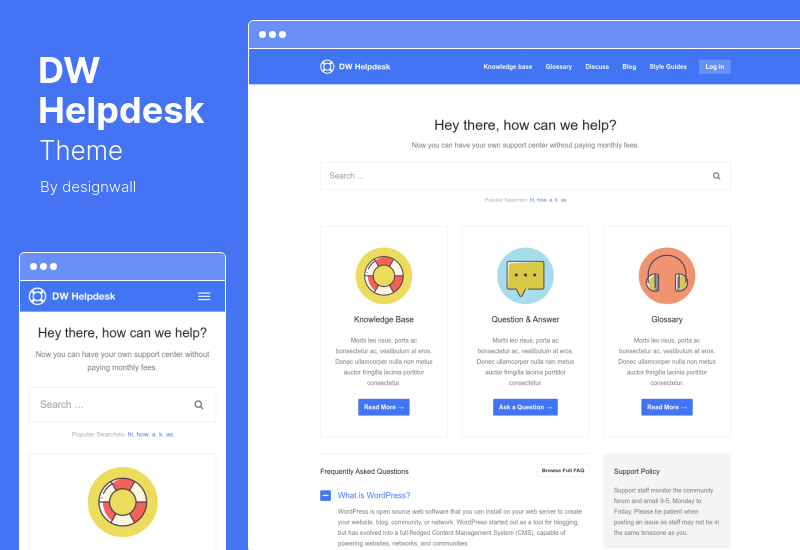 WordPress question and answer forums will benefit significantly from this theme because it is minimalistic and clean.
Featuring full responsiveness and a retina-ready design, the theme is ideal for any business of any size. It also includes a few useful free premium plugins.
Additionally, your website will include a knowledge base, FAQ section, and a custom look and feel that will look unique to your target audience.
💵 Purchasing this theme for $49 will give you 6 months of support.
Key Features:
Insert FAQ section via widget, shortcode, or PHP function
Customers can get support solutions, error messages, and troubleshooting guides
Build an alphabetical list of terms and their definitions in a particular domain
The Customizer section supports changing colors, text, or images
User support and questions can easily be posted on a discussion page
Designed for high-resolution displays and fully responsive to all devices
Random Reviews:
After using it for a year I decided to use it again and found it to be an ideal theme to go with DW Question & Answer pro. This theme is not appropriate for a helpdesk website but I think it is excellent for a discussion website. I haven't experienced any of the issues mentioned elsewhere regarding broken code, except that it hasn't been updated in a while.

The product was not as portrayed in the live demo, and the code is extremely sloppy. I don't think the cost was justified at all.
bbPress Forum WordPress Theme
Disputo has been specifically designed to work seamlessly with the BBPress forum plugin. This theme offers several features which will assist you in creating a complete forum to allow users to ask and answer questions.
A front-end interface allows users to submit their questions and content. It also contains a live rating system that allows other users to find the best answer based on a thread of questions.
Users of the theme are also provided with a private messaging system that enables them to send personal messages to one another.
💵 The theme costs $49 and includes All Features + 6 Months of Support + All Add-ons + Free Lifetime Updates.
Random Reviews:
Cannot recommend more. Very good design in every detail and it works great. The documentation is very detailed and the support is quick to respond with solutions. Thank you for making this theme!
Documentation, Knowledge Base & Education WordPress Theme
With the Manual WordPress theme, you can create an online documentation and question-and-answer site that matches your branding. It has several formatting options that make it easy for you to customize.
A drag-and-drop editor is included with the Manual knowledge base, allowing users to edit the content of individual pages. Additionally, Slider Revolution is included for creating presentations using slideshows.
In addition to increasing user engagement on social networks such as Twitter and Facebook, the social sharing buttons included in this theme effectively drive traffic to your website.
💵 You can get this awesome theme for $59.
Key Features:
An advanced live search using Ajax and trending live search
An extensive selection of styling options is available
Responsive and mobile-friendly
A set of translation-ready PO/MO files is included
Built-in SEO capabilities
Random Reviews:
It's an awesome theme, I've purchased a few WordPress themes and Manual is by far my favorite. I haven't needed any support, but the theme quality is great.

KB is up and running in no time with this theme. You can customize everything to your liking.
Documentation and Knowledge Base WordPress Theme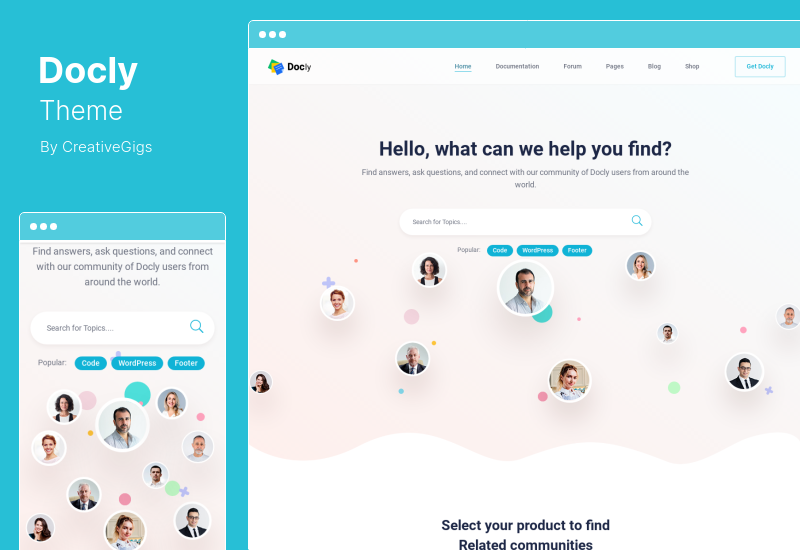 The Docly theme for WordPress is comprehensive for creating wiki-style knowledge bases, which is extremely useful for establishing an informative and valuable platform for your visitors.
With Docly, you are provided with a site demo, allowing you to see what the site will look like. The demo includes features including a night/day toggle, an elementor page builder, RTL support, a forum, and PSD files.
As an added benefit, Docly is also fully optimized for mobile devices, ensuring top-notch performance whenever you use them.
💵 For $59, you get all the demos and features of the theme.
Key Features:
Using Bootstrap 4's responsive framework
A unique and modern design
Coding that is search engine friendly
The integration of Mailchimp
Supported on all modern browsers
Switching between dark and light modes
Random Reviews:
Although customer support is a little behind, it's not a big deal… 

Good theme, they've kept developing it so far, and awesome support.
Knowledge Base and Q/A WordPress Theme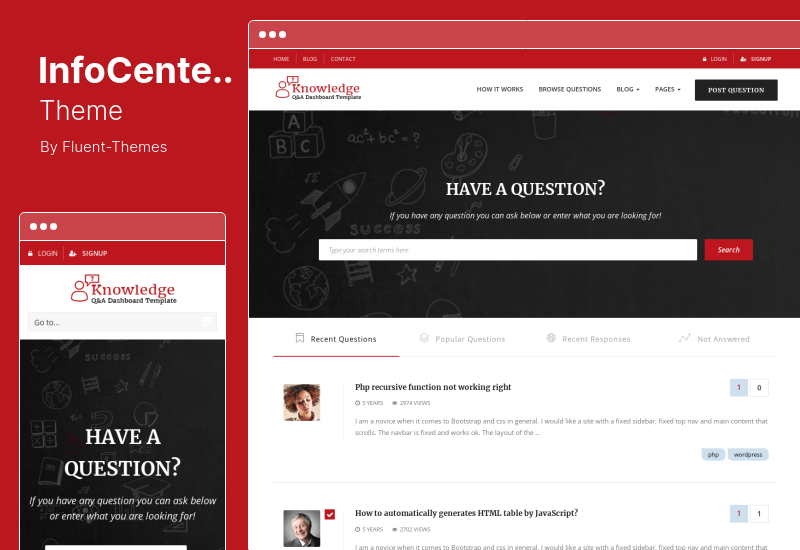 The InfoCenter theme lets you add a discussion forum so your users can ask questions and receive guidance from others. The theme also includes components for adding a knowledge base and a Q&A site to enable them to be used together.
It is possible to improve your site's content with Ajax voting, allowing your users to rate the information you and your users have posted. Doing this will enable you to mark one response as the best answer, saving your users time searching for the correct answer.
💵 The theme costs $39.
Key Features:
Designed with full responsiveness
Compatible with the latest version of WordPress
Integrated SEO capabilities
jQuery Enhanced
Designed to be fast and lightweight
Compatible with all browsers
Random Reviews:
Great theme with tons of features and useful built-in components. It worked perfectly!

It provides excellent graphic quality, as well as a very easy-to-customize experience. I highly recommend this to anyone looking for a quality informative website.
Lawyer WordPress Theme
The Lawyer theme caters directly to lawyers, attorneys, barristers at law, licensed counselors, solicitors, advocates, attorneys, legal advisers, and law firms. It is suitable for financial businesses and legal.
In addition to a purpose-driven design, it includes a Free Consultation Form, practice areas, case results, FAQs, and a team members page, making it suitable for beginners and experts alike.
With this theme, you do not need plugins other than a standard PHP hosting account with SSL to run the website. Nowadays, most themes are laden with features that make it impossible to read what is written. This theme makes its point with CSS animations while loading extremely fast.
💵 For $79, you can purchase this advanced theme.
Key Features:
Testimonials and Portfolios can be added as custom post types
Support for native WordPress thumbnails
Metaprogramming options generator facilitates the modification of theme options pages
Well-maintained code structure with a minimalistic design
An eye-catching design
The use of CSS3 and jQuery in an unobtrusive manner
Random Reviews:
I had some problems with the theme, but support was quick and helpful in resolving my issues. Recommended.

This is my second purchase from this author. Wonderful support and extremely functional themes. Highly recommended!
Best WordPressthemes Like Quora FAQ.
Here are a few answers to questions about theWordPress themes Like Quora. This section can be skipped if you already know them.
What is the best WordPress theme for a Quora-like website?
Take a look at our expert-selected list of the bestWordPress themes like Quora above.

Our first choice is the Publisher theme. It is the best WordPress theme for creating a website similar to Quora. Another theme option is the Astra theme.
Are there any WordPress hosts that are recommended for Quora websites?
Having good hosting for your Quora-like website would be best, so it's a huge decision to make. We highly recommend Bluehost because it is the best hosting solution for WordPress websites.
Let's Conclude!
The themes discussed above are the best for creating a Quora-like website. Just select a theme that suits you best and use it to expand your site. 
The above themes were reviewed for your convenience, but our first choice is the Publisher theme. The other themes on this list might be a good choice for your site, but most people are happy with the Publisher theme.
We hope our list helped you find the perfect theme for your Quora-like website.
If you enjoyed this article, please leave a comment and share it on Facebook, Twitter, and other social media channels.